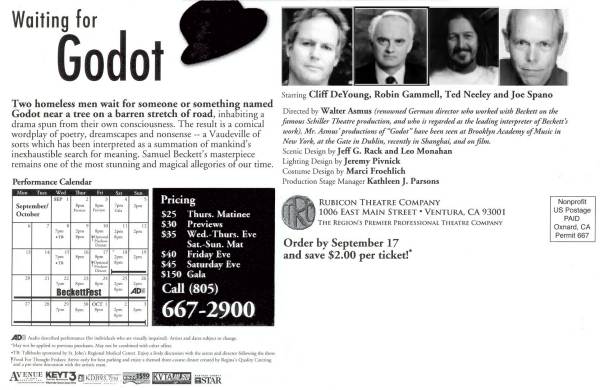 * * * * * * * * * * * * * * * * * * * * * * * * * * * * * * * * * * *
UPDATE 11/11/05:
"Waiting For Godot" has been nominated for two Ovation Awards for 2004 - 2005!!! The nominations are:
Best Play - Large Theatre
Direction of a Play: Walter Asmus
For more information, and other RTC nominations, see my RTC page!
* * * * * * * * * * * * * * * * * * * * * * * * * * * * * * * * * * *

It all began on 8/24/04, when I happened to catch Karyl Lynn Burns (RTC's Co-(Producing) Artistic Director/Executive Director) on AOL Instant Messenger (AIM). This, in itself, was a major miracle, since so many of the RTC staff use her account, anyone could have been online that night! Karyl Lynn is very familiar with these pages, and informed me that Joseph had contracted pneumonia and had to withdraw from the role of Lucky in their current production (at that time) of Waiting For Godot. (Now, first of all, I didn't even know RTC was doing "Godot", let alone that Joseph was in the show, but I quickly got up to speed!) She went on to say: "Guess who his replacement is?" Well - I knew right away who it had to be! I said: "Ted?", and she said yes, that he had gotten in from Texas that evening and that Jim said he was going to make a wonderful Lucky. As we all know, Ted is so rarely in the public eye that when he does surface, you do everything you can to get to where the venue is happening. But I thought I had a year to plan this - since we knew Ted was doing La Mancha at RTC in Oct. & Nov., 2005 (at that time, anyway). My response was that here I thought I had a year to plan this trip to RTC, and now I'd just been informed that "Godot" was opening in a little over a week! I didn't know how I would afford it. That's when Karyl Lynn gave me a wonderful present. She asked me if I could help house manage the "Godot" matinees and the Festival performances, and if I could, they could find me housing. Well - after about 2-3 days of talking to myself ("You are crazy to even consider this, you have no money, you have no job, etal..."), I realized that absolutely everything fell into place in a way it never does. I had no job - but that meant no job to have to get time off from, the job I did get just before I left agreed to wait to train me after I got back in town, a friend I would miss seeing had scheduled vacation for the exact same weeks I had - so we wouldn't see each other anyway, and I found an absolute DIRT CHEAP airfare. (NOTE: For La Mancha guys, try this website: www.cheapseats.com). It seemed like I was fated to make this trip. Then, when I received an e-mail from Karyl Lynn showing me everything planned and who was scheduled to perform, I realized I was crazy NOT to go! (And seeing Ted for 16 days was the icing on the cake!) I found her on AIM again (another miracle) and told her I was coming. It was the BEST decision I ever made.
BeckettFest was an amazing festival! To see the people who were there and get the information we all absorbed like a sponge anywhere else, you would have to go all over the world! We had performers and directors from Germany, Ireland, England, France, Canada and the USA all in one place! If you 'd like to take a look at the amazing schedule Karyl Lynn set up, it's on RTC's website here: http://www.rubicontheatre.org/becfest/info.html. You can also see some of the reviews and articles on the festival on my Rubicon Theatre Company page! The Festival shows were just amazing feats of work, and included: The Beckett Trilogy and A Piece of Monologue (performed by Conor Lovett from Dublin), Happy Days (performed by Robin Pearson Rose & Rudy Willrich (Rudy played Houlihan in "Murder", for those who made that trip in 2000)), Rockaby (performed by Susan Clark), Footfalls (performed by Linda Purl & Karyl Lynn Burns), Krapp's Last Tape (performed by Rick Cluchey), In The Works of Samuel Beckett (performed by Cliff DeYoung), and a wonderful Gala reading called Poetry and Prose (performed by Bill Irwin, Dana Delaney, Barry McGovern and Bruce Weitz).
Aside of the Festival itself, "Godot", the mainstage event in the Festival, was a wonderful production! It was directed by Walter Asmus, who had worked with Beckett directly as far back as 1974. So we, in effect, were seeing Beckett's direction through Walter! The whole cast was really amazing, and the chemistry was just perfect. "Godot" is not an easy show to watch or understand, but with this production, the more we watched it, the more we liked it! Ted did a wonderful job, with minimal problems - and considering the fact that he spent almost his entire time on stage bent over, that's quite a feat! Here is a shot taken onstage during the show: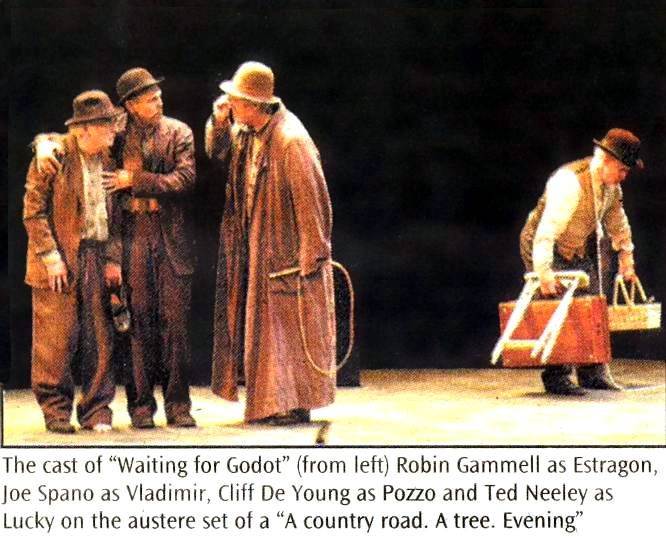 Photo courtesy of The Montecito Journal and Rubicon Theatre Company
Yes, that is Ted on the right. And that's how he stood for about 90% of his time onstage! He said no one could believe he really had almost no problem doing the show, although the rehearsals were trying (standing like this for 1-2 hours is one thing, but rehearsals were 4 - 6 hours long!). It was a really amazing production, and I felt very privileged to see it, as well as the other Festival productions, as many times as I did.
Below is a second shot from the show - with Joe and Robin - taken from the RTC 20th Anniversary Video you can find on YouTube, and on my title Rubicon Page. To Joe's right is the tree I've made my BeckettFest/Godot wallpaper from: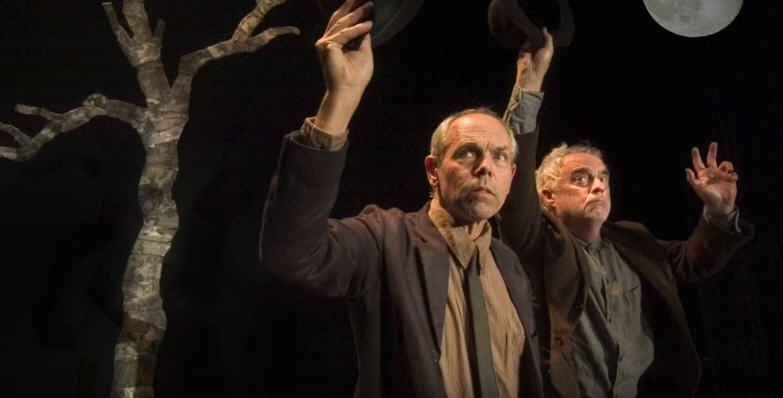 SYNOPSIS:
Two homeless men wait for someone or something named Godot near a tree on a barren stretch of road, inhabiting a drama spun from their own consciousness. The result is a comical wordplay of poetry, dreamscapes and nonsense, a Vaudeville of sorts which has been interpreted as a somber summation of mankind's inexhaustible search for meaning. Samuel Beckett's language pioneered an expressionistic minimalism that captured the existentialism of post-World War II Europe. His play remains one of the most stunning and magical allegories of our time. Emmy Award-winning actors Joe Spano and Robin Gammel play Vladimir and Estragon. With Cliff DeYoung as Pozzo and Ted Neeley as Lucky. This production is part of the Rubicon Theatre's Beckett Festival.
COURTESY OF LYNNE FREELS (AKA: HOMESICK MOOSE) (admin@medmatrx.com),
WE HAVE THIS "TRANSLATION":
An Analysis of 'Waiting for Godot'
By Lynne Freels
"Waiting for Godot" is an existentialist tragi-comedy.
One may interpret the play as a parable on modern spirituality and the general state of society at the end of the First World War. The two tramps represent the two thieves who are crucified with Christ in the New Testament. Yet, these two seem stuck in Purgatory.
Godot is God, or a combination of God and the king of tramps, Charlie Chaplin (the French nickname for Chaplin was Charlot - God + Charlot = Godot. Chaplin lived out his last years in France, where Beckett lived for a time).
The character of the boy can be interpreted as an aspect of Revelations, as goats represent the "fallen", and sheep represent the "saved" in Christian symbology.
The combination of a comedic genius and the Judeo-Christian supreme deity into one off-stage character (the object of the tramps' immobile quest) is sublime in its tragic commentary on the decline of the international equivalent of the American Dream. It is not unlike the effect of the billboard (with the giant eyes) for optometrist T. J. Eckleburg (who has gone out of business) in
F. Scott Fitzgerald's "The Great Gatsby". Both works were written in the fallout after a world war, when rhetoric, idealism, and fear had subsided and the routine of unextraordinary life settled in.
The tree symbolizes the cross and, due to the pervading imagery of despair, the Tree of Knowledge (and, therefore, man's fallen state). It is also the means by which Judas committed suicide (which the tramps contemplate).
"The despair in the play, which is never defined as such but which pervades all the lack of action and gives the play its metaphysical color, is the fact that the two tramps cannot not wait for Godot, and the corollary fact that he cannot come", states Wallace Fowlie.
"The rigorous use of the unities is demanded by the implacable interpretation of human life. The denouement of the play is another beginning ... the curtain descends over [the tramps'] immobility. In scene after scene the permanent absurdity of the world is stressed." -- "Dionysus in Paris". Wallace Fowlie. New York: Meridian Books, Inc., 1960. p. 210-214.
For example, in the scene between the master and the slave, the ironically named Lucky is held on a leash by Pozzo. Lucky carries a heavy suitcase which he never considers putting down for relief. It is only when Pozzo commands him to think, and he is allowed to wear his hat, that he blurts out his incoherent speech. The fact that Lucky's silence is broken with nonsense underscores the theme of futility.
It is interesting to compare this passive despair with Beckett's own life. In 1929, after writing a study of Proust, Beckett formed a theory that routine is the "cancer of time". Giving action to theory, he gave up his post at Trinity College and wandered around Europe for eight years in a directionless quest or, what we would call in the present day, 'finding oneself'.
Certainly, none of the characters in the play evolve beyond what we are introduced to. They simply stagnate in passivity and repetition; a self-made purgatory.

~~~~~~~~~~~~~~~~~~~~~~~~~~~~~~~~~~~~~~~~~~~~~~~~~~~

AND JUST FOR ANYONE WHO DIDN'T GET ALL OF IT - GIVEN THE SPEED TED RECITED IT ON STAGE AT EVERY PERFORMANCE: HERE IS THE COMPLETE TEXT TO LUCKY'S SPEECH:
LUCKY:
Given the existence as uttered forth in the public works of Puncher and Wattmann of a personal God quaquaquaqua with white beard quaquaquaqua outside time without extension who from the heights of divine apathia divine athambia divine aphasia loves us dearly with some exceptions for reasons unknown but time will tell and suffers like the divine Miranda with those who for reasons unknown but time will tell are plunged in torment plunged in fire whose fire flames if that continues and who can doubt it will fire the firmament that is to say blast hell to heaven so blue still and calm so calm with a calm which even though intermittent is better than nothing but not so fast and considering what is more that as a result of the labors left unfinished crowned by the Acacacacademy of Anthropopopometry of Essy-in-Possy of Testew and Cunard it is established beyond all doubt all other doubt than that which clings to the labors of men that as a result of the labors unfinished of Testew and Cunnard it is established as hereinafter but not so fast for reasons unknown that as a result of the public works of Puncher and Wattmann it is established beyond all doubt that in view of the labors of Fartov and Belcher left unfinished for reasons unknown of Testew and Cunard left unfinished it is established what many deny that man in Possy of Testew and Cunard that man in Essy that man in short that man in brief in spite of the strides of alimentation and defecation wastes and pines wastes and pines and concurrently simultaneously what is more for reasons unknown in spite of the strides of physical culture the practice of sports such as tennis football running cycling swimming flying floating riding gliding conating camogie skating tennis of all kinds dying flying sports of all sorts autumn summer winter winter tennis of all kinds hockey of all sorts penicillin and succedanea in a word I resume flying gliding golf over nine and eighteen holes tennis of all sorts in a word for reasons unknown in Feckham Peckham Fulham Clapham namely concurrently simultaneously what is more for reasons unknown but time will tell fades away I resume Fulham Clapham in a word the dead loss per head since the death of Bishop Berkeley being to the tune of one inch four ounce per head approximately by and large more or less to the nearest decimal good measure round figures stark naked in the stockinged feet in Connemara in a word for reasons unknown no matter what matter the facts are there and considering what is more much more grave that in the light of the labors lost of Steinweg and Peterman it appears what is more much more grave that in the light the light the light of the labors lost of Steinweg and Peterman that in the plains in the mountains by the seas by the rivers running water running fire the air is the same and then the earth namely the air and then the earth in the great cold the great dark the air and the earth abode of stones in the great cold alas alas in the year of their Lord six hundred and something the air the earth the sea the earth abode of stones in the great deeps the great cold on sea on land and in the air I resume for reasons unknown in spite of the tennis the facts are there but time will tell I resume alas alas on on in short in fine on on abode of stones who can doubt it I resume but not so fast I resume the skull fading fading fading and concurrently simultaneously what is more for reasons unknown in spite of the tennis on on the beard the flames the tears the stones so blue so calm alas alas on on the skull the skull the skull the skull in Connemara in spite of the tennis the labors abandoned left unfinished graver still abode of stones in a word I resume alas alas abandoned unfinished the skull the skull in Connemara in spite of the tennis the skull alas the stones Cunard (mêlée, final vociferations) tennis . . . the stones . . . so calm . . . Cunard . . . unfinished . . .

~~~~~~~~~~~~~~~~~~~~~~~~~~~~~~~~~~~~~~~~~~~~~~~~~~~

Rather than rewrite my entire experience here, I have linked each of my BeckettFest posts separately on this site. Click on each link below to find them:

BECKETTFEST - TED AND JOSEPH - DAYS 1 & 2
BECKETTFEST DAY 3 - AND TED'S PRIVATE BIRTHDAY PARTY
BECKETTFEST DAY 4 - GALA NIGHT
BECKETTFEST DAY 5 - AND THE RTC TEDDY/ROBIN BIRTHDAY PARTY
BECKETTFEST DAY 6 - ADVENTURES IN RENTING / FINDING A CAR IN CALIFORNIA AND BECKETT IN A "FILM CITY"
BECKETTFEST DAY 7 - A BROKEN LASER PRINTER AND "BECKETT TIME" WITH TED
BECKETTFEST DAY 8 - "THEY WANT TO BE ENTERTAINED"/ DOOR LATCHES FROM HELL / DINNER IS ON!
BECKETTFEST DAY 9 - THE DAY FROM HELL/DINNER WITH TED
BECKETTFEST DAY 10 - THANK GOD FOR FESTIVAL PASS-HOLDERS!!!
BECKETTFEST DAY 11 - RICK CLUCHEY'S STORY AND CONOR'S FAREWELL DINNER
BECKETTFEST DAY 12 - DRIVING THE "BOSS LADY'S" CAR / THE CASE OF THE CLUCHEY BOUQUET
BECKETTFEST - DAY 13 - GODOT STUDENT MATINEE
BECKETTFEST - DAY 14 - A FABULOUS IGUANA REHEARSAL, A GODOT WARDROBE MALFUNCTION, WALTER'S FAREWELL PARTY
BECKETTFEST - DAY 15 - TED GETS WANDA AND ME BACK!
BECKETTFEST DAY 16 - THE LAST DECAF
AND NOW - WHAT YOU'VE ALL BEEN WAITING FOR:
P I C T U R E S


NOTE: Some of these great shots are courtesy of Steve and Cynde Magidson, who are MUCH better photographers than I am! You can see their complete Wrap Party photo album here:
http://www.ofoto.com/I.jsp?c=4sjrrej.52guz2un&x=1&y=qbj43l
And Steve put my good shots up as well, and you can see my album here:
http://www.ofoto.com/BrowsePhotos.jsp?showSlide=true&Uc=4sjrrej.7oy8gnvz&Uy=kvkvkf&Ux=1
These pictures, and others are also included in the posts above.


Ted in a suit and tie - and clean-shaven! (at the Gala)



Bill Irwin (without the costume and make-up) (at the Gala)


Conor Lovett (at Conor's Farewell Dinner)


Victor Gomez (Petro) and Armando Rey (Pancho) from "Iguana" (at The Wrap Party) - what girl wouldn't want to be in the middle of a sandwich like this one?



Efrem Zimbalist, Jr., Ted and Stephanie Zimbalist (at the final "Rockaby"/"Footfalls")


Kalen Kasraie & Quincy Unseth - our "Godot" "boys" (after the last "Godot")




Cliff DeYoung (at Walter's Farewell Party)


"Willie and Hank" (a.k.a. "Murder") - Ted & Joseph (at Walter's Farewell)


Albert and Micheline Sakharoff (BeckettFest Sponsors) (at The Wrap Party)


Conor Lovett & Walter Asmus (at Conor's Farewell Dinner)


Linda Purl, Stephanie Moro, Angelo Diaz and Helen Yunker (at The Wrap Party)


Helen Yunker and Gary Best (who played the Prosecuting Atty. in "Murder", and designed the "Happy Days" set) (at The Wrap Party)


Christina Burck & Kathleen J. Parsons (RTC Stage Managers) (at The Wrap Party)


Joe Spano & Karyl Lynn Burns (after the last "Godot")


Kenny Hobbs (RTC Sound Engineer) (at Conor's Farewell Dinner)


Donna Burger (House Mgr.) & Amber Landis (Asst. Stg. Mgr.) (at The Wrap Party)


Donna Burger, Von Rae Wood and Me (at the Gala) - (Thanks, Karyl Lynn & Lane!)


Robin Gammell and Quincy Unseth (after the last Godot)


Von Rae Wood ("Iguana" Cast Member) and Me (at the Gala)


Jim, Me and Ted (at The Wrap Party) - Ditto to the shot of me with Victor and Armando posted above, what girl wouldn't want to be
in the middle of a sandwich like this one too?



"Gee, How Lucky Can You Get" Beckett Brown Bag: (from left): Conor Lovett, Barry McGovern, Ted, Bill Irwin, Athena Murphy - (at City Hall)


"The San Quentin Drama Group" Beckett Brown Bag: (from left): Rick Cluchey, Alan Mandell, Steven Leigh Morris (at City Hall)


Jenny Sullivan, Karyl Lynn Burns, Rudy Willrich & Robin Pearson Rose share a laugh (at "The Mother of all Talkbacks" after the last "Happy Days")


(From left): Linda Purl, Jenny Sullivan, and Steve Magidson (at The Wrap Party)


David Payne and Susan Clarkwith Me (at The Wrap Party)


Jenny Sullivan, Albert and Micheline Sakharoff, and Chris Rennolds (Karyl Lynn's Assistant) (at The Wrap Party)


Cynde and Steve Magidson, Karyl Lynn Burns, & Norbert Tan (at The Wrap Party)


Robin Gammell (Estragon), Brian McDonald and Robin's daughter Winslow Corbett (at The Wrap Party)


Jim and Ted (at The Wrap Party)


Quincy Unseth & Brian McDonald (at Walter's farewell Party)


"The Last Decaf" - Jan and Ted at "O'Neil's Denny's"


"The Last Decaf" - Wanda and Ted at "O'Neil's Denny's"


"The Last Decaf" - Me and Ted at "O'Neil's Denny's" (take 1)


"The Last Decaf" - Me and Ted at "O'Neil's Denny's" (take 2)