Roxie Hart (phantomgirl110) wrote,
@ 2006-12-27 07:38:00
| | |
| --- | --- |
| Current mood: | Ecstatic |
| Current music: | "Superstar" - Jesus Christ Superstar (movie) |
Jesus Christ Superstar, starring Ted Neeley!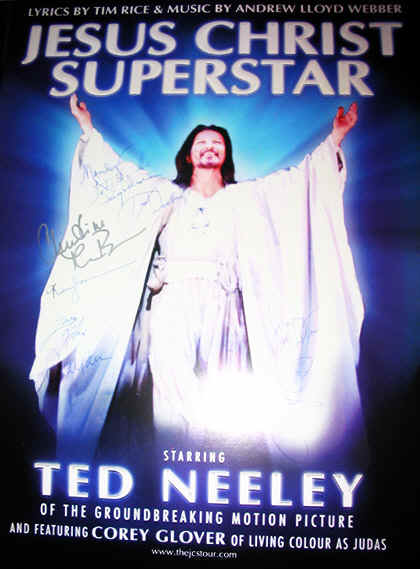 The Show
Jesus Christ Superstar
Farewell Tour, starring Ted Neeley
December 26th, 2006
Orpheum Theatre, San Francisco


Warning
This may very well be the longest review of all time. You have been warned.


Firstly
AAAAAAHHHHHHHHHHHHH!!!


Cast
Jesus of Nazareth - Ted Neeley**
Judas Iscariot - Corey Glover
Mary Magdalene - Christina Rea-Briskin
Caiaphas - Larry Alan Coke
Annas - Jeremy Pasha
Pontius Pilate - Craig Sculli
King Herod - Aaron Fuksa
Peter - Chris Glein
Simon - Jason D. Bush
First Priest - Darrel R. Whitney
Second Priest - Tony Castellanos
Third Priest - Camilo Castro
Maid by the fire - Lorelei Prince
Soul singers/disciples - Bianca Atalaya, Rasmiyyah Feliciano, Margaret M. Spirito
Disciple girls - Nancy Emerson, Tess Ferrell
Apostles - Nick Algier, Gabe Belyeu, Jason R. Cook, Michael Fasano, Thomas C. Lash, Matthrew G. Meyers, Fred R. Ross, Troy Valjean Rucker, Jonathan Walsh

**For those of you who don't know, Ted understudied the role in the original Broadway production, headlined in the role in the original LA production, and played the role in the 1974 movie; he was nominated for two Golden Globes for the part. Seeing him live is a big. freaking. deal.


Tiny Disclaimer Thingy
I went into this show having never seen the movie all the way through. I'd heard many songs from it (most notably "Superstar," "I Don't Know How to Love Him" and "Gethsemane"), but I'd never actually sat down and watched the movie. I was planning to watch it before I went so I could make comparisons when I saw it live, but I was short on free time so I just decided to see the stage show fresh and compare it to the movie afterwards. I'm only mentioning this to point out the fact that I'm not nearly as familiar with this show as I am with, say, Cats or Rent, and this review may reflect that.


Before the show
One thing I just realized I forgot to mention in my last couple of entries: my best friend, Carolyn, managed to get tickets for the same night! She grew up watching the movie starring Ted Neeley, so she was unbelievably excited. It was our first time seeing a professional show together...well, not exactly together, we were seated separately, but still.

For whatever reason, I really did not feel like I was on my way to see a show. Perhaps it was because it was the day after Christmas, perhaps it was because of my funky moodswings yesterday, or perhaps because it had been several months since I'd last seen a musical, so I felt kinda "out of it." I finally started to get excited when we got to the city and even moreso when we got into the theatre. I immediately started looking for Carolyn--I think I stared at every teenaged Asian girl in the lobby--but since I didn't see her we just went to our seats.

Our seats were AWESOME! 12th row orchestra, right on the centre aisle. Literally, I was sitting next to the centre aisle, like 20 feet from the stage. It's not the closest I've ever been, but I've never been directly in the centre before, so I was thrilled.

On the way to use the restroom and buy souvenirs I saw Carolyn, her mom, and her sister coming down the next aisle, so I went over and said hi/gave her a hug before I went out to the lobby. After buying a poster (featuring Ted Neeley), a program, a T-shirt (which fits perfectly) and the movie soundtrack, I met up with Carolyn again and we went down to the edge of the pit to admire the stage. She's been doing some work with theatre lighting lately (at San Diego State) and so she was all fascinated by the lights and went on about them some. After chatting for a little bit, I went back to my seat and got ready for the show to start. Semi-amusing note: I was really relieved at the end of the pre-show announcements, because I'd managed to panic myself into thinking there was a chance Ted Neeley would be out sick or something. There was no such announcement, so I relaxed.


Act One

Overture
I was finally fully excited when the lights went down and the music started. I couldn't remember how the overture started and I was hoping for the "Superstar" theme (you know...DUH!duhduh! DUH!duhduh!) to be the first thing we heard, so I was a teensy weensy bit disappointed when it wasn't. Don't worry, that disappointment didn't last long. The lighting and fog effects here were really cool and the actors did a good job of looking like they were really moving in slow motion.

During the opening fight scene, I noticed someone entering behind the screen in the background. Someone dressed all in white, and holding their hands in what appeared to be a prayer-like position. Someone heading directly for centre stage, where one of the men had just been stabbed and fallen. I leaned over to Mom and whispered, "There he is! He's back there!"

And then there he was! And there was the "Superstar" theme! What an awesome entrance! He stepped through the fog into a beam of bright light just as the DUH!duhduh! DUH!duhduh! sounded, and the whole audience cheered! Oh, it was so exciting!


"Heaven on Their Minds"
I'll just say right now that I prefer movie Judas to Corey Judas, but Corey was still really great. Some of his lines seemed more shouted than sung, but that works for this show. He had amazing stage presence and had no problem keeping my rapt attention, even while all he was doing was walking around onstage while he was singing. He was a great actor too, as was seen much more later on.


"What's the Buzz"
Man, this show has so many catchy tunes! I found myself bobbing around in my seat almost the entire time, and kept trying to stop myself because I thought I was probably annoying the people behind me. But if I was, I'm sure Mom was too. In fact, I'm sure half the audience was annoyed at the other half! It was a fabulous audience, by the way. They were all obviously people who were big fans of the movie and were really excited to see Ted Neeley in person, and so everyone was very responsive.

Anyway, about the actual song...

At this point, Ted had gotten cheers and applause but had not yet sung a note. He'd just walked in, stood in the light, healed a man, walked out, walked across a few times. I admit, I was worried how he would sound. I'd seen enough of the movie to know how he sounded 30 years ago, and I was really hoping I wouldn't come away from this experience disillusioned.

I did not.

When he sung his first line, I gasped. I was about to turn to Mom and say, "He sounds exactly the same as he did in the movie 30 years ago!" but I didn't have a chance, because she turned to me and said the exact same thing. It was amazing. How can someone sound the same at age 63 (in an EXTREMELY vocally challenging role) as they did 30 years before? It was thrilling, to say the least.

Mary Magdalene's voice was really wonderful too. All the way through she blew me away with her great diction and control. There were a few tiny things she did stylistically that I would have preferred a slightly different way, but none of that had anything to do with her ability. There was no question among any of us there tonight that she knew exactly what she was doing with her voice, and that's an amazing gift. Her voice was so strong and clear; very talented girl.


"Strange Thing Mystifying"
I don't really have anything different to say about this song, because the previous song just led right into this one, so they've run together in my head already. Sorry about that. But anyway, it was very good, haha!


"Everything's Alright"
This is my mom's favorite song in the show, so she was really excited as soon as it started. I didn't connect with what song it was at first, so I was trying to figure out why she was randomly wringing her hands excitedly. Once again, Mary's voice was beautiful and so clear! I could seriously understand every word she sang through the entire show. Her rendition of this was gorgeous.

One thing that annoyed me was that the the lady in front of me (who was not particularly tall, just unfortunately directly in front of me instead of me having a little "window") perfectly blocked Jesus when he laid during this song. Actually, every time he laid down during the show it was in just about the same spot. He never did anything huge that I would miss at those times, but it was still annoying to have to crane my neck to see him. Mom had the same problem.


"This Jesus Must Die"
I loved the priests! Caiaphas and Annas were especially great (as they should be, considering they're the leaders of the group). Caiaphas: what a voice! Good Lord, how can a range like that even exist?! He started way down low, deeper than deep, so low it rumbled, and then suddenly was singing in a tenor range! The first time he changed to the higher pitch, I almost thought it was another person singing and I glanced around at the other priests to figure out who it was. He sounded equally great in both ranges; his only weak point seemed to be right in the middle. He seemed to almost drop out for like a second in the middle before he got to the other end, so to speak.

I really liked Annas' voice. He stayed up really high the entire time, but he was another who had extremely clear diction. He never seemed to have a problem controlling his voice, and I could understand every word. He and Caiaphas worked well off each other and sounded surprisingly good together considering the huge differences in their voices.


"Simon Zealotes"
This was one of my favorite scenes! I loved the music, the costumes, the choreography, Simon, everything! It was very bouncy and loud and exciting and they all looking liked they were having so much fun up there, just partying away! I noticed that the choreography wasn't all that difficult (I could do it), but they all did it with so much excitement and such perfect timing that it looked awesome. This show had one of the strongest ensembles I've ever seen, by the way. Every company number sounded amazing. The audience really liked Simon too, you could tell by the energy in the room. He was having a huge amount of fun, and was really great. Everybody in this show was just so good, I'm afraid this review is sounding terribly monotonous.


"Poor Jerusalem"
High notes! Ted singing high notes! Perfect high notes! I still can't believe that man sounds so good after so long! His acting was great too, but I was so blown away by how great he sounded that I had a hard time concentrating on anything else.


"Pilate's Dream"
This was a very short, simple scene, but he did it really well. I mean, is this song even two minutes long? I don't think so, but he still managed to make a big impact. His acting was really excellent, probably the best in the show. Even in a little scene like this, he just captured the audience.


"The Temple"
The first part of this scene: I hadn't realized this was the temple at first so I was a little confused as to where exactly this was set (I know the title of the song sorta gives it away, but I wasn't holding my Playbill and this was one of the scenes I wasn't really familiar with), but I could tell what was basically going on anyway. I concentrated mostly on these two girl dancers who were prostitutes (or maybe just dancers, but they were obviously immoral because they were in cute slutty clothes and doing slutty dance moves); I'm not really sure why, but maybe because they were both really good at moving. They did belly dancing kinda stuff, and it looked cool.

The second part of this scene: HOLY CRAP. TED NEELEY. This was the first time we heard him do that really high-pitched scream-sing he does, and it was AMAZING. I mean, the audience was thisclose to cheering when he did it the first time, because it sounded so perfect! I know I've said it many times already, but how can a 63-year-old man do that so well? How? It was so exciting!

The third part of the scene: I was a little disappointed we didn't get to applaud at the end of the second part, and I could tell I wasn't the only one who felt that way, but I found the staging of this part really fascinating. They had the beggars all under this big black sheet and they kinda surged up around Jesus while they were pleading with him to heal them. It sounds bizarre, I know, but I swear it was really effective onstage. It looked cool and was very understandable. I have no idea how someone came up with that, but props to them for it.


"I Don't Know How to Love Him"
Love this song! I have nothing new to add on Mary's voice because she sounded just as great as ever, but now I can add that her acting was good too.

Wow, I really feel like this song should have a longer review, but it's a fairly simple song and scene, so I guess that's all I've got to say. That's too bad, I really love this song. Oh well.


"Damned for All Time"
I was confused at the beginning of this scene because Judas walked on and whispered something to one of the priests (I forget which one) and so I assumed he was telling them how to get Jesus, but then he started saying he wouldn't help them and he didn't want their "blood money." I talked to my parents later and they explained that he'd told them he was willing to help and then had second thoughts. Anyway...

Judas's singing was a little hard to understand at the beginning of this scene, but I could still tell what was happening based on his great acting, which made up for what little he lacked vocally. The priests did the oily, manipulative thing very well. At the end of this scene there was an awesome lighting effect with three spotlights looking almost like searchlights and cornering Judas from both sides and the centre of the stage, so that he had to run off backstage to get away from his guilt. I loved that effect.


Intermission
I chatted with Carolyn more and since she knows the movie so well, having grown up on it, I asked her for her comparisons. We were both so amazed by Ted and what he could still do. We agreed that we liked movie Judas better but still really liked Corey. We agreed on basically everybody. Carolyn and I always say we are the same person, just changed by different circumstances. (Those circumstances being that her ancestors ended up in Japan and mine ended up in Ireland, I suppose.)

We also talked about the stagedoor. She'd never stagedoored before so she wasn't really sure how it went or how long it took. I told her it depended on the show, the cast, the actor. I gave her basic directions to the stagedoor and told her I'd charge out there after the show so she could just come and find me.


Act Two

"The Last Supper"
Everyone in this scene was great, but the highlight was definitely the confrontation between Jesus and Judas. They were both amazing in this scene, acting-wise and vocally; this was one of Judas's strongest scenes in the show.


"Gethsemane"
DUDE. Dude, dude, DUDE. Where do I even start with this one?! This song was one of the (if not the) most amazing live performances of anything that I've ever seen in my life. I was just enthralled from beginning to end. The closest thing I can compare it to was the first time I saw Brad Little perform "Music of the Night" live and barely breathed through it. This was on that level; maybe more simply because of Ted's status and age.

I'd only ever heard this song performed by one person before this, and that was Michael Ball at the Royal Albert Hall concert in honor of Andrew Lloyd Webber's 50th birthday. I always thought it was a really good rendition. You know what I discovered during Ted's performance? Michael Ball's version was nothing. Nothing.

I don't even have words to describe how unbelievable this song was. It was just as great, if not even better than, the version in the movie. His voice was exquisite, his acting was amazing. It was just spectacular in every way. I literally sat there with my mouth hanging open for the entire song. At the end, the applause and cheering lasted about four times longer than for any other song, the whooping was louder, and I seriously considered giving it a standing ovation. Simply amazing in every way.


"The Arrest"
This was another one of those scenes that was just great all around, but I'm afraid I remember very little in the way of specifics. I was still in shock from "Gethsemane."


"Peter's Denial"
Where did they find all these people with such controlled, clear voices? Peter was another one. His acting was really good too. Like Pilate did in "Pilate's Dream," he (and Mary) managed to do a lot with a small scene.


"Pilate and Christ"
Pilate was amazing! I was glad there was a lot more of him in Act Two, because he deserved all the stage time he could get. I think, overall, he was the best actor in the show. His interpretation of the character was great and his stage presence was captivating.


"King Herod's Song"
This was my least favorite song/scene in the show. It was highly amusing, but it didn't seem to fit with the rest of the show to me. It felt much more like something that would be found in Joseph and the Amazing Technicolor Dreamcoat than in Jesus Christ Superstar. Herod was just as good as everybody else in the cast and I bet he has a huge amount of fun with the scene, but the scene itself just seemed out of place.


"Could We Start Again, Please?"
This song was beautiful. Mary and Peter sounded wonderful together, and all the harmonies between them and the ensemble were really gorgeous. It was such simple staging too, but it didn't need anything more. I'm surprised I'd never heard this song before, it was really lovely.


"Judas's Death"
Somehow, I have no idea how, I completely managed to forget that Judas committed suicide. Corey was fantastic in this scene, I really believed every bit of his acting. He had to show such a range of emotion and he pulled off every bit of it, and his singing was great in this number too. I could tell exactly what he was thinking with every move he made, and his slowly putting the noose around his neck was truly tense and almost excruciating (in a good way, since he did it so well). The effect at the end when he finally did the deed was well-done too.


"Trial Before Pilate"
Pilate seriously rocked. He rocked this scene so hard. Much like Judas in the last scene, he showed such a huge range of emotion and it was all perfect! His voice remained perfectly clear and controlled, his acting was outstanding...he was really amazing in this scene. The scene itself isn't even one of my favorites, but I was still really impressed with it based on how good everyone in it was. Especially Pilate, obviously.

This scene was really odd for me to watch because I torn between the fact that it was a musical and was for entertainment value and the fact that it's all based on something that is the entire basis for my entire belief system. My Lord and Savior went through all of that for me, to save me. I wasn't sure how I should feel during it: amazed by the acting/singing or reverent and prayerful because of the powerful truth. I finally decided God would understand my confusion and would settle for whatever I happened to feel, which was obviously a mix of both.


"Superstar"
YES! I just enjoyed this song so freaking much! I've always loved this song, and I have a feeling that it's Corey's favorite to perform. Really, how could it not be? He got to go all rock star, with a mic and everything, and the song is just so awesome. Unfortunately, I enjoyed this song so much that I remember very few details. It just rocked in every way! Everyone onstage rocked it out, and choreography was fun, the Soul Girls looked so awesome--I loved it at the beginning when they flipped off their hoods and had the cute dresses on--and the audience LOVED it. I saw tons of people bobbing around (and annoying the other half of the theatre, of course, hehe) and the applause at the end was huge and loud. How could it be otherwise?


"The Crucifixion"
This scene, like "Trial Before Pilate," was hard/odd for me to watch and for the same reasons, so I won't bother going into that side of it again.

Ted's acting was extraordinary in this scene. He truly looked like he was in pain and having trouble breathing up there. It was hard to watch even from a non-religious standpoint (not that I'd really know what that was like, but I'm doing my best to imagine it, hehe) because it just looked painful.

At the end, something completely unexpected happened: the cross fell out from behind him and he was left hanging in the air, and he rose up and out of sight as the lights dimmed. That's another one of those things that I think probably sounds dumb if you haven't seen it, but I swear it wasn't. It looked really cool and was actually a very effective way of ending the show.


Curtain Call
This was one of the most exciting curtain calls I've ever been a part of, and I think that had a lot to do with the order in which the cast came out. You know how they usually start with the nobodies ensemble members and work up to the leads? They didn't do this one that way. The curtain rose again and there was Ted, standing in a bright spotlight, just as the DUH!duhduh! DUH!duhduh! sounded again, and we all jumped to our feet and cheered and hollered. Then came Judas, then Mary, and so on. I wouldn't have thought I would like the lead taking the first bow, but I actually loved it, at least for this, since it was Ted Neeley and seeing him was such a big deal. After several minutes of loud cheering, during which cast members pointed to each other and the orchestra to signal us who to cheer for, Judas motioned for us all to be quiet...and then the entire cast as one motioned to Ted, and we all started screaming again. It was so much fun!


After the Show - Stagedooring!
I charged outside as fast as I could manage, which wasn't very fast. I ended up getting stuck behind a bunch of really slow people, so I found Carolyn waiting for me just outside the doors, to make sure she didn't go to the wrong place in search of the stage door. We headed down the street to it and she was almost running, she was so excited. Remember, this was her very first stagedoor experience EVER.

And it was an extremely great one! The first several people who came out were crew members and some ensemble cast members, a couple of whom we got autographs from, but then we were surprised when the next one out was Corey Glover, a.k.a. Judas! Somehow I would have thought he'd be one of the last ones, but nope. Anyway, he was really nice. The first picture we took with him was taken before we were entirely settled in position (that is, him in the middle with me and Carolyn on either side of him), but Mom said she'd gotten it. He said, "Let's take one more, just in case." I loved that! It was nice that he actually cared enough to bother posing for another picture. Or maybe he just liked having two teenage girls' arms around him, I dunno. LOL.

After him was Larry Alan Coke, a.k.a. Caiaphas, who is FREAKING TALL. Seriously, he's like two feet taller than me! Mom actually had to step back to readjust the camera! While we were waiting for others, Carolyn pointed to a gal standing a few feet away and said, "That's not Mary, is it?" I wasn't sure, so the two of us consulted with my parents and we finally just went over. It was Christine Rea-Briskin! I felt ridiculous that we'd been standing there with her across from us and hadn't even noticed, but she didn't seem to have been aware of that (thank goodness). She was very sweet too, and told us it was nice to meet us.

After her, Craig Sculli (Pilate) and Jeremy Pasha (Annas) came out together. They were both very friendly and talked to us about how much we loved the show and everything. We got a picture with both of them and me and Carolyn together, which was cool. After us, they moved to the people behind us and I heard someone say, "Merry Christmas!" I'd completely forgotten it was just the day after Christmas! Without thinking I turned back to them and said, "Oh yeah! Merry Christmas!" and they laughed (with me, not at me) at the fact that I'd just realized what day it was. Carolyn said, "This is so cool! They're all, like...human!"

We'd missed Aaron Fuksa, a.k.a. King Herod, so we were just waiting for Ted Neeley. We had no idea if he'd even be coming out, but we had our fingers crossed. The next part was like something out of a dream. A very amazing dream.

SOME LADY FROM INSIDE THE THEATRE: *comes out the stagedoor and points at me* How many in your party?
ME: Huh?
SOME LADY FROM INSIDE THE THEATRE: How many people are you with? Is it you three?
ME: Um, it's the four of us here. *motions to Mom, Daddy and Carolyn* [Carolyn's mom and sister were waiting back inside the theatre lobby, unfortunately for them.]
SOME LADY FROM INSIDE THE THEATRE: Alright, come on in. *motions to stagedoor*
ME: Um, what?
SOME LADY FROM INSIDE THE THEATRE: Come inside.
ME: *is sure she thinks we're somebody else* Um...
SOME LADY FROM INSIDE THE THEATRE: *turns to the crowd outside the stagedoor* Ok, here's what's going on: He doesn't wanna come out here because it's cold and there's a big crowd, but he does wanna meet everybody, so we're gonna bring people in in small groups. *points to me again* So you four, come on in.
ME, CAROLYN, MOM, DADDY: OMGOMGOMGOMGOMGOMG!!! *scramble in*
ME: *is shaking*
CAROLYN: *is near passing out*

OMG IT WAS SO UNBELIEVABLE! The four of us went in along with another couple of ladies. I experienced a serious case of deja vu as I found myself waiting to meet Ted Neeley in the very same hallway that I stood in waiting to meet Brad Little three years ago. I set about trying to take in all the details of the papers posted on the corkboard on the wall as fast as I could. They had a sign-in sheet! I had no idea that big fat Broadway stars like Ted Neeley actually had to sign in, but it turns out he does. I think that's pretty cooleroonie, for some reason.

Know what's even cooler than that? The fact that below that sign-in sheet there was a sign-up sheet for a Secret Santa, which I would assume was between the cast members. I just think that rocks. I'm not sure why I do. Maybe because it's sweet and so normal seeming, you know? I instructed Mom to take a picture of the stuff on the wall and the man in the little office just inside the stage door was watching us like we were on crack. I was worried he was going to tell us not to take pics of it, so I actually made a joke about him not needing to worry because we weren't on crack, I promised. He didn't seem to get the joke, and just said, "It's just a sign-in sheet." I replied, "It's Ted Neeley's sign-in sheet." He just shrugged and wandered back into his office. I don't think he gets it, how about you?

I could see the stage door--that is, the door that actually leads to the stage, which I know from when I went through it after POTO that time with Brad--and I was sorely tempted to go peek in, but I didn't want to get in trouble. I did start down an adjacent hallway, but Mom called me back, telling me, "You're the reason people aren't usually allowed backstage, you know."

While we were waiting, we kept hearing doors closing and footsteps, and we'd get all tense thinking it was Ted Neeley coming to meet us. I forgot to mention the fact that this hallway was entirely devoid of life with the exception of us, the man in the little office who didn't get my jokes, and the lady who'd beckoned us inside and who was now doing various stuff in other rooms. I kept instructing Mom to take pictures of stuff that might be considered interesting later. We got tense again when we heard someone coming down the hall toward us, but it turned out to be a young-ish guy who presented us with a tablet and asked if we'd like to give our names and email addresses to be notified of any future Ted-related stuff. Carolyn and I put our names down. For whatever reason, I was charmed by the fact that it was actually just us writing our names on a tablet, as opposed to some pre-printed survey thingy.

After about ten minutes we all started joking that the people waiting outside probably thought we were getting all this time with Ted Neeley and were joking about things we could say as we walked out the stage door to fake them out. "Thanks for the drinks, Ted!" "I had no idea you had champagne after every show!" "Chocolate-covered strawberries? That was too much!" Time still didn't seem to be passing quickly enough so I told Mom to take a picture of the prop cabinet standing nearby. Just as she was walking over to it and door slammed and we heard footsteps. She glanced down the hall and came right back to us. "Was it somebody?" we asked. "Yes," she replied, "it's Ted Neeley."

And then there he was. He just walked right over to us and we all kinda stood there speechlessly for a second, staring at him like he was some zoo animal--I get the feeling he's used to that reaction, because he didn't seem bothered at all. Then all of a sudden we all started raving and praising him and telling him how amazing the show was. Mom was taking a million pictures of him, of me and Carolyn, of all of us. She actually planned ahead and got a pic of me and Carolyn right when Ted came around the corner, for the excited looks on our faces.

He went to Carolyn first. He shook her hand, asked her name, asked what she thought. He seemed so honestly warm and interested in all of us, it was amazing. Truly a nice guy. Carolyn was a little speechless so I told him she'd grown up watching the movie, and he asked her jokingly, "Do you think you're any worse for wear because you grew up with the movie?" and she blurted, "NO!" He asked about us too, which was so cool! He asked her if she sang and she said not really, but she acted down at San Diego State. He actually said, "Well maybe we'll work together on something sometime." How awesome is that of him to say?! She also told him that she'd been working with theatre lights recently and he said, "Well this is a good show for that, obviously," and proceeded to praise the lighting design. He liked the three spotlights trapping Judas too. He was so nice and warm the whole time. When he shook our hands he kinda held onto them while we talked, which made it feel like he really was interested in everything we had to say. He also gave us all multiple very long, very close hugs.

After Carolyn he went to me. I said, "I'm Amanda, or Mandy, and I didn't grow up on the movie like she did but I'm just as excited!" It sounds so hokey now, but I think it actually came out rather well at the time. He asked me if I was studying like Carolyn and I said, "I'm currently taking a break between high school and college [yeah, so it's a really long break and I don't intend to go to college, he didn't need to know that much, lol], but I want to work backstage in theatre." He seemed fairly impressed with that, which made me really happy. I told him, "I can't sing, but I love musical theatre," and Mom said "Yeah, and she's good at telling people where to go," and Ted laughed at that. He also made it clear that he has a lot of respect for crew members. "We get all the praise, but they do all the work." I told him, "I dunno, you did a lot of work. I heard it!" And he laughed. He also talked about how great the local crew working there was. I told him I had no idea they used local crew and he explained that they have a small crew that travels with them, but they have to use local people or they wouldn't have enough help. I loved this conversation because 1) I found out that the Orpheum Theatre uses local crew, which is good to know, and 2) it was so incredibly normal! Ted Neeley and I had a normal conversation!

After me he went to both of my parents, but didn't spend as much time we them. Probably because, unlike Carolyn and I, they weren't mopping the floor with their tongues. They were both very excited to get to meet him and told him how wonderful he was, but Carolyn and I were very obviously the musical theatre geeks in the room. I don't remember the exact flow of the conversation from this point on, but at one point he made a comment about his son and gestured to the guy who'd asked us to put our email addresses down on that tablet! Like an idiot (yet I somehow don't regret doing it so much, maybe because Ted didn't act like I was an idiot when I did it), I pointed at his son and said, "Oh, he's...? That's...?" And Ted said, "Yeah, that's my son!" My dad said, "He kinda forgot to mention that little detail," and Ted joked, "Yeah, he tries to hide it."

After that was kind of a blur of raving about the show, little bits of still-normal conversation, lots of photographs, several very good hugs...at some point, I'm not sure when or what prompted it, I grabbed both of his hands and said, "'Gethsemane' was the coolest thing I've ever seen!" and he thanked me very much. Eventually we knew we should leave because the two ladies who'd come in with us had just been waiting around behind us, so Ted's son took a picture of all of us together and we headed back outside (Ted pointed to my spaghetti-strap-clad self and said "You're not going out there without a jacket or something, are you?" So thoughtful!). Carolyn's mom and sister were relieved to see us because they'd come to the stagedoor and had no idea where we were; they hadn't been there when we'd been invited inside and we hadn't given them a thought. To end the night, I asked a guy out there to take a picture of all of us in front of the theatre, took some shots of the marquis myself, and asked Carolyn if we were planning on doing anything tomorrow...well, today now. She said she'd call and maybe we could go to the mall or something. As in, Mr. Attainable's mall. I said, "Oh good, because--" and she said, "Yeah, I know." So tomorrow today I might get to see Mr. Attainable and get to tell him all about Jesus Christ Superstar and Ted Neeley!

EDIT: I can't believe I forgot this the first time through! At one point while talking to Ted, my dad made a comment about how long he'd been playing the role and Ted said, "Yeah, I think I almost have all the words now." LOL.

Dude, do you realize that I have now met someone who's been nominated for Golden Globes and has worked personally with Andrew Lloyd Webber?!? AAAHHHHHHH!!!


Photos

Corey Glover (Judas)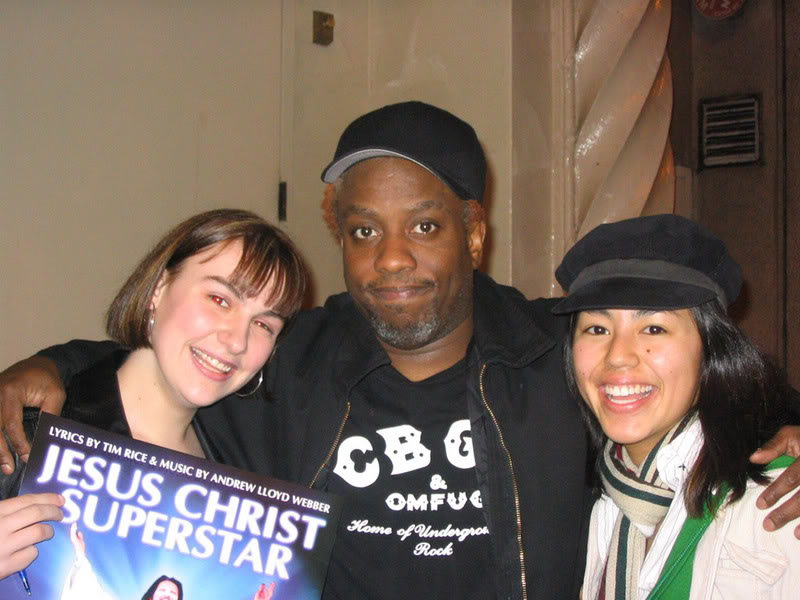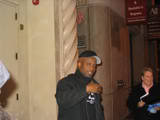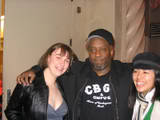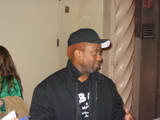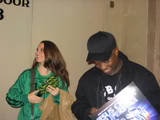 (the girl in green is an ensemble member)

Larry Alan Coke (Caiaphas)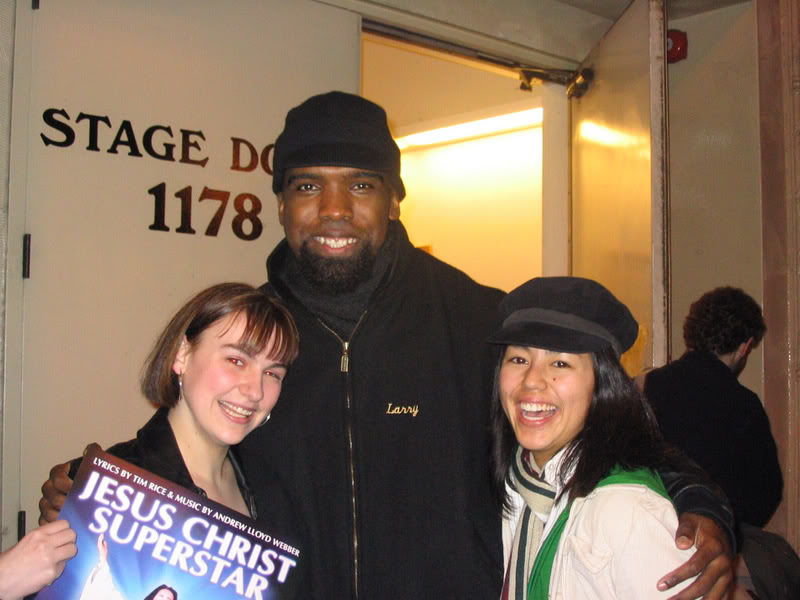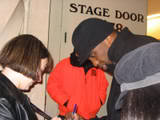 Christine Rea-Briskin (Mary Magdalene)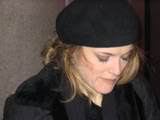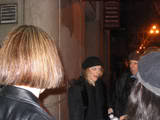 Craig Sculli (Pilate, left) and Jeremy Pasha (Annas, right)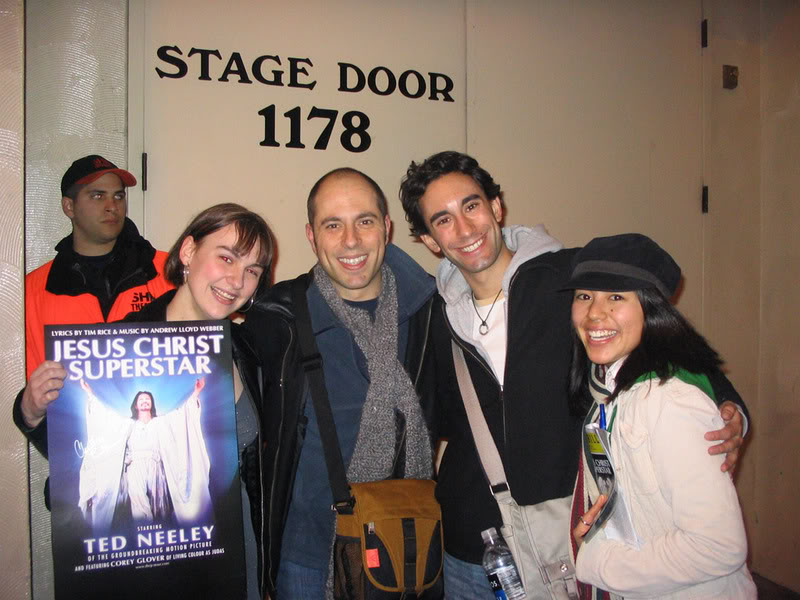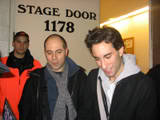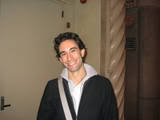 Backstage stuff that I made my mom photograph...somehow she missed the Secret Santa sheet, which makes me sad. Oh well.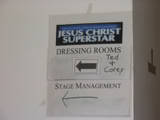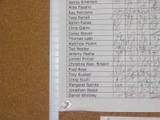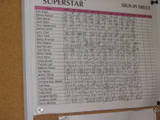 Ted Neeley!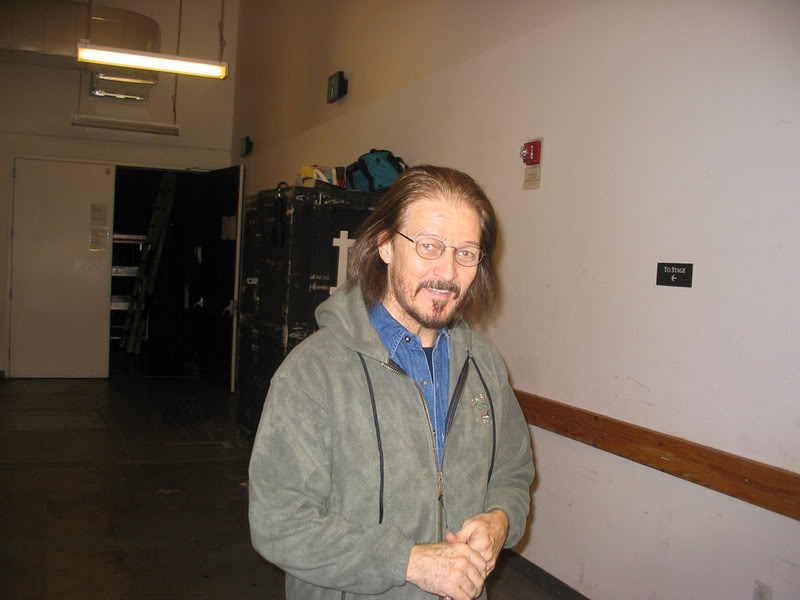 This is the real, unposed picture taken when we first saw him: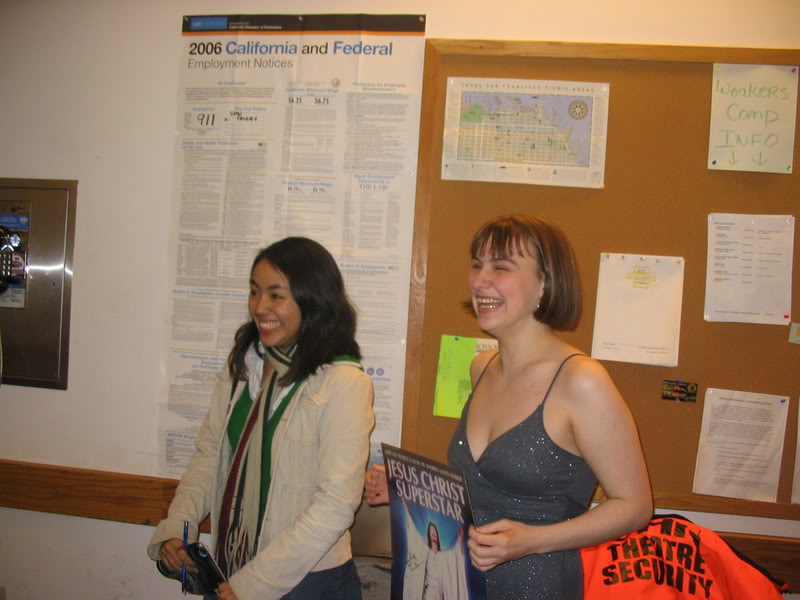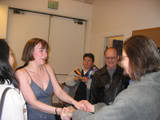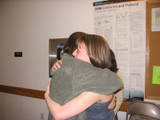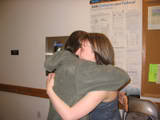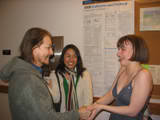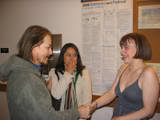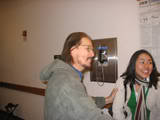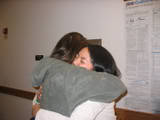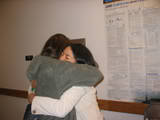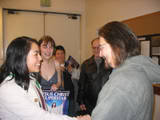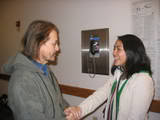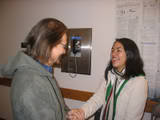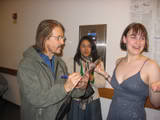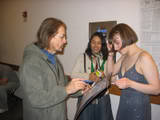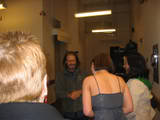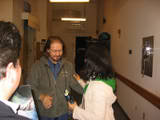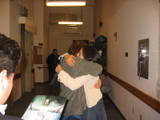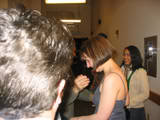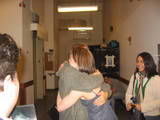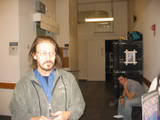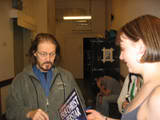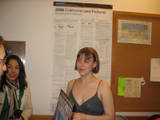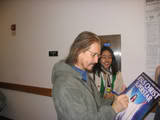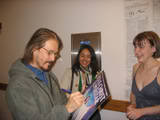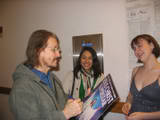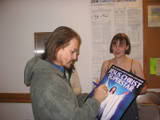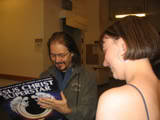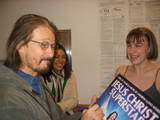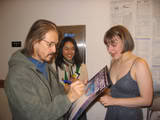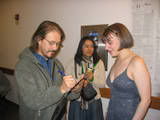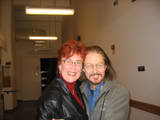 I swear this wasn't posed.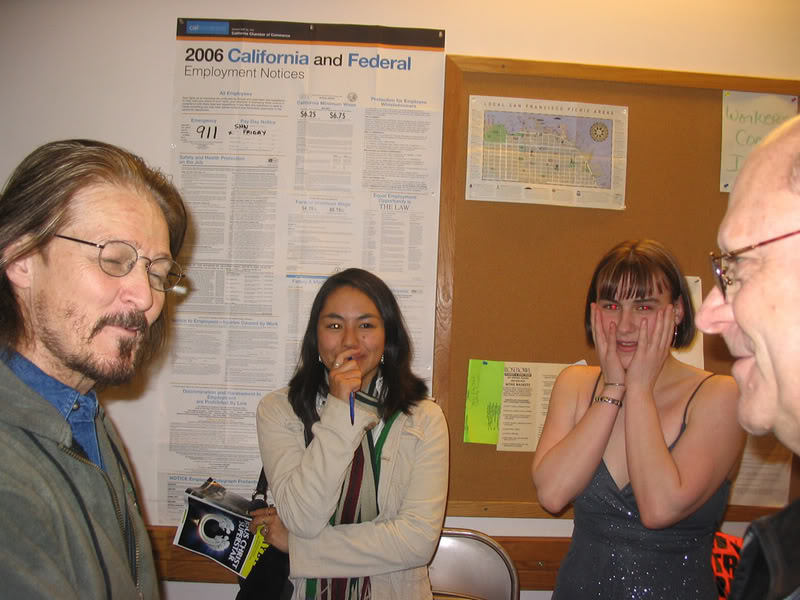 Mom, Ted, Carolyn, Me, Daddy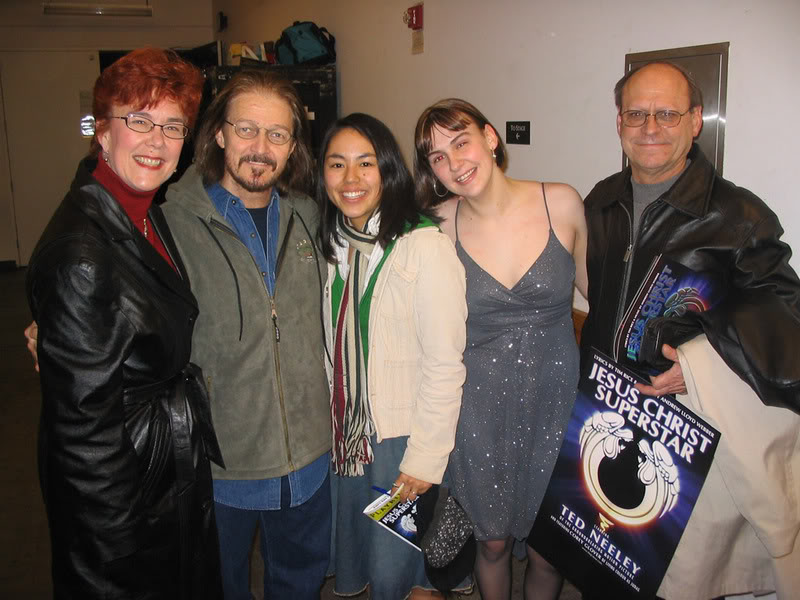 Stuff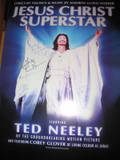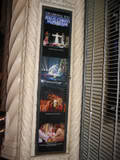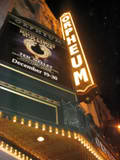 My mom, Carolyn's sister, Carolyn's mom, Carolyn, me, my dad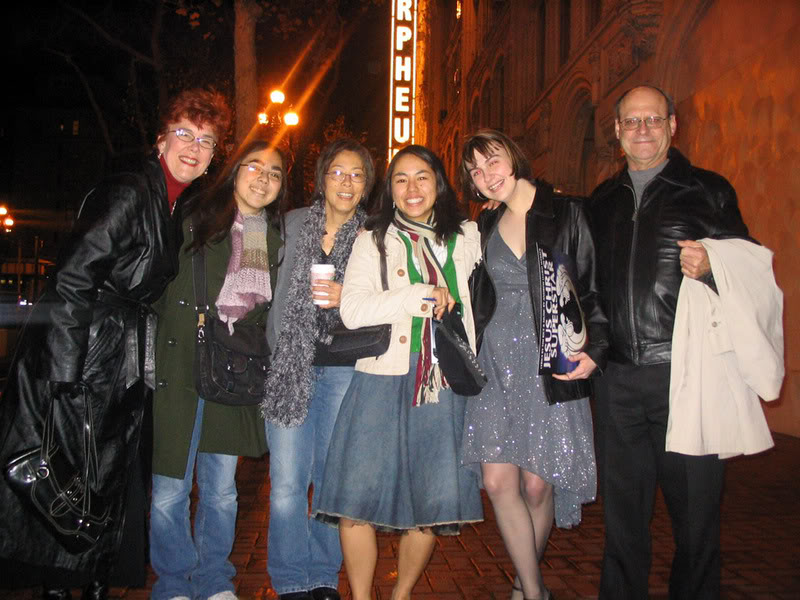 Random factoid: this is the very first time I've ever had someone sign my name Mandy instead of Amanda. I've been going by both my whole, but Mandy more lately. I asked Mom which I should have him sign and she said Mandy. So there it is.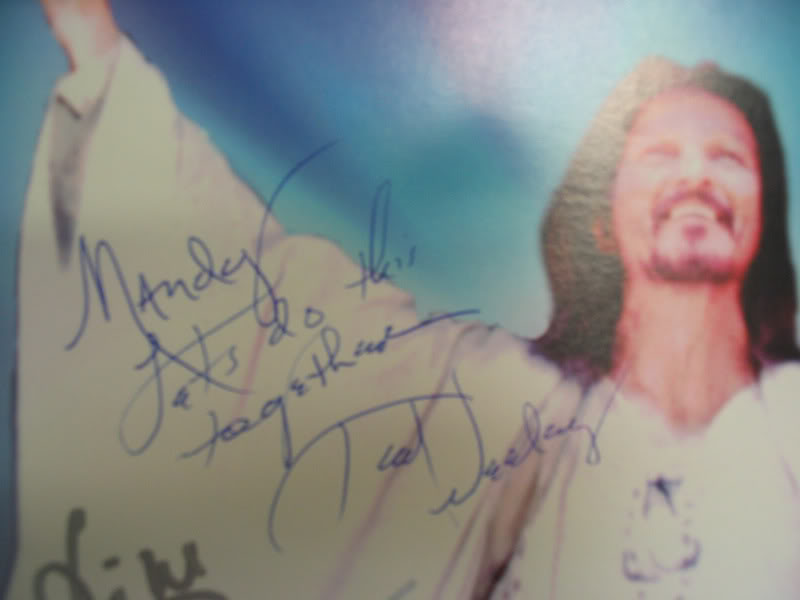 "Mandy - Let's do this together. - Ted Neeley"
---
~~~~~~~
MEDFORD - 3/5/07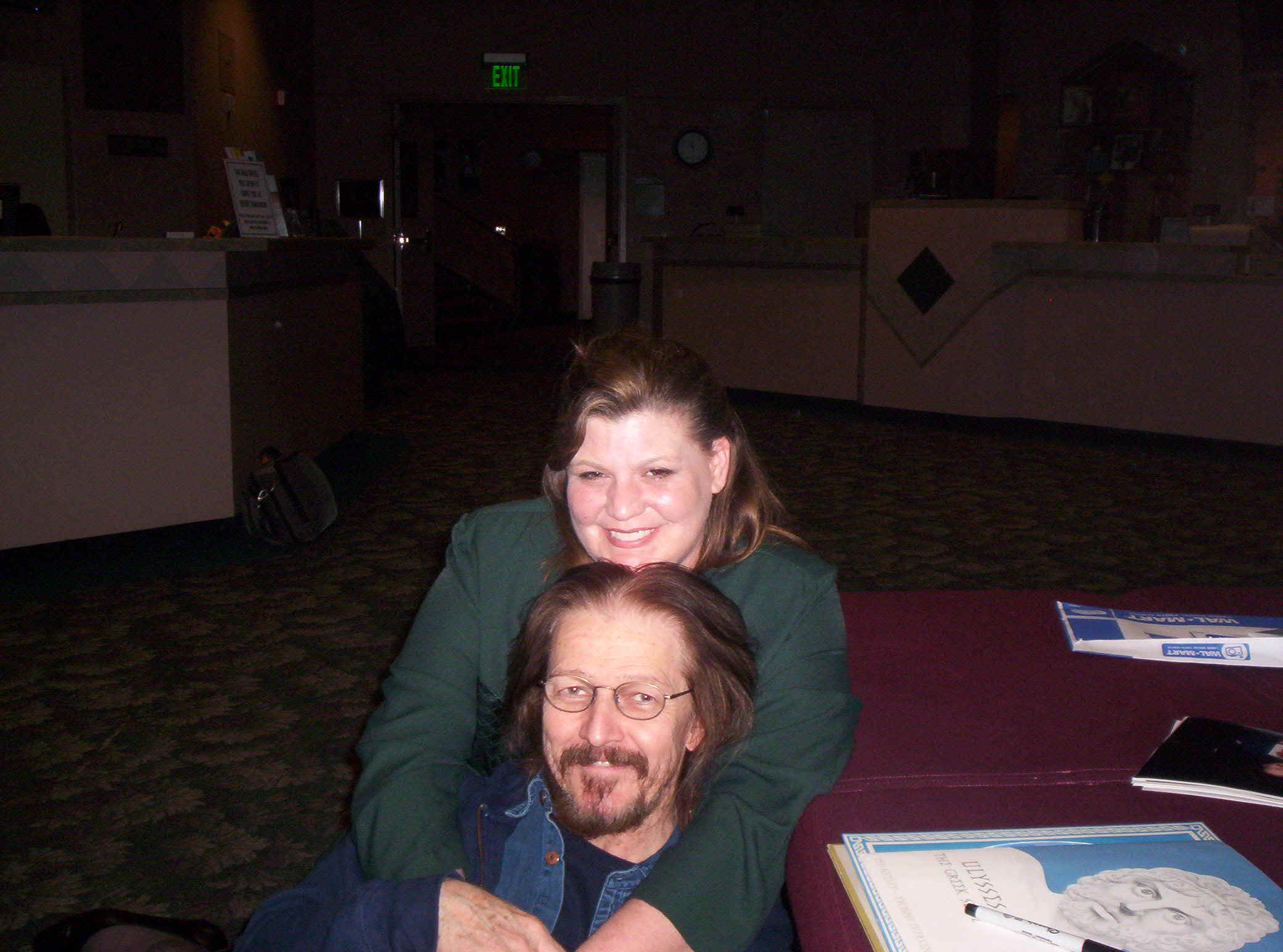 Here's Tina (hvnstmpst2@aol.com) Henley on the Craterian Ginger Rogers Theater lobby floor with Ted.
~~~~~~~
DA
YTON 4/17 - 22/07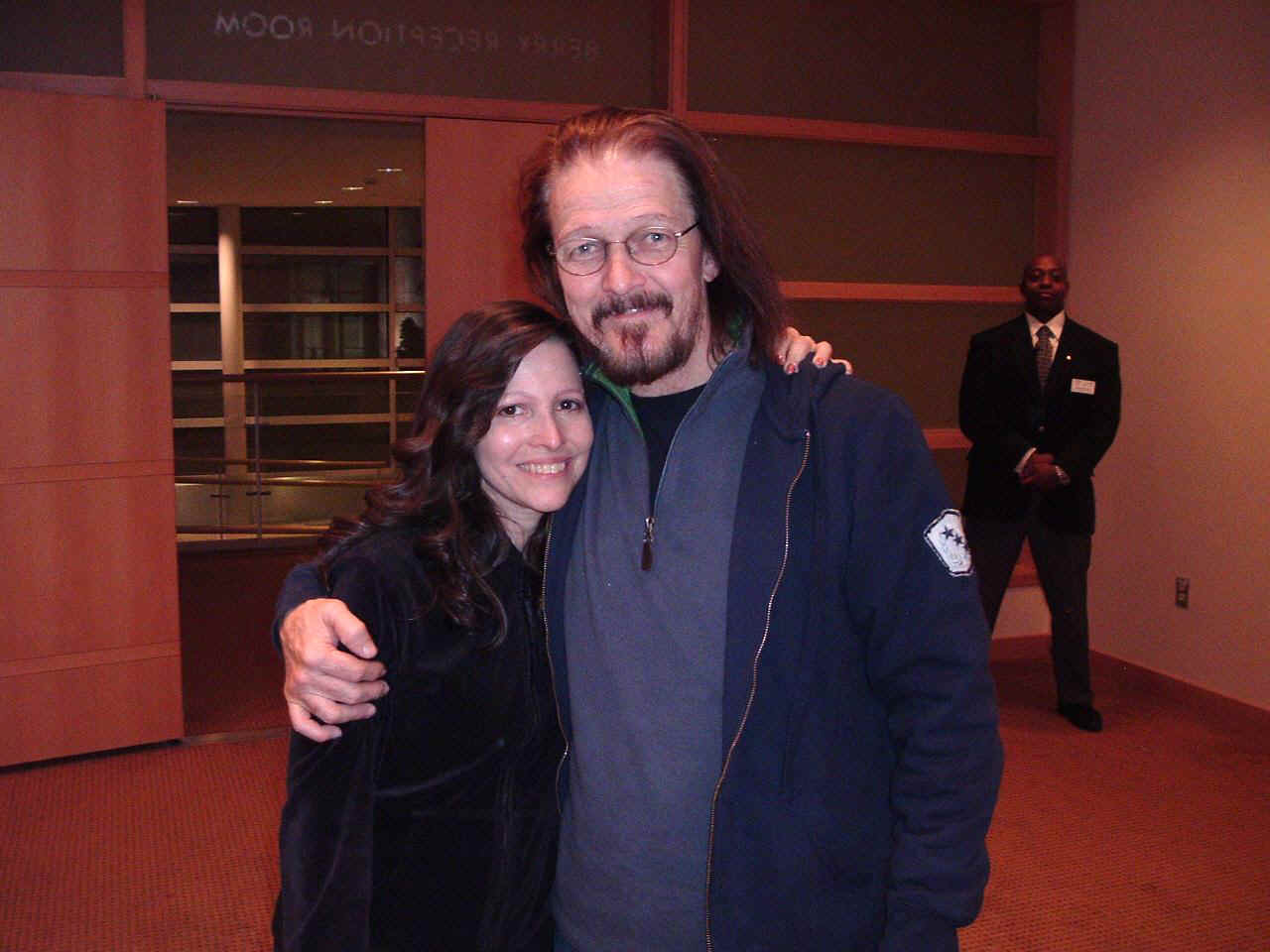 This was taken in the Schuster Center Green Room
at about 3AM - or so. It was a very quiet meet and greet - there
were only about 12 of us there, 6 were from one family.
Ted had a ball telling us all his theatre stories that night!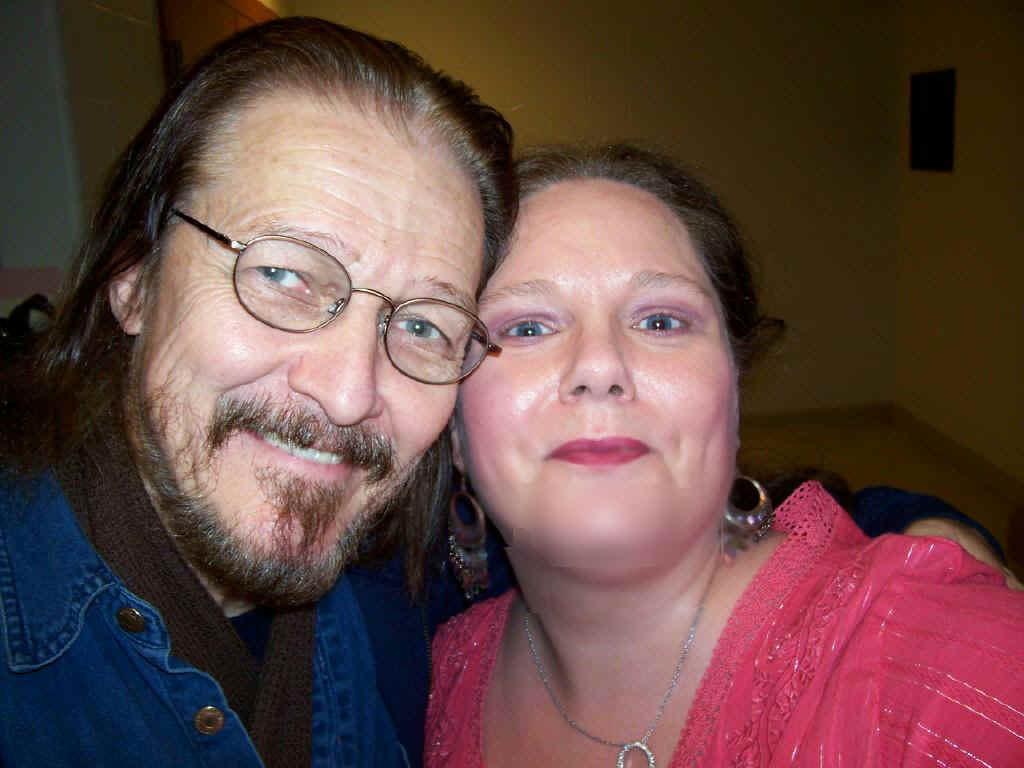 And ... here's Heidi with Ted!
~~~~~~~
LIMA - 5/22/07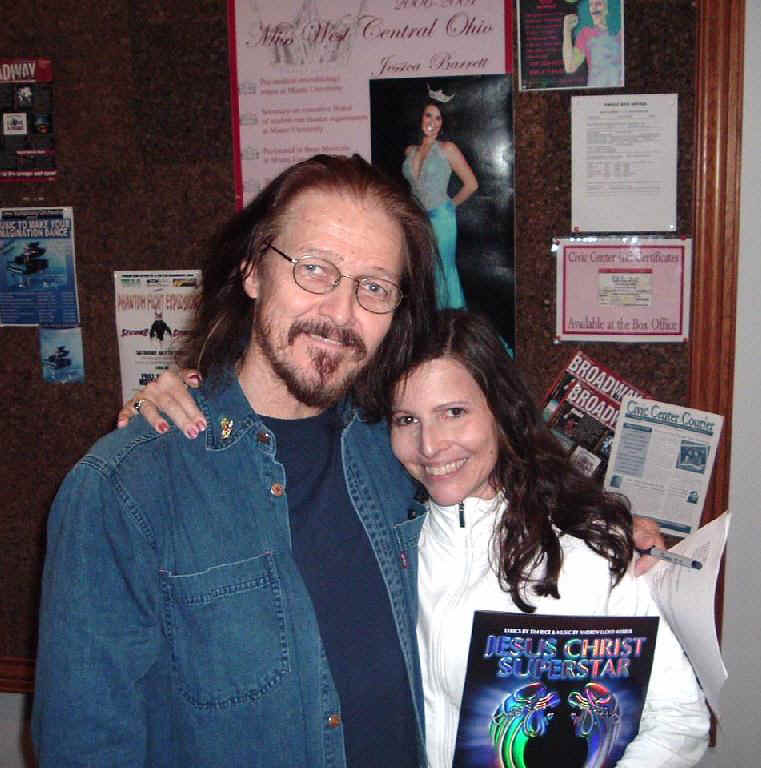 In the Crouse Performance Hall lobby, where I met Dawn and Crystal, I think this was about 2:30AM,
there were probably close to 100 people waiting at this meet and greet to say hello. If I kind of look a
little dazed, well, let's just say that after 6 hours of work, 3 hours of driving, 2 hours of JCS and 3+ hours
of M&G, a litt
le Red Bull is a wonderful thing!
~~~~~~~
COLUMBUS - 2/29 - 3/2/08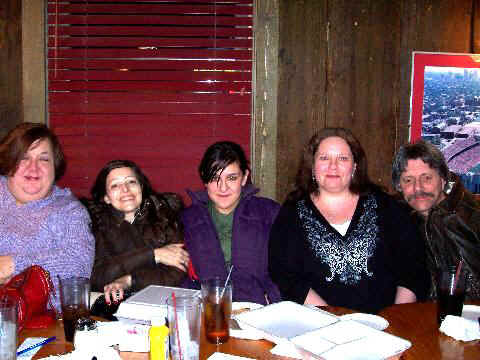 There was no Meet and Greet at the Palace Theatre on Saturday night, but we made the
best of it and had fun anyway. Let to right, having a late dinner at the Beer Garden: Aimee,
Me, Kendra, Heidi and Rick. Along with ...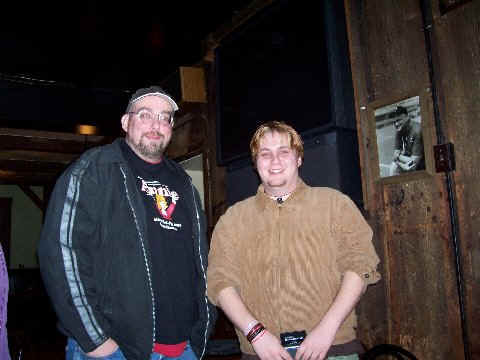 Two of our newest FTNL list members, Bryce and Dan, whom we met outside the Palace
Stage door/garage after the show!
~~~~~~~
PITTSBURGH - 4/25 - 27/08
A WONDERFUL time was had by all at the Benedum Center in Pittsburgh, with Heidi and Rick attending both the Friday and Saturday shows, and meeting up with Mary Ann, Aimee and Me on Saturday night. We spent hours at the M&G until 3AM, went to Eat and Park at 4AM, and didn't get back to the hotel until 6AM (Pittsburgh is allergic to streetsigns and when asking normal directions in Pittsburgh they'll tell you to turn left at the dead skunk!), because we all got lost. LOL!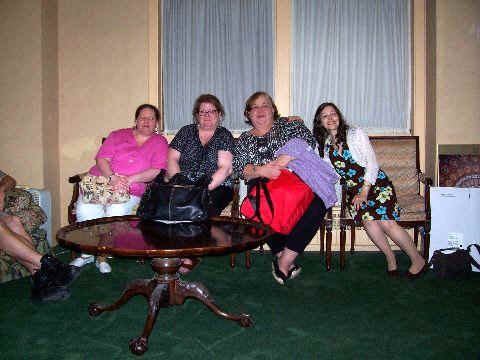 Here are Heidi Oller, Mary Ann Richter, Aimee Thomas and Me (Cindi) at the
Saturday night M&G - I think it was about 2:30-3AM by this time...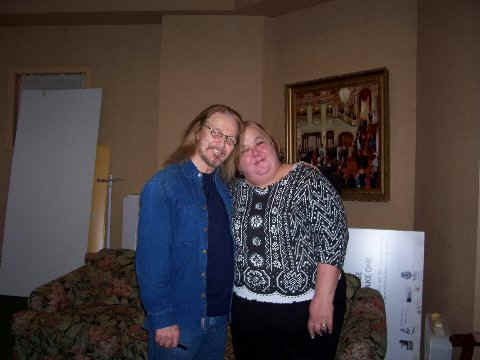 Aimee and Ted on Saturday.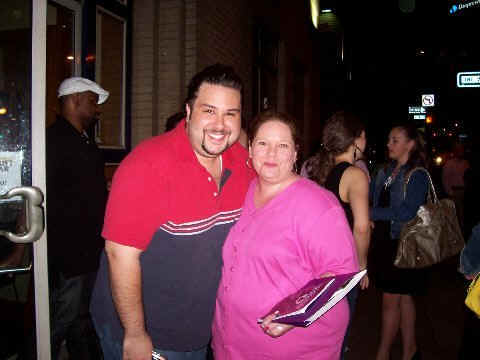 Heidi and Aaron Fuksa on Saturday.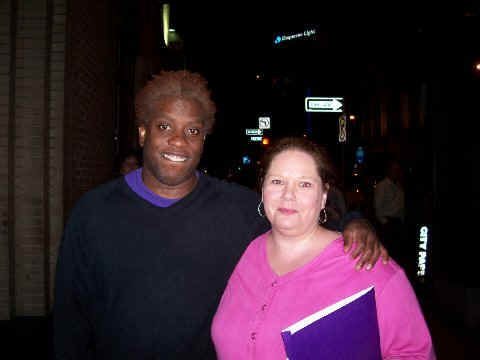 Heidi and Corey Glover on Saturday.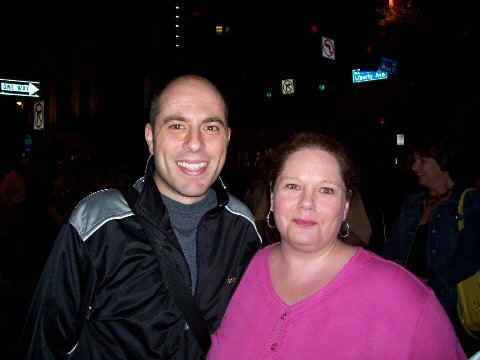 Heidi and Craig Sculli on Saturday.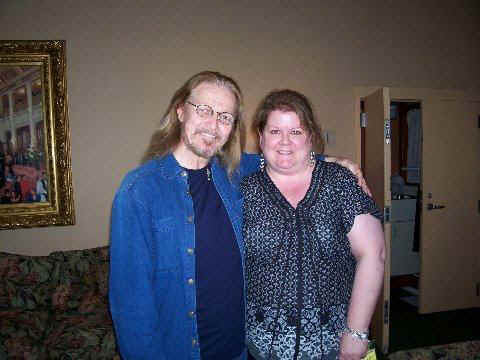 Mary Ann and Ted on Saturday.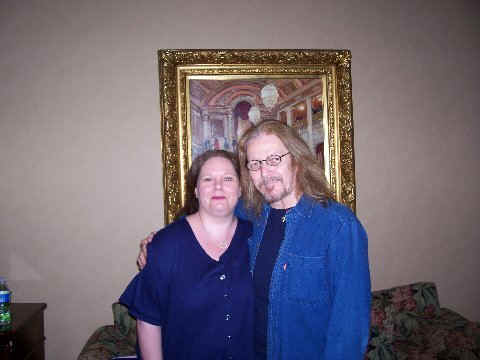 Heidi and Ted on Friday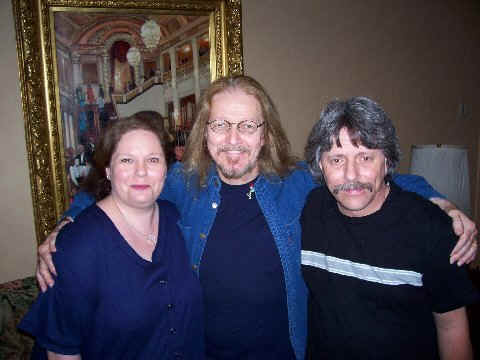 Heidi and Rick with Ted on Friday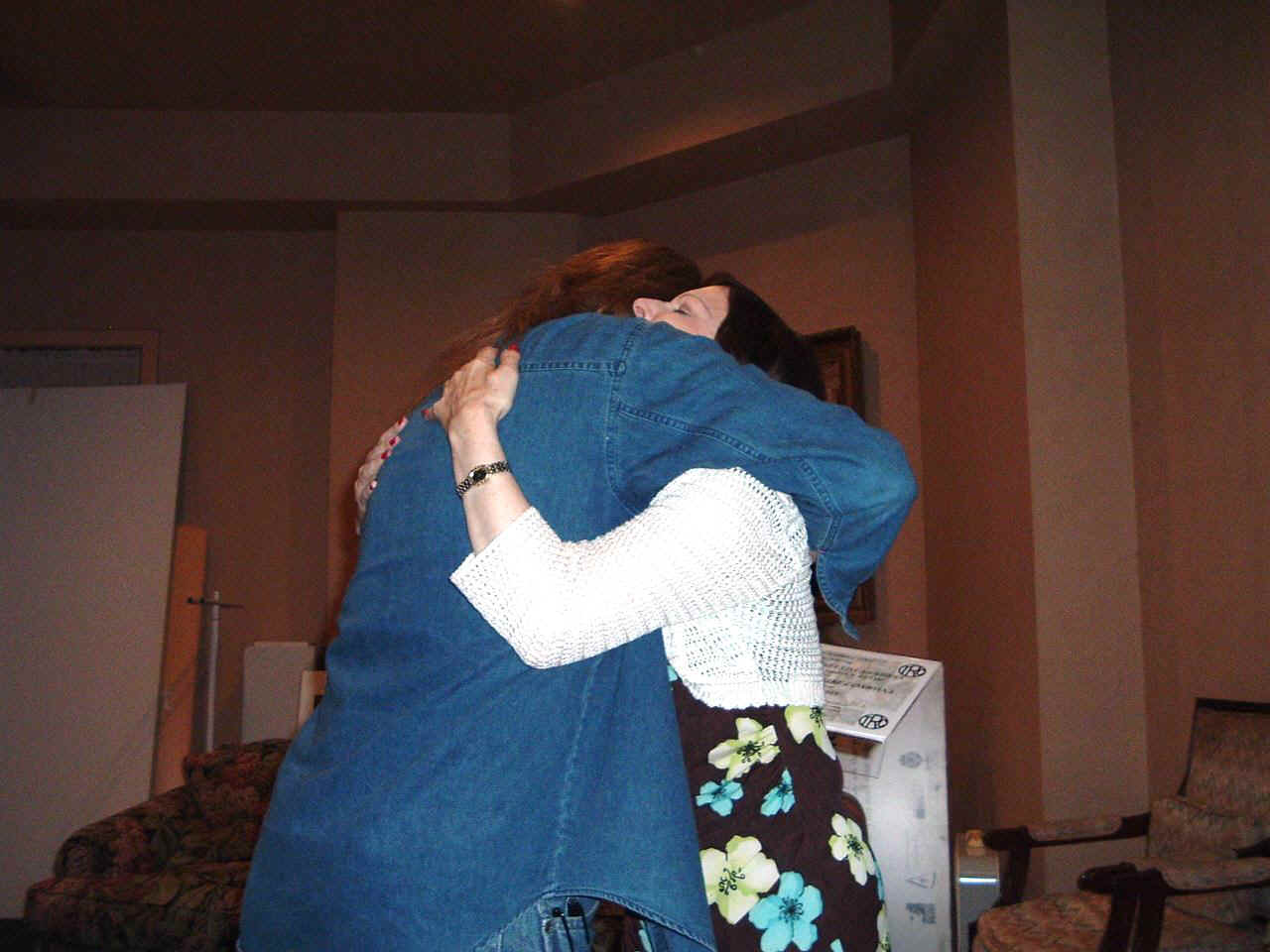 My (Cindi) Tedhug with Ted on Saturday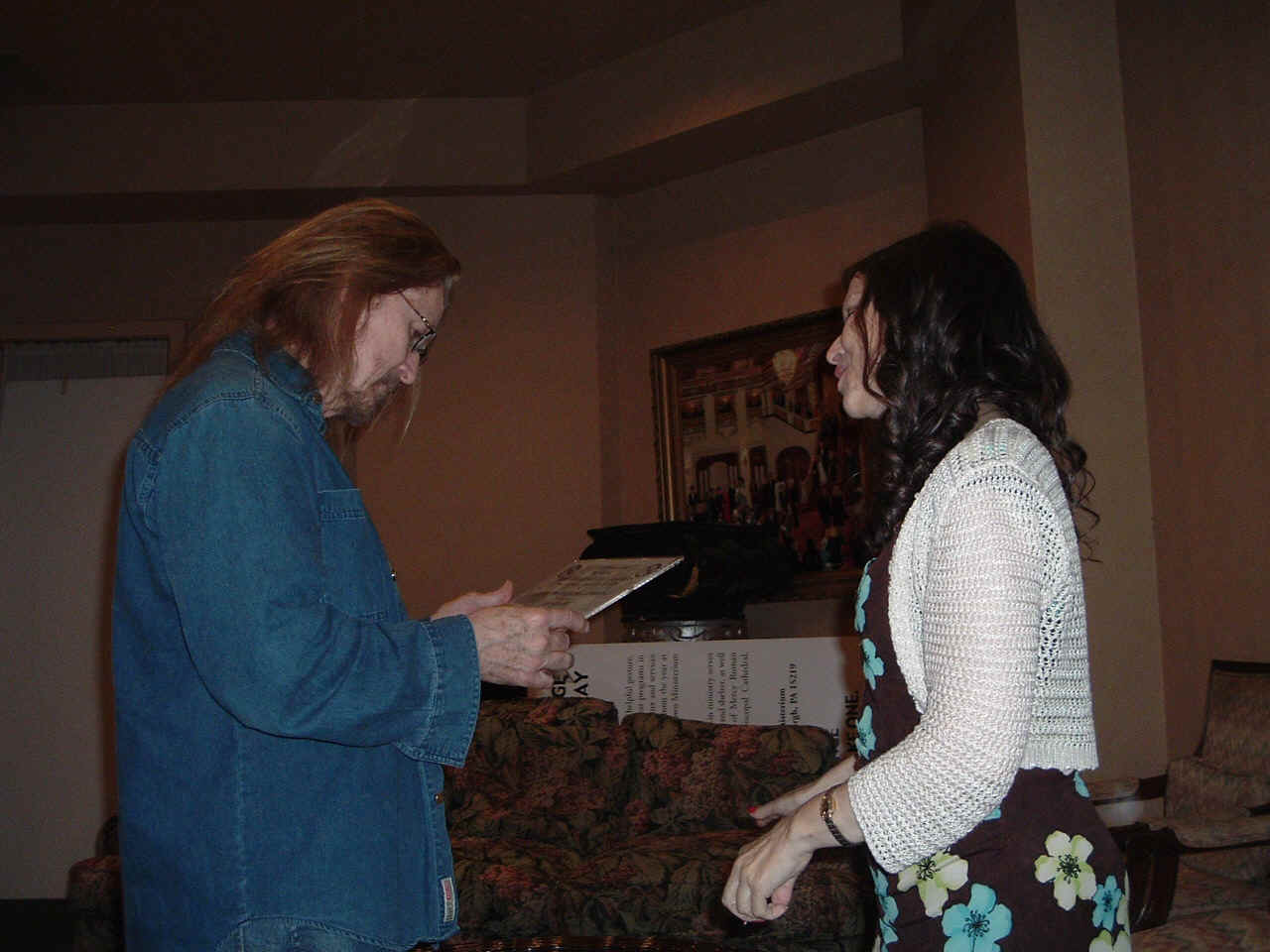 Presenting the FTNL Xmas Plaque on Saturday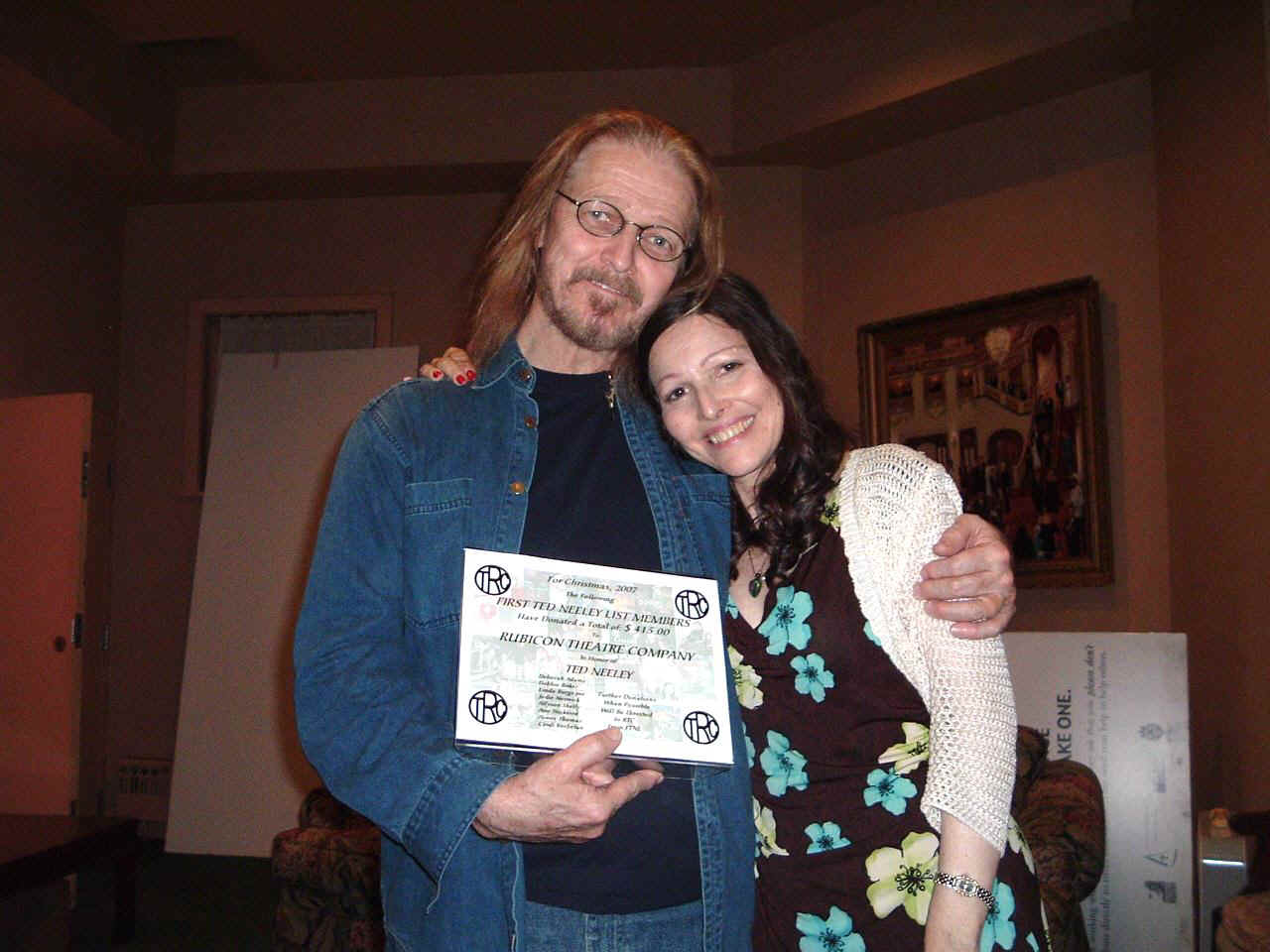 Ted and me with the FTNL Xmas Plaque on Saturday.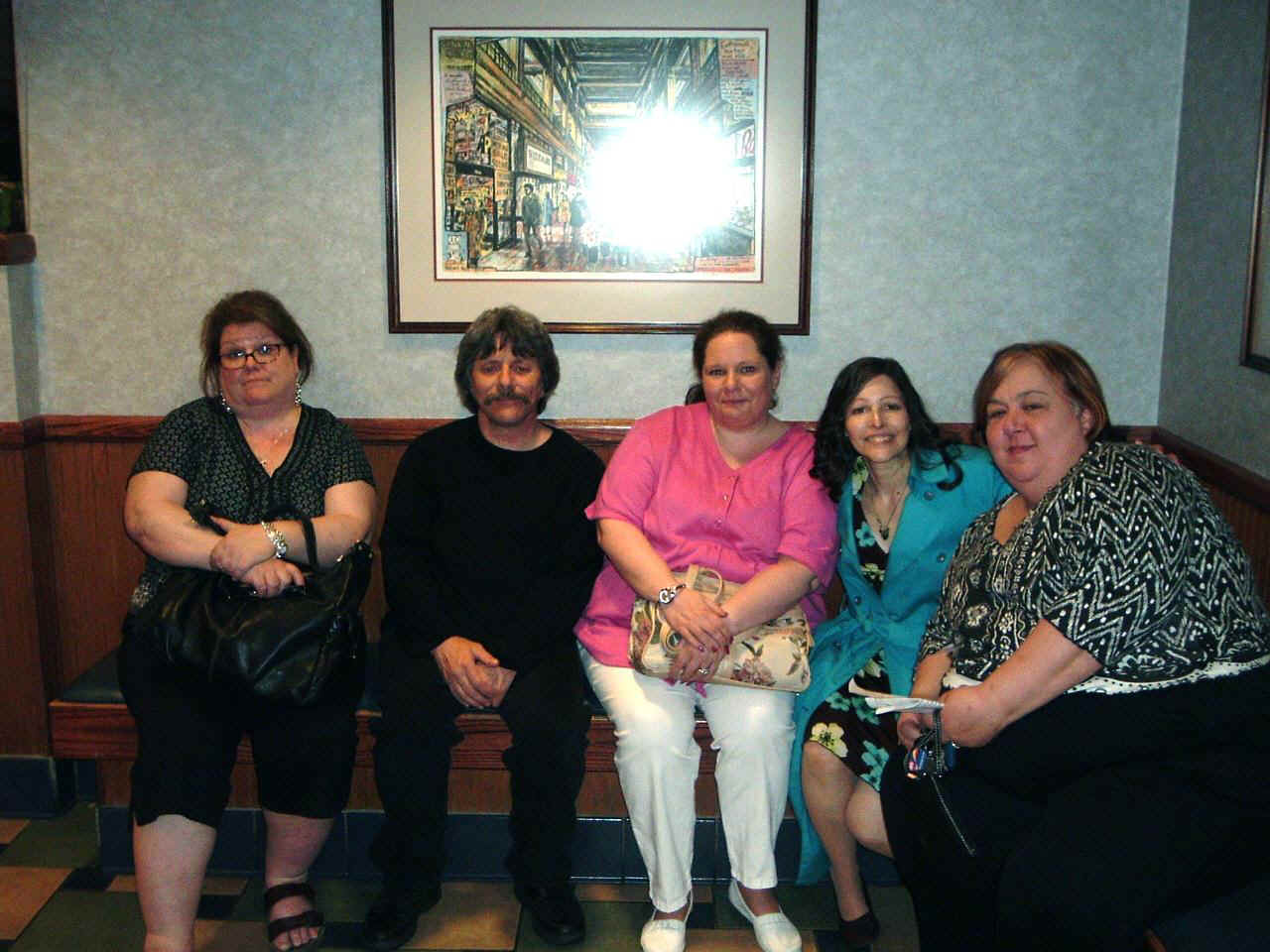 Sleepy crew at Eat and Park after M&G on Saturday- left to right: Mary Ann, Rick, Heidi,
Me and Aimee.
~~~~~~~
WABASH - 2/12/09

Some lovely pictures from Sherry Breitwieser!
| | |
| --- | --- |
| Sherry and Ted. | Sherry and James. |
~~~~~~~
COLUMBUS - 2/23 - 24/09

Some lovely pictures from Sherry Breitwieser!
| | |
| --- | --- |
| Sherry and Ted. | Sherry and James. |
| Sherry and Darrel. | |
~~~~~~~
CLEVELAND - 2/25 - 27/09

A WONDERFUL time was had by all at PlayhouseSquare in Cleveland, where Ted did one of a select few M & G's he's done on this leg on 2/27. See below for pictures from me (Cindi), Heidi, Tina and Patti!


A Tedhug Hello.

Here I am explaining that this Jiminy was for the Disney 40th Anniversary of Pinocchio

(HATE the look on my face!)


Ted and me with Jiminy

.




Ted and me with Jiminy

.




The FTNL Birthday/Xmas Angels Donation Plaque is finally presented to Ted by Heidi and me!


The FTNL Birthday/Xmas Angels Donation Plaque is
finally presented to Ted by Heidi and me!



Ted reading the Jesus Baseball Trading Card on the back of the "Next-To-The-Last-Supper" Gum.


A Tedhug Goodbye.



Heidi caught Me on the floor chatting while we waited our turn. Typical picture I take – eyes shut, mouth open - ***SIGH***.




Heidi gets a Tedhug – with her roses for Carl.




Ted with Heidi's roses.




Ted with Heidi's roses.




Ted and Heidi.




Ted and Heidi.


Heidi got James to smile pretty...

…so did Aimee

.




…and Tina.




Tina's first Cleveland Tedhug.




Tina and Ted.




Tina and Ted.




Ted autograph's Tina's JCS movie album.




Tina's second Cleveland Tedhug.




Tina and Ted.




Tina and Ted.




Here's Patti Baugh with her nephews Max and Jorgen, and Ted.




Here's Patti Baugh with her nephews Max and Jorgen,

& Ted.




S

l

eepy – but happy - crew at Nighttown at almost 3AM - left to right: Heidi, Tina, Me, and Rick (Aimee and Kendra were not feeling up to our late-night wind-down and went home after the M&G).
~~~~~~~
MUNCIE - 4/29/09

A lovely picture from Sherry Breitwieser!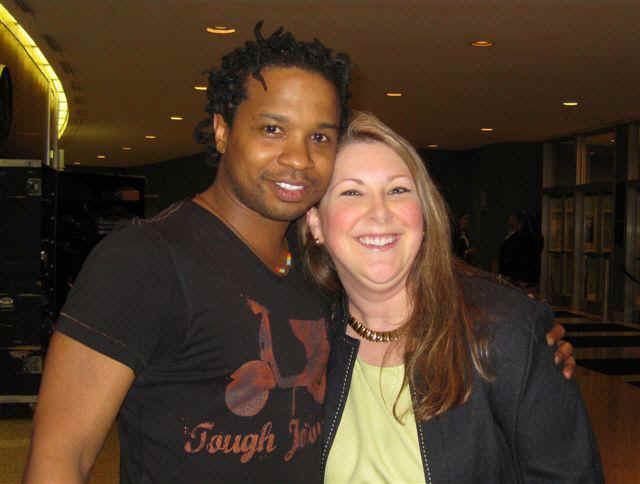 Sherry and James.
~~~~~~~
JACKSON - 5/3/09
A WONDERFUL time was had by all at Potter Center Music Hall Theatre in Jackson, MI, where the third leg of this tour ended. See below for pictures from Sherry!
| | |
| --- | --- |
| Cindi and Aimee with Kendrix | Sherry with Kendrix |
| Maxxi with Kendrix | Maxxi with Kendrix |
| Maxxi with Kendrix | |
~~~~~~~
...AND THE TOUR GOES ON...STAY TUNED TO SEE WHO TURNS UP WHERE ON THIS PAGE NEXT!