Sat 10/2/2004 8:45 AM
BECKETTFEST - DAY 14 - A FABULOUS IGUANA REHEARSAL, A GODOT WARDROBE MALFUNCTION, WALTER'S FAREWELL PARTY

Today I woke up at 8AM - WITHOUT the alarm - which is a miracle, since I got to bed about 3:30AM (Marky & I were online again).
My day began with a trip to Delnorte Rd. and the morning's Night of the Iguana rehearsal. My initial plan was to sit in for 2 hours and then head to Brown Bag. But the rehearsal was SO MUCH FUN, that I elected to forgo Brown Bag and stay until I had to House Manage for "Collected Works".
Incidentally, today I officially became an "official" "California Driver". I was streaking down 101 South (if you don't do 70-80MPH, they crawl RIGHT UP your rear end here!), and the Delnorte exit came up - but the truck on my right blocked my view of any warning signs beforehand - so the first time I saw it, the exit ramp was almost even with my car - and here I was in the INSIDE lane on the freeway! So - I let the truck on my right pass me, and then I floored it and cut over three lanes to my right to just make the exit ramp. GEESUS - that scared even ME!!! But no one even honked! I called my girlfriend tonight and told her: "You know how you sometimes get a little green around the gills driving with me?" She said: "Yes." I said: "Well, here, I'm YOU when you AREN'T in the mood to drive fast!" She said: "Oh boy."
I saw a LOT at rehearsal. The Actor playing Shannon was looking for a paycheck he thought he'd left in his wardrobe pants from the publicity pictures shoot they had yesterday, and I offered to check at the theatre for him. He said: "Yes, please, call Brian and tell him to cancel the check and reissue it or I can't make rent this week." I realized he was talking to me thinking I knew who he was. So I said: "Forgive me, but what is your name again?" He said: "Richard Eden." And my brain went - BANG! - you don't know who HE is? Of course you do! ("Robocop - The Series", "Santa Barbara", "The Matrix" - he has one of those "oh yeah" faces when you see him.). I figured it out and a few minutes later I walked over to him and said: "Forgive me for not realizing who I was talking to before - I do know your work. It's just that TV changes people's faces." He replied like - "Oh - don't worry about it." and we talked for a minute. Richard said he doesn't go in for botox or any of that - and I said that with a character like Shannon, wrinkles actually can help - and he agreed - and I told him what Elayne Boosler said about men and leeway for looks - wrinkles are character, gray hair is distinguished, and we laughed.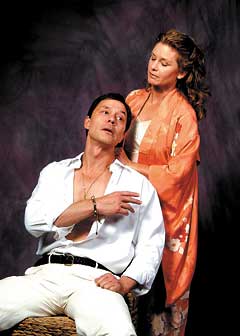 Richard Eden and Stephanie Zimbalist
in "The Night of the Iguana."
Stephanie Zimbalist was on call - though Efrem was not. And Joseph was on call - so I got to watch him act after all - YAY! When Joseph came in and saw me, I said: "Hi Stranger!" and he came over, gave me a kiss hello, and said: "Hi, I was just thinking about you - and saying: I wonder how she is, I hope she hasn't gone home! When do you leave?" I told him Monday. I saw a scene between Shannon and Maxine, and then the confrontation between Shannon and Jake (Joseph) - and even a fisticuffs fight being choreographed - it was a VERY productive morning!
All too soon, it was time to leave for the theatre. I got on 101 North again, and was halfway back when I realized I was on empty. I just kept praying that the car didn't run out until I got off and found a gas station. Fortunately, it didn't. Thank God - because I have no cell phone, and wouldn't know whom to call if I did! The cheapest I found was $2.09 - for economy. GOD Gas is expensive here - up to $2.99 a gallon! When I got to the theatre, I found out that Rick Cluchey was still in the hospital, so "Krapp's" was postponed again. Cliff did his "Collected Works", to a very big and responsive house - THANK GOD!!!!!!!!!!!!!!!!!!
After the show, we threw a quick farewell party for Jennifer from Development, today was her last day, and then Donna and I and Nick Kowalchuk, the Director of the Winnipeg International Fringe Festival in Manitoba, went for a late lunch at Mimi's. Great food - I had a pot roast sandwich - half of which is waiting for me in RTC's refrigerator, since it was so big!
Donna told me she needed me to usher "Godot" tonight, and while she got ready, I decided to go flower shopping. I walked over to the florist and found 3 GORGEOUS white roses with pink lines outlining the inside petals. I got one for Karyl Lynn (she gave me the invitation), one for Donna - (she hauled me to RTC from LAX and trained me), and one for Ted (the main reason I went in the first place - until I got there, that is, and realized what a fabulous thing this Festival was!). Donna was easy to find, and she loved hers, Karyl Lynn was out of her office, but I left the rose on her chair, and found Joseph and Chris in the hall on my way back, so I got Chris to take a picture of Joseph and me, which will be posted onsite as soon as it's developed - and God-willing it will be a good shot - (Chris said: "I have to warn you - he will always look better in the pictures" and Joseph said he wouldn't - and I said: "Yes, you do, I've seen them!" and we all laughed.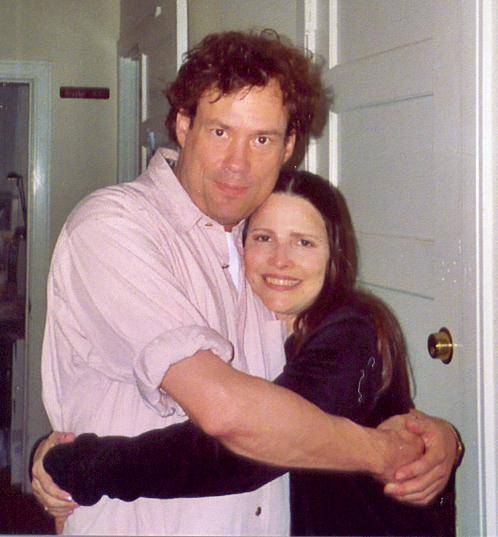 The picture of Joseph & me that Chris took. She's
right, he always DOES look better - LOL!
Joseph and I talked a little about his family (his adopted Mother is still living (NOTE: His Stepmother adopted him), and he wishes he'd kept the house he grew up in, like I have mine), and about relocating situations and the best way I could consider possibly coming out there, and then I went to deliver the rose to Ted once he'd signed in.
I found him in the men's dressing room (they all share one) alone, and said: "You have another delivery!" He said: "These people are so nice!" Then looked at the rose and said: "The most female of flowers." Then he opened the card and my theatre business card popped out of the envelope. I gave it to him so he'd have all my contact info in the same place. He said it was a great picture and asked who the photographer was - I said Tony Gray - a local Cleveland photographer. Then I said: "Amazing what you can do with good make-up and lighting!" And he laughed. We talked a little about LA and the progress he's trying to make with his projects. And he let me rub his back and neck a little - said it felt great. Cliff came in while I was doing this, and said: "Oh, I won't interrupt." - and Ted said: "Take a number!" and we all laughed. Cliff did go back out for something, though. Ted then told me that the guys all appreciate my being there and helping out - and I said I was hoping I wasn't being intrusive, or in the way - and he said definitely not. The card I wrote said: "I'm so "Lucky" that you're my friend. Thank you. Cver." He laughed, liked the play on words with his character's name, and I got 3 great Tedhugs and some really lovely words from Ted when he thanked me for the rose. (Ted said: "Thank you so much for all you do. You are so special.". Wasn't that sweet?) Then it was time to go usher "Godot".
The show was sold out - actually the rest of the run is sold out officially. I was seating people, and who should walk by - but JANET! I said: "My God - when did you get here?" She said she'd gotten in a few days ago, was staying with Jenn, and had been working with Karyl Lynn on when she could see Ted. Jan had a great seat in the front row - Wanda and I sat on chairs in the back.
The show was rolling along - I'd say about 20 minutes in, when Robin's belt broke and he had to run offstage. He was in the middle of a scene with Cliff and Joe, and Ted had already crossed the stage with Cliff and had exited. Cliff was saying a line to Robin, but when he turned around, Robin had already run offstage. Joe then looked at the audience and said: "We have a belt problem!" We all laughed (and I immediately thought: "Wish he'd said: 'We have a WARDROBE MALFUNCTION!' LOL!), then Cliff exited and Joe was left onstage alone! The next thing we all heard was Ted's feet backing up onto the stage, and suddenly Lucky was there walking around looking at the ground! Then Cliff comes back out, grabs his whip and whipped the floor saying: "BACK!" to Ted - who shuffled back offstage and they picked up right where they left off! The audience was in hysterics!
The rest of the show went very well, and then we went to say hi by the steps to the dressing rooms. Jan decided to wait inside until the crowd cleared. I found Ted and said: "We have a surprise for you - I didn't even know she was going to be here!" He said: "I spotted her!" I said: "You did? I guess you are far-sighted!" and we laughed. I went to send Jan in and she got a hug from Ted and asked if he wanted to go get something to eat - as Wanda asked me. We told them that RTC was saying goodbye to Walter (he leaves tomorrow - Sat. - morning for Germany) - but neither wanted to come to the party.
The party was great - it went for about 3 hours. Everyone signed everyone else's programs - I got Ted to sign mine and he wrote: "Dear Sweet Cver, thank you for being you. Love, Ted"; and Joseph wrote: "So nice to get to know you more. Love, Joseph Fuqua". We gave Walter a cake and took pictures, and just chatted until about 1:30.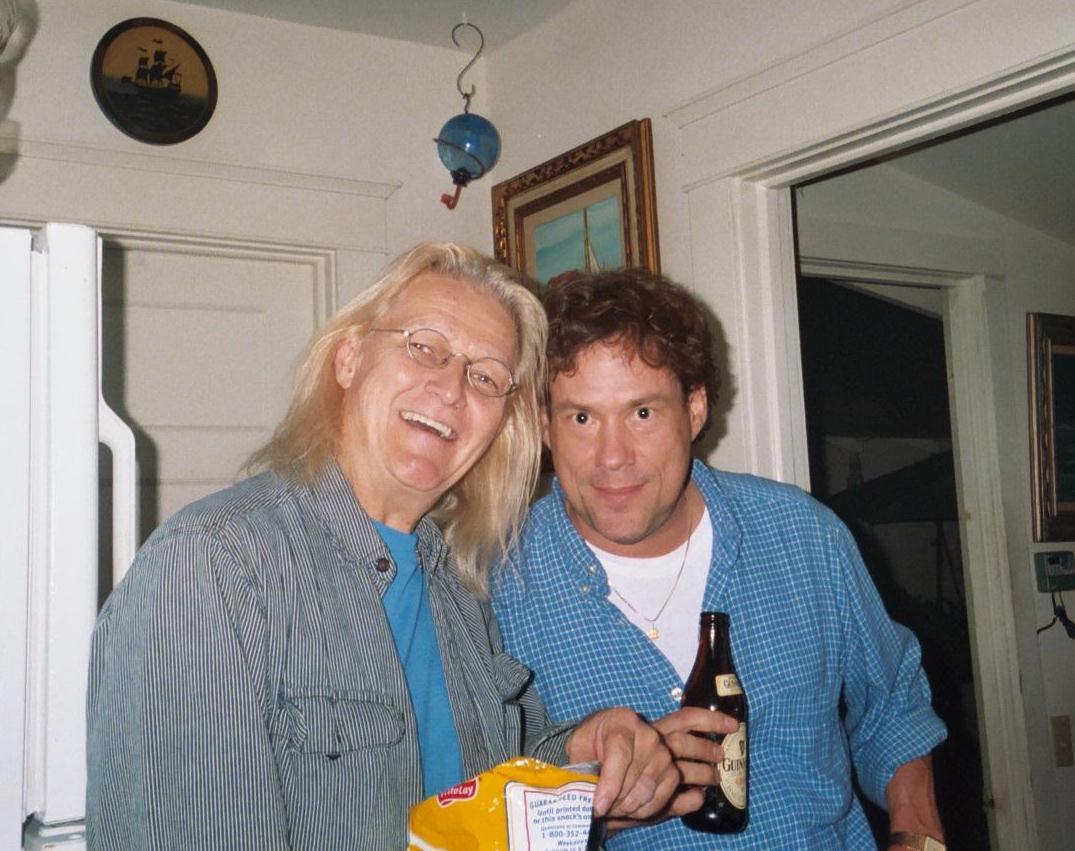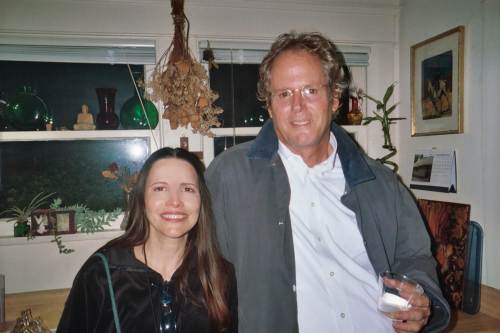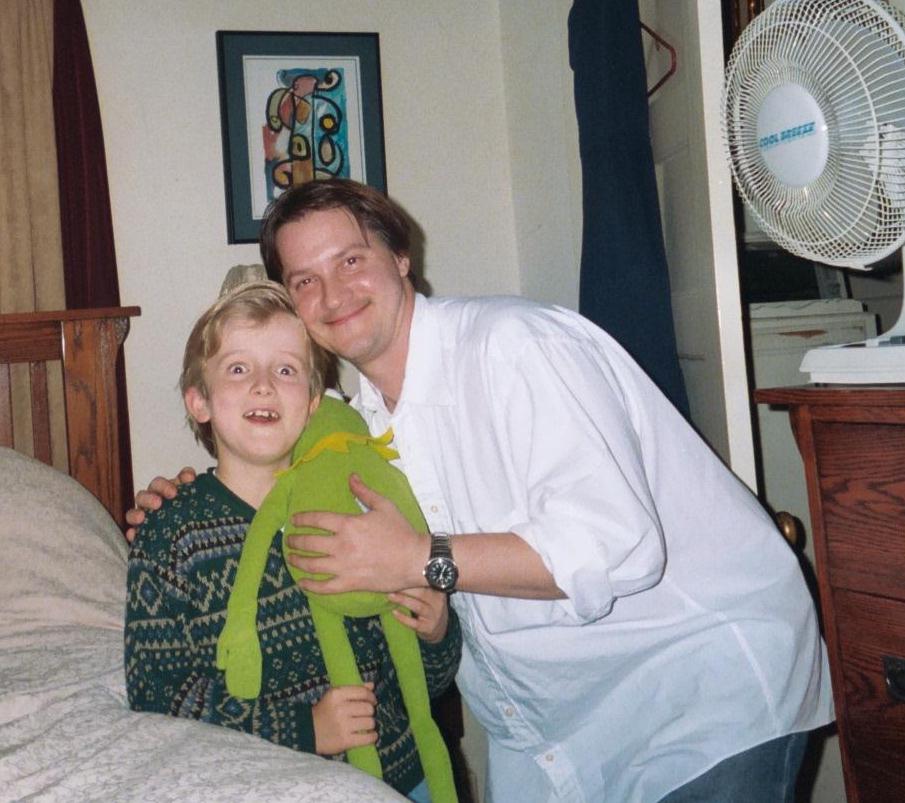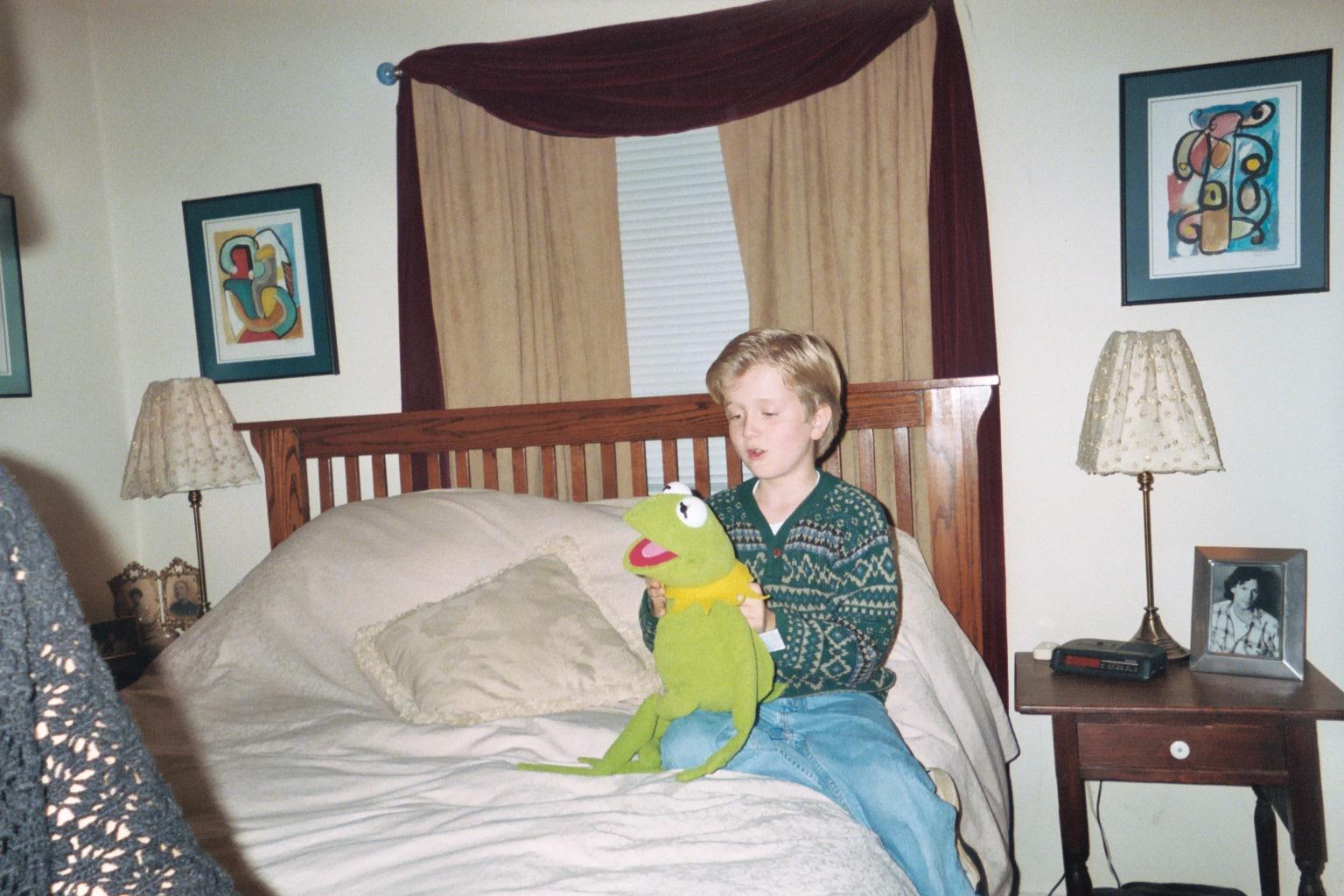 Pictures from Walter's Farewell Party. From left - Ted and Joseph (or Willie & Hank from "Murder"), Cliff DeYoung & Me, Quincy Unseth with Brian McDonald & alone.
I started to rub Ted's back a little again (he said it hurts AFTER he does the show, but not usually before), and he said: "Oh, if you do that, I might get carried away!" - so then I said: "Okay..." put everything down to start and we laughed. We talked a little more about helping with his projects. Ted amazes me about the integrity he has where hiring employees is concerned. He says that he will never take advantage of someone and have them work for free. I explained that this is why he never would do that - because he IS aware of that constantly. Then I said: "Listen, there are different kinds of compensation. I get so much more back than I put in. So if you need any help, I'm glad to do that. If you insist on pay down the line - sure, but I'm just glad to help if I can - even for free. He said okay.
NOW - I have some answers for you guys from Ted:
#1: JEWISON AND THE DVD INTERRUPTIONS: He didn't mind at all - just said Norman had a lot to say, and he was glad to hear about all of it. I said: "But what about the times he would ask you a question - like the Yvonne Elliman one for example - and then interrupt you and start talking about something before you can answer his question?" He said: "Well, there was a lot to talk about." Always polite and gracious - that's our Teddie Joe!
#2: OUR LORD'S KNICKERS: Ready? Ted said he's known for a long time about the shot in question at the top of the Superstar scene. I told him of my reaction to all the posts in the thread and then he said:
"I WONDER IF THE ONES WHO NOTICED ARE MORE INTERESTED IN THE WHITE PANTS, OR WHAT'S INSIDE THEM?"
I said: "They're interested in BOTH!" And we laughed again. THERE'S the Ted we know and love! LOL!
I told Ted that one of the hardest things for me after this is over will be the fact that I got used to seeing him everyday, and after this I wouldn't be. He said that if he could get something up and running, he'd be visiting all of us. I mentioned that he'd said they may move back to CA and said: "The West-Siders (Coasters) will love it, but the East-Siders will be more frustrated than ever!" He said he's hoping he will be able to see everyone sooner rather than later. We got onto the "work" discussion again, and he mentioned Kathy Herder and how he and Michael would never have been able to get as far as they had without her, then said that even this way he didn't want to feel like anyone was being taken advantage of. I told him that I thought that this sort of help is as much a labor of love as it is anything else - and we all would go into it thinking on those terms, and said if they needed more help, just to let me know. He said okay.
We discussed when we could get together to do some more list requests, and Ted said either between or after the shows tomorrow might work, as Jan said that she had some list stuff to give him too, and then Ted said he had to get back to the hotel to take care of his business and get some sleep for the shows tomorrow.
Shortly afterward, the party broke up and we all went home. It was a great day. Tomorrow we have movies (actually they are in 4-1/4 hours), a "Godot" matinee, "Happy Days" at 5:30 -- with the MOTHER of all talkbacks with Robin - who has the feat of about 2 hours of solo work in the show - and then "Godot" at 8PM. And if I don't go crash, I won't get through most of it awake! LOL! More tomorrow.
Love,
Cindi :)

Back to Waiting For Godot - BeckettFest