Tue 9/21/2004 6:25 AM
BeckettFest Day 3 - And TED'S PRIVATE BIRTHDAY PARTY
Hi Everyone,
Sorry this is so late, I just got in a little while ago, and answered a few other e-mails before posting this one.
BeckettFest is an amazing festival - I wish all of you could get here. I am SO happy I decided to do this - even though I know I will face the music financially later. It's been so much MORE than worth it!
Today began at 10AM and will end for me not long after this posts. If this doesn't acclimate me to Pacific Standard Time - I don't know what will!
We took in Endgame this morning at 10AM, then went to lunch at the City Hall - where the Beckett Brown Bag today was "Gee How Lucky Can You Get" - a seminar/lecture with 5 actors who have played Lucky talking about their takes on the role. Ted, Barry McGovern, Conor Lovett, Bill Irwin, and a young lady from a local high school (sorry, I don't remember her name - it wasn't a typical name - that I do remember) (NOTE: Her name was Athena Murphy) all participated. It was a fascinating discussion and did A LOT for me to understand how Beckett sees things.



"How Lucky Can You Get" Brown Bag - left to right: Conor Lovett, Barry McGovern, Ted, Bill Irwin, Athena Murphy.
Lucky has a monologue, mentioned by Laura and Georgie, that is HUGE and sounds very non-sensical. Since it is preceded by the line "Think, Pig!" it could be concluded that the monologue is a lot of thoughts just strung together. Maybe, and maybe not, according to what was said today. In a nutshell, Barry said that what he thinks Lucky is saying is this: "No matter what man accomplishes - in whatever areas - in the long run, it's all for naught." Ted talked about concentrating on one word for this character: "unfinished". Walter Asmus - the director of Godot, said that Lucky was named Lucky because there were no expectations for him (he also explained some of the other character names - but I don't recall enough at the moment to expound on that here.). There was a LOT of WONDERFUL stuff that came out of this discussion, and, unfortunately, it was not recorded. I feel very fortunate to have been there. Ted told me later tonight that he was more concerned about the company he was in rather than what they were talking about in this brown bag. He said he felt that as the "new kid on the block", he didn't know nearly as much as the others in the discussion. I can understand it, but I told him that what he said certainly sounded fine to me. More on that later.
Anyway, I did wish our Birthday Boy a happy birthday - and BTW - everyone, for those who don't know - Ted doesn't say he's 61 - he says he's on his third year of 33 - and holding. (Guess I'll have to change the website - LOL!). I didn't get to unload all of our presents, etal. until just a little while ago, but, yes, he did get everything on his birthday. More on that later too.
This afternoon we were treated to a double feature: "Rockaby" - with Susan Clark (a 15 minute masterpiece), and "Footfalls" - with Linda Purl (a 40 minute stunner). Linda, BTW, will be playing Aldonza in La Mancha with Ted next November.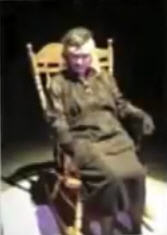 Rockaby (left) with Susan Clark and Footfalls (right)- with Linda Purl.

We also had a talk-back, and this was actually where Walter Asmus spoke about Beckett's character names.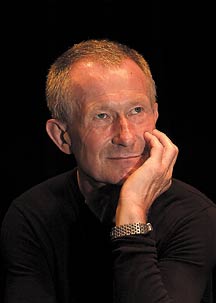 Walter Asmus.
There was a wine-tasting dinner, along with 5 different artistic directors discussing Beckett, between shows - but I was at the theatre setting up for the evening's event: a three-hour world premiere of "The Trilogy" by Conor Lovett. It was a challenge to get through, but he was brilliant.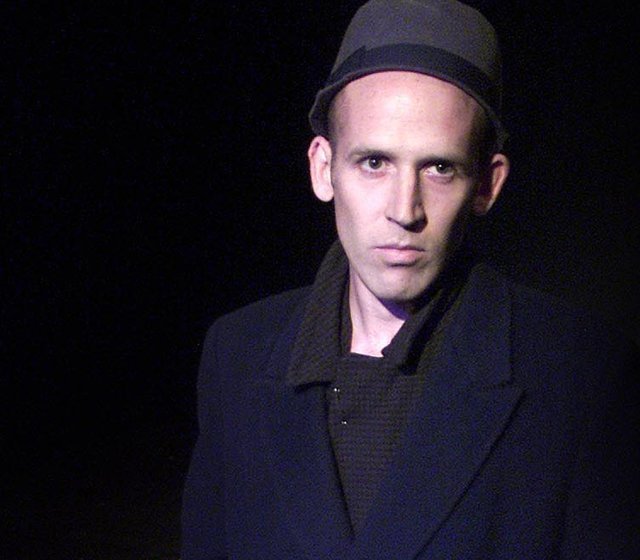 Conor Lovett in The Trilogy.
Ted was at both shows. So, I spent the entire birthday with Ted, although, as the "Good Will Ambassador" for BeckettFest, he spent much of it the way he spends much of his time - talking to all who approach him (or, as he said to me: "You know me, I'll talk to anybody!"). As it happens, staying at a house not near the theatre, and with no car, I am at the mercy of whomever will cart me to and from the theatre. Tonight, my lift left at intermission and I was to go home with another RTC staff member. As it turned out, Ted and I hooked up at "The Trilogy" - then went to see the films "Play" and "Krapp's Last Tape", and I was lucky enough to have him see me home tonight (a RARITY, as time is such a precious entity for him here) - but not before we spent almost 3 hours talking and that was when I gave him his own "Private" Birthday Party. I presented him with everything sent/given to me. So - Gena - he has your card, Kate - he has your letter, Janet - he finally has the cassette tape of the "Perfect Couple" soundtrack that I ended up with when we all went to "Murder", and Lynne - he has his horoscope - (which, BTW - he said he would aspire to be - though I told him he was already there and beyond it) and the card/presentation of the donations we made to Carl's fund.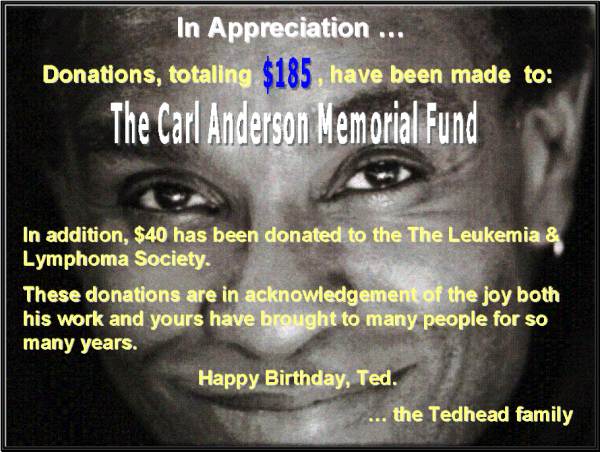 Ted was SO TOUCHED by everything I gave him. He continues to be amazed by this whole list, and what he says is the sweetness of everyone on it.
Since I know Laura was asked what she and Ted talked about, I will say that we touched on:
THE PASSION - he liked it - particularly the cinematography, and thinks Mel really put himself out there, but he feels that all the sensationalism should just be let go, since the Bible was written by a group of men who, separately, could not get a book of their own published.
RELIGION - This was an offshoot of the above topic, which actually came out of our talking about Carl and the Memorial - Carl's son took him to the "Passion" premiere after the memorial. One thing I will say - that I was mistaken about, and which some of you may know, - Ted's Father was not a Baptist Minister - he was an oil man. Ted had some strong thoughts about organized religion that were very interesting.
JESUS CHRIST SUPERSTAR - he feels that so many of the artists at BeckettFest have this wonderful body of work, and no one knows them, but he did this movie in 1973 and got lucky and everyone knows him. He is just amazed by this fact. He told me that today he was all ready to tell Barry McGovern how much he admired his work in the original Waiting For Godot, and Barry turned around, saw him and said: "My God it's YOU! I LOVE Jesus Christ Superstar - it changed my LIFE! And I finally got to play Caiaphas in a local production!" Ted couldn't believe that one! BTW - he does feel, as he says on the DVD, that Norman Jewison was the reason that the film was as successful as it was - and he wishes that Norman would have gotten the accolades he deserved for it.
CARL - he talked about the memorial and Agape church. How he wishes that everyone could have a celebration like this - but be alive and there to celebrate. He said that Carl was the only one who was missing. Ted did talk to me about what happened with Carl and how he felt, and, as Laura has said, he does miss Carl terribly. And Ted was SO TOUCHED by the Tedhead donations (thanks for the idea, Lynne).
BECKETT and BECKETTFEST - Again, Ted is SO EXCITED to be part of this festival and to be foraying into Beckett. And RTC couldn't have found a better "good will ambassador" to represent them.
THE BRUNCH WITH THE TEN - Yes, Guys, he told me about the lunch Karyl Lynn set up for Georgie, Laura, Jenn, Judy, VJ, Kat, and the rest of you. He said he really enjoyed himself, and that Karyl Lynn was so sweet to set it up. He hopes you all had as nice a time as he did.
RASPUTIN AND THE WEBSITES - Well - actually, most of that was discussed earlier. Suffice it to say - he's happy with whatever feedback he's been hearing. I haven't asked him yet, BTW - if/when he thinks we may finally see Rasputin again, but I imagine with La Mancha, Godot - and things in the POSSIBLE works for JCS and Godot - it may be a little while. BUT IT WILL HAPPEN. NOT TO WORRY.
Anyway, that said, - I have now been typing for an hour and a half - and I had better go pass out. Tomorrow night is the Gala - I will be there - camera in hand! And will let you know what happens when I get home. 'Till then - night all!
Love,
Cindi :)

Back to Waiting For Godot - BeckettFest