Wed. 9/29/2004 5:30 AM
BECKETTFEST - DAY 11 - RICK CLUCHEY'S STORY AND CONOR'S FAREWELL DINNER

OH, THIS IS GOING BY SOOOOOOOOOOOOOOO FAST - I KNOW WILL BE A MESS ON THE PLANE WHEN I GO HOME!!!!!
Today started with an Earthquake, apparently. I never felt it. I was totally unconscious and didn't wake up until about 10:45. Didn't feel any aftershocks either. I guess I'm finally acclimated. ***SIGH***
For me, the day started with an excellent Brown Bag featuring Rick Cluchey and Alan Mandell from the San Quentin Drama Group, with Steven Leigh Morris moderating/interviewing. Rick is a really nice guy - and VERY FUNNY!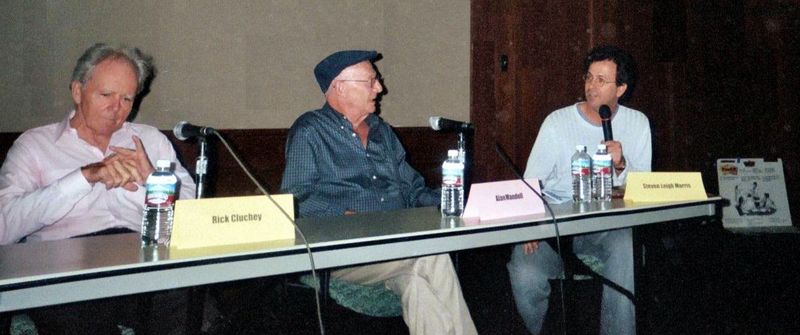 I told some of this story in yesterday's post, but now I know more. Rick was sent to prison for an armed robbery, during which someone suffered a flesh wound. He was given the death penalty, which was handed back down, hoping there was a lesser sentence that could be imposed instead. So he was given life imprisonment without possibility of parole, the next highest sentence available. I asked him why, considering that murderers get out on parole now, he had no parole in his sentence. He told me that was how they did those things then. 4 years after he was sent to prison, a theatre group came in and did Waiting For Godot. Cluchey was not let out of his cell to see the show because he was a flight risk. He said if they'd let him out, they would have been waiting for Rick! He heard the laughter, and, consequently. the performance from his cell. His cellmate returned to their cell and wouldn't stop talking about the show. They petitioned the Warden to let them form a theatre group, which they named The San Quentin Drama Workshop. The first year they did 10 SHOWS. Alan came to see their version of "Godot" - which was done with a script they'd gotten from a theatre magazine. The problem was the script was bound incorrectly. So Alan was watching the show - and Act I - and suddenly they were in Act II - and he thought it was a short show, but then they were back in Act I again. No one noticed that the script had been bound incorrectly! They did 4 Beckett plays with Alan - "Godot", "Endgame", "Krapp's Last Tape", and something else I can't remember the name of. The women were played by male inmates, as no women were allowed. Rick Cluchey ran this group. (BTW - the group still exists, and, depending upon who is in charge, plays are still occasionally done, however, they are much less frequent now, since funding was cut. All these cuts came about when Ronald Reagan took office (ATTA BOY, RONNIE, CUT YOUR FRIENDS OFF AT THE KNEES. ARE YOU LISTENING - DYED-IN-THE-WOOL REPUBLICANS? IF YOU LIKE THE ARTS - AND WANT TO SUPPORT THEM - THINK AGAIN ABOUT WHOM TO VOTE FOR THIS FALL/WINTER - IT AIN'T GW - but I digress...) Eventually, the other inmates and the directors who came in, (which included Beckett himself, BTW), petitioned the Warden to get Rick parole. He was granted a conditional parole, and, eventually, Governor Brown, in one of his last acts as Governor, gave Rick a full pardon. Rick was released and formed a group called Barbed Wire Theatre. He couldn't use the San Quentin name outside the theatre. He has since dedicated his life to performing Beckett and working with juvenile delinquents to keep them from "starting their careers" the way he started his. It's a truly fascinating story! Rick will be performing here in "Krapp's Last Tape" tonight and tomorrow - I can't wait!!! Here's a link on some of the Kluchey SQDG history:
http://www.laweekly.com/ink/98/30/theater-morris.php
You can also find more information here:
http://www.centertheatregroup.org/uploadedFiles/Plays_and_Tickets/Productions/2012/Waiting_for_Godot/files/WFG-Program-Features.pdf
After the Brown Bag, we went to the theatre for Conor Lovett's last performance of "A Piece of Monologue", and another EXCELLENT talkback. This ended up being the last theatre for the day. Cliff DeYoung, who was to perform "In The Works of Samuel Beckett" tonight, wasn't able to get back from his shoot in LA in time to do the show. Karyl Lynn tried to work out getting Conor to perform one of his pieces again, but it wasn't possible, unfortunately. Fortunately, most of the audience was reached and rescheduled, but there were a few strays who got to the theatre that were rescheduled for Cliff's Friday performance in the box office.
I did some cutting and pasting of reviews and Beckett articles for Karyl Lynn, and then we all got ready to meet up and go to dinner to give Conor a final send-off.
I came downstairs with Karyl Lynn, and at the bottom, I heard Jenny Sullivan saying to Victor Gomez, one of the actors in Night of the Iguana, "...and this is Ted Neeley - do you know Ted?", and there was Ted - back early from LA! When I saw him, I said: "You're back! I didn't think you'd be back before tomorrow!" and he smiled. I gave Ted a hug, told him we'd missed him, and he asked me if today went well, and I said it had, and I asked how LA went. He said it went well. Again, nothing OFFICIAL yet, but things are apparently progressing, and that's good. I told Ted that I had posted his request to all of you, and he gave me a big hug, a kiss on the cheek and a thank you. But then I had to tell him that Cliff's show was cancelled. He was disappointed, as he'd rushed back to come support Cliff. I told him Cliff would be doing the show again on Friday, but he said today was when Cliff needed the support. Then I said that we were going to give Conor a send-off and of course he could come along, but his cell phone rang, and Ted said: "I have to get this" - and went outside, and none of us saw him after that. Kathleen called Ted's cell and left a message when we got to the restaurant, but he either didn't get it in time, or decided not to come, because he didn't show. Ah well.
Anyway, then Karyl Lynn, Jim, Chris, Kathleen, Christy, Kenny, Brian (these are all the RTC regulars, BTW), Jenny Sullivan, Stephanie Zimbalist, Victor, Conor Lovett, Walter Asmus, Cynde and Steve Magidson (the RTC Gala photobook folks), I and a few others then went to take Conor out for a final send-off dinner at a lovely little cafe called: Cafe Bariloche. (NOTE: Sorry, again, guys, but this restaurant, too, is permanently closed.)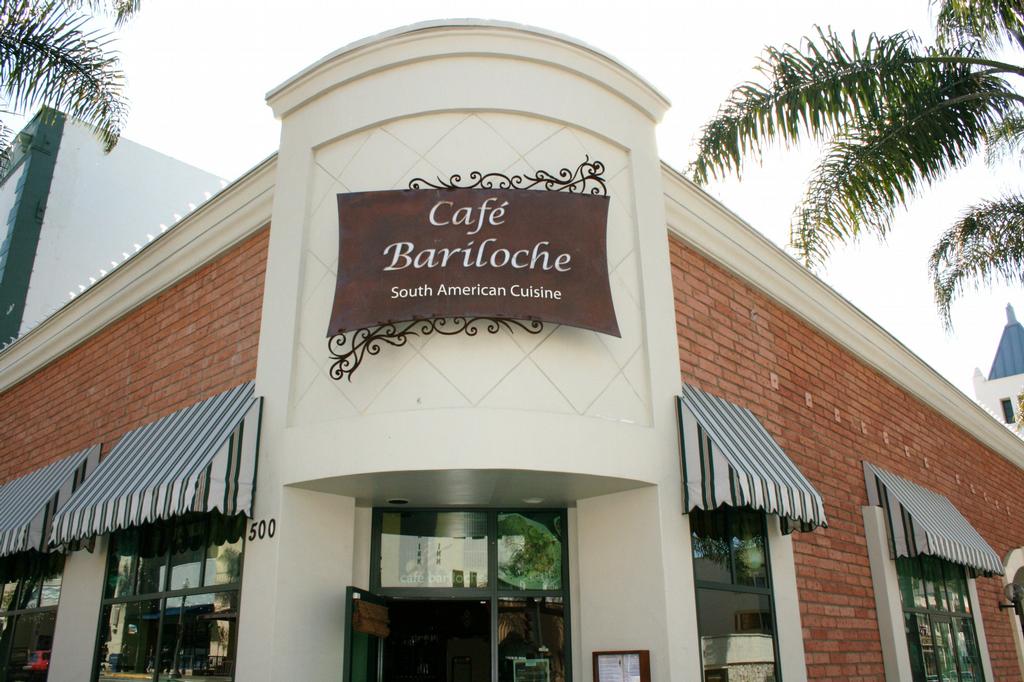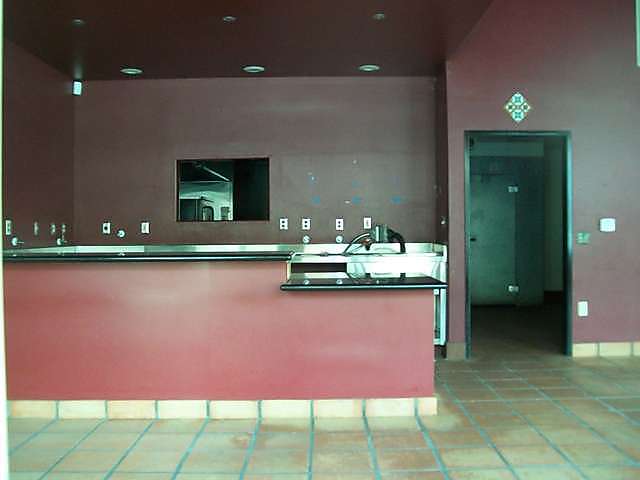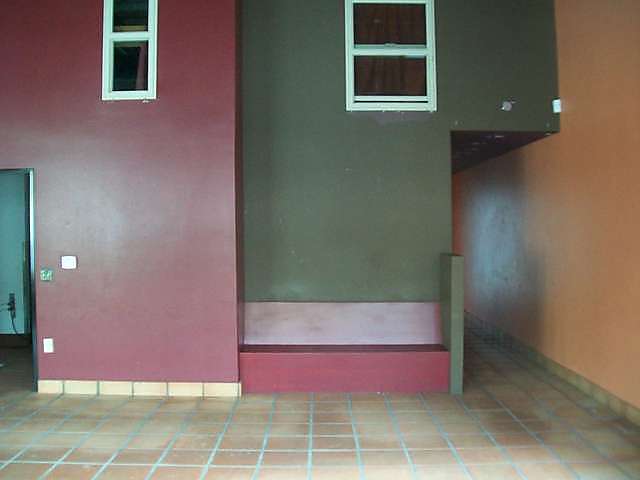 We took over the WHOLE restaurant - including rearranging all the tables in a T-Shape! There were only 2 other people in the place when we came in, and they ended up moving to the other side to give us more rearranging room (LOL!)! It was a GREAT dinner, and we all told Conor how great it was to have him here, how much we had all enjoyed his work (I think the best statement to that effect was made by one of the Gentlemen (NOTE: Howard Boroughs) who, I think, is a Donor/Patron: "Conor, Beckett may write great words, but you set them on fire."), and how much we would miss him now that he was flying back to Paris tomorrow morning (he leaves in 3-1/2 hours, actually). Then we took pictures with him and of each other, and he signed some books and CD's.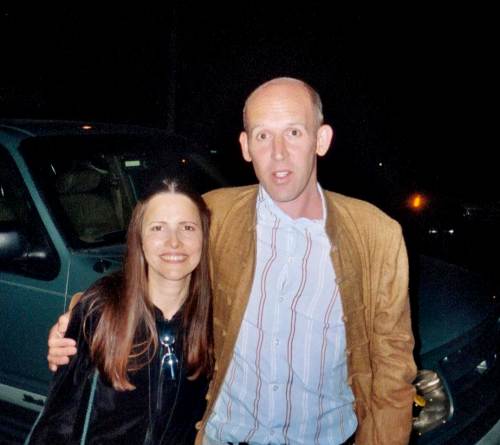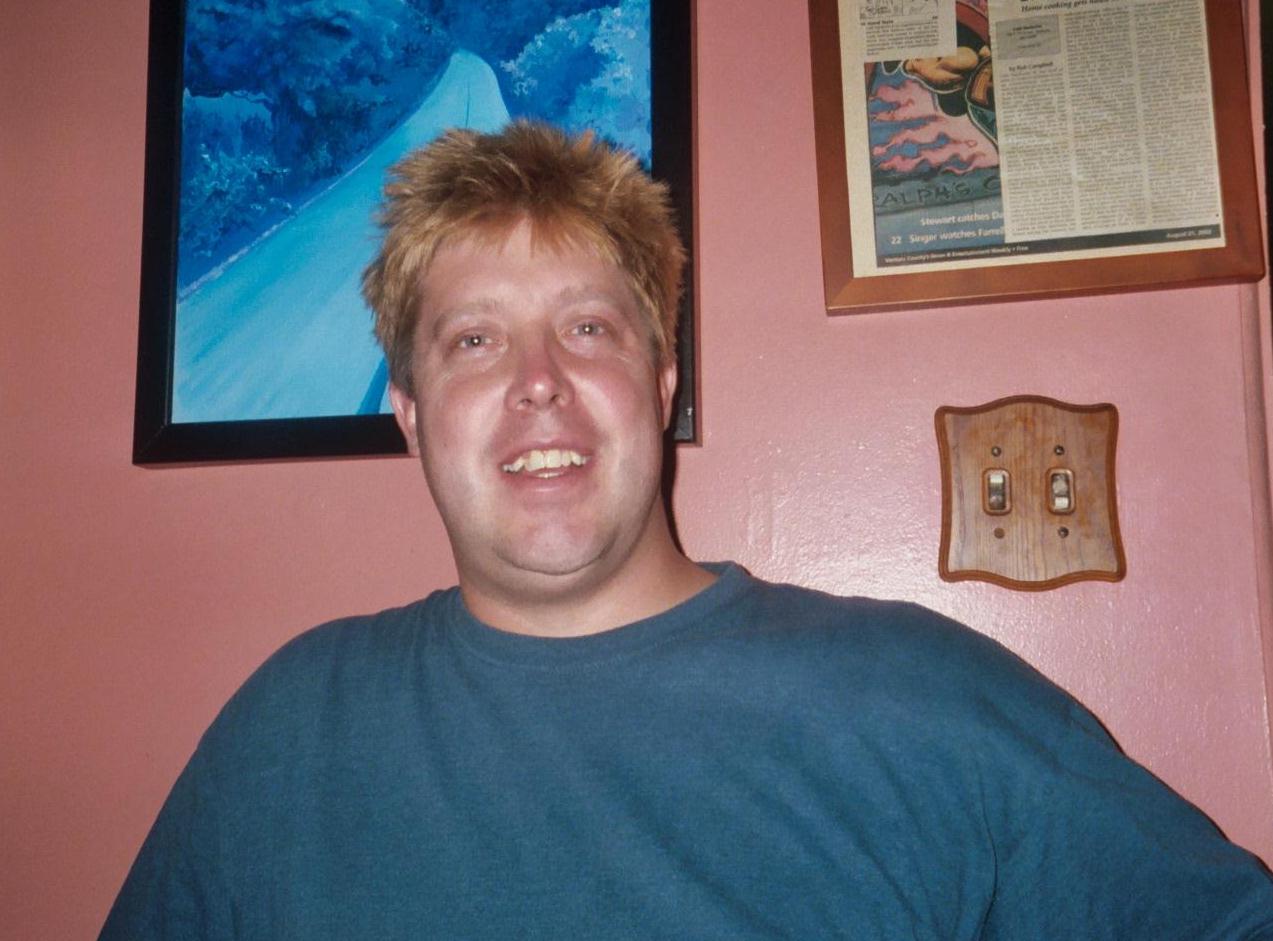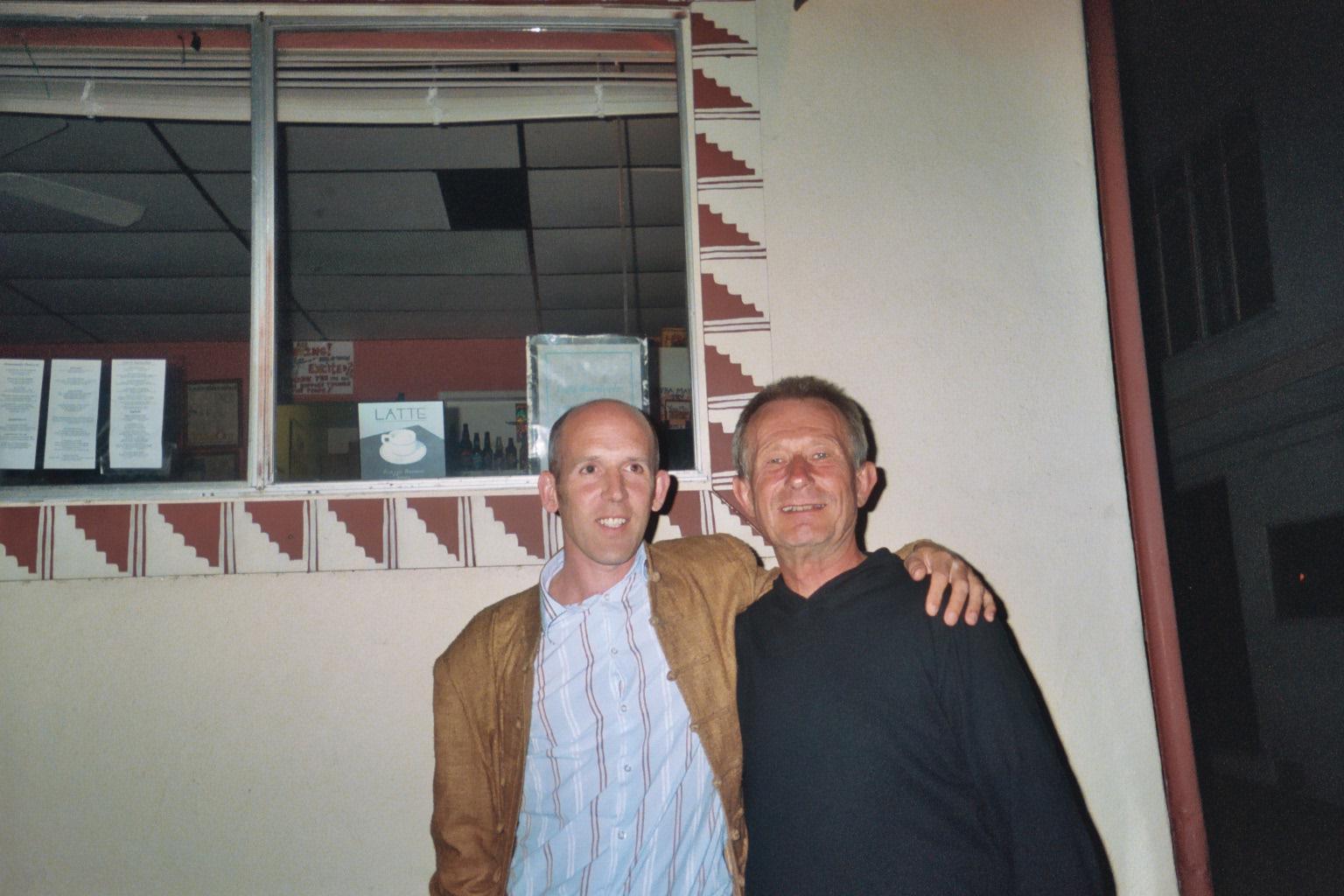 Conor Lovett with Me; Kwnny Hobbs at Conor's send-off dinner and Conor with Walter Asmus after his send-off dinner.
Brian called Joseph during dinner as well, and we all yelled: Hi, Joey!". He said Joseph would be back on Sunday for the wrap party, so maybe I can get him to pose with me for the site then - I hope!
Conor and I rode back with Jenny to the theatre, where they let me off to get my car, and I said goodnight to both of them, wished Conor a safe trip, and Jenny blew me a kiss and said she'd see me tomorrow, and then I came back here to the house - and found out we'd had an earthquake this morning! MY GOD - WHAT A DAY!
Tomorrow, I take my rental car back with Karyl Lynn in the morning, I will be driving her car for the rest of my stay (me driving the Boss Lady's car - well - I'll have to be the best behaved driver on the road now - no more 50MPH down East Main Street - LOL!), and then there is a Brown Bag on Directing Beckett with David Payne, Walter Asmus, Alan Mandell, Gordon Davidson and John Slade, a 2PM "Krapp's Last Tape" and a 7PM "Godot". "Godot", I figured out tonight, will be performing everyday through the end of the festival, so I will see Ted everyday until I leave - if only on the stage. That's a good thing. I told him yesterday that I was getting 5 years of hugs made up on this trip. They have to last me until next Fall/Winter (hopefully no longer that that - LOL!) - he thought that was cute.
Well - I keep saying to myself: "This isn't real. You are Cinderella, living a dream, and eventually, you are going to have to wake up." I'm just trying my best to keep that moment from coming any sooner than it ABSOLUTELY has to. ***SIGH***. More tomorrow.
Love,
Cindi :)

Back to Waiting For Godot - BeckettFest