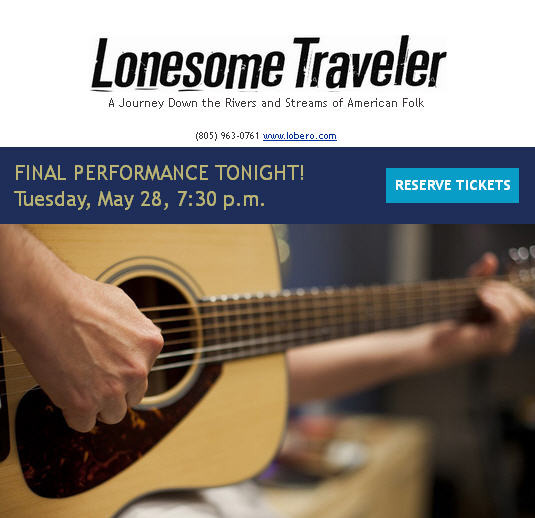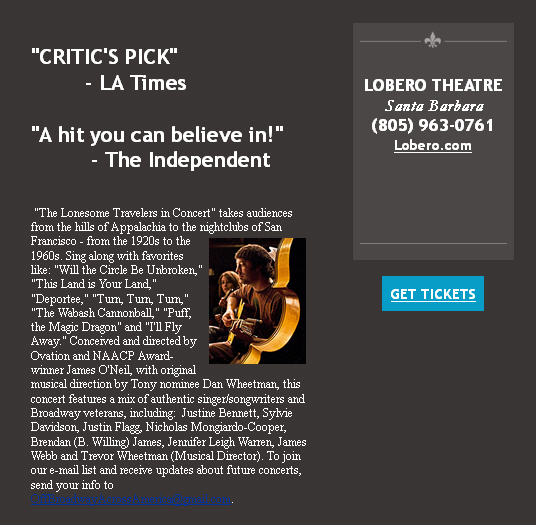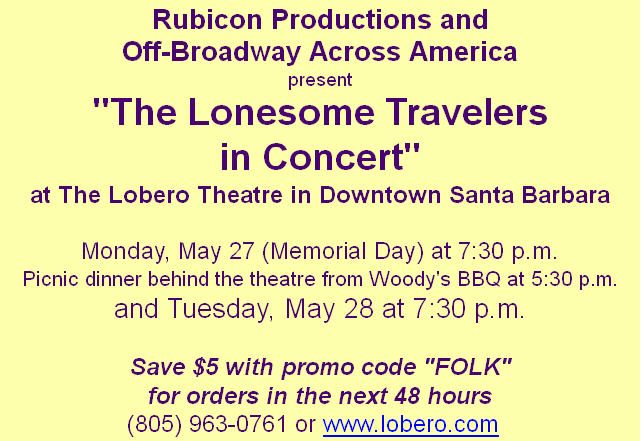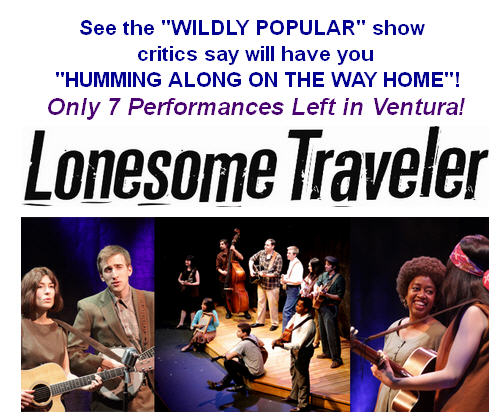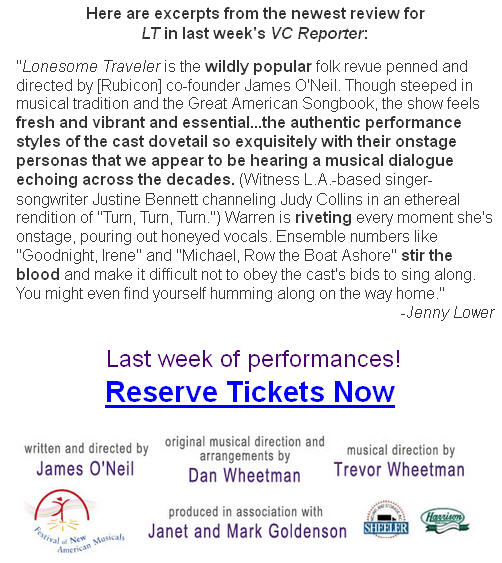 Ventura-USA.com 4/8/13 Article
http://www.ventura-usa.com/articles/index.cfm?action=view&articleID=2200&sectionID=1&filter=1&menuID=472

LONESOME TRAVELER Returns to Rubicon Theatre
04/08/2013

Press Information: David Elzer, DEMAND PR (818) 508-1754 elzerd@aol.com
Jessica Savoy, Rubicon Theatre (805) 667-2912, ext. 230 outreach@rubicontheatre.org
For Immediate Release: April 2, 2013

BACK BY POPULAR DEMAND!
LONESOME TRAVELER Returns to Rubicon Theatre in Ventura,
Taking Audiences on a Journey Down the Rivers and Streams of American Folk April 24 - May 19, 2013

(Ventura, CA) -- Rubicon Theatre Company continues its 15th Anniversary Season with the return of Lonesome Traveler, a musical event that takes audiences on a journey down the rivers and streams of American Folk Music -- from the hills of Appalachia to the nightclubs of San Francisco and New York; from the 1920s to the 1960s. Written and directed by Rubicon's Artistic Director James O'Neil, with Musical Direction by Trevor Wheetman, Lonesome Traveler begins April 24 and continues through May 19 at Rubicon Theatre in Ventura's Downtown Cultural District. Presented in the style of a concert, Lonesome Traveler is performed by nine artists who create musical portraits inspired by folk immortals such as Pete Seeger, Woody Guthrie, Joan Baez, Bob Dylan, The Carter Family, Lead Belly, Cisco Houston, The Almanac Singers, The Weavers, The Kingston Trio, Peter Paul & Mary and others whose music and influence changed American music - and America itself - forever.
The company includes Jennifer Leigh Warren (Big River and Little Shop of Horrors on Broadway), Anthony Manough (The Lion King and Jesus Christ Superstar on Broadway/Rubicon's Songs for a New World), L.A.-based singer/songwriters Justine Bennett and Brendan (B. Willing) James (both mainstays in the Ventura music community and regular performers at Zoey's Café), Sylvie Davidson (a Seattle actress and singer whose credits include work at both ACT and Book-It), second-generation musicians James Webb and Trevor Wheetman, Nicholas Mongiardo-Cooper (whose recent credits include South Coast Rep, North Coast Rep and Laguna Playhouse), and New York-based actor/musician Justin Flagg (who plays the title character). All of the artists play multiple instruments and sing.
A few of the well-known song titles include "Will the Circle Be Unbroken," "This Land is Your Land," "Deportee," "Talkin' Union," "Goodnight Irene," "Puff, the Magic Dragon," "Mr. Tambourine Man," "We Shall Overcome," "Jamaica Farewell," "Tzena, Tzena, Tzena" and "Maggie's Farm." New songs added for this return engagement include "Turn, Turn, Turn," "The Wabash Cannonball" and others.
In its original engagement at Rubicon, Lonesome Traveler received rave reviews. It was a Critic's Pick in the Los Angeles Times and was described as "a warm, embracing communal experience...a joyous commingling of voices and instruments. Each voice retains its individuality yet twines with others to create a more glorious whole. It is, in a way, an expression of an ideal America." The Santa Barbara Independent dubbed the show "a hit you can believe in." StageHappenings.com said the show was "a rousing bit of entertainment." "Feel-good favorites and thought-provoking calls to action...masterfully performed," wrote the Ventura County Star critic.
About the Production
The concept for Lonesome Traveler comes from the imagination of James O'Neil. O'Neil is co-founder of Rubicon Theatre Company and accepted the L.A. Drama Critics' Circle Award in 2010 for "Sustained Excellence" on behalf of the company. He helmed Rubicon's Ovation Award-winning production of Arthur Miller's All My Sons, received the NAACP Award for Directing for Rubicon's production of Driving Miss Daisy with Michael Learned which was presented during the 50th Anniversary of Brown vs. Board of Education, and has also directed classics by Edward Albee and Tennessee Williams for the company, in addition to numerous new works. The journey to Lonesome Traveler for O'Neil was years - even decades - in the making.
"My relationship with this music goes back to when I was six or seven-years-old," O'Neil remarks. "My father was a child of the Great Depression. He grew up in Oklahoma and came to California during the Dust Bowl. He was a ranch hand in Goleta and later became the head of the local retail clerks' union and a union organizer. Woody Guthrie and Pete Seeger were his heroes - my dad even played the guitar a little. As I was growing up in the late '50s and early '60s, our house was filled with the sounds of the folk revival.
"Even then I knew that the music was for me - and for all of us. Folk music is a declaration of a particular kind of humanity - one that perseveres through life's difficulties and respects and cares for others. The title of Lonesome Traveler essentially comes from the idea that we all take a solitary journey through life - we come in and out of this world alone. But music is a great unifier - a great healer. It can help us feel a little less lost or alone."
O'Neil's thoughts are echoed by the original Musical Director Dan Wheetman: "This music was born out of hardscrabble living. However, it reflects the joy of life; no matter how many obstacles we face, the human spirit rises above and rejoices in being alive."
Wheetman was the first person O'Neil called once he began work on Lonesome Traveler. A member of the band Marley's Ghost, Wheetman was last at Rubicon as Musical Director for Back Home Again, for which he received an Ovation Award. He wrote the music for the stage version of The Cider House Rules, and has garnered several L.A. Drama Critics' Circle Awards for Musical Direction and a Tony nomination as a writer for It Ain't Nothin' But the Blues at Lincoln Center.
"The impetus to write Lonesome Traveler has grown over the past few years," says O'Neil. "There has been a resurgence of interest in folk music, with a bumper crop of young musicians reinterpreting and re-popularizing some of the older songs. I suddenly realized I wanted to - needed to - help create a context for a new generation.
"Some of what we think of as American folk music came from other cultures as immigrants came to America: songs derived from traditional English or Scottish ballads, Irish reels, African spirituals or Bahamian lullabies, for example. These songs express universal feelings - love, regret, hunger, jealousy, humor, pain or pride. They were passed from generation to generation and then recorded in the South and Southeast in the mid-1920s by preservationists and opportunists.
"Other songs relate to the times in which they were written," says O'Neil. "Folk music is 'The People's Music' and these songs are the people's responses to societal ills - issues of oppression, religious persecution, unemployment, unsafe working conditions, poverty and war. These are often story songs.
"Still other American folk songs influence and change the times," continues O'Neil. "Many of these are songs of praise, solidarity and rebellion and include patriotic songs, union anthems, political commentary, etc. To me, Lonesome Traveler is about 'the history that made the music, and the music that made history'."
Throughout the process, O'Neil has been working closely with designer Tom Giamario, with whom he has collaborated on numerous shows including Rubicon's successful environmental production of Fiddler on the Roof.
In his work, Giamario has focused on creating a connection between the performers and the audience that might be similar to a hootenanny or folk concert. Says Giamario, "The performers were aware that it wasn't about them, nor was it about whose song it was or where it came from. It was, 'Hey, we're ALL going to participate in this together.' Something like an old-time Baptist revival - the experience of sharing the music rejuvenates - it's cathartic. There's something that happens when we sing together. Of course, in folk music there's often a narrative that helps the audience relate to the experience.
"From the outset, Jim was clear that he wanted to engage the audience - he didn't want to create a revue where the audience could be detached or distant," continues Giamario. "Folk music is very much about participation, not observation. We hope the experience will be much as it might have been back in the day."
In addition to Giamario (Set and Lighting Designer), the design team for Lonesome Traveler includes Multimedia Designer Dave Mickey (adjunct professor of Integrated Media at Cal Arts where he received his MFA, and of theatre sound design at Golden West and Pomona); Sound Designer Jonathan Burke (whose previous Rubicon credits include Daddy Long Legs and The Best is Yet to Come); Pamela Shaw (Rubicon's Doubt, The Rainmaker and Defying Gravity, among others); Hair and Wig Designer Marty Kopulsky (Putnam County Spelling Bee on Broadway/Baltimore Waltz Off-Broadway); and Prop Designer T. Theresa Scarano.
Local Ties During Our Town/Your Theatre Season
As part of the Our Town/Your Theatre season initiative, Rubicon is partnering with one of our fellow Ventura County non-profits during each show to highlight their work and lend support. During the run of Our Town, Rubicon has chosen to partner with New West Symphony Harmony Project.
New West Symphony Harmony Project is a tuition-free after school, music, personal development and leadership program for 3rd through 5th grade students in Ventura. Young lives are transformed through 5 hours of weekly instrument instruction, ensemble playing and musicianship training. For more information regarding New West Symphony Harmony Project, contact Sarah Hodges, Program Manager, at sarah@newwestsymphony.org or (805)497-5800.
Sponsors, Dates, Prices and Special Performances
Lonesome Traveler is sponsored by Janet and Mark Goldenson and co-sponsored by Sheeler Moving & Storage and Harrison Industries. The show previews at Rubicon Theatre on Wednesday, April 24 at 7:00 p.m. with an Opening Gala on Saturday, April 27 at 7:00 p.m. Performances continue through May 19, Wednesdays at 2:00 and 7:00 p.m., Thursdays and Fridays at 8:00 p.m., Saturdays at 2:00 and 8:00 p.m., and Sundays at 2:00 p.m. Ticket prices are $35 to $59, depending on the day of the week. Tickets for students are $35.
Tickets for Lonesome Traveler may be purchased in person through the Rubicon Theatre Box Office, located at 1006 E. Main Street (Laurel entrance). To charge by phone, call (805) 667-2900. Or visit Rubicon online at www.rubicontheatre.org. Twenty-four-hour-a-day ticketing is available online, thanks to a grant from the Irvine Foundation Regional Arts Initiative.
--- ### ---
Note to Editors: Color and black-and-white photos are available.
To schedule interviews, please call David Elzer at (818) 508-1754 or
Jessica Savoy at (805) 667-2912, ext. 230.
Press Opening: Members of the press are cordially invited to attend the Saturday, April 27, 7:00 p.m. performance of Lonesome Traveler. A reception with the cast will follow.
------------------------------------------------------------------------------------
LA Stage Times 4/27/11 Article
http://www.lastagetimes.com/2011/04/folk-music-fuels-james-o%E2%80%99neil%E2%80%99s-traveler-at-rubicon-2/