Wed 9/22/2004 5:34 AM
BECKETTFEST DAY 4 - GALA NIGHT

Hi All,
This will be a shorter post, because it was a relatively quiet day. This morning, three films were shown - but I was not at them - since I have no transportation of my own. Also, there was a Brown Bag with Michael Colgan (film director) and Walter Asmus (director and close colleague of Beckett's). I did not get to this one either - though I know Ted did go.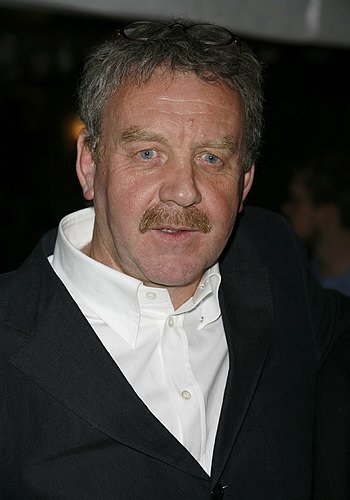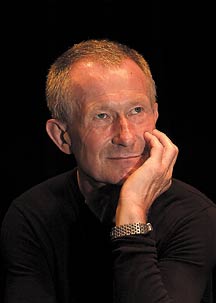 Michael Colgan (left), Walter Asmus (right)
Tonight was the BeckettFest Gala. It included a fabulous reading of Beckett excerpts by Bill Irwin, Dana Delaney, Bruce Weitz and Barry McGovern. It was fascinating to hear these excerpts, because some of these plays are being done here - and it is very interesting to hear different actors' approaches to the same material you saw maybe as recently as the night before this reading was done. The actors got a standing ovation - and it was WELL DESERVED.
After the reading, we drove over to Nona's, the romantic Italian Courtyard restaurant inside the Bella Maggiore Inn. Those who went to see "Murder" in 2000 will remember that we had lunch with Ted and his family there before the Sunday matinee of "Murder". It hasn't changed AT ALL. The same ramp we took pictures on is there, the same decor, and charm - and the food is fabulous. We had a choice of salmon with asparagus and potatoes, chicken with a coconut sauce, rice and vegetables, and pork with vegetables. I chose the salmon. YUM!!!!! The dishes came with a lovely salad, and desert was a choice between a bittersweet chocolate torte with raspberry sauce or a cream puff with peaches and sauce. I chose the chocolate - GOD was it rich! I hear the puff was also excellent. Then we had coffee (I had hot chocolate - as if the torte wasn't chocolate enough!). We also had complimentary wine - either red or white - and both were great. Karyl Lynn definitely knows how to put on a party. There weren't a huge amount of people there (the initial ticket was $100 - though there was a 2-for-1 offer made on the RTC list today), but it was a good and enthusiastic group.
To answer the million dollar question - no, I did not sit at Ted's table. He was talking to Herb Blau, who seems to have attached himself to Ted after he attended Herb's Brown Bag yesterday, and also Bill Irwin. Finding 3 available chairs was pretty hard, let alone 4. Two women at the table next to mine won that toss - so they were next to me - but not at my table. **SIGH** - can't win 'em all. I did, however, talk to both Ted and Bill during dessert. More on that shortly.
Karyl Lynn gave a speech and thanked everyone involved in the Festival, then her Assistant Chris Rennolds and Norbert Tan (Managing Director) got up to thank Karyl Lynn. Chris said she thought she'd get fired for this - so Norbert got up and said: "You can't fire her!" and we all laughed.
I then went over to talk to Ted. The Passion came up again, briefly - the woman at the table with him and the others said she hated the film. I told Ted I would go see it - hopefully with somewhat of an open mind.
I didn't mention, BTW - that during this discussion and the religion one last night about this time, we talked briefly about an Anthony Newley/Leslie Bricasse show I saw in London in 1973 called The Good Old Bad Old Days. It unfortunately never made it across the channel. (In a nutshell - Anthony Newley played the Devil - in a character named Bubba - and Paul Bacon played God - in a character named Gramps. Gramps wants to blow up the world and Bubba keeps talking him out of it.) I used a comparison about how these (religious) books are written and fed to people - and sometimes people forget that they are written by men. Anyway - the scene in question is when Gramps says: "...When I created man..." and Bubba says: "What do you mean - when you created man? Man created you because he needed someone to be afraid of - then he created me because he wanted to have a little fun." Ted thought that was cute. Now neither of us said that this was gospel - or even accurate, but it can make a point about where all this stuff COULD come from. Anyway, where I was going with this ultimately - is that Ted met Anthony Newley - and he said he was one of his favorite people. He told me he used to do Newley imitations. I got him to do a little of "What Kind of Fool Am I" for me - and he REALLY DOES sound like Newley. Ask him when you see him next fall - or maybe I will. But I digress...
Okay - back to the Gala. We got on the Religion subject again - and Ted said: "Don't get me started on that one..." I said: "Yes, I know, believe me." I told him about "Mark From Australia" - and that he has some similar views to Ted and would like what he said. I also told Ted that I am not posting the most private things that we spoke about AT ALL, and he said he's always been very careful about what he says to people. He does know, though, that he can trust me to not repeat what he doesn't want repeated - that's for him to say if he chooses.
Now we got into the thread that was posted on this list for The Passion and for religion in general. and it kind of went to where I mentioned some general list stuff posted lately.
IN A GOOD WAY GENERALLY.
I said that Mark has some specific observations on religion that kind of dovetail what Ted has said, and I also said that Mark tends to be a peacemaker on the list from time to time. I DID SAY that this group is a very good group of people and that we're usually very sweet to each other. He knows that, regardless. I did say that I hadn't been too popular lately, because I spoke my mind on some things, and then Mark gets on and calms everyone down and/or we get past it in about 5 minutes and we're fine again. I think Ted was glad to hear that we are all hanging in (though I hadn't planned on discussing this subject), and, again, I did NOT speak specifically about anyone or any subject in particular - so, not to worry everyone - okay? He realizes we're all human in our own way, and he's just glad to know we're here. I'm telling all of you this, because I wanted you to know that Ted was glad to hear how we are, and that we're human, and he's just glad we're there. Anyway, it was an aside basically, and we mostly talked about The Passion again.
We also spoke about Tessa and Zachariah - and how they're doing. Tessa is in college, and Zach is seriously doing his artwork now. I told him about the story Jo (the Lady I'm staying with) told me about how when she was at a cast party at RTC years ago, she was sitting there playing Freecell on a computer and her Granddaughter was at the party upstairs. Zach - then aged 11 - came in and asked what she was doing, and Jo said she'd teach him how to play. Ted then came in and said: "Is my son bothering you?" And Jo said: "We're playing Freecell and he's fine. Go away." He thought that was funny and laughed like hell. Jo's a really cute lady. Anyway, I reminded him of this - and he laughed again. Then he posed with me (I did that because he was wearing - ARE YOU ALL READY? A SUIT AND TIE!!!!! YES FOLKS - A TIE!!!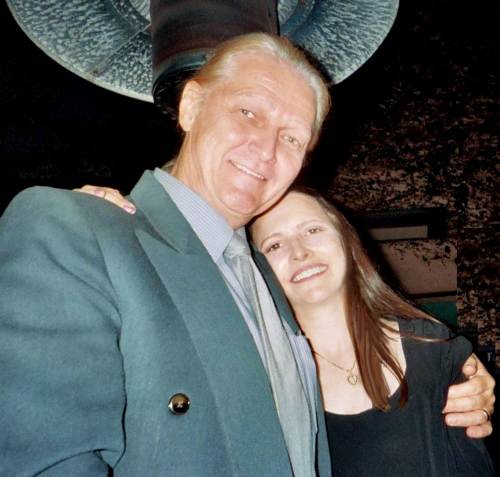 Ted in a suit and tie!
I mentioned it when I first saw him and he said - yes, I have Jiminy in the matchbox* so I had to put on a tie." and kissed me on the forehead. (*To explain: One of the presents I gave him yesterday night was a Jiminy Cricket porcelain statue which has Jiminy taking off his shoes to go to sleep in a matchbox. It's a collector's item I bought 6 years back and kept it to give him in person because I didn't trust the mail to get it to him undamaged. He loved it. I'm just glad he didn't already have it - whew!)).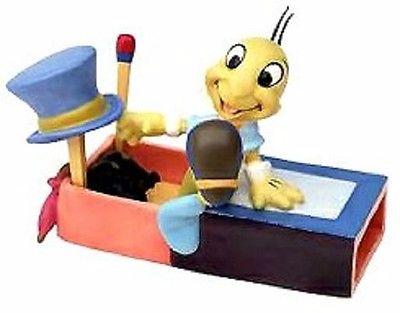 Jiminy in the matchbox figurine.
Anyway, Ted will be at the theatre again tomorrow - and we'll see what he says then about anything in general.
I was able to take a picture with Bill Irwin as well.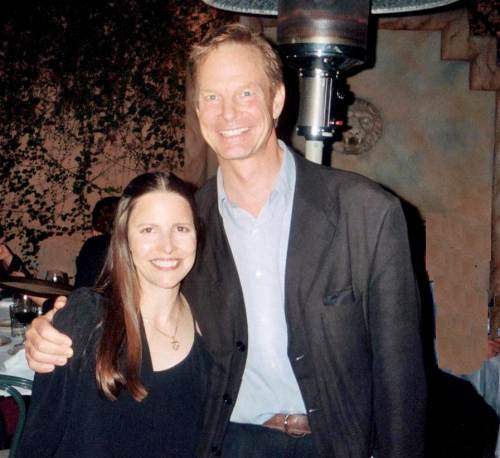 Bill Irwin and Me
He's a lovely guy. VERY FUNNY, attractive too - which you wouldn't know under all the make-up, costumes and pieces like glasses he usually wears onstage. I wasn't the only one asking him to pose, so - he was pretty popular! LOL! He will hopefully see "Godot" tomorrow before he has to get back - I think - to NYC. I have my fingers crossed. For those of you who don't know Bill Irwin - he's known for his movement, mime ability and physicality onstage. He has a rubber kind of body - I think he originally was a Ringling Bros. Clown. Look up "Fool Moon" on the web - I think it was his last venture on Broadway - or check these links out: http://net.indra.com/~eliz/birwin.html AND http://www.charliethejugglingclown.com/bill_irwin.htm.
Lane - one of the the RTC staff members - pulled out her camera and took pictures of every table. I followed her and did the same - so I DO have pics of everyone there. Attendees included Ted (of course), Bill Irwin, Bruce Weitz, Barry McGovern, Dana Delaney, Linda Purl, Susan Clarke, Walter Asmus and most of the other BeckettFest regulars. A pretty impressive group - and all VERY NICE people. If the pics come out (Nona's is kind of dark), I will post them on the BeckettFest/Godot page I plan to add as soon as I get home.
GALA PICTURES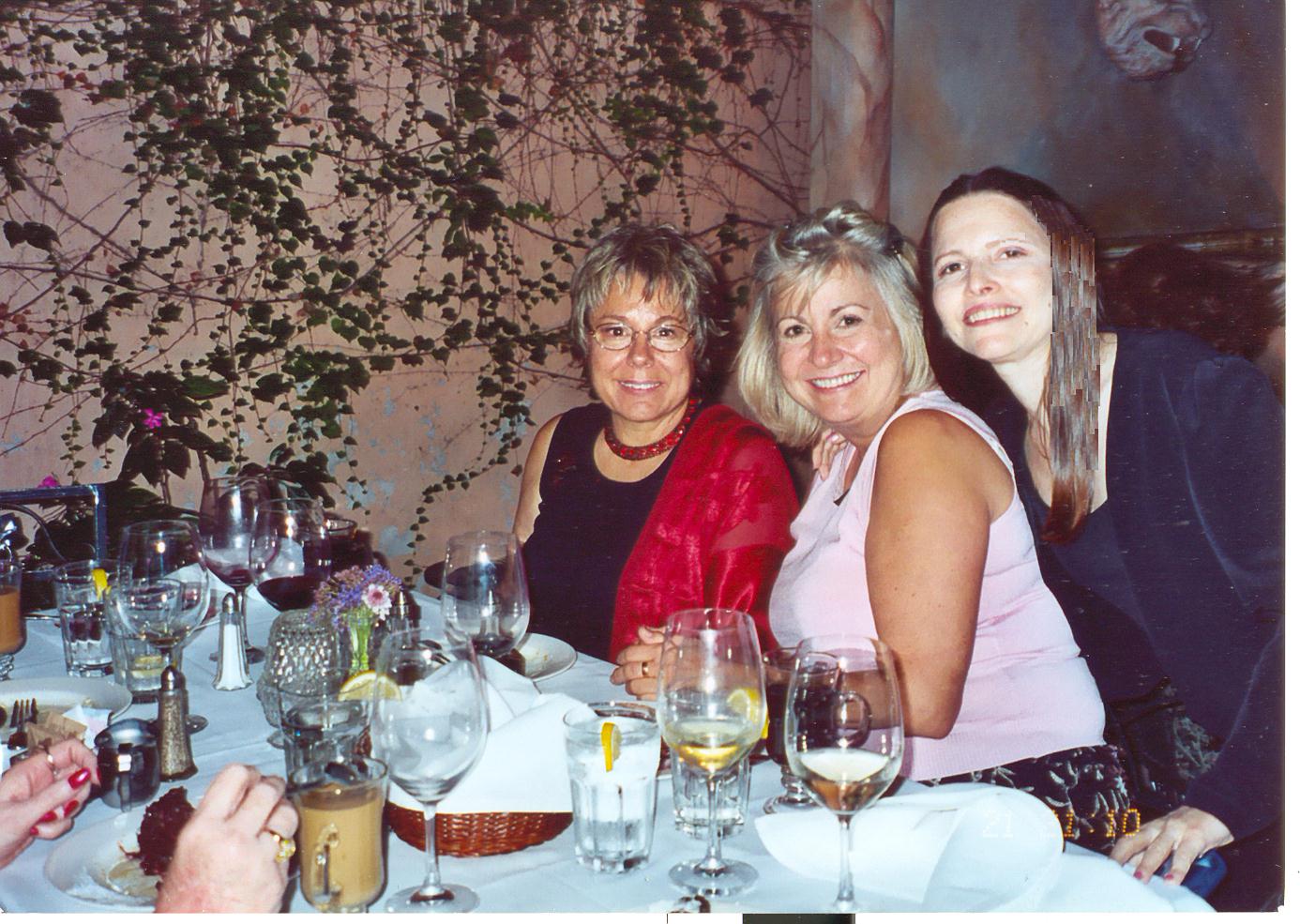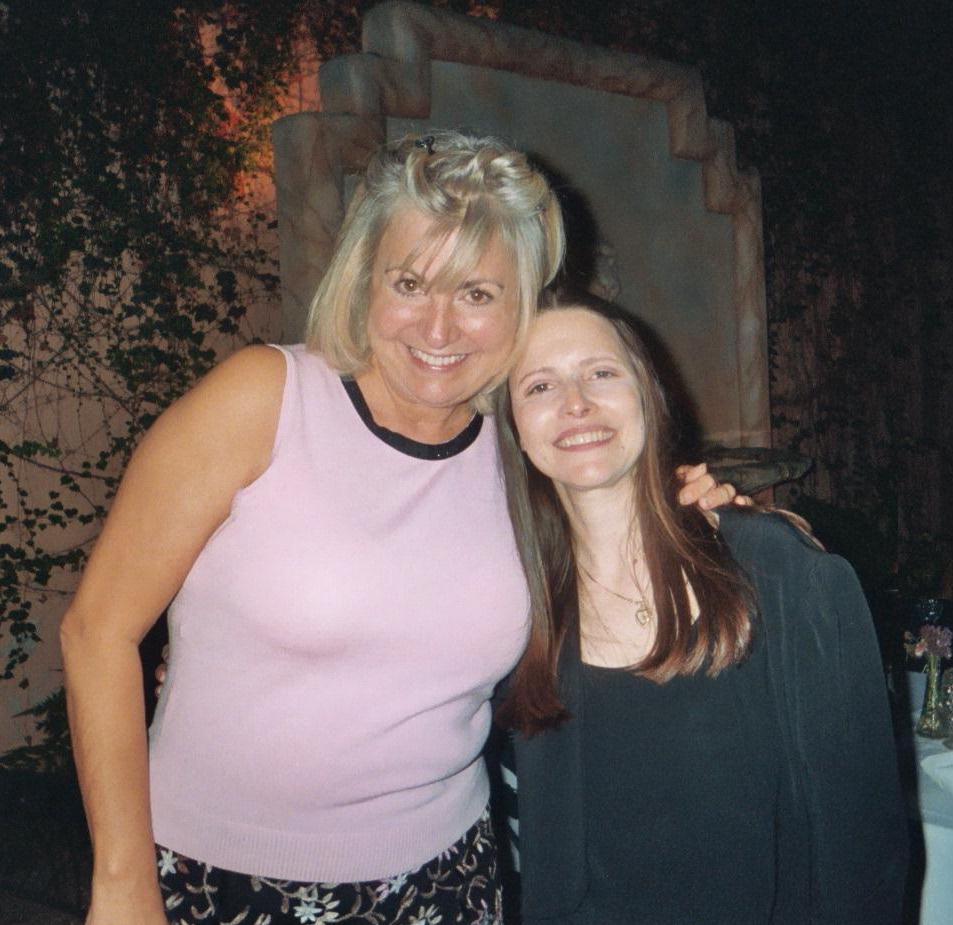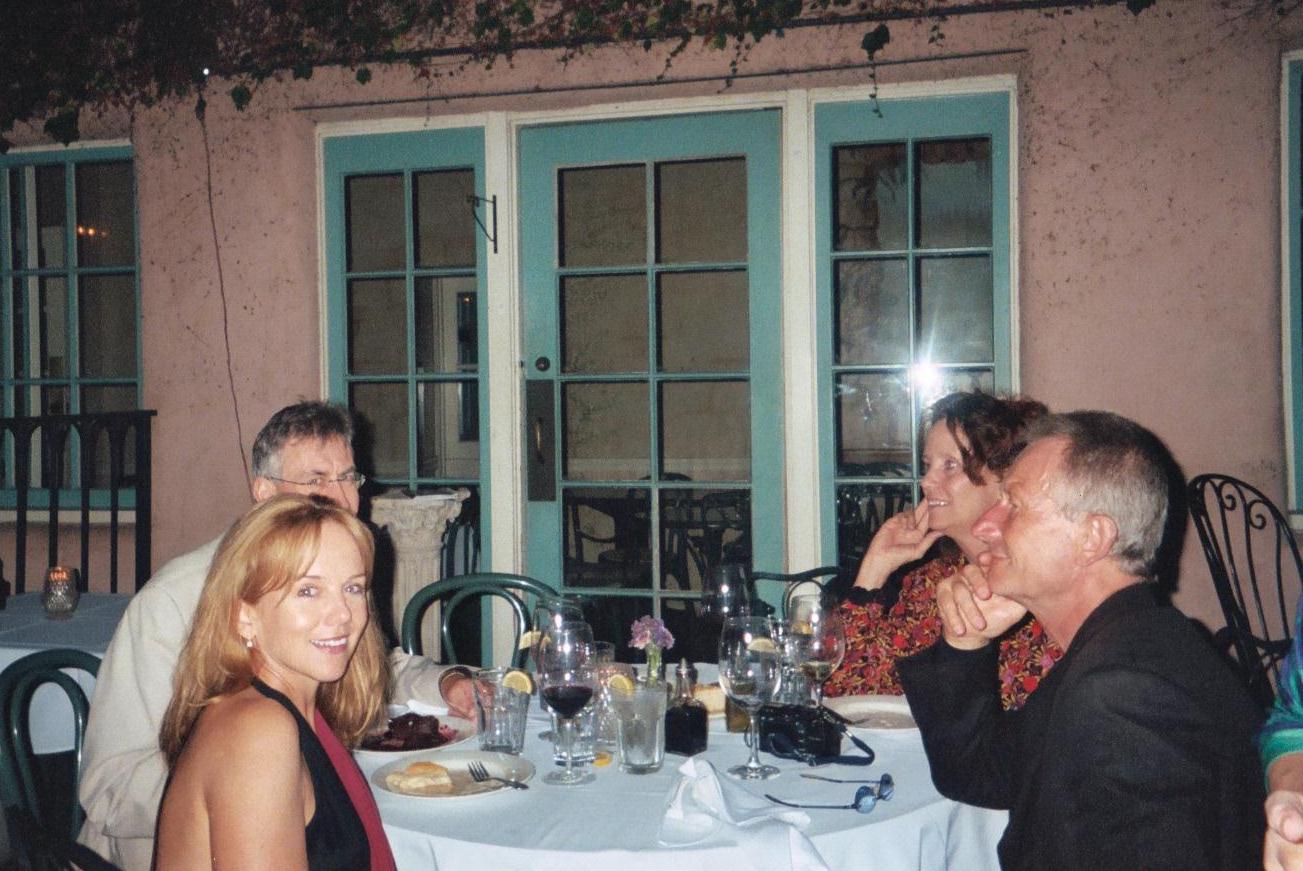 Three more Gala shots - from left: Donna Burger, Von Rae Wood & Me; Von Rae Wood & Me; Linda Pulr, Barry MbGovern, Walter Asmus & Jenny Walter.

Okay - that's it for today's events. More tomorrow - as soon as I can get to a computer.
Love,
Cindi :)

Back to Waiting For Godot - BeckettFest