Tue 10/5/2004 4:54 AM
BECKETTFEST DAY 16 - THE LAST DECAF

The Subject title for this e-mail was Ted's. More on that later.
Today went SO FAST, I didn't want to give myself time to think or cry, because if I started, I would never have stopped.
This morning Wanda and I had lunch at Quiznos - 45 minutes later than we planned, because I ran late since I got into a conversation with Jo, the lady I've been staying with. We talked about survival and getting a good job, and she said that I should look for the door to open and see where I fit. I couldn't tell her that it already had and that I know where I fit, which is at RTC, but that I live 3,000 miles away from it. If I had told her that, I would have burst into tears right there. I was not looking forward to this day at all, but it had to come.
When I got to the theatre, I got out of my car (after moving it once) and Joseph came running down the street after me - calling me - to tell me that he and the "Iguana" cast were coming to "Rockaby" and "Footfalls", but that their rehearsal was over close to start time - and could I listen for his keys tapping on the theatre door? I said I would be SURE to let him in, as I'd be out there for late seating anyway.
After Wanda and I had lunch, we came back to the theatre to usher for the last "Godot", which went VERY VERY well, and came down to cheers from the crowd. RTC's tradition for each Mainstage show is to give the cast presentation bouquets for both opening and closing. I wasn't there for opening, but I think Wanda gave Ted the bouquet for that show. Wanda and I were going to tag-team Ted's bouquet (her idea), but our assignments got switched around when one of the ushers asked to leave early, and Wanda got stuck in the balcony for the show. So I was assigned Ted's bouquet. On the second cast bow, we went up to the stage. It was confusing because there were so many bouquets and no way to really know who got what. But Ted saw me, and figured it out relatively quickly. I handed him his bouquet and he smiled at me. They also got Quincy Unseth (one of the boys who alternates in the boy's role in the show), who was not on today but was there to watch the closing performance, to come up for the curtain call - he was shocked - but it was SO CUTE having both boys up there with their bouquets bowing with the rest of the guys.
AFTER THE FINAL GODOT CURTAIN SHOTS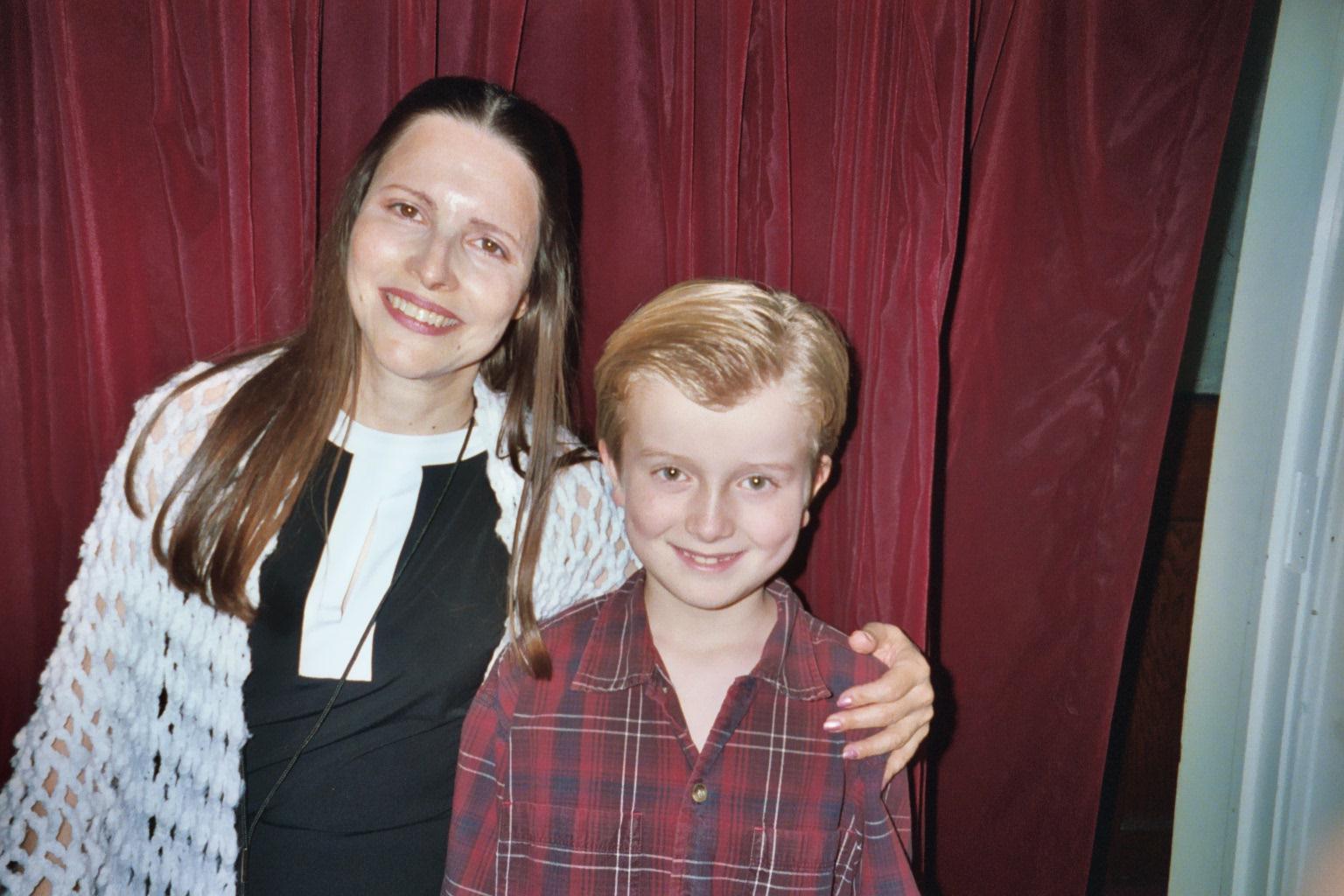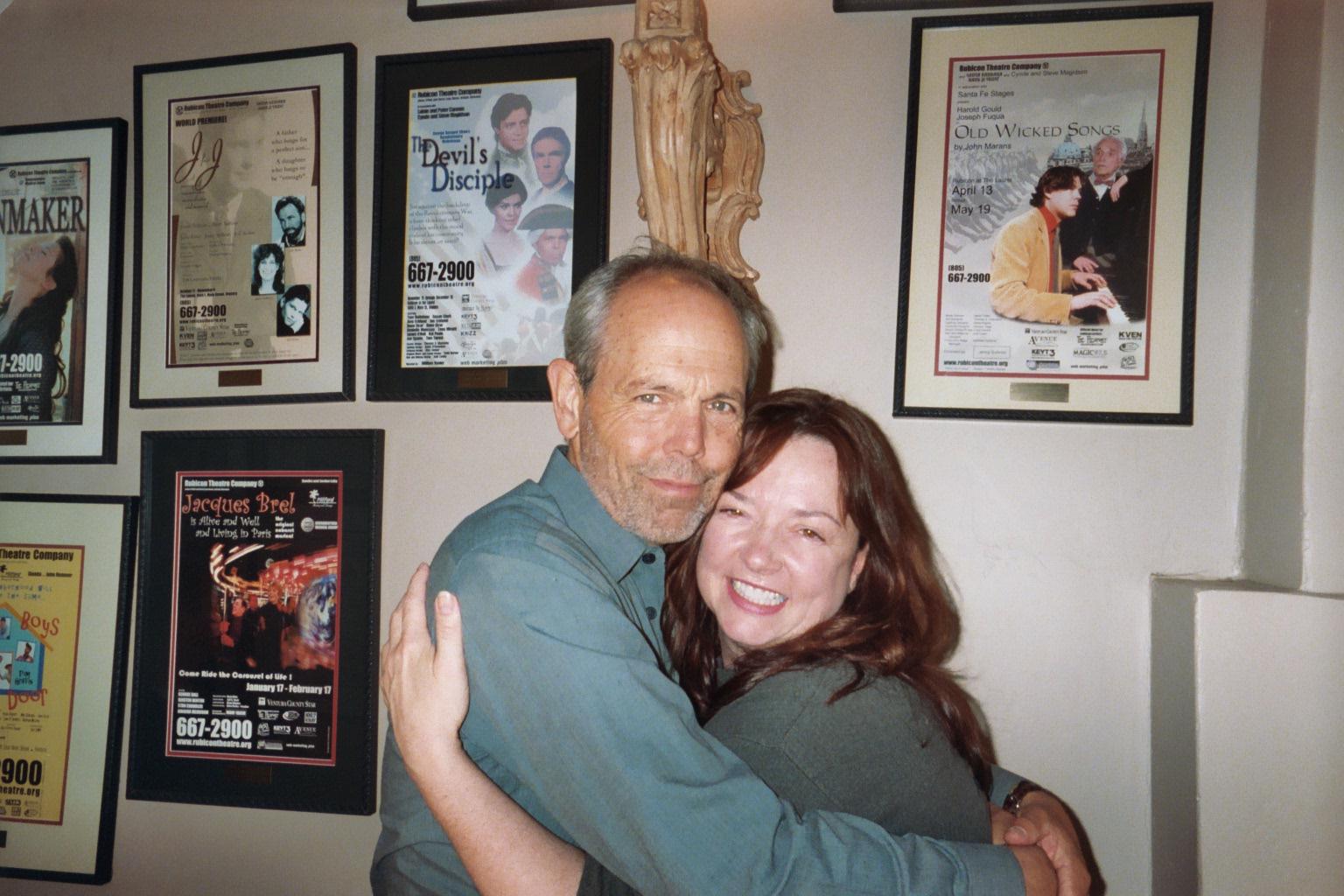 From left: Me & Quincy Unseth; Joe Spano & Karyl Lynn Burns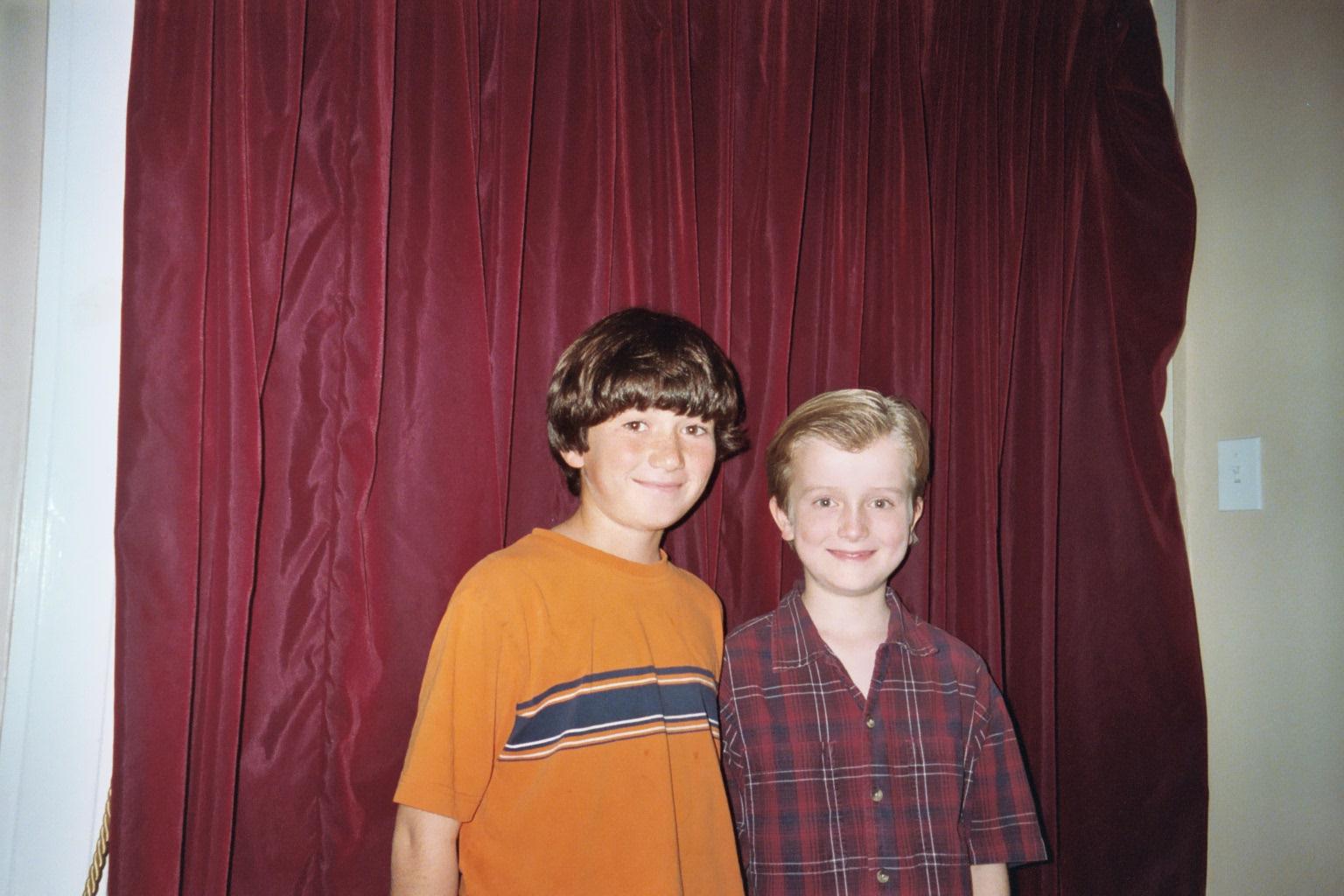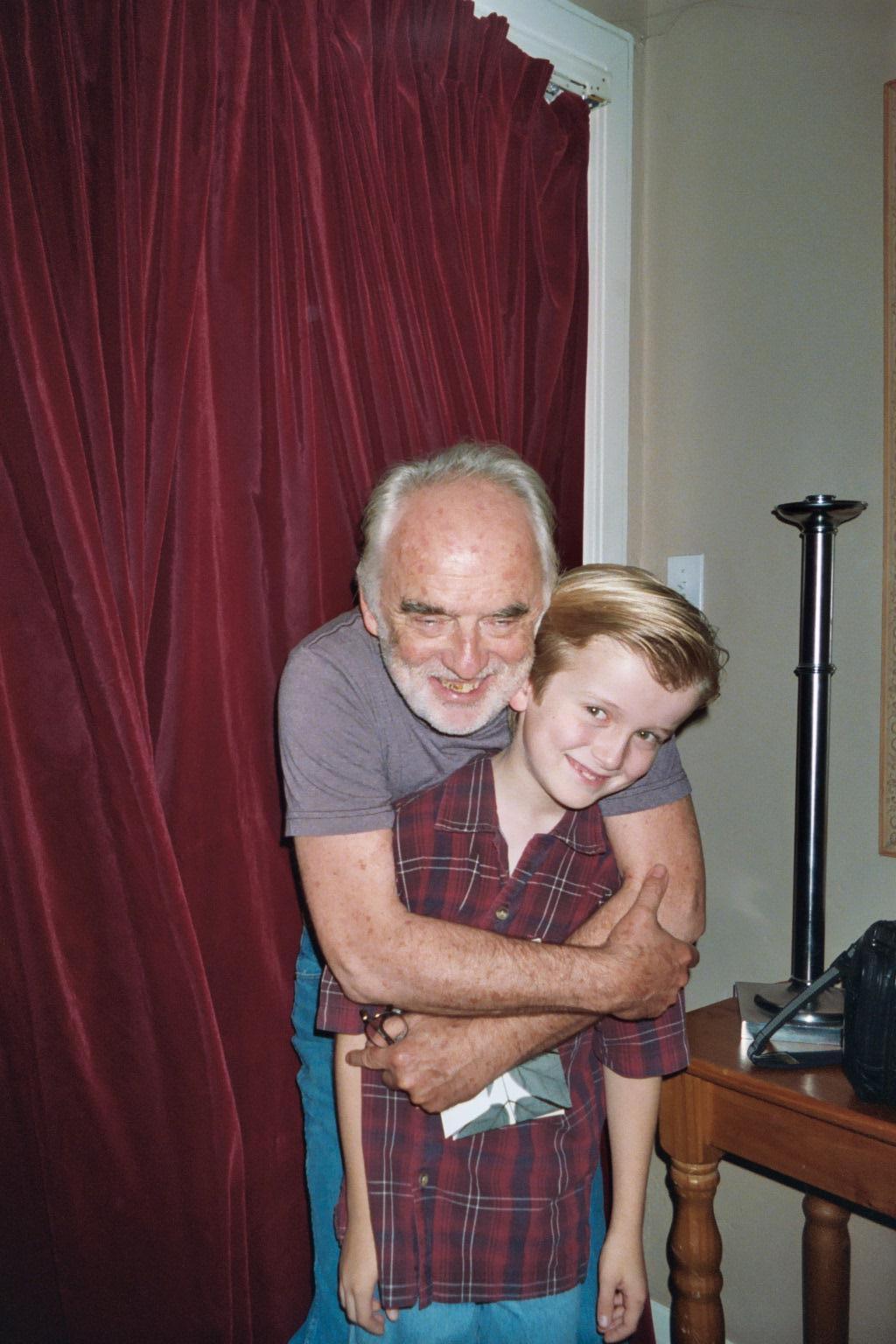 From left: Kalen Kasraie & Quincy Unseth; Robin Gammell & Quincy Unseth

Janet was also at the show, as we had already arranged to get coffee with Ted before Wrap Party, and Ted said to make sure Janet came with us.
After "Godot" ended, we had the final show of the Festival: "Rockaby" & "Footfalls". Joseph managed to get there before the show started, I teased him about doing 100MPH on the 101 to manage it, and he laughed. Another highlight was that both Stephanie Zimbalist and her Father Efrem Zimbalist, Jr. came to the show. Everyone fawned over Efrem. He's such a nice man, and we all wish we could age as well as he has. He's got all his hair (and WHAT GORGEOUS WHITE HAIR!) and all his teeth, and almost no wrinkles - and he's 85!
After the show, Ted got corralled by the Chairman of the Board for RTC, and told Wanda and me that he was really sorry about coffee, but had to go with them ("When the Chairman of the Board says go - you have to go."), but would see us at Wrap.
We talked to Susan Clark and Linda Purl (who were the last 2 show performers), and then left for the Pierpont.
The Wrap Party was a really nice evening -- Steve and Cynde Magidson - RTC's official photographers hadn't brought their digital camera - so they used mine at the show - the result is that I have some GREAT pics on the last role - like one with Stephanie, Efrem and Ted! Can't wait to get these developed! Cynde and Steve told me to send them CD's and they would put our shots together into one picture album on Ofoto.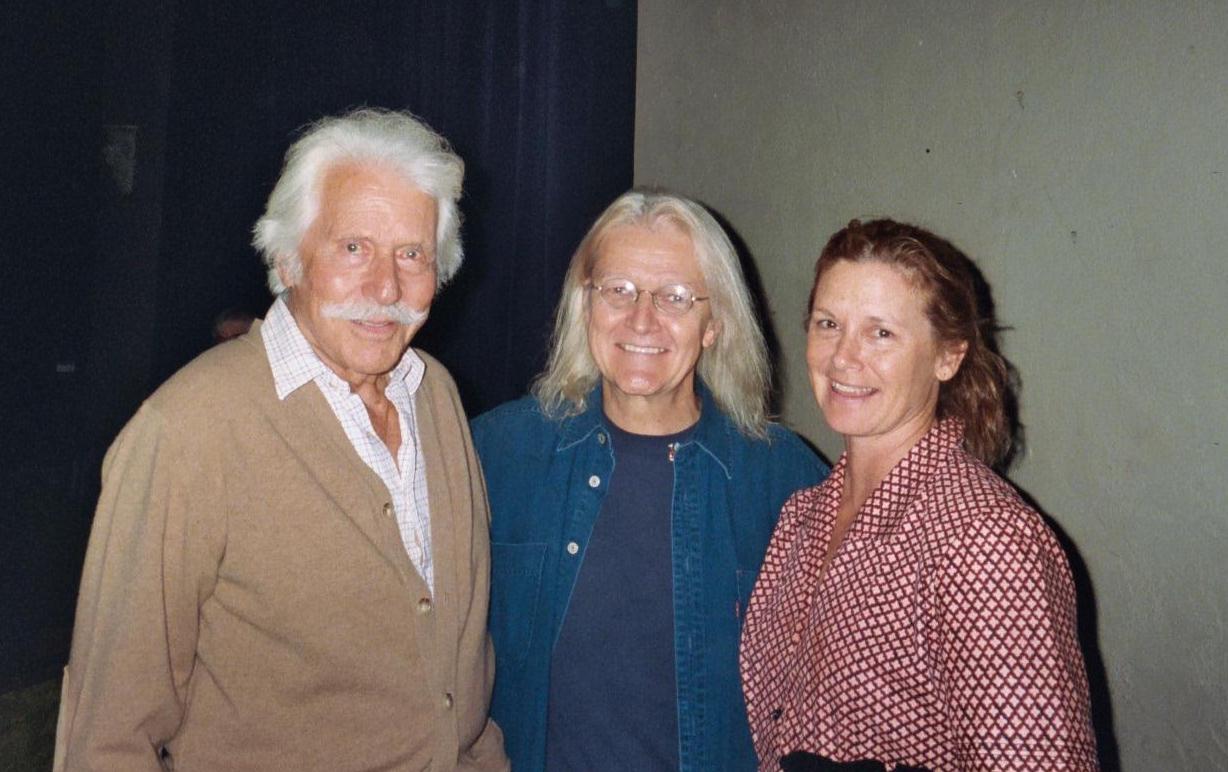 One of the pics Steve Magidson took with my camera. From left: Efrem Zimbalist, Jr.,
Ted, Stephanie Zimbalist at the last matinee of Rockaby and Footfalls.
They got their camera after the shows and before Wrap - as we had an hour in between.
The Wrap was at Austen's in the Pierpont - same place as the Welcoming Reception.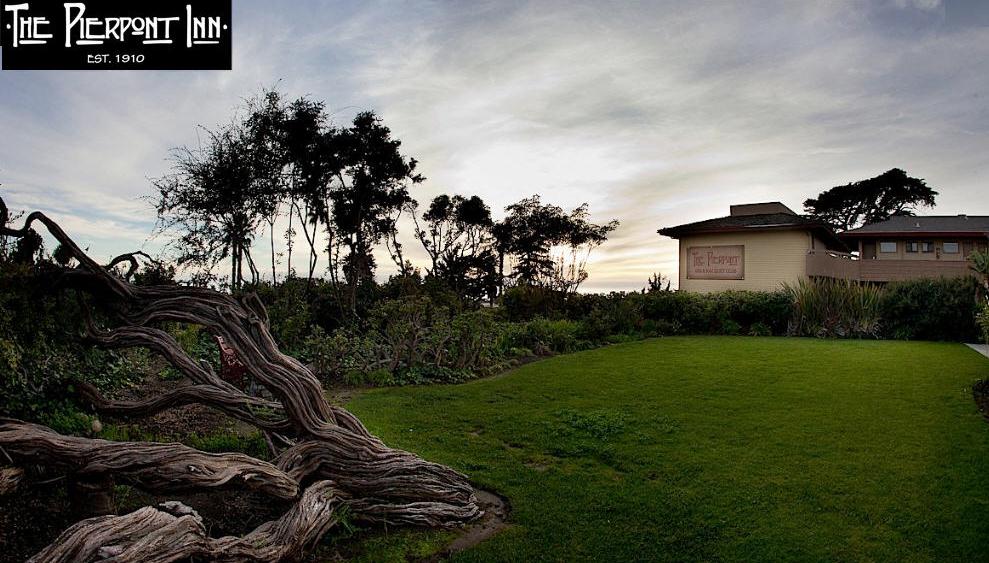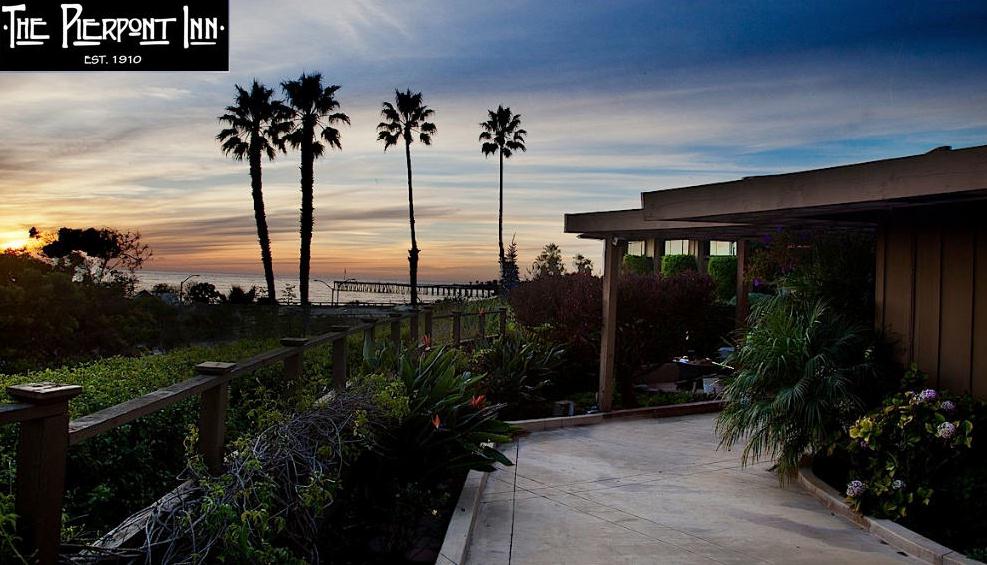 Most of the regular "cast of characters" were there, as well as the "Iguana" cast.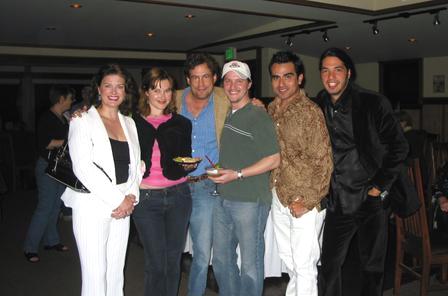 Night of the Iguana cast at the Wrap Party. From left: Stephanie McNamara,
Karen Ross (?), Joseph, Brian McDonald, Armando Rey, & Victor Gomez.
It was funny, Steve and Cynde kept following me around with their camera (they went home to get it between the show and wrap) saying: "Have to get this shot..." and I said: "People will see this book and think it's the Cindi Verbelun Photo Album, and say: 'Who is this woman?'" and we laughed.

WRAP PARTY PICTURES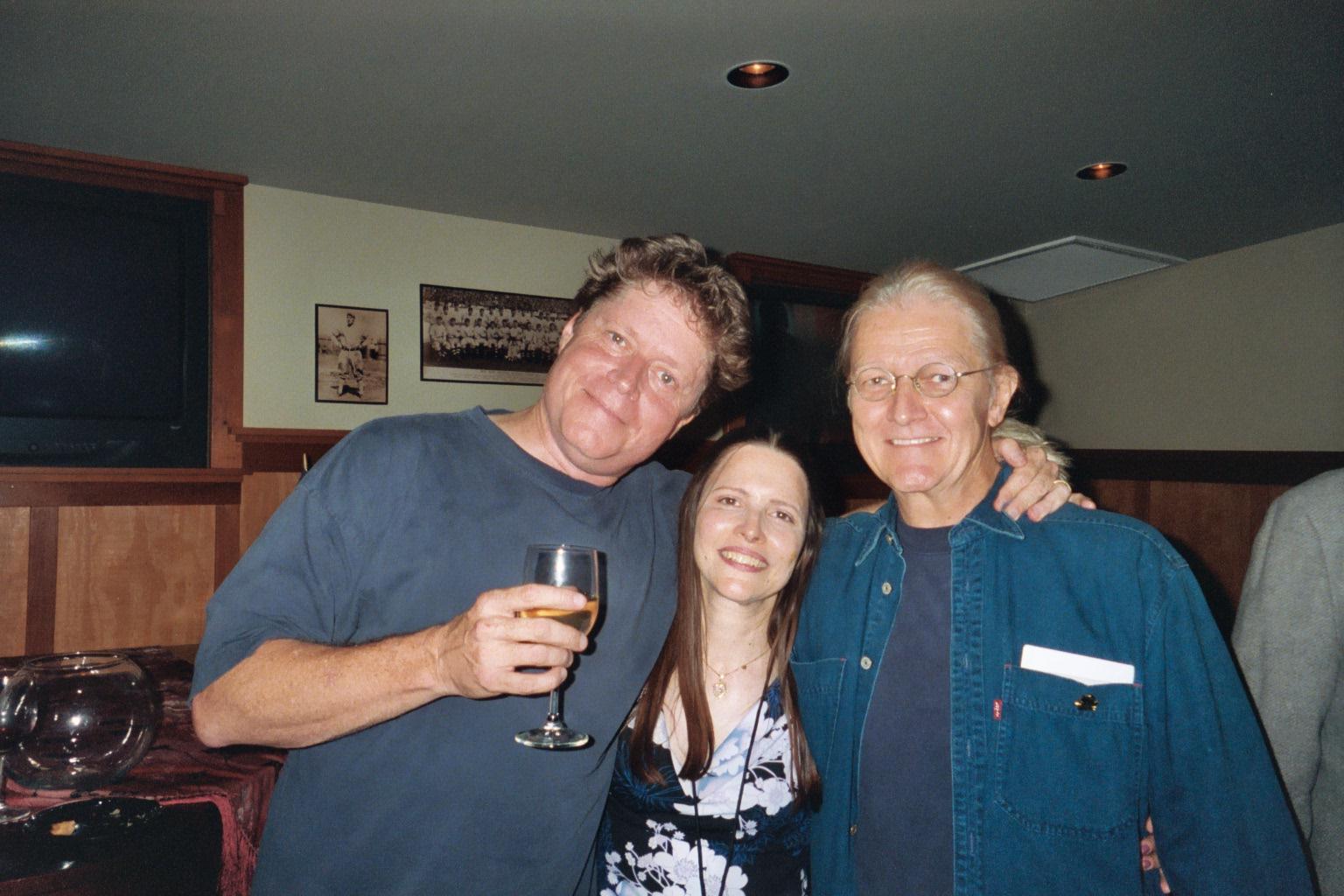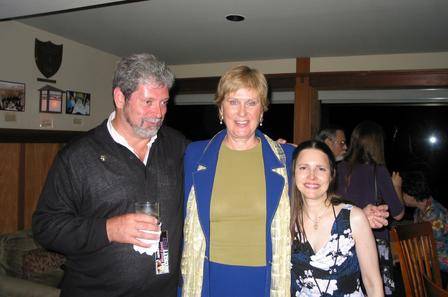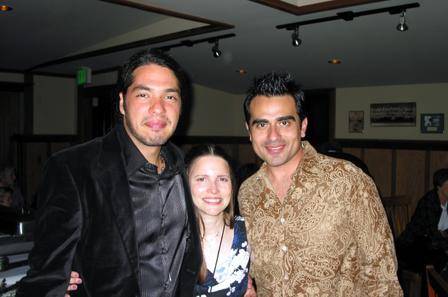 Some pictures Steve and Cynde took while "following me:" Jim O'Neil, Me and Ted; David Payne, Susan Clark and Me; Armando Rey, Me & Victor Gomez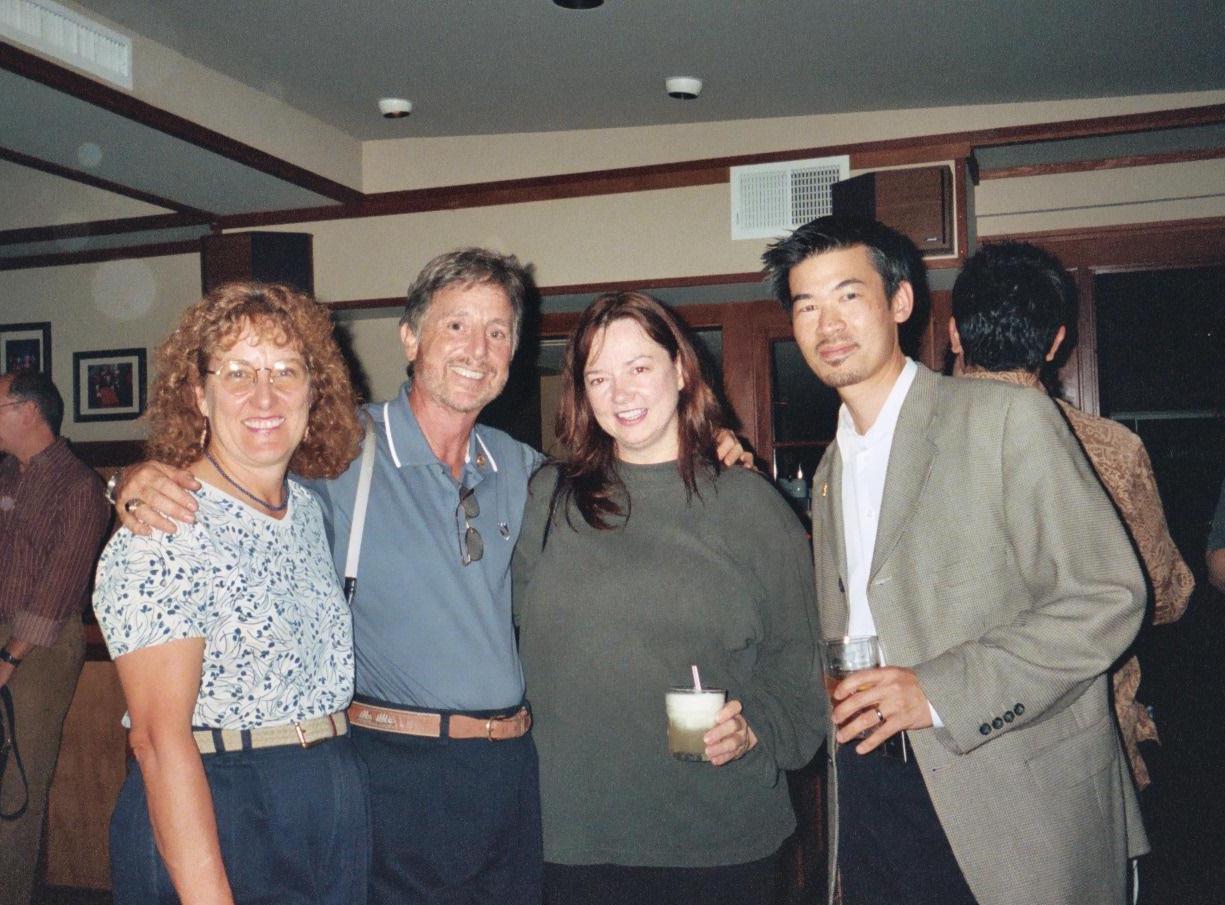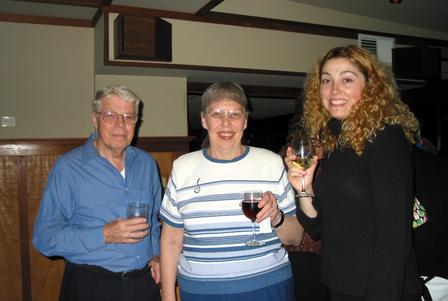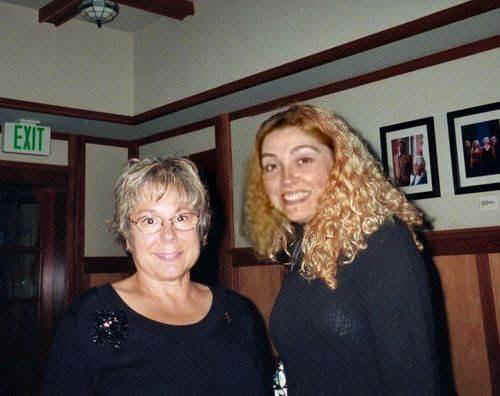 More Wrap Party pictures: from left: Cynde & Steve Magidson, Karyl Lynn Burns & Norbert Tan; Ken & Sandy Homb & Amber Landis; Christina Burck & Kathleen J. Parsons; Donna Burger & Amber Landis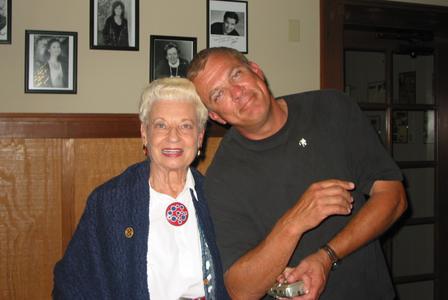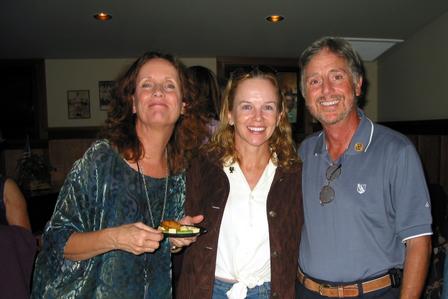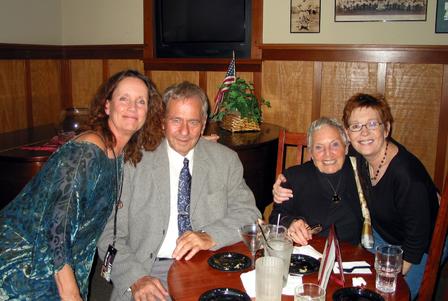 More Wrap Party pictures: from left: Helen M. Yunker & Gary Best; Jenny Sullivan, Linda Purl & Steve Magidson; Jenny Sullivan, Albert & Micheline Sakharoff
& Chris Rennolds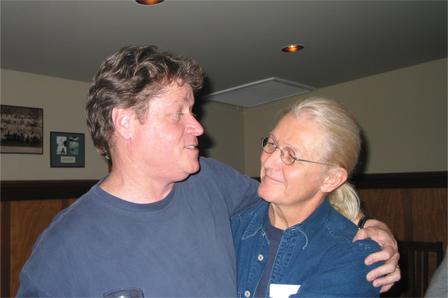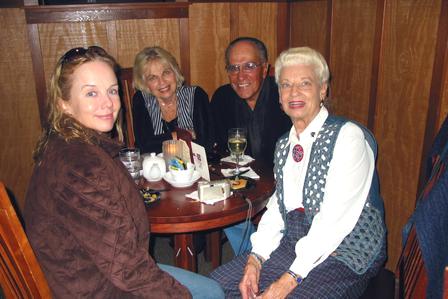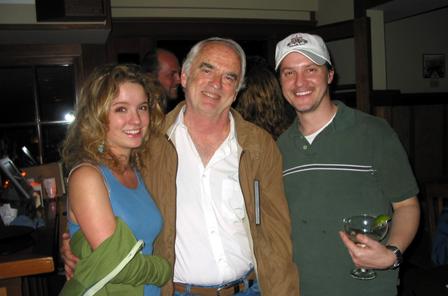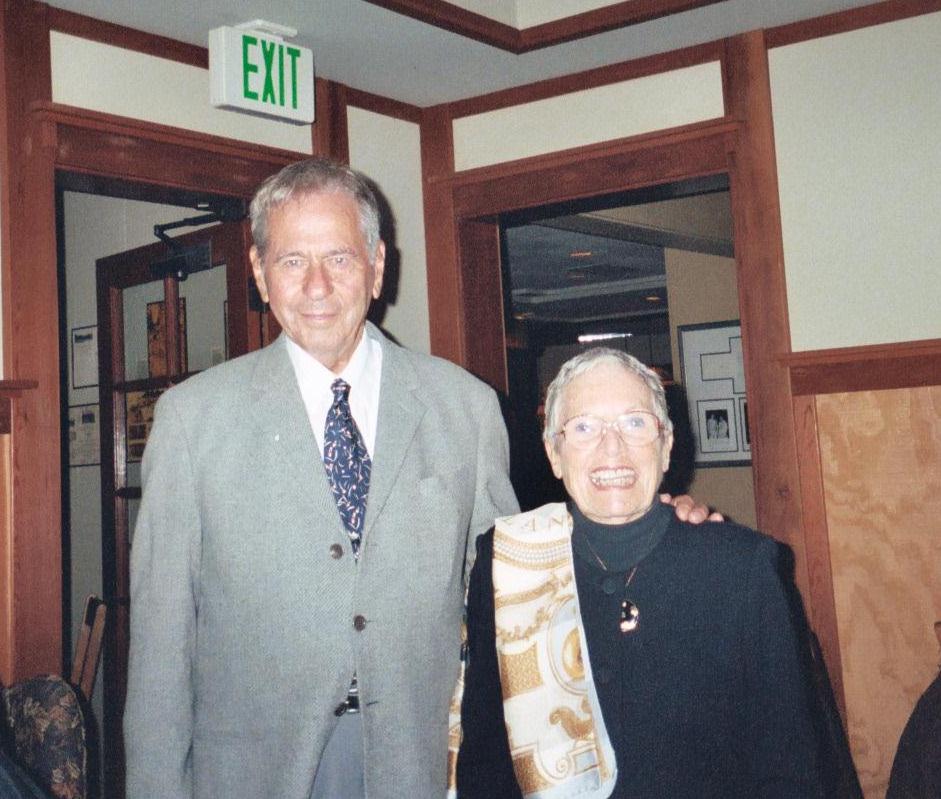 More Wrap Party pictures: from left: Jim O'Neil & Ted; Linda Purl, Stephanie Moro & Angelo Diaz; Winslow Corbett, Robin Gammell & Brian McDonald;
Albert & Micheline Sakharoff.
They served veggies (including Carrots - and Robin LOVED it when I gave him one), fried ravioli, a kind of eggroll, and fruit. The food was really good!
Then Karyl Lynn gave a speech and she and Brian started thanking people. I was surprised when Brian singled me out - that was SO SWEET.
Ted finally got to the party about 1/2 hour or so after it started. Turned out that he and the Chairman and his Wife went to Cafe Zack, which was closed - so they ended up eating at the West Side Cellar again. He made the rounds, and by the time he headed over to the food table, it was empty. I went to him and said: "Since you escaped pre-wrap, how would you like to come with us to Denny's for coffee after this thing breaks up?" He said: "Okay!"
The party went until about 10ish - and Pierpont's folks started doing stuff like opening their outside doors - I think it was a hint to get us moving.
People were coming over to me all through the party, hugging me, telling me they didn't want me to go and that I should move out there, Steve (Magidson) even said I was taking a little piece of his heart with me - and if you think it's hard not to cry when you're me and that happens - well - IT IS. I almost did, but I knew if I started, I would NEVER quit.
Joseph made Wrap, but had to leave early as he had an audition Monday morning in LA. He hugged and kissed me goodbye - and Cynde and Steve took our picture.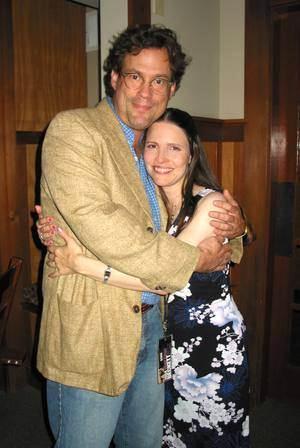 Joseph & Me at the Wrap Party.
The shuttle company called Karyl Lynn and told her I would be picked up at the Marriott at 6:15AM (GOD - my plane wasn't even leaving until 10:40!). I had a feeling I wouldn't get too much sleep. I didn't.
Jan was at the closing and the party, and she and Wanda and I hung out once people started leaving. Ted called Leeyan - the first time he'd talked to her at a normal hour for her since BeckettFest started - and was on the phone for a LONG time - I would say 30-45 minutes, then Jim got on for awhile, and Ted saw us. I said: "We're not giving up this time.", and he said: "Good, as long as you're still corralling!", then Ted took the phone back - then they ended up talking out front while Wanda, Jan and I were sitting inside in front of the fire. When they finally came in - about 11 or so, I think, I said: "Never let it be said that we haven't learned patience!" The friend talking with Ted was amazed and he told Ted so, and we said: "It's Ted's MO - you should see him at the shows!", and we just laughed.
Karyl Lynn and Jim came up to leave then, and we hugged them goodbye, then a few minutes later the 4 of us headed to the lot, and Ted asked who drove. We all had - but Ted, as it turned out - had ridden over with the Chairman of the Board. Ted said: "You all drove? Yep, that's a California mentality!" and we laughed. We all decided to go in one car, so we all piled into Wanda's car to head to "O'Neil's Denny's" - Ted's name for Denny's, since Jim apparently hangs out there a lot.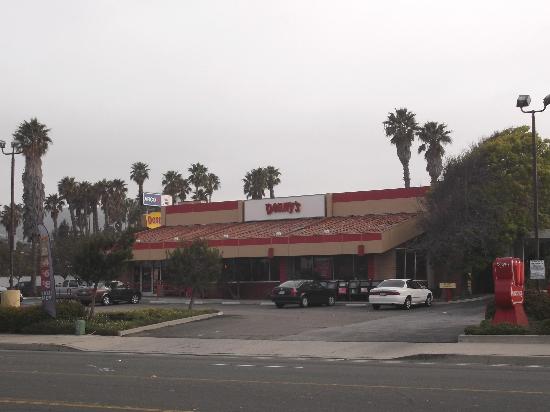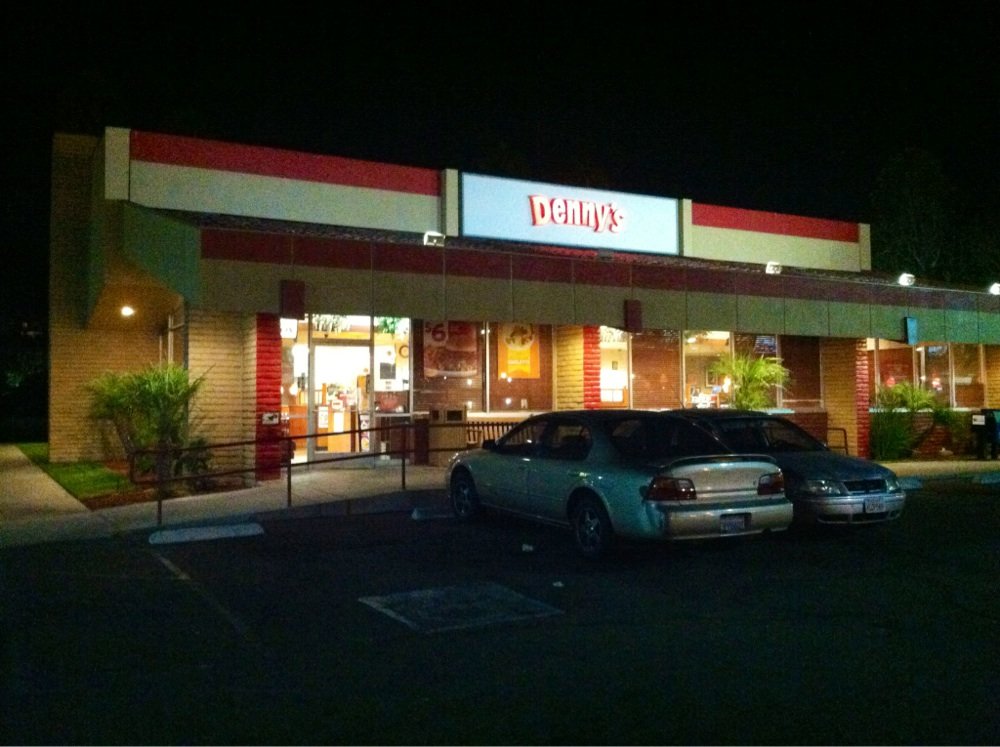 "O'Neil's" Denny's - open day and night (and at night you'd still think it was day inside - LOL!).
We got there, and the place was lit up like a Christmas tree - and Ted said: "Could they make it any brighter in there? Can we turn the lights up a little higher?", and we all laughed. When we sat down, Wanda and Jan ended sitting on one side of the table, and Ted and I sat on the other. Janet kidded me and said: "Okay, you can have him, since you're leaving tomorrow!". Janet had sat with Ted in the back seat on the way to Denny's and hugged him all the way there - LUCKY! LOL!
Our waitress came over, and Ted said to us: "Look what her name is!" It was LeeAnn! We told her Ted's wife's name is Leeyan, and she liked that! We all laughed and ordered breakfast. Ted got an omelet - mostly vegetables. I asked if he was a vegetarian, and he said that he does eat chicken, but hadn't eaten meat in years. No WONDER he's so healthy! The rest of us got the Denny's breakfast - the two eggs with homefries, bacon and bread. Hit the spot - since party finger food only stays with you so long. And Ted had said he was hungry by the time he'd made it to the food table at the party - but that it was empty by then.
We all had a great conversation - some of which overlapped what Ted, Wanda and I talked about at dinner. Ted asked us one question I can repeat, which started with: "Ladies, can I ask you one question, and get your honest answer?" And Janet came back with: "The answer is yes, and I know someone who can get rid of Leeyan!" We all laughed. Only JAN can get away with saying something like that! LOL! I told her I was going to post what she said - and she said: "No you're not!" Then I said - and I know what the subject line is going to be too: "The Last Coffee!" and Ted said: "How about The Last Decaf?", and I said: "That's better! Okay!"
Ted then asked us his question: If we had a choice between Rasputin and JCS in the same city on the same night at the same time - and he was in both shows - which one would we go see? We said Rasputin - but only because we had already seen JCS, but that most audience members would pick JCS, because they wouldn't know Rasputin. He said that's what he would expect too.
Jan said she had gotten used to my daily postings, and now they were going to stop. She said: "Cindi posts everything about you - '...then Ted got up and went to the bathroom...'" and I said: "I do not!", and we laughed. I explained to Ted that, yes, I do post about him, but also about all of BeckettFest. Jan is a stitch! She asked when Ted would be online again, and he said he didn't know.
Most of the conversation was about things that are still confidential, but will eventually be talked about by Ted, so, not to worry. One thing that Ted did mention, though, that to me says volumes about the person he is, is that he doesn't like to use the word fan. He said that fandom to him implies fanaticism. He prefers to think of us as friends, which is what we are to him. I think that's sweet. BTW, YES, GENA, I got your request, you will get it in the mail as soon as I get everything developed.
We were at Denny's until about 1:30AM or so. And we took pictures with Ted to finish off our camera rolls.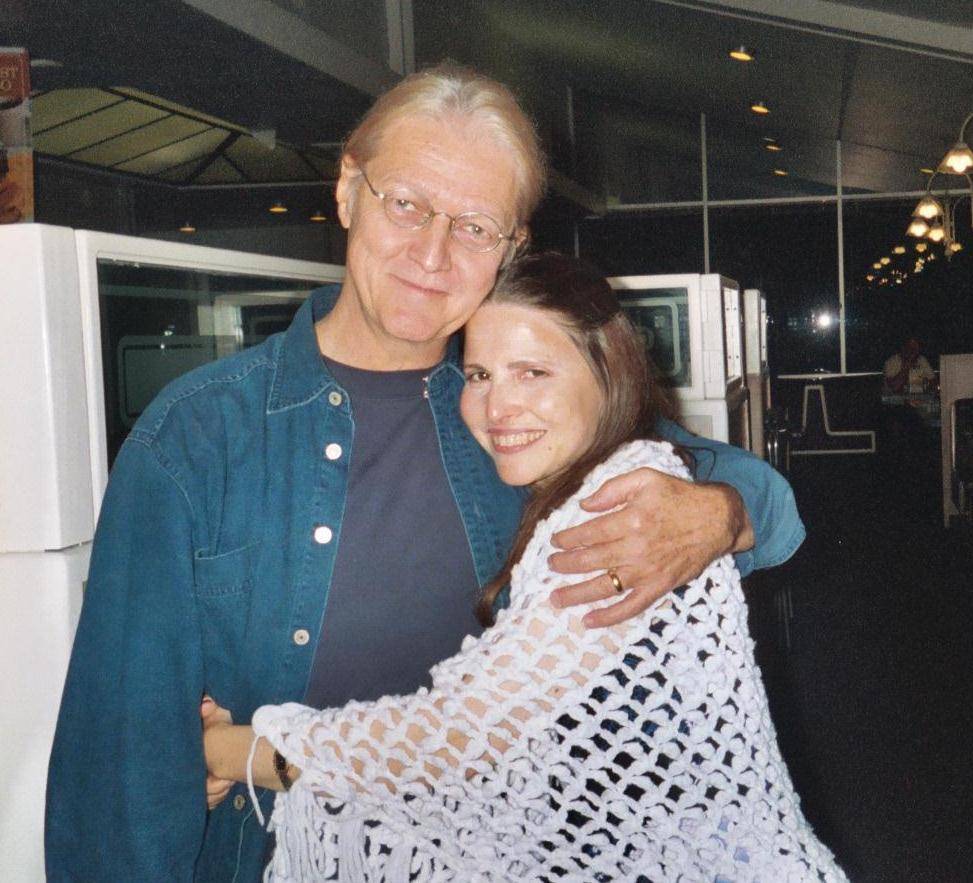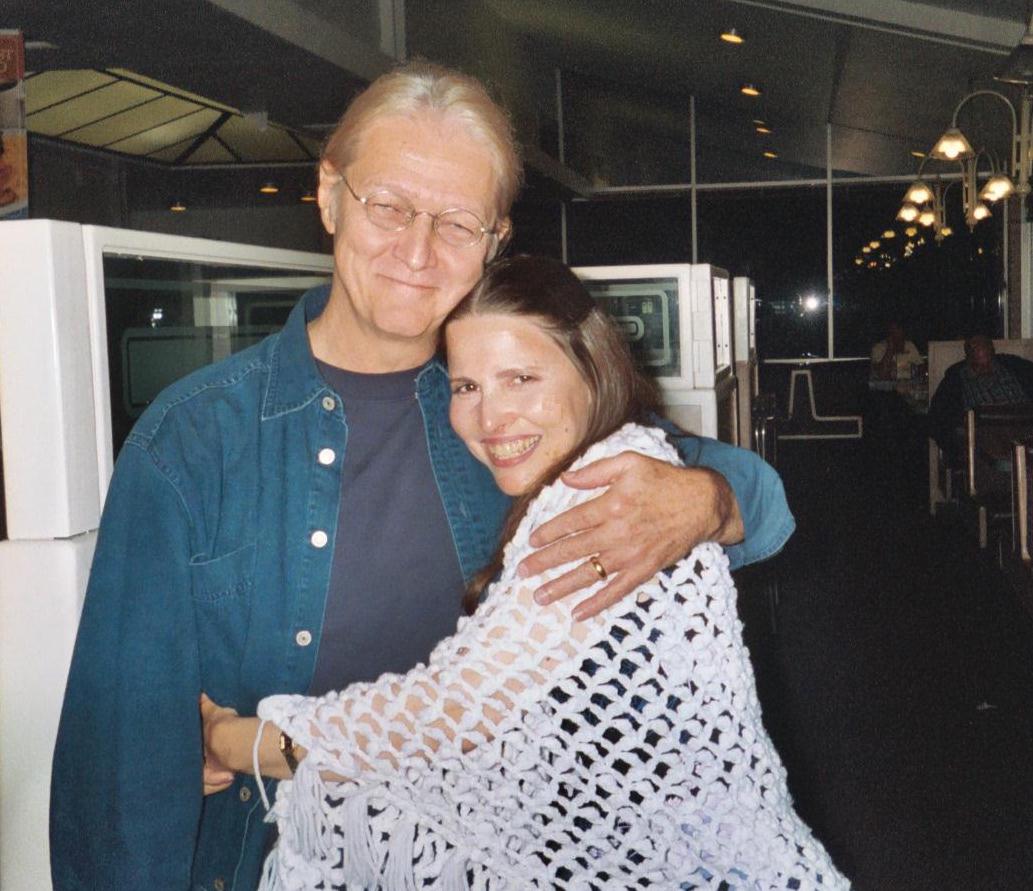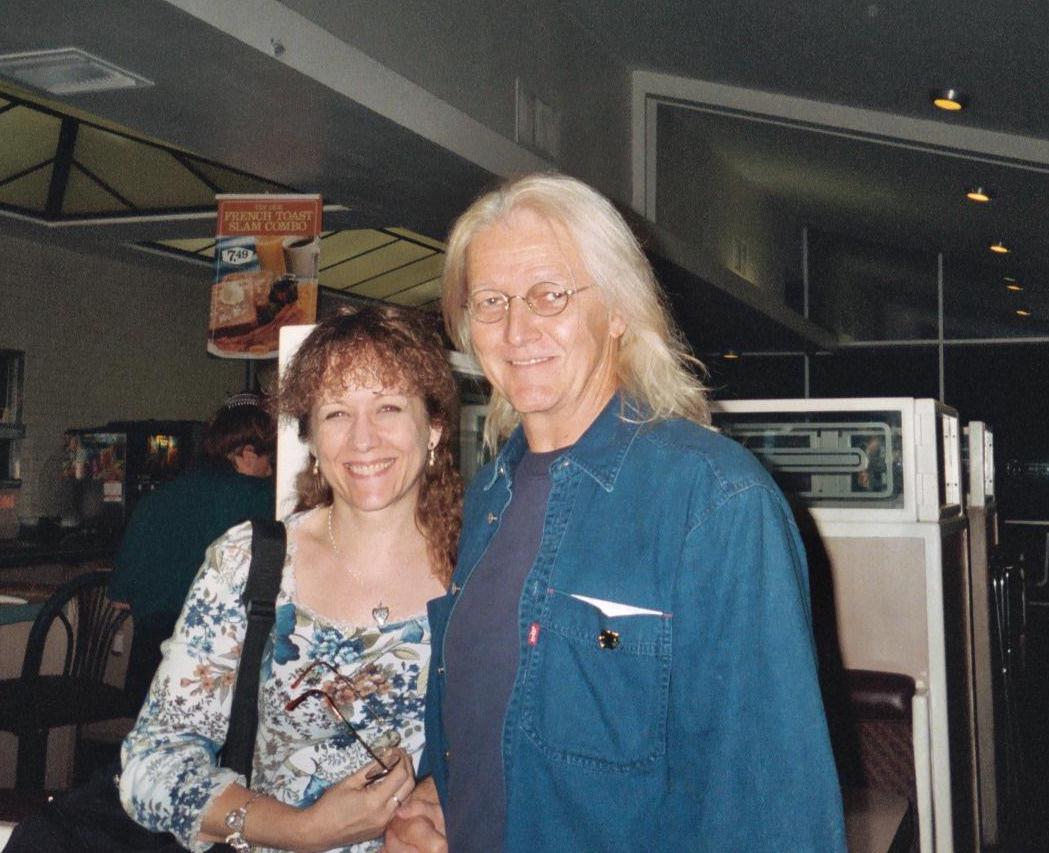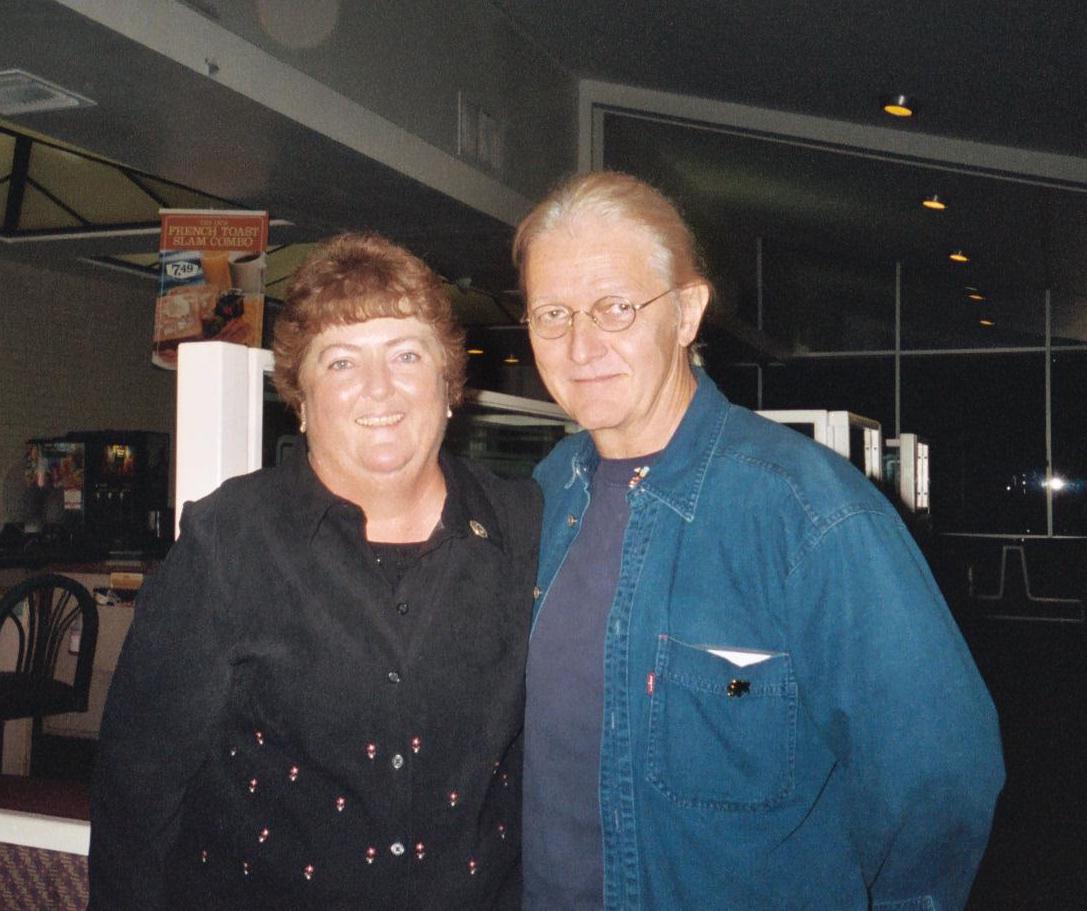 Pictures with Ted at "O'Neil's" Denny's at about 1:30AM - left to right - Ted with me x2; Ted with Jan; Ted with Wanda.
Then we got into Wanda's car and I said to Ted, "Well, Sir, can I take you to your car, since I know how to get home from the theatre, but not from here?" (I'd been to the Pierpont twice - but had not driven either time, and when Wanda got on 101 - I knew I'd never figure it out in the dark! - I know about 5 streets in Ventura - take me off of them and I am hopeless!) And Ted said: "Well - you're all at the Pierpont, right? How about this: Wanda, if we can go to my car at the theatre, then I can get these two to their cars at the Pierpont. How does that sound?" We agreed, and Wanda dropped us off. We got out, and we hugged her goodbye, and Jan and I then got into Ted's car - I got the front and she got the back, and Ted began to explain the back way for me to get to Seaward - but it still sounded confusing in the dark with the freeway underpass not being so well lit, so he said: "How about if I lead you to Seaward and you can follow me?" I said that would be fine. We dropped Jan off at her car, and Ted said: "Are you sure you know how to get back to your hotel?" and Jan said: "Yeah - I've been practicing!" - in a way only she can say it - and we laughed. Ted said goodbye to Jan - gave her a big hug, and she tossed him her phone numbers, since she was going to stay until late Monday, in hopes he was going to have his hair dyed back for her to see before she left. Ted hoped to do that today (Monday) if there was time.
Then Ted and I drove to my car, but ended up sitting in his car for awhile by my car, chatting about what these last 16 days had been for us. We started talking about RTC, and Ted told me I should think about what Steve had said to me about coming out to work there. I told him that I had spoken to Karyl Lynn about it, and then mentioned that nothing was really opening up at the moment that I could do there. I mentioned a few employees by name - one being Diana Smith who'd sent me the job description for Karyl Lynn's Assistant - and Ted asked which one she was. I described her, and he said: "Yes, from your description I think I know who she is - she's new. You know, I've been with this company since it began, and you're here a short time and already know names and faces, what they look like and where they work. You really should think about coming out here." I told him I would do that. We talked about a few other things in the car, including how to explain - or not to explain - that some things can't be posted at his request. The internet makes this worse too - since it leaves very little privacy - and you can find just about anything on it if you want to. I told him I (for one) was honored that he had talked to me, and that he didn't have to worry about anything showing up online that he didn't want to be posted there, which he appreciated. Then he said: "You know, what I really need to do more than anything is sleep - but I'd rather spend time with you guys." I said that we appreciate that. Most other people in this business wouldn't do that, and I said that it's what makes him different. (For Ted this is what should be the norm, but he's way above the norm - which I've said before.) Eventually we got out of the car, and were talking in front of my car, when a cop drove up and just sat there in his car and waited for us to finish talking. (AMAZING how they are only around when you DON'T need them!) and Ted said: "I think we'd better go before that cop throws us both in jail!" I agreed and said: "Okay, you lead!" We got in our cars, and the cop started to follow Ted, so then he took an inside turn in the lot so I could follow him and we got rid of the cop. We got to Seaward, but then Ted kept leading - even though I thought he'd turn off. We got to the street before mine, and Ted pulled over on the berm and asked me if he'd passed it. I said it was the next one, I thought. I always just look for the street sign that says a road was merging from the right. He passed it, then backed up and parked while I put the car in the driveway. Then he got out and we talked a few more minutes - and he walked me to my door (boy - chivalry sure isn't dead!). He gave me a big hug and a kiss, and I said: "You know the worst part about this? I got used to seeing your face everyday and now I won't see it tomorrow." He said: "Well, let's keep our fingers crossed that I can get something going soon and then I can be out there." Then he said: "I can't leave until you get your door open." I found the house key and opened the door, and he gave me one more hug, and said goodnight. I said it had been a real pleasure, and he smiled. Then I went into the house and Ted left for the hotel. It was 3AM.
Since I thought I had to leave at 6AM, I packed and got my bathrobe on, but didn't go to sleep. I read the BeckettFest program and my Soap Mag. I thought about posting this, but knew it would take more time than I thought I had - so I decided I would do it later and about 5 to 6 I left the house for the Marriott, where the shuttle was picking me up.
Once I got there I found out that they weren't picking me up until 7:10 - so I talked to the Concierge and told him that I had a friend staying there (Ted was there - and actually I figured out I had more than that - since the "Iguana" cast is there as well), but that I didn't think he'd appreciate my banging on his door this early since we'd been out until 3AM. The Concierge agreed. I had told Ted that since Karyl Lynn said he could have her car for the rest of his stay - now that I was leaving - that I could slide the key under his door if he wanted (she'd told me to leave it at the front desk at the Marriott), and myself with it - and we laughed. He knows that we all know he's very happily married (I told him Leeyan is a lucky woman - I've said that a number of times, actually, and he says he's the lucky one - that is SO SWEET), but we all know that flirting can be fun sometimes too.
While I waited for the shuttle, the Concierge let me use one of the hotel computers to start this e-mail, but the shuttle showed up before I could finish it, so I'm doing that now.
A MESSAGE FOR ALL ON THE LIST:
Ted wanted me to tell everyone that he will get online one of these days and write something for all of you to say hi and thank you for being there all these years. In the meantime, he's still working on getting something going so that he can see all of us soon.
I have been such a mess tonight - in tears off and on - and missing RTC and seeing Ted like HELL. I knew it would be that way - but Cinderella had to wake up. ***SIGH***. I think attending BeckettFest was the best decision I have ever made. It was time out of time for me - and showed me other options I can think about in terms of where I can live and work - and I'm considering it. The time I had there was very precious to me - and especially the "Ted Time" - which is SUCH a rarity, especially these days.
I will be going out to see Night of the Iguana - at this point for the closing weekend (thank you, Wanda - and if you hadn't suggested that I would be completely incoherent by now), and if Ted is still around (though it's not likely - I think he's only in Ventura for a few more days) I will let you know if I see him.
I will post the pictures as soon as they are developed, and Steve and Cynde will be posting them on Ofoto so you guys can get hard copies too, if you want them.
So - that's all there is - there ain't no more. ***SIGH*** Anyway, thanks for listening to my ramblings the past 17 days, I hope they helped.
Love,
Cindi :)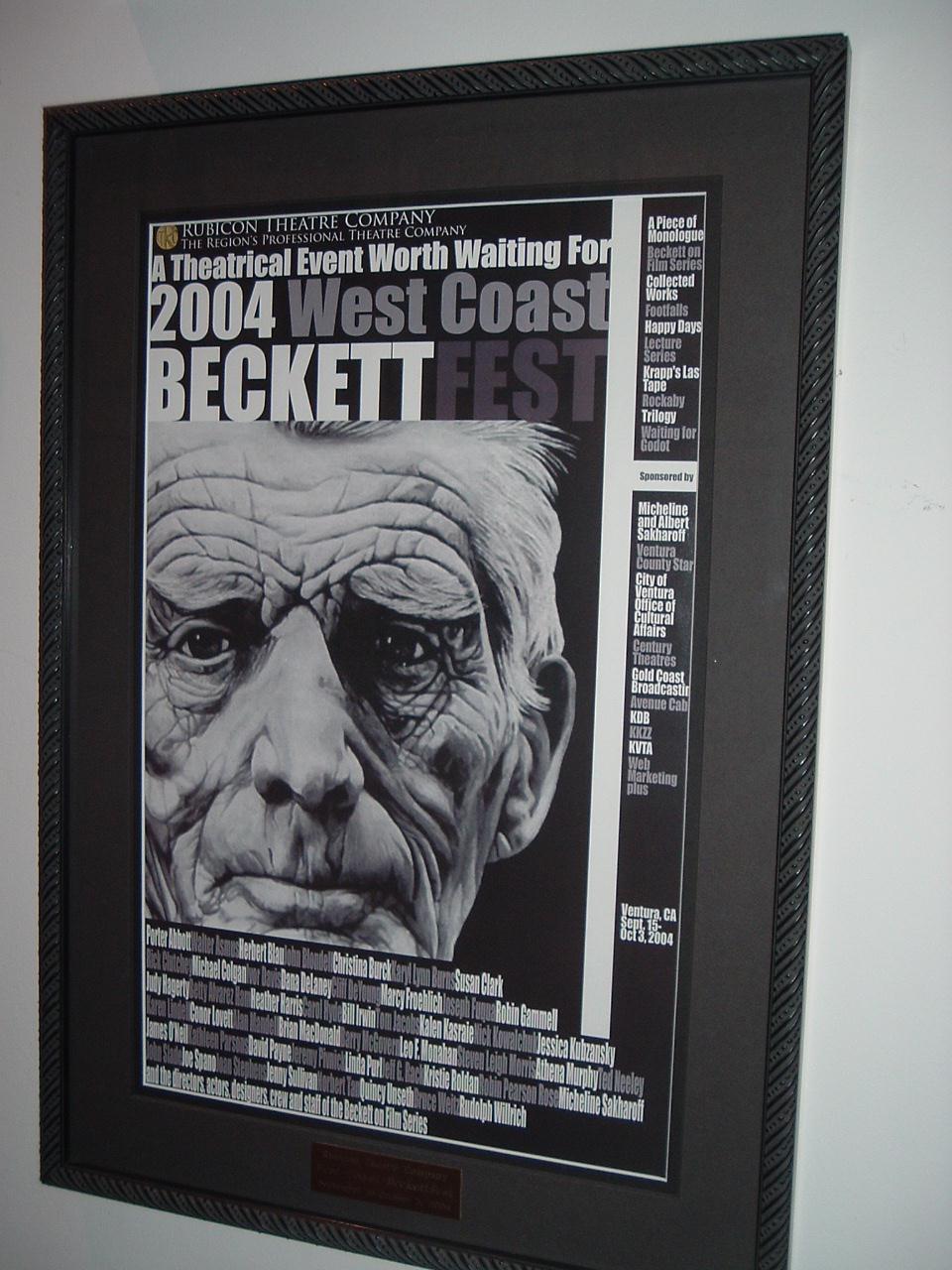 Saw this on the wall in the basement at RTC on one of my last visits. Karyl Lynn said Jim made it special. Unfortunately, it was not on the wall the
last time I visited, but I know it's there somewhere, and I'm very glad I took this picture!

Back to Waiting For Godot - BeckettFest