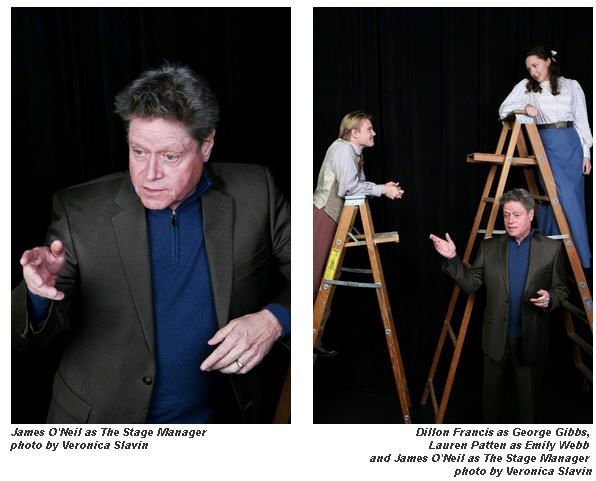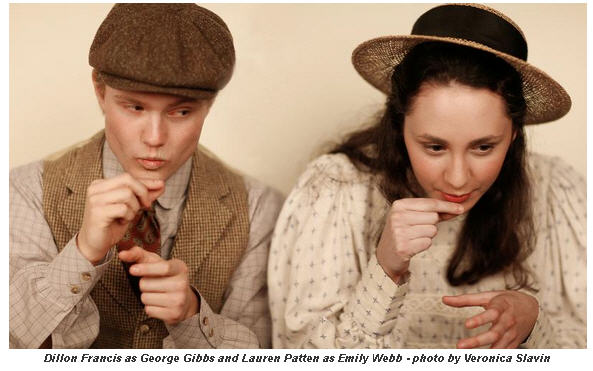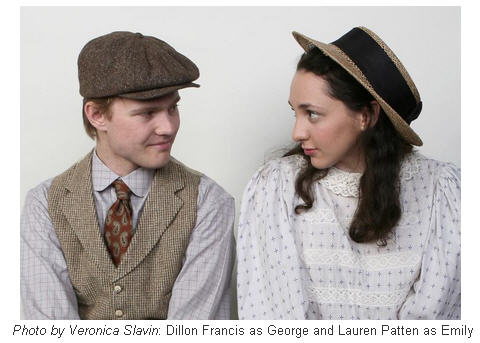 Set in Grover's Corners, a quintessentially American town at the turn-of-the-last-century, Wilder's Pulitzer Prize-winning play is a powerful and poetic reminder of the precious nature of everyday existence. As the Stage Manager in Rubicon's production, Artistic Director James O'Neil narrates Wilder's immortal tale of birth, love, marriage, death and daily life. "Oh, earth, you're too wonderful for anyone to realize you," says Emily, played in our production by Lauren Patten (Rubicon's Anne Frank). Local actors Dillon Francis and Joseph Fuqua also play pivotal roles in this Great American classic.
March 6 – 31, 2013

Our Town

Written by Thornton Wilder
Directed by Jenny Sullivan
Scenic design by Thomas S. Giamario
Sound design by Jonathan Burke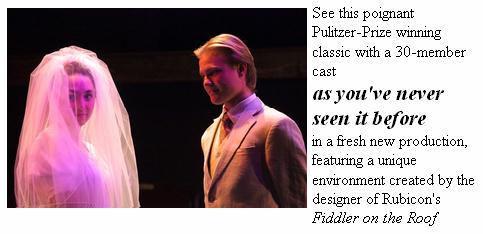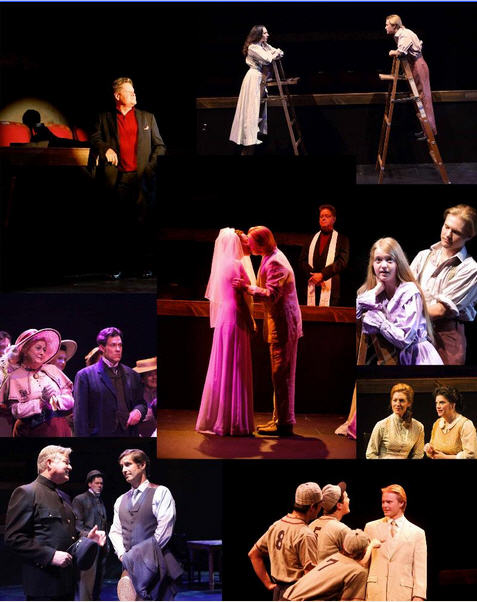 presented in association with:
Sandra & Jordan Labby
Loretta & Mike Merewether
co-sponsored with
Shelly & Rick Bayer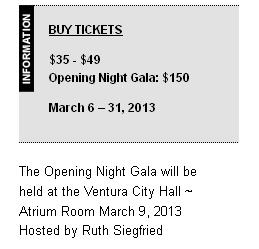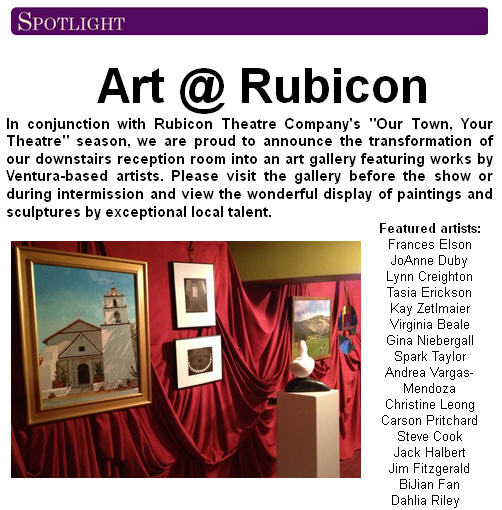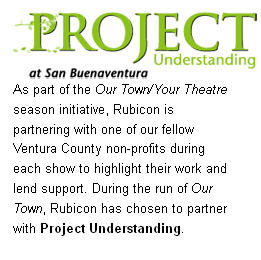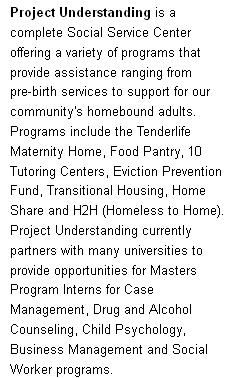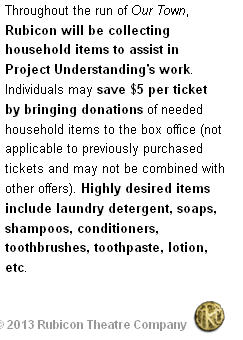 VENTURA COUNTY STAR 3/7/13 FEATURE ARTICLE

http://www.vcstar.com/news/2013/mar/07/life-so-precious-is-probed-in-ventura-production/

Life, so precious, is probed in Ventura production of 'Our Town' this month
Thornton Wilder's enduring words grace 'Our Town,' onstage now at Ventura's Rubicon Theatre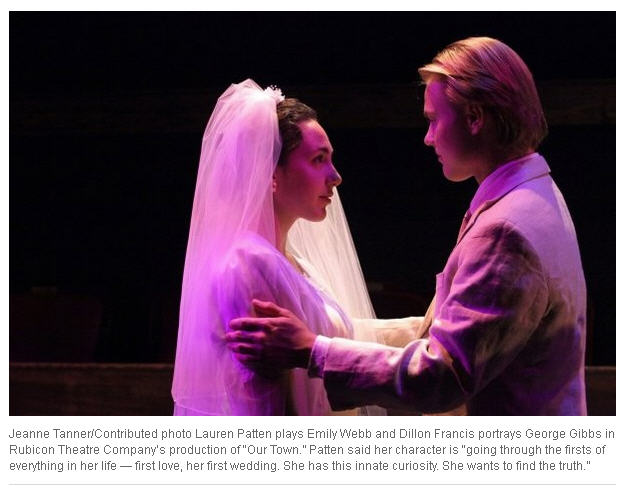 Someone still needs to hear those words, James O'Neil was saying in a tiny room just off the stage at the Rubicon Theatre Company in Ventura one evening last week right before a rehearsal.
Those words are from Thornton Wilder's timeless "Our Town," which the Rubicon ushers in the door with the last of three previews tonight, an opening gala Saturday night and shows through the end of the month. Wilder's Pulitzer Prize-winning 1938 play speaks to life, death, love, marriage, community and so much more as set in small-town America around the turn of the last century.
Last month marked the 75th anniversary of its Broadway debut and, as Wilder biographer Penelope Niven noted recently in The Wall Street Journal, celebratory stagings will be held across the country and around the world — including the recent "national" run at Ford's Theatre in Washington, D.C., the same venue where Abraham Lincoln was shot.
"Our Town," Niven wrote, "still speaks across cultures, across time zones, across languages." It is by some accounts, she continued, "the most produced American play ever."
"It is incredibly relevant," said O'Neil, the Rubicon co-founder and artistic director who is pulling double duty on this one by playing one of the crucial "Our Town" roles, that of the stage manager.
Then-New York Times critic Frank Rich argued in an essay a few years ago that the true American faith still endures in "Our Town." Rich contrasted its words with the greed of the financial crisis that lingers over our collective heads and wrote that the play's distillation of life and death is "desperately needed" now so Americans "can remember who we are — and how we got lost in the boom before our bust."
"It's who we want to be," O'Neil said, picking up the theme, "and we continually have to work at it."
Every generation, he added, has to recommit to those ethics — honesty, straightforwardness, care for others, thoughtfulness.
"Every generation has to earn it," O'Neil continued, "and that's the usefulness of this play. Someone needs to hear it."
That hasn't been lost on the younger generation, at least cast-wise. Lauren Patten, 20, and Ventura native Dillon Francis, 22, play Emily Webb and George Gibbs, respectively, and their characters' marriage is at the play's heart.
Patten spoke of the play's universality, adding, "I just think it's some of the most beautiful words you can say in the canon of American theater."
Francis loves the way it's written and observed, "It's a wonderful monument to how people can relate to everyone."
Big thoughts on life
The Ventura production marks a homecoming of sorts for the Wisconsin-born Wilder. Right around 100 years ago, Wilder was a student at Thacher School in Ojai, in his midteens. There, he wrote what is thought to be his first produced play, "Russian Princess."
It was the start of an American icon. Wilder, who died in 1975, would go on to teach at the University of Chicago and Harvard, write a screenplay for director Alfred Hitchcock and grace the cover of Time magazine. He won three Pulitzer Prizes — for the novel "The Bridge of San Luis Rey," the play "Skin of Our Teeth" and of course, "Our Town."
Playwright Edward Albee, no slouch himself with three Pulitzers, picked "Our Town" as the finest serious American play — and not, he wrote, for "its giant Americanness."
"It is a superbly written, gloriously observed, tough and breathtaking statement of what it is to be alive, the wonder and hopeless loss of the space between birth and the grave," Albee said.
The play's central theme, as Wilder once wrote, is the relation between the countless "unimportant" details of our daily life and the great perspectives of time, history and other matters.
In the end, main character Emily learns that each life is "inestimably precious" — though the realization of that is seldom present to us. Or as Emily asks in the final act, "Do any human beings realize life while they live it? Every, every minute?"
The play, set in the fictional town of Grover's Corners, N.H., in a 1901-13 time frame, is presented in three acts — titled simply "Daily Life," "Love and Marriage" and "Death and Eternity."
"It's a marvel," O'Neil said, "how you think of it as having this country homespun wisdom and humor in it, but in the end, it's pretty hard-hitting, what it says about death and marriage. By the time of the third act, you realize how deep the thoughts are, and how universal they are. And it's not going to change in 100 years, or 5,000 years."
Patten agreed, saying, "People think it's this old-time play about life in 1900, but it's not." The play, she said, speaks to everyone.
"It's not just Emily; it's every girl," Patten said of her character. "It's not George, it's every boy. You recognize the same feelings you've had, and what you went through. The feelings are so similar."
Shades of intimacy
The play fits right in with Rubicon's 2012-13 season. After a few lean years economically, O'Neil and others felt that the Rubicon had become too insular and needed to reconnect with the community and remind them that it's there.
Similarly, he noted, "Our Town" speaks to what community means.
The Rubicon isn't just bringing the play to the community, it's putting the community in the play. This will be a "theater-in-the-round" feel, with seats on the stage and above the stage for intimate and unusual views of the action.
The theater built a ramp leading down from center stage and into the crowd, where characters will run or walk as they speak lines, adding to the close feel. This "total environment" production is not a first for the Rubicon — the theater has used it for productions such as "Fiddler on the Roof" — but it's pretty eye-catching, even in a rehearsal.
Audiences will notice a couple other peculiarities. Per Wilder's desires, the play is done with little scenery, no real set to speak of and minimal props. Other than period costumes, O'Neil noted, it's pretty much all tables, ladders and chairs.
Many of the props, he added, are mimed. O'Neil offered a vivid demonstration of how, in the soda fountain scene where he makes strawberry ice cream sodas, he has to mimic pulling the soda jerk forward and then pushing it back, because that's how it squirts out the confection.
Francis, who did a youth production of "Our Town" at Rubicon several years back, spoke of how he had to learn to convey the weight of a prop, such as a milk glass, through mime.
The other rarity involves O'Neil's stage manager character. In "Our Town," the stage manager is the guide to Grover's Corners and offers worldly perspective. As such, he's out of time and moves back and forth in time; O'Neil will be wearing contemporary clothes rather than a period costume.
The stage manager also breaks down the so-called "fourth wall" and speaks directly to the audience. This, said O'Neil — who could think of maybe a handful of well-known plays that do so — will be "very tricky," because the audience isn't used to it and could feel the need to react or respond. If so, he might just throw in an ad-lib.
He'll also avoid looking directly into people's eyes and look between the seats in an attempt to make them feel more comfortable.
In character
Over the years, in various adaptations, O'Neil's stage manager character has been played by such greats as Paul Newman, Hal Holbrook and Frank Sinatra. O' Neil thinks he knows why.
"You get to say a lot of cool things," he said. "The stage manager is a folksy philosopher. He's a likable guy. There's a certain part of any actor that wants to be liked. We try to train ourselves away from that, but at the same time it's ingrained in any actor. You want to be liked; it's part of why you are an actor."
The stage manager, he added, also lacks a proclivity for judgment, another attractive quality. Said O'Neil: "As soon as I started speaking the words and started getting inside the role, I realized, 'Oh yeah, oh yeah, this is a pretty cool role.'"
Elsewhere, Patten and Francis also talked acting shop.
Patten said her Emily character is "going through the firsts of everything in her life — first love, her first wedding. She has this innate curiosity. She wants to find the truth. She's always seeking, to the very end."
Patten is a Chicagoan who called out of the blue a few years ago and wanted to be in Rubicon's production of "The Diary of Anne Frank." Or as O'Neil remembered it, "She was convinced she should be in that play, and so were we after we saw her do her thing."
She has since moved to Los Angeles to pursue the acting thing. "Our Town" marks her fifth Rubicon production. Said Patten: "I feel very at home here."
Francis can beat that; he grew up in Ventura, has been a Rubicon regular since he was 9, and has done more than 20 shows there. He now splits time between Ventura and Goleta, where he's getting an acting degree at UC Santa Barbara.
He said his George character in "Our Town" likes baseball "and probably likes sports too much. But he's a decent guy. He cares about the things around him, though he doesn't act like it. By the end, you find out how much he cares."
Francis said his toughest challenge might be the final act, by which his George character has endured major tragedies in his life. He has no lines there.
"It's very emotional," Francis said. "He can't bring himself to speak at all. That's difficult. To try to relate that is very trying."
It was typical theater chitchat that likely has echoed across the ages, to the plays the Greeks and Romans put on in ancient times — the same ancients the stage manager character references in "Our Town."
It could play in Grover's Corners, in Washington, in Ventura, anywhere. It is our town.
'Our Town'
Thornton Wilder's Pulitzer Prize-winning play runs through March 31 at the Rubicon Theatre Company, 1006 E. Main St., Ventura. There is a preview at 8 tonight and an opening-night gala at 7 p.m. Saturday. Regular performances are at 2 and 7 p.m. Wednesdays, 8 p.m. Thursdays and Fridays, 2 and 8 p.m. Saturdays, and 2 p.m. Sundays. Tickets are $25 for tonight's preview and $150 for Saturday's gala (includes a party and post-show reception at City Hall). Regular tickets are $39-$49, including five rows of special seating on the stage. Call 667-2900 or visit http://rubicontheatre.org.
(View the Our Town slide show.)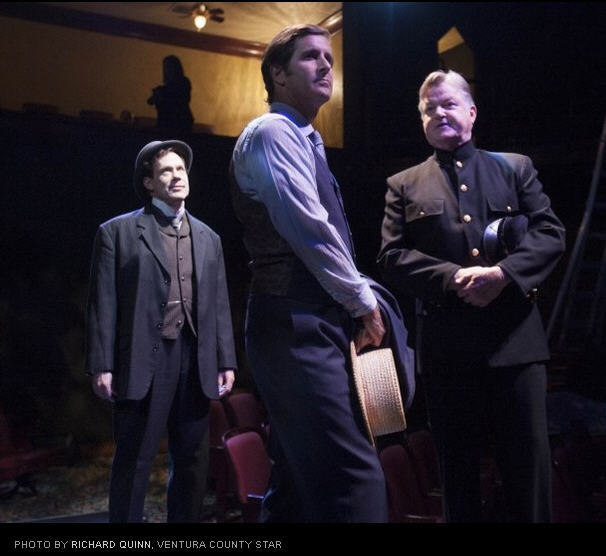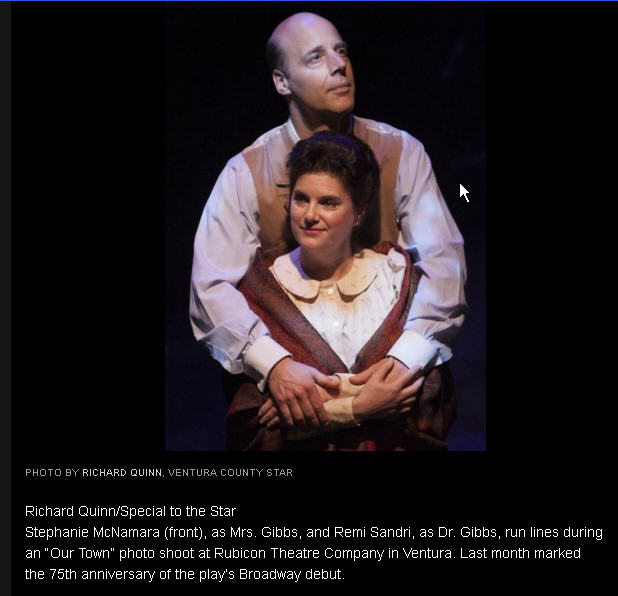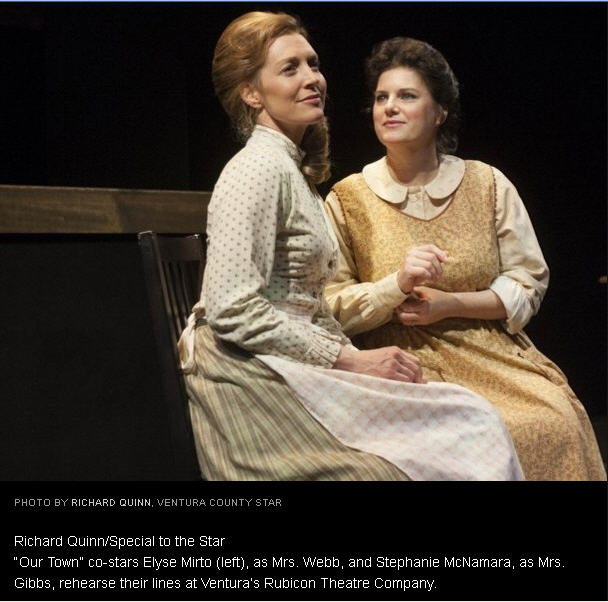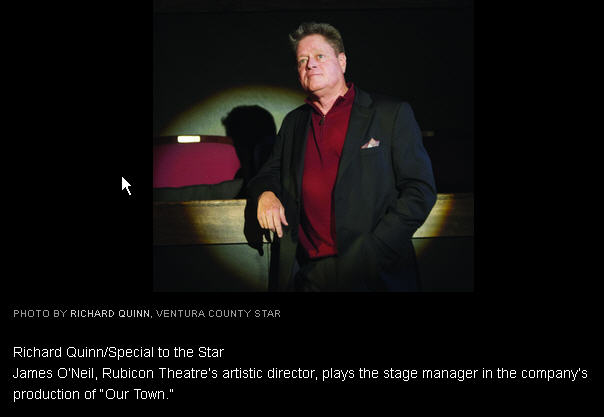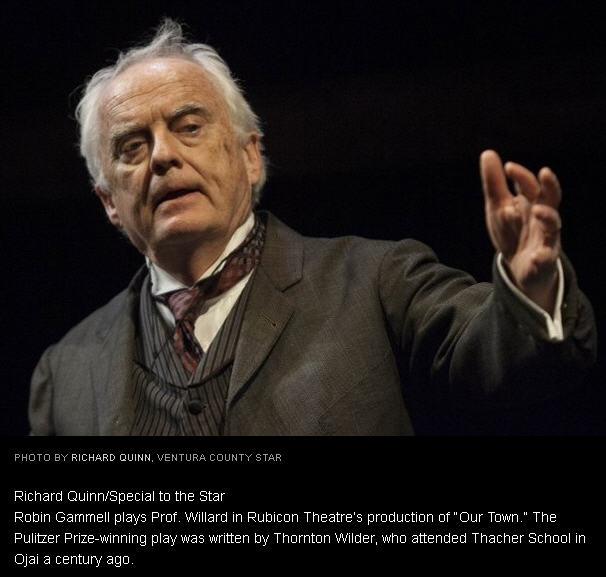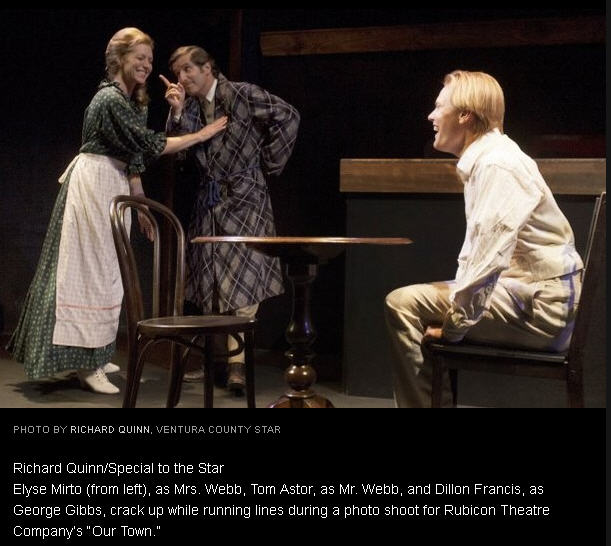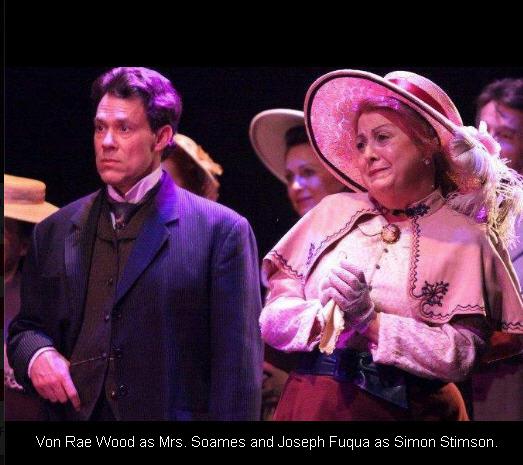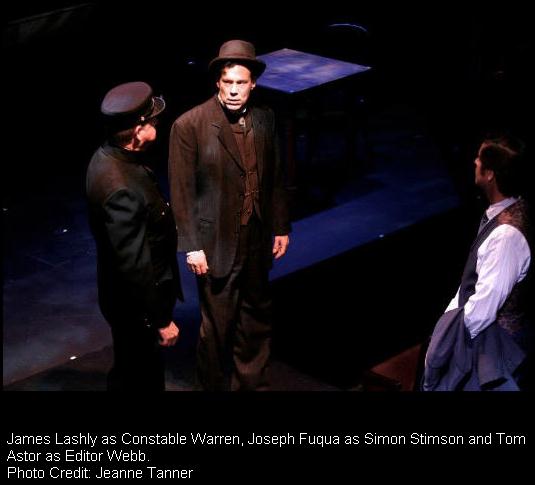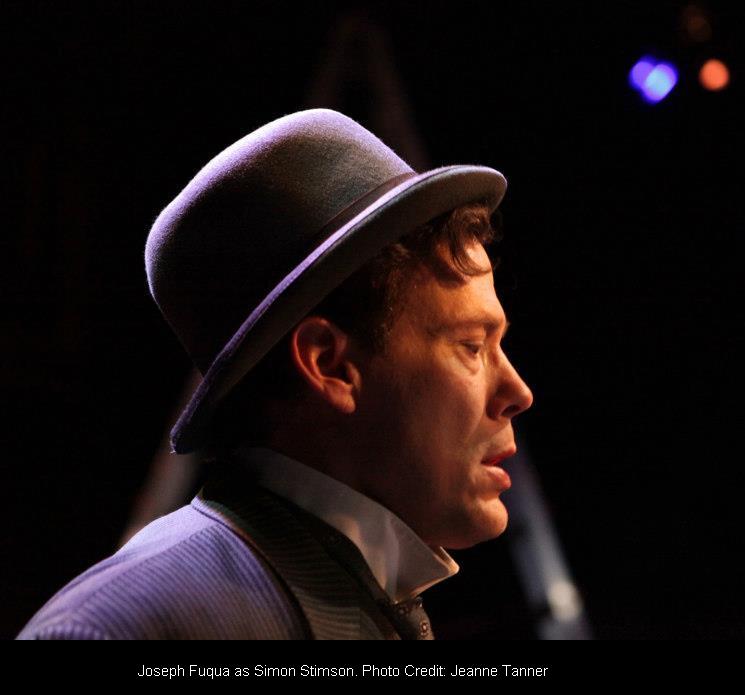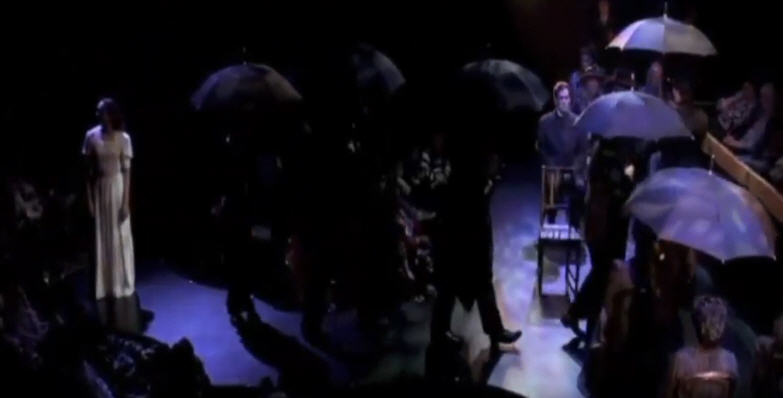 Taken from Rubicon's 20th Anniversary video.