Mon 9/20/2004 2:43 AM
BeckettFest - Ted and Joseph - Days 1 & 2

Hi Everyone,
Sorry about my brief e-mail earlier - House Managers at RTC, I've found out, get called away at a moment's notice - and have very little time to call their own.
As it happens, I am staying at a lovely lady's house - who is on the board at RTC - and who has a computer, so I can finish reporting what's new to you down here.
Godot, as Georgie and Laura have reported, is a wonderful production, and Ted's thinking monologue is truly an amazing thing to see. Beckett is not very easy to understand, so we have to tell our ushers to just watch the show for its acting values moment to moment, and to think about it later, because figuring it out is next to impossible, since even Beckett has said he doesn't know what a lot of what he writes really means.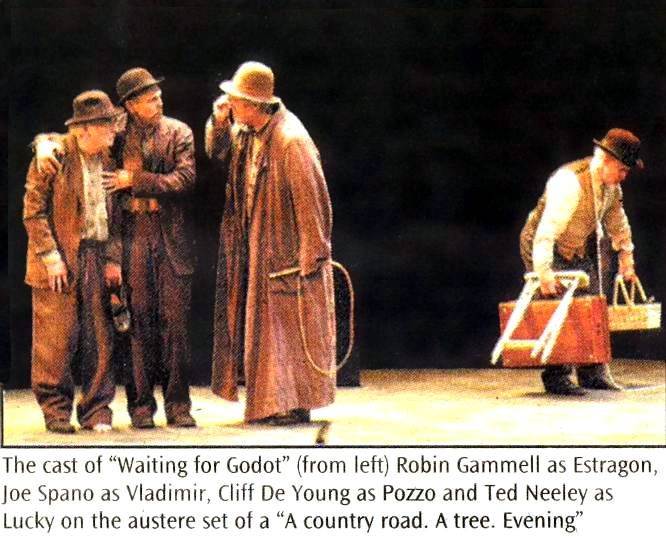 That said, BeckettFest is starting out wonderfully, and will be quite an experience for ALL. I am SO GLAD to be here to experience it.
The reception at Austen's at the Pierpont was a lot of fun - and everyone was so nice. It's amazing who is here from all over the world. There are people here from Germany, France, England, Canada, Ireland - and the US. Karyl Lynn put this together in a month (but I've been told that's a month in "Karyl Lynn Time" - which is more like 2 weeks). Karyl Lynn, if you're reading this - you are truly a WONDER!
I've now seen Godot 2-1/2 times - and have enjoyed it more each time I've seen it.
Ted has been the angel we all know him to be - either in personal experience, or by word of mouth. If I live to be 1,000 years old, I don't believe that I will ever find another person as kind and gracious as he is. Today, alone, I think I must have gotten 5 Tedhugs. Anyone who's asked me to give him a hug for them - well - you know who these hugs belong to! Ted is going to be doing some of the lectures for the festival, and will be quite busy the entire time the event is on - so those of you anywhere near California, if you come to BeckettFest and Godot, time is a precious entity - and Ted is a very in-demand person here. We are trying to figure out enough time between our schedules to do dinner - but it may just be at the Gala - which is Tuesday night, and will include a reading by Barry McGovern, Bill Irwin & Bruce Weitz.
Wanda and I hooked up today - and she and I are also corralling Ted - if possible. BTW, for all the eastside US folks - I told Ted today that he needs to give some equal performance/appearance time to those of us on THIS side of the US (LOL!) - and he said he's working on it.
Joseph has been all around RTC the last 2 days - he will be moderating some discussions - though he won't be doing any acting. What a sweetheart of a guy. Getting to know him a little better has been a real perk to my being here.
Anyway, I will take pictures at the Gala on Tuesday, and if there is anything new to report, and I can find enough time to type it all out - I WILL!
Love,
Cindi :)

Back to Waiting For Godot - BeckettFest