Sun 9/26/2004 4:50 AM
BECKETTFEST DAY 8 - "THEY WANT TO BE ENTERTAINED"/ DOOR LATCHES FROM HELL / DINNER IS ON!

I saw a good deal of Ted today - more than I had hoped for, actually. Today began with a Brown Bag at noon at RTC (wish they were all there - it's much easier than schlepping to City Hall!) with Barry McGovern reading his paper: "They Want To Be Entertained -- Performing Beckett". I sat down with one of the Festival Participants from upstate CA, and she and I talked. I didn't expect to see Ted at the Brown Bag, since Godot was going up an hour after it ended, but just before the start I head someone yell Ted's name across the room, and I turned around and waved, and he waved back. Then I turned back around and got ready to hear Barry, but a few seconds later, I heard that unmistakable soft Texas voice asking "Is this a space?" (meaning the seat between us). We said, of course, and Ted sat down next to me, smiled and squeezed my knee to say hi. A great way to start a morning! I did ask him if he'd found Linda after last night's show, but he said he hadn't. I said I was sorry - but then Barry was about to start.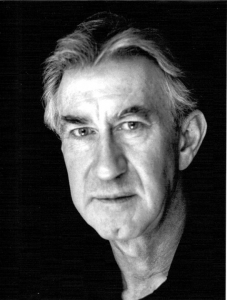 Barry McGovern
Barry's intro - by a reporter - went on for at least 2 minutes - he has a lot of credits! The funny part was when the reporter began naming his shows. When she said: Jesus Christ Superstar, Barry winked at Ted - and the room cracked up. Ted had told us before that he hadn't known Barry played Caiaphas until he met him here last week! Barry had some VERY interesting insights in his article, and, as he said, treaded a very thin line, because he was talking about the shows being performed here. He was very careful to say that the directors and performers doing these shows here have done an excellent job, and they have. But it was very funny when he did this.
Barry went past the hour slated, and Chris tapped me on the shoulder to pull me out when my ushers showed up for the matinee. I hated to leave before it was over, but I had to do my job, so I did. This was my first time House Managing "Godot", and it's a little more involved than the BeckettFest plays, but it's not too much more difficult. The matinee went very well, and the only red herring for me was figuring out how the latches on the front door went to get it open for the wheelchair patron we had at the matinee. If you can imagine me trying the latches all combinations of possible, with the patron in the wheelchair with me and an exit line backing up to leave - well - I think it would work very well in a sitcom - suffice it to say. Anyway, with a couple of audience folks' help, I figured it out. Needless to say, I did NOT relock the latches on that door! LOL! (NOTE: Remember that Elayne Boosler joke about having 6 locks on her door, but she only locks every other lock, because that way the robber would always be locking 3? That's exactly what this was like! LOL!)
Wanda did both shows today - and after the matinee we said hi to Ted, and got hugs. I asked if Sunday was still good for dinner, and he said it was the only day left, since he was definitely going to LA on Monday, and for at least a part of Tuesday. Then Wanda and I went to dinner between shows. It felt strange to be away from RTC - as I'm always either there or the Century Movie Theatre when I'm not here at Jo's house! Dinner was good. I believe the restaurant was called Carrows. We both had prime rib - YUM! Then it was back to RTC for the evening show.
The evening "Godot" went even better than the matinee (no wheelchairs! - LOL!), and Stephanie Zimbalist was there again. She's very nice. Efrem, though, was not at the show, he was asleep - as any 85-year-old person would probably be at that hour! Stephanie told us that it's been about 10 years since he's done a show, and it's the first one with her. It's being done on a raked stage. An 85-year-old actor on a rake??? THERE'S BRAVERY!!! I wish I could be there to see it! ***SIGH***
We got more hugs from Ted when he came out, and he said to me that he used to do JCS all the time but never got as tired from one of those shows as he does doing "Godot". I said: "Well, in JCS you may have hung on a cross - but that's only for one piece at the end. Here you stand like (and I leaned over into Lucky's position) this for a whole show!" "He said: "Oh, well, I can hang there all day without a problem, but this is something else!" I said: "Do you want your shoulders rubbed?" and I started to rub his neck and shoulders, and Ted said: "Oh, don't get me started on that. Karyl Lynn has a chiropractor hired for this and says I should take a treatment everyday! I got one last week, and she (the chiropractor) was happy, but I didn't feel any different!" We laughed, and I said I had a chiro I've gone to for some back problems from a couple accidents I've had, and it works for me - so maybe he should go - but he says he hasn't had any problems so far, which is good.
When we got outside, Ted said to Wanda and me: "So, are we on for tomorrow night after the show?" We said sure. He asked whether we wanted to eat, or drink, or go to the beach - he said: "I was there today - got wet and said it's COLD here!", we laughed, and said - whatever he wanted to do - and Ted said: "Well, it's you two who are doing this - so - whatever you like (can you imagine any of us ever making a decision? Wanda said at dinner that this would probably happen - and could take a year! LOL!) - so we said: "Well, we thought we'd at least feed you, since we know you never eat before a show." And we agreed to at least get a bite tomorrow after the show. Then it was time to go home. Ted headed out to his car - and I was parked the same direction, as I went past the street Ted headed down, he was coming back up on foot! I said: "YOU forgot where you parked YOUR car today?" and he laughed and said: "Some guy is charging his boat over there and took my parking spot! How dare he! He just lives there!" and we laughed again, then said goodnight.
Tomorrow is probably going to KILL ME! I have FIVE shows to house manage between 11AM and 7:15PM - and two require concessions. Cross your fingers for me! Ted will only be at "Godot "- and "A Piece of Monologue" - as he's seen all the others, and needs to do some work for LA. At least, barring any unscheduled problems, Wanda and I will end the day on a high note and get to spend some time with Ted. I'm really looking forward to that! More tomorrow!
Love,
Cindi :)

Back to Waiting For Godot - BeckettFest