BIRTHDAY PROJECTS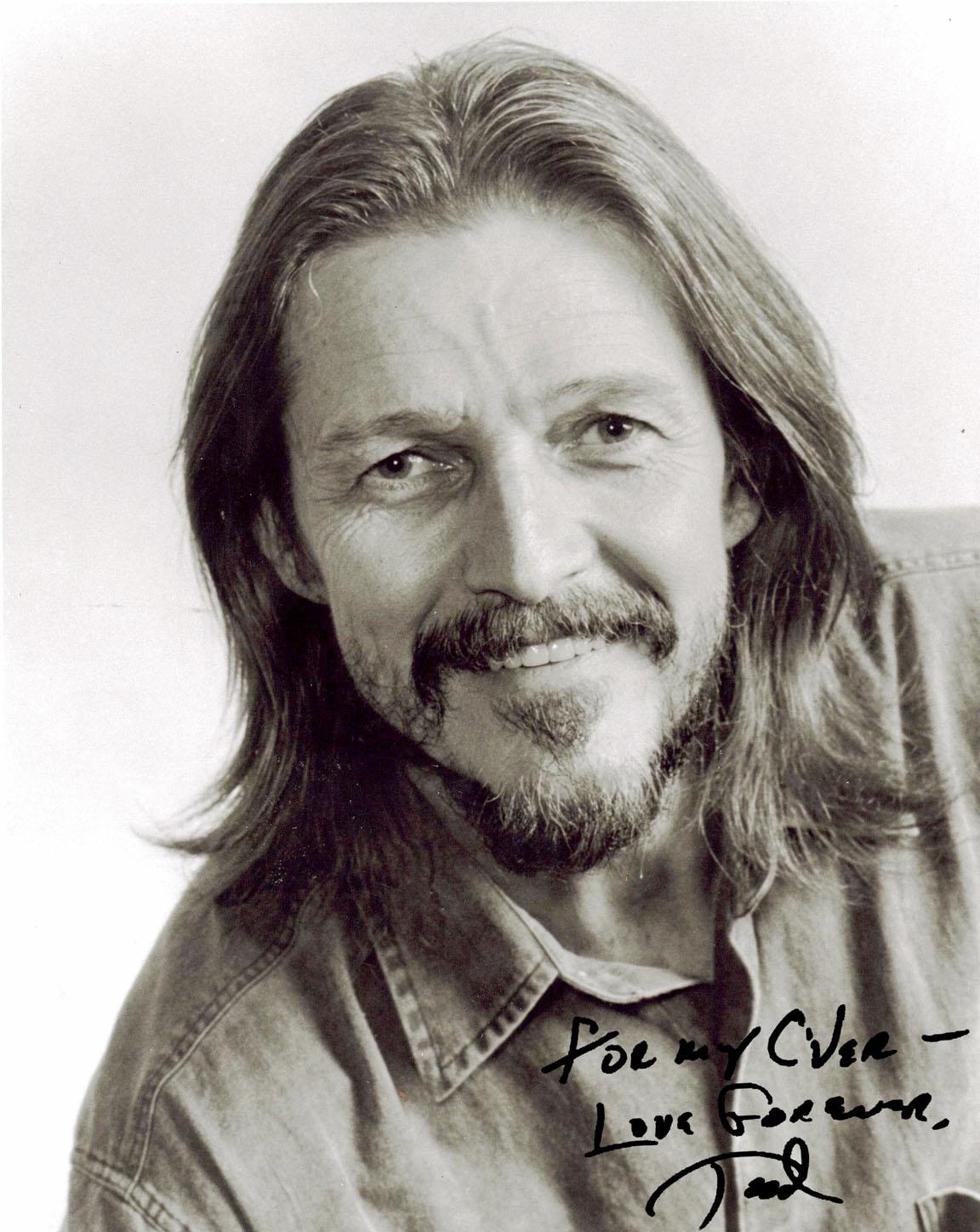 UPDATE: 10/12 - Ted now has his own new official tour website! You can visit it at this link:
UPDATE: 3/13/07 - Ted now has his own website! You can visit it at this link:

http://neeleyontheroad.com/

BREAKING NEWS!!!
TED'S NEW 2023 VENUES
AND PROJECTS!!!
1. UPDATE 9/1/23 (From Ted Neeley.com and Ted's Facebook Page)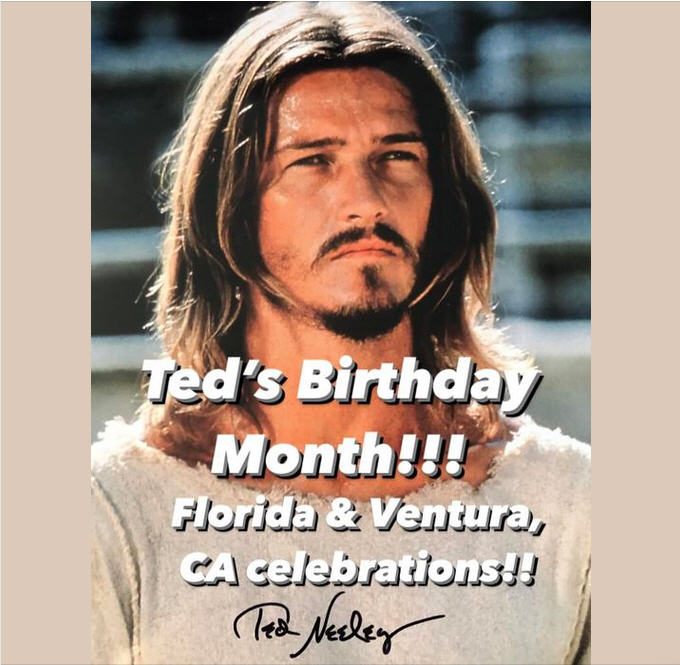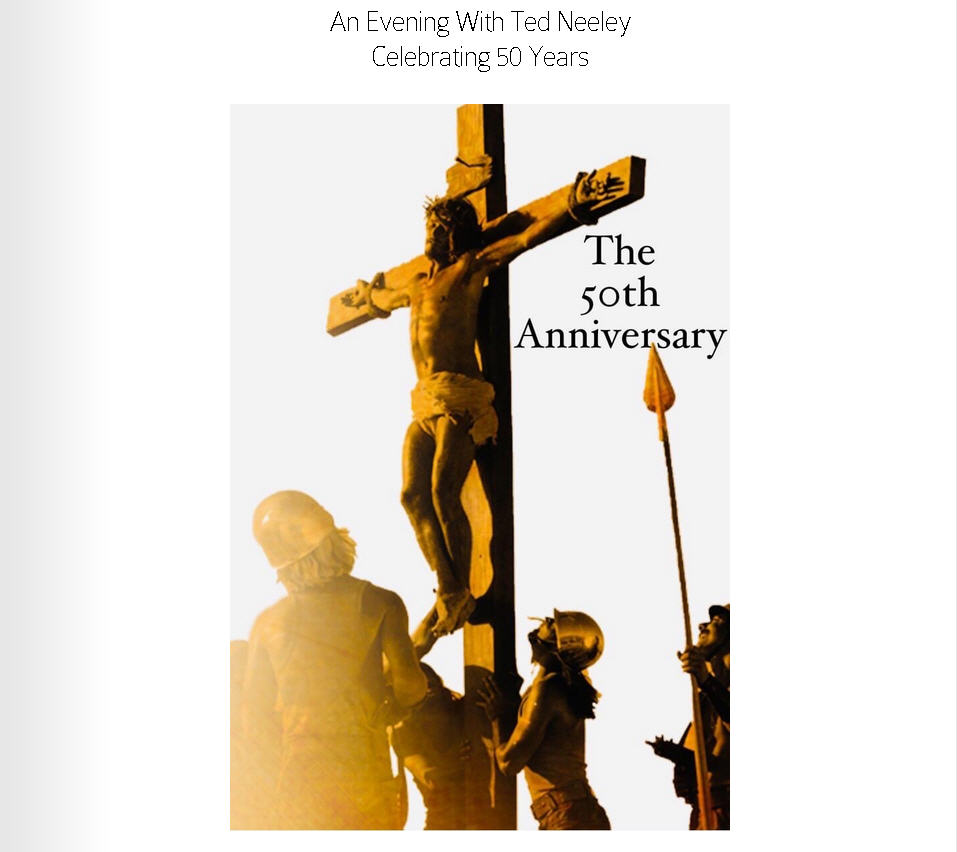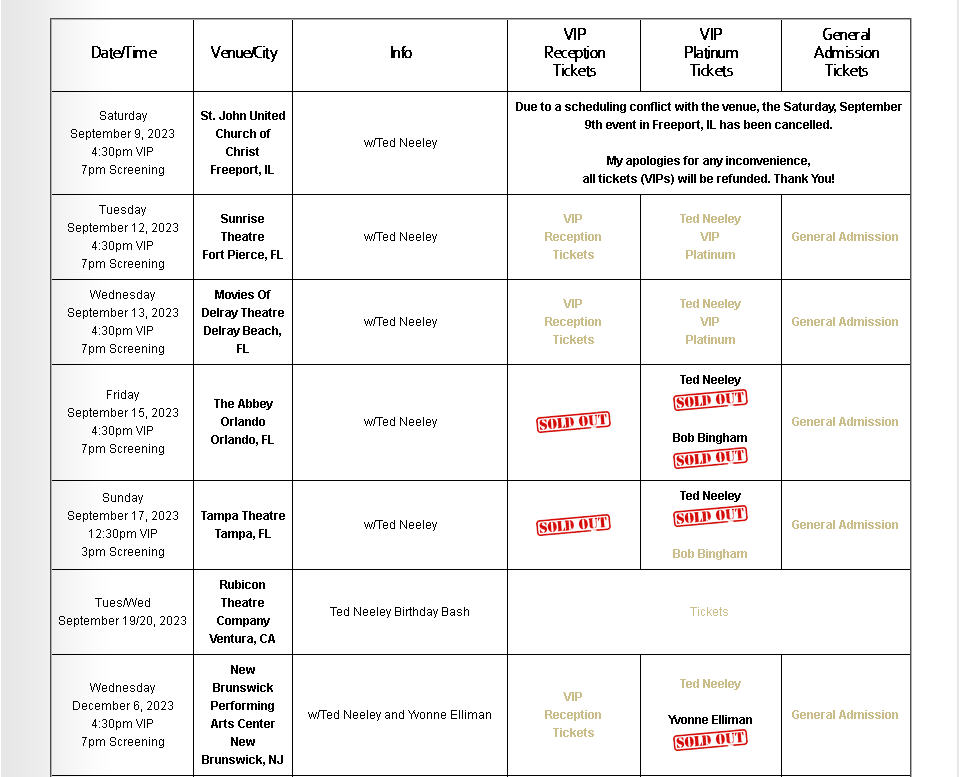 UPDATE 7/17/23 (From Ted Neeley.com and Ted's Facebook Page)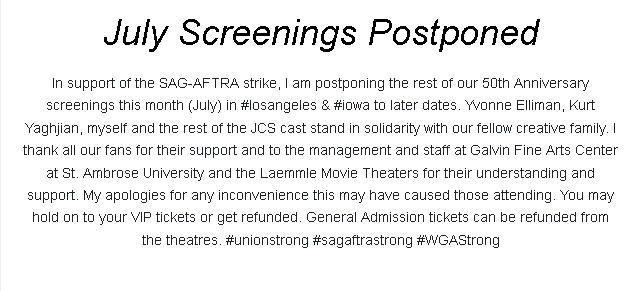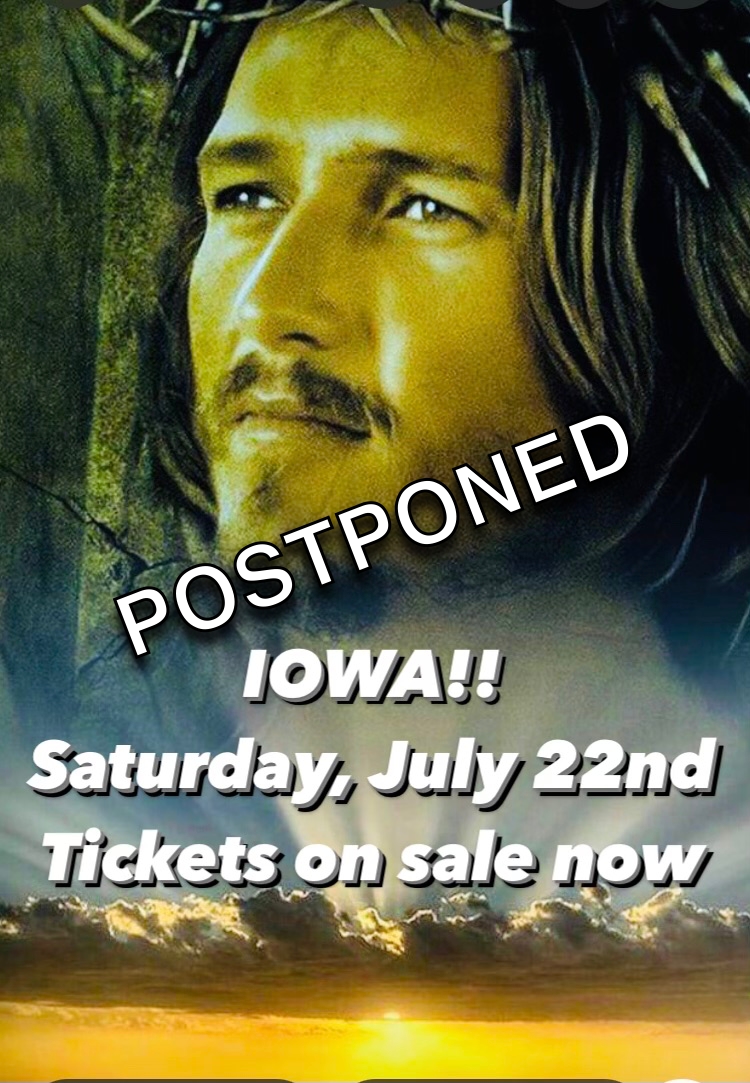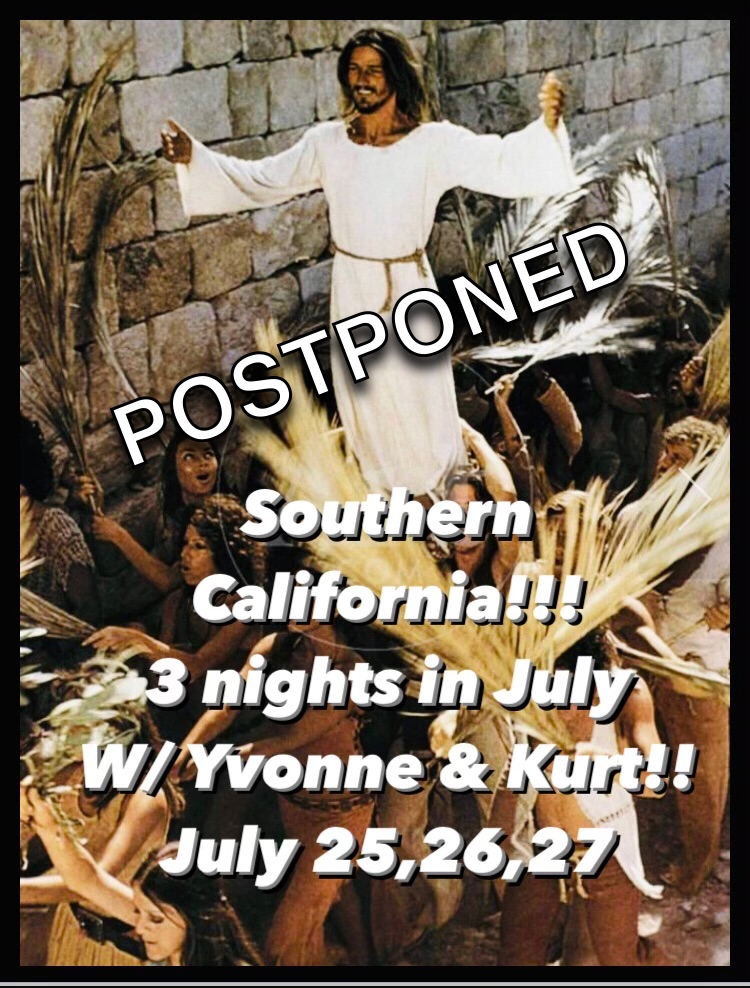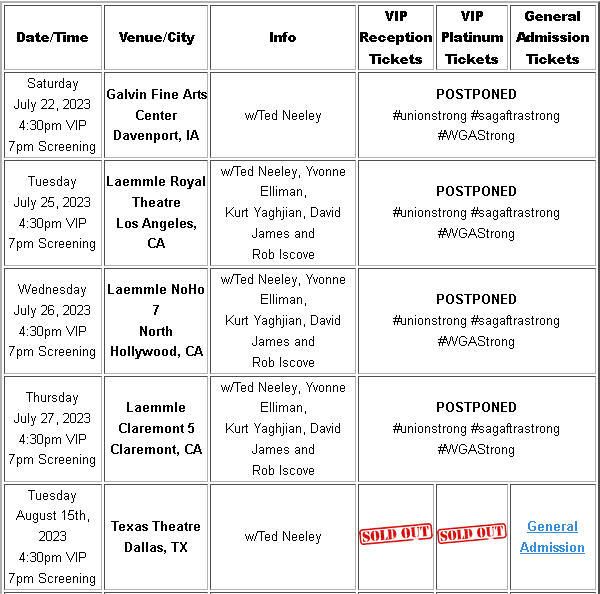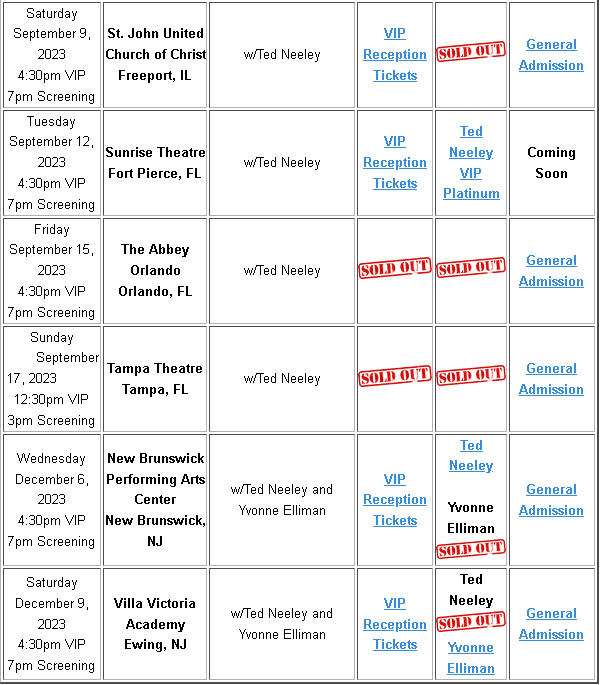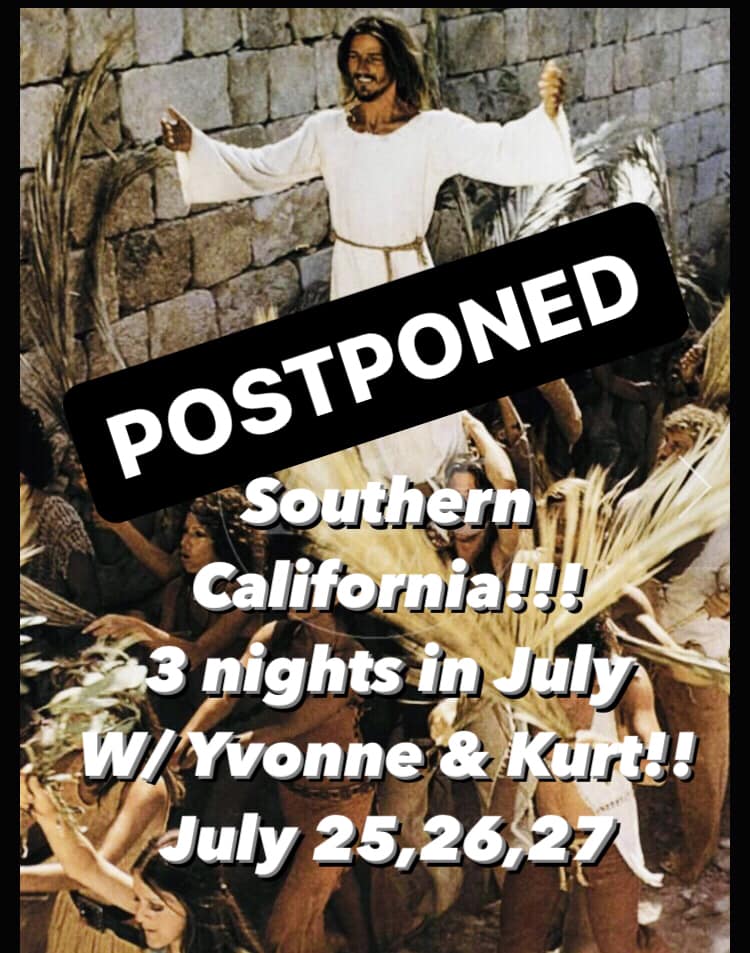 UPDATE 8/4/22 (From Ted Neeley.com and Ted's Facebook Page)
TED IS CONTINUING JCS SCREENINGS AND SING-A-LONGS!!! STAY TUNED FOR UPDATES, AS THESE WILL BEGIN IN LATER SUMMER, 2022, NOW THAT TED IS BACK FROM ITALY - STAY TUNED!!!
JESUS CHRIST SUPERSTAR 2022-2023 FIFTIETH ANNIVERSARY SCREENINGS!!!!!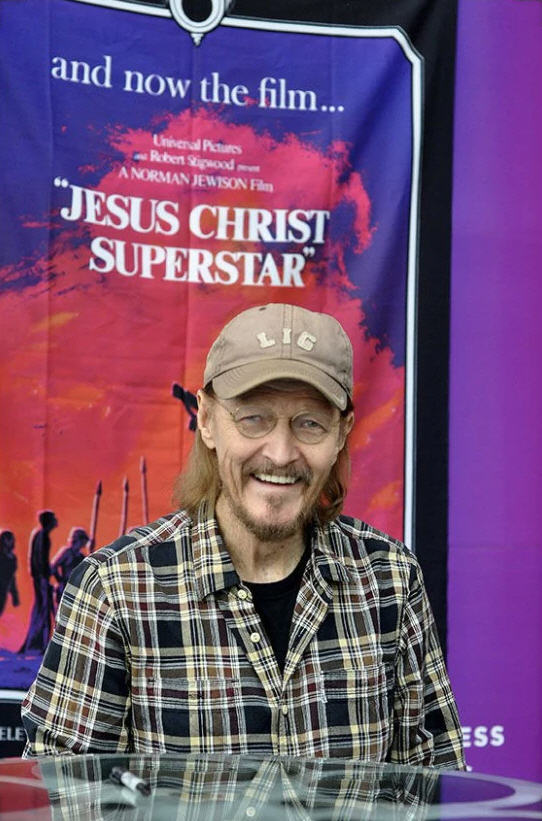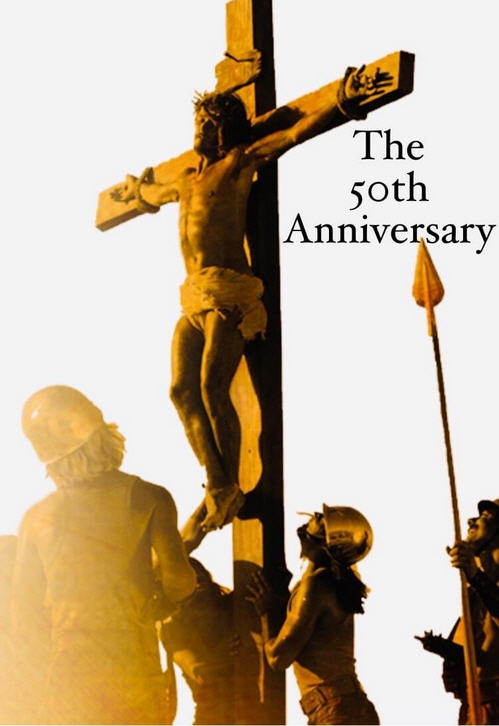 JCS 2022-2023 JCS SCREENING/SING-A-LONG TOUR - ITINERARY
September 16, 17 & 18, 2022

Woodbridge, IL

Hollywood Blvd. Cinema

September 20, 2022

Columbus, OH

Drexel Theatre

December 7, 2022

Orinda, CA


Orinda Theatre

January 14, 2023

Trenton, NJ

Villa Victoria Academy Performing Arts Center

March 17-18, 2023

Santa Ana, CA

Frida Cinema

May 11, 2023

Eugene, OR

Eugene Art House

May 13, 2023

Sacramento, CA

Crest Theatre

June 21-22, 2023

Arlington, MA

Regent Theatre

June 24, 2023

Greenwich, RI

The Greenwich Odeum

June 25, 2023

Jaffrey, NH

The Park Theatre

June 29, 2023

Cleveland, OH

Cedar-Lee Theatre

July 22, 2023

Davenport, IA

Paul V. Galvin Fine Arts Center

July 25, 2023

Los Angeles, CA

Laemmie Royal

July 26, 2023

North Hollywood, CA

Laemmie NoHo7

July 27, 2023

Claremont, CA

Laemmie Claremont5

August 15, 2023

Dallas, TX

The Texas Theatre

September 9, 2023

Freeport, IL

St. John United Church of Christ

September 12, 2023

Fort Pierce, FL

Sunrise Theatre

September 13, 2023

Delray Beach, FL

Movies of Delray Theatre

September 15, 2023

Orlando, FL

The Abbey Orlando

September 17, 2023

Tampa, FL

Tampa Theatre

September 20, 2023

Ventura, CA

80TH Birthday Bash Event
Rubicon Theatre Company

December 6, 2023

New Brunswick, NJ

New Brunswick Performing Arts Center

December 9, 2023

Trenton, NJ

Villa Victoria Academy Performing Arts Center
Please keep checking here, on Ted's Facebook page & on tedneeley.com, as more dates will be announced.

For more details on this tour, you can also go HERE.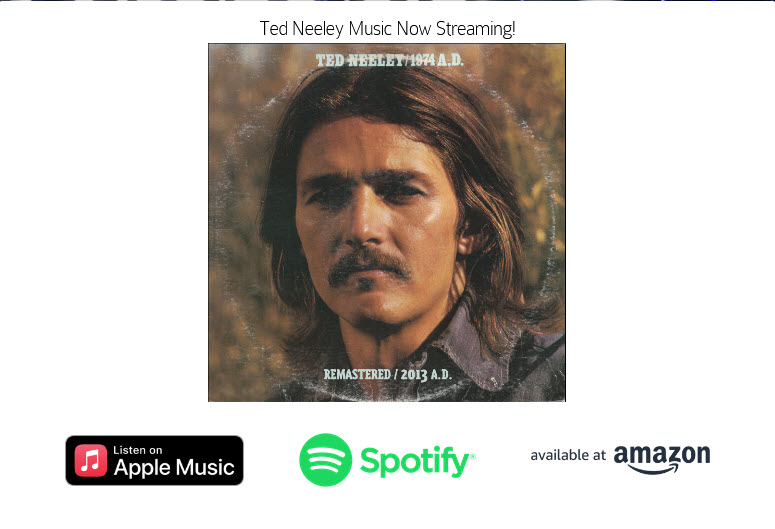 For more details on this tour, you can also go HERE.
2. UPDATE 8/23/23 (From Rubicon Theatre Company, Ted Neeley.com and Ted's Facebook Page)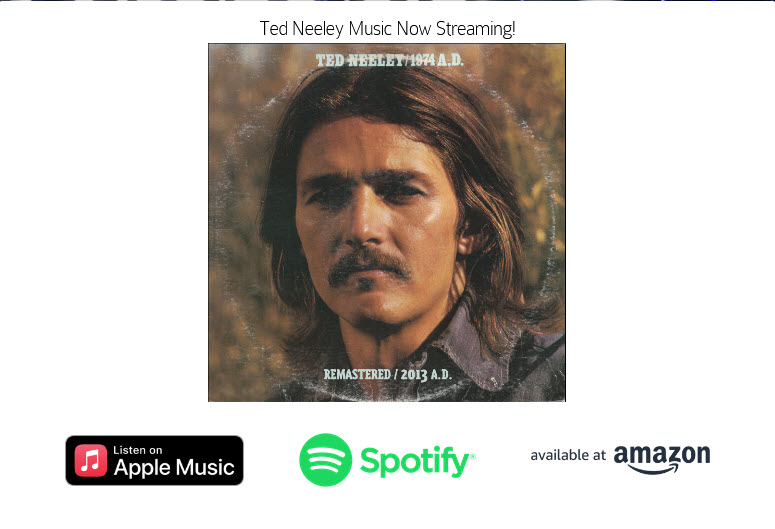 Over the past few years the Tedheads of the Ted-Neeley E-Mail List, and the First Ted Neeley (FTNL) list, have given Ted some wonderful presentations/presents for his Birthdays each year. Below are a few of them:
TED'S BIRTHDAY 2012
For 2012, FTNL decided to do our own calendar for Ted's Birthday / Christmas, complete with the LBB Tour dates, big dates from Ted's life and Birthday dates from List Members choosing to have them listed. All other past donation ideas (Angels On Stage, RTC, etal) are still open, of course for ongoing donations in Ted's name, or your own. The calendar (scans of which appear below) was presented to Ted in Cleveland on 3/23/13 (see the first shot below), and he LOVED it, said he'd have to scour it all night!!!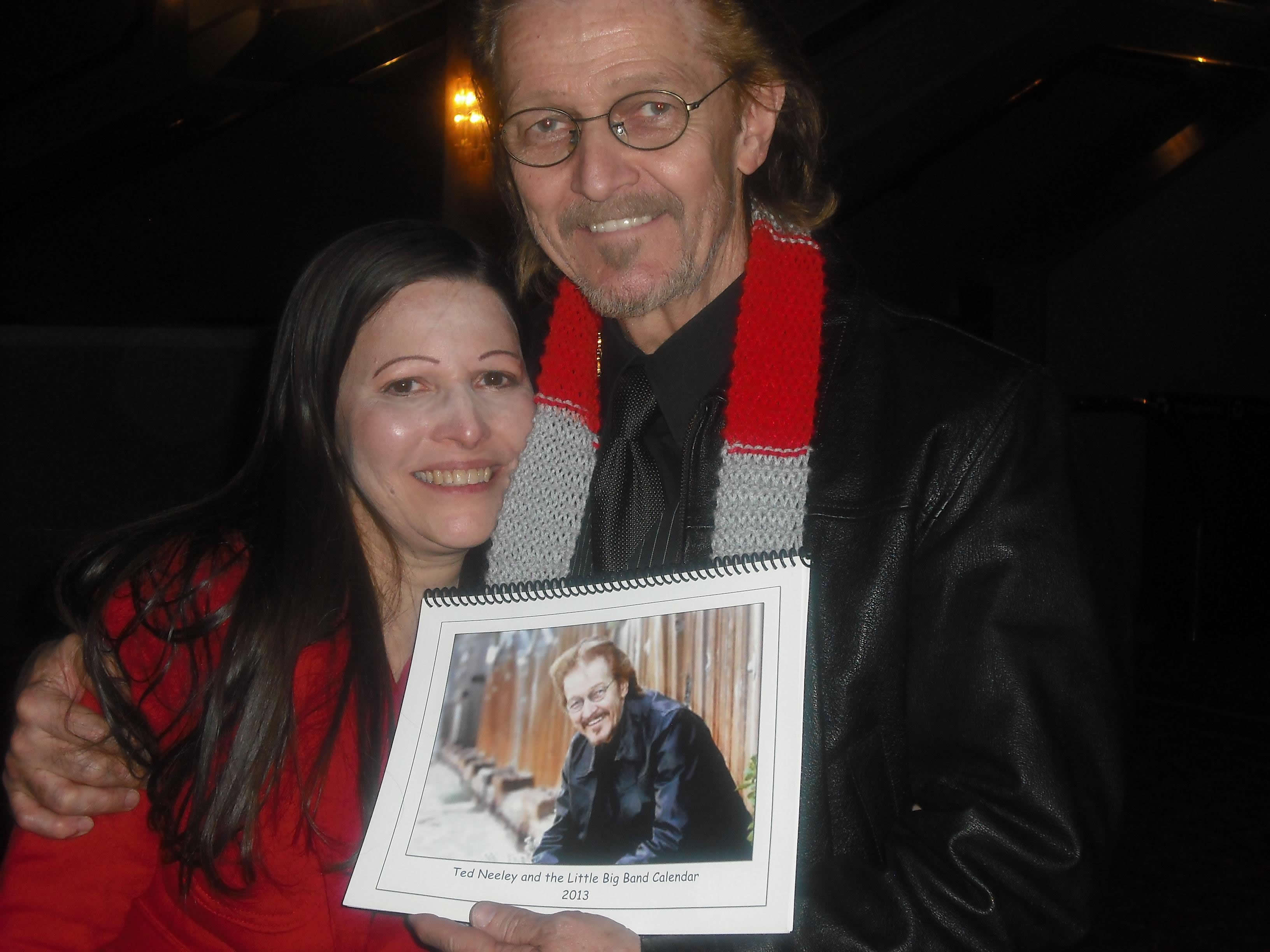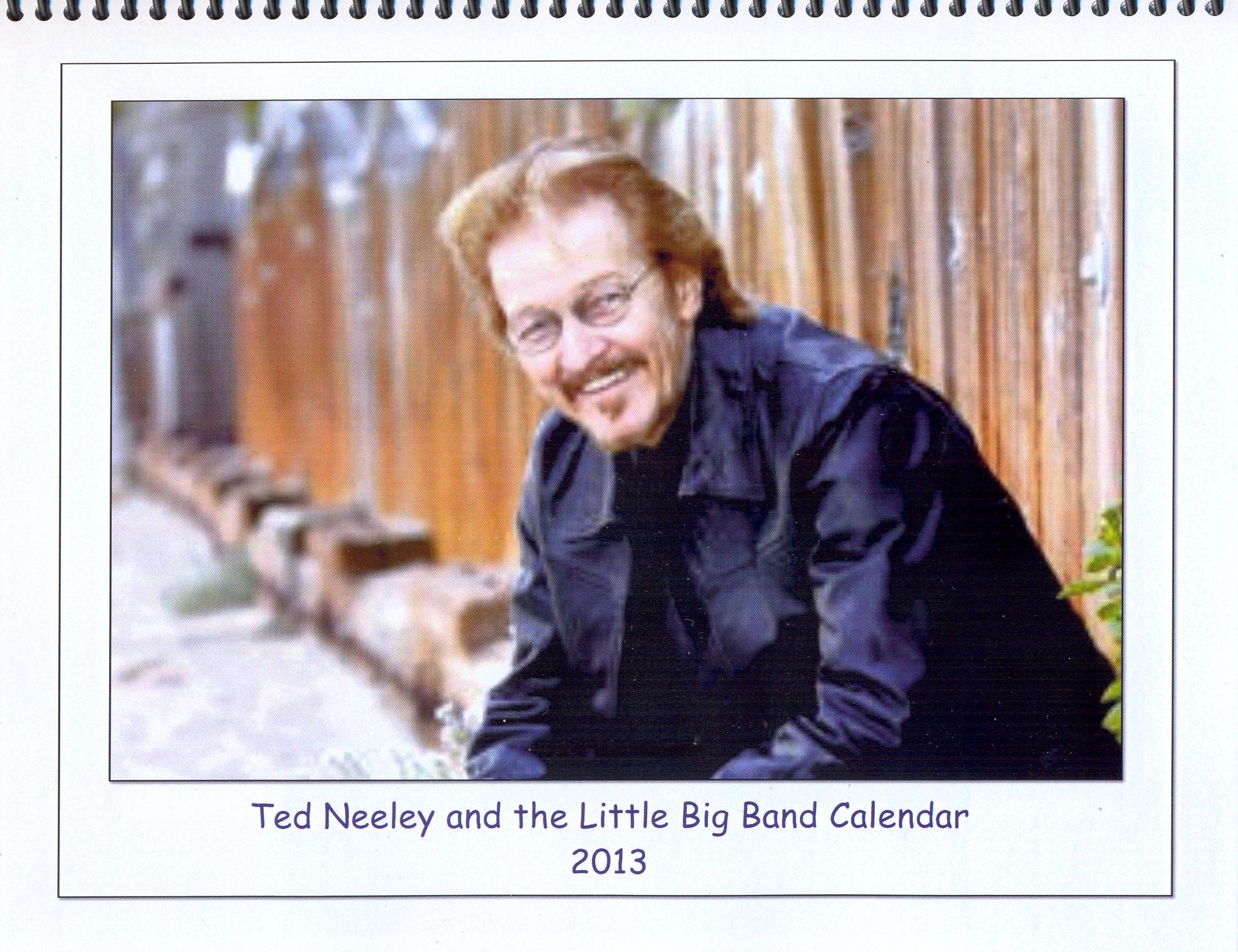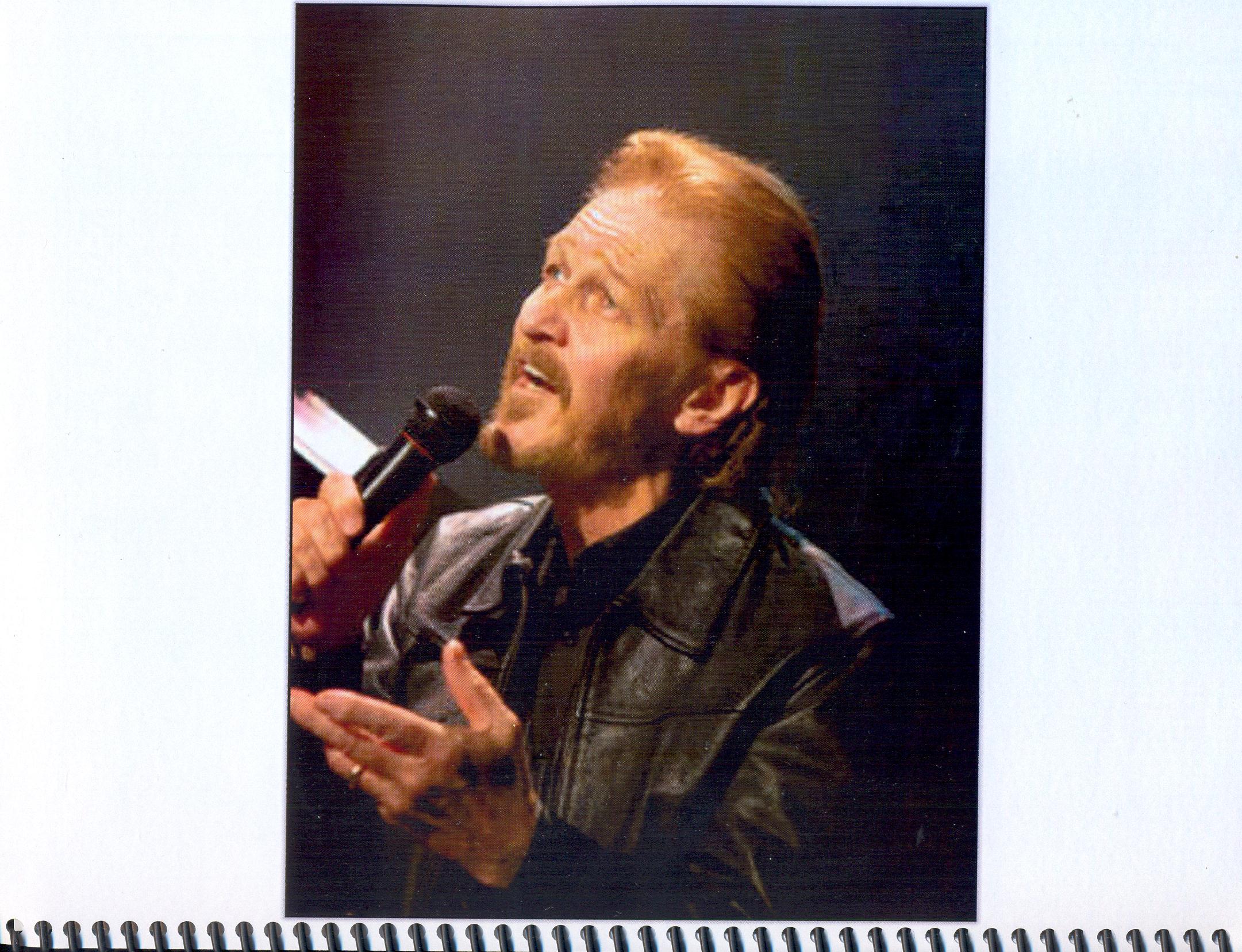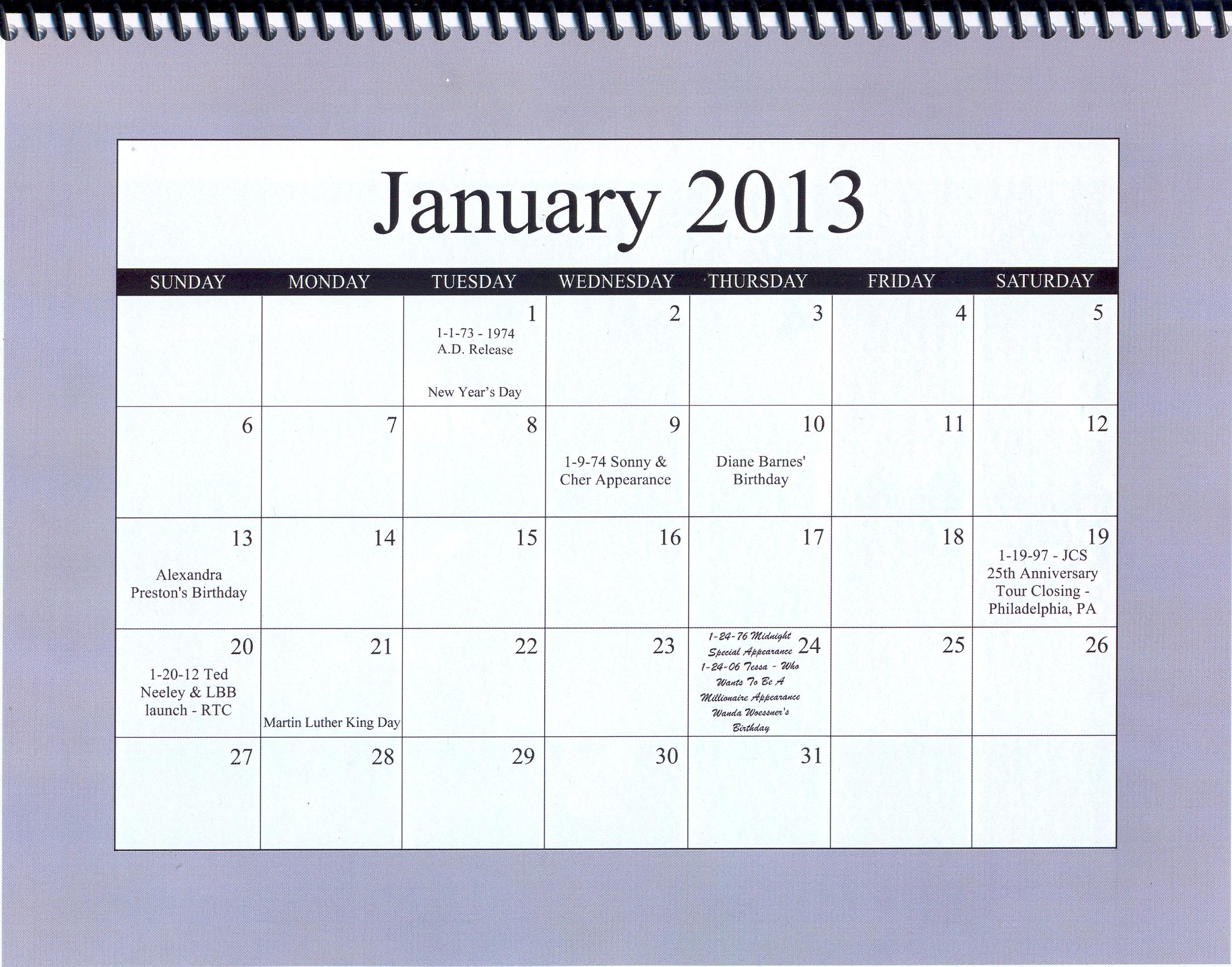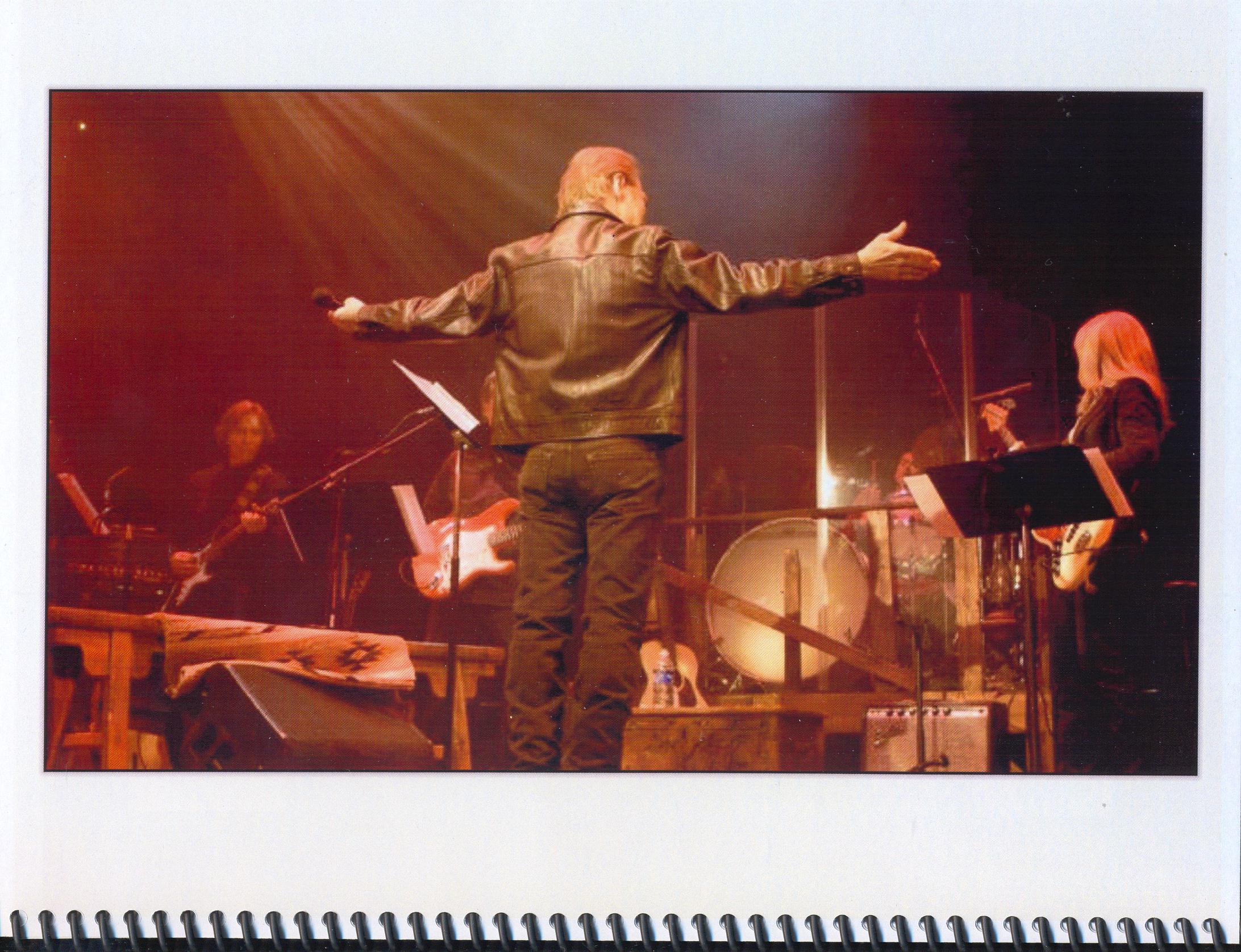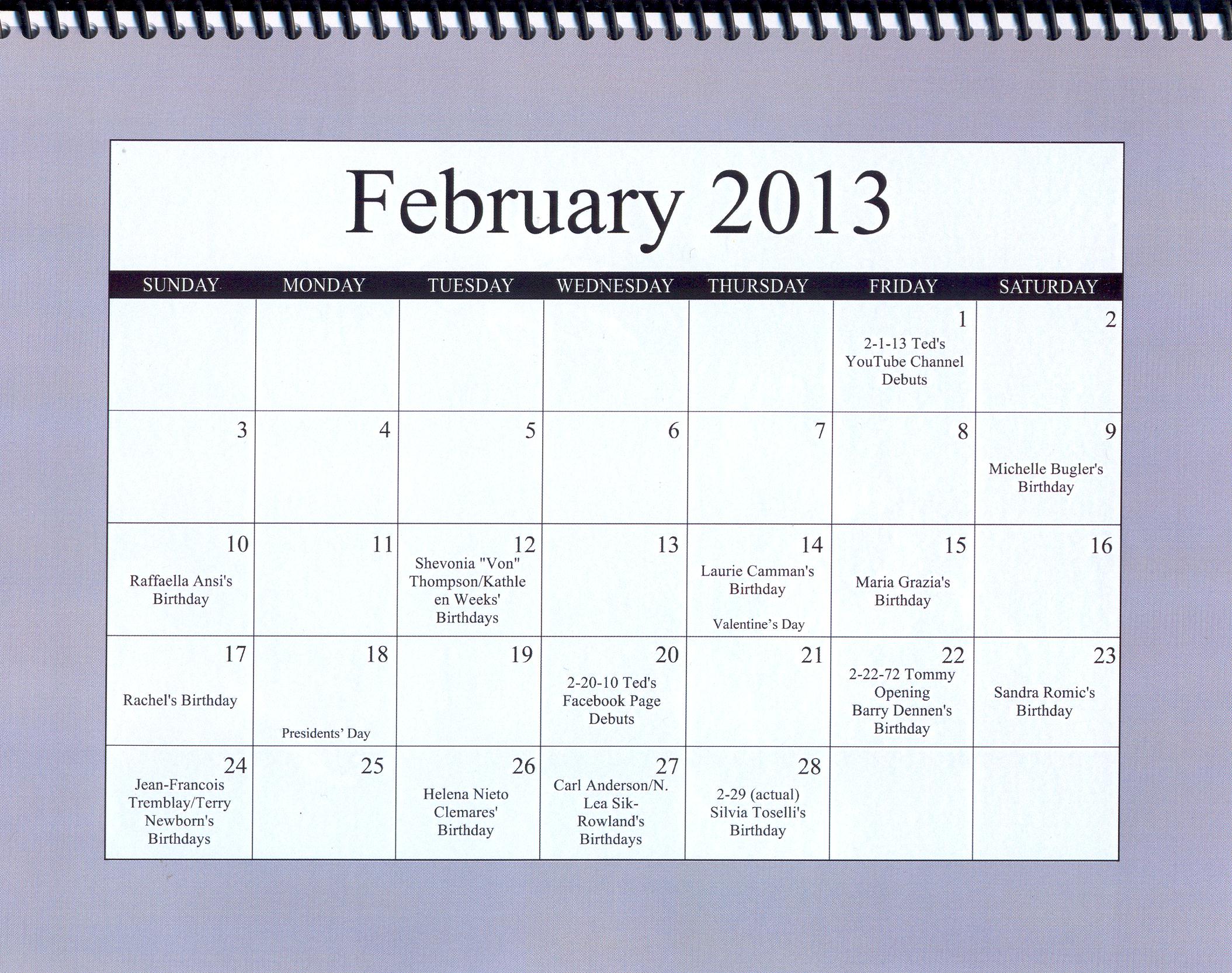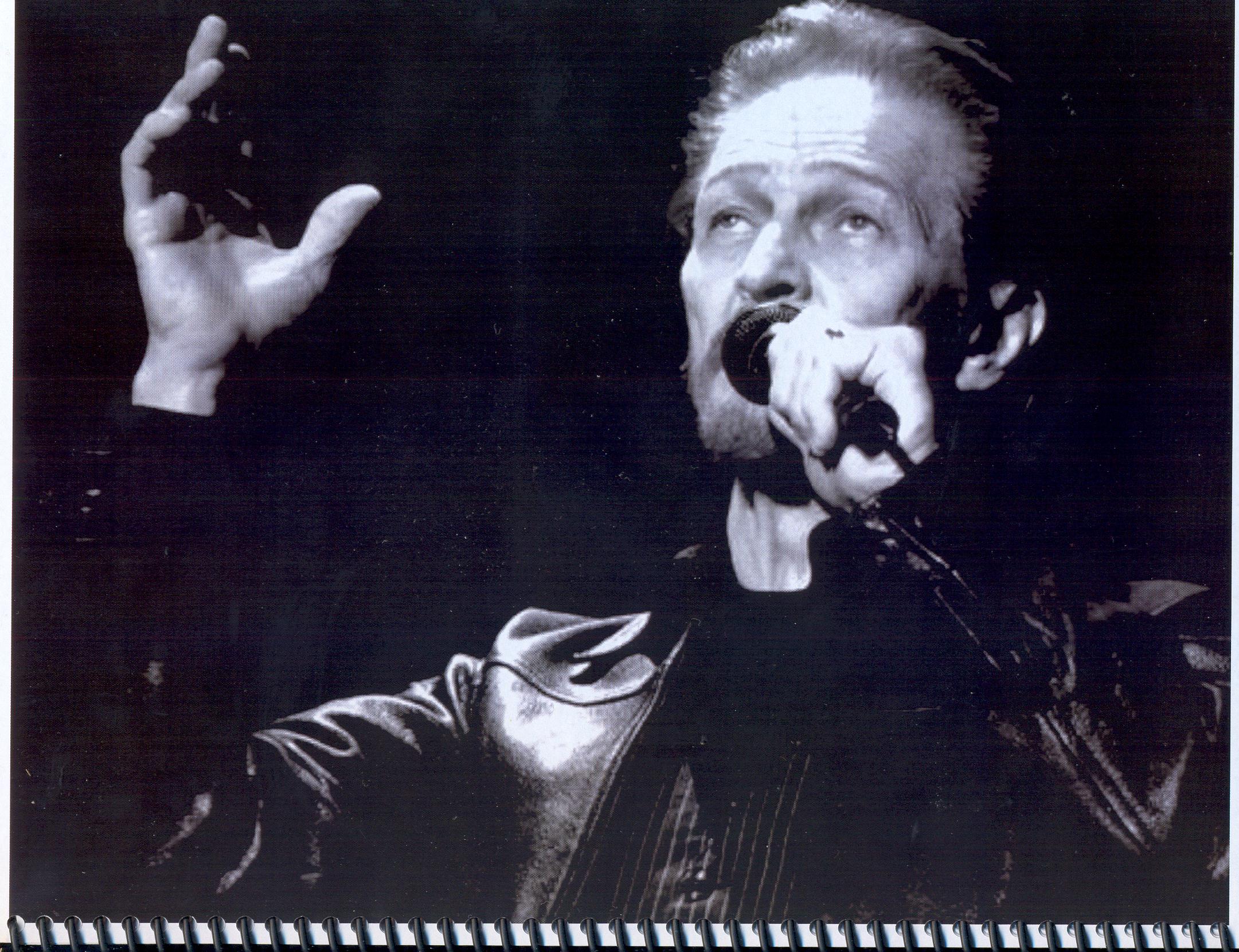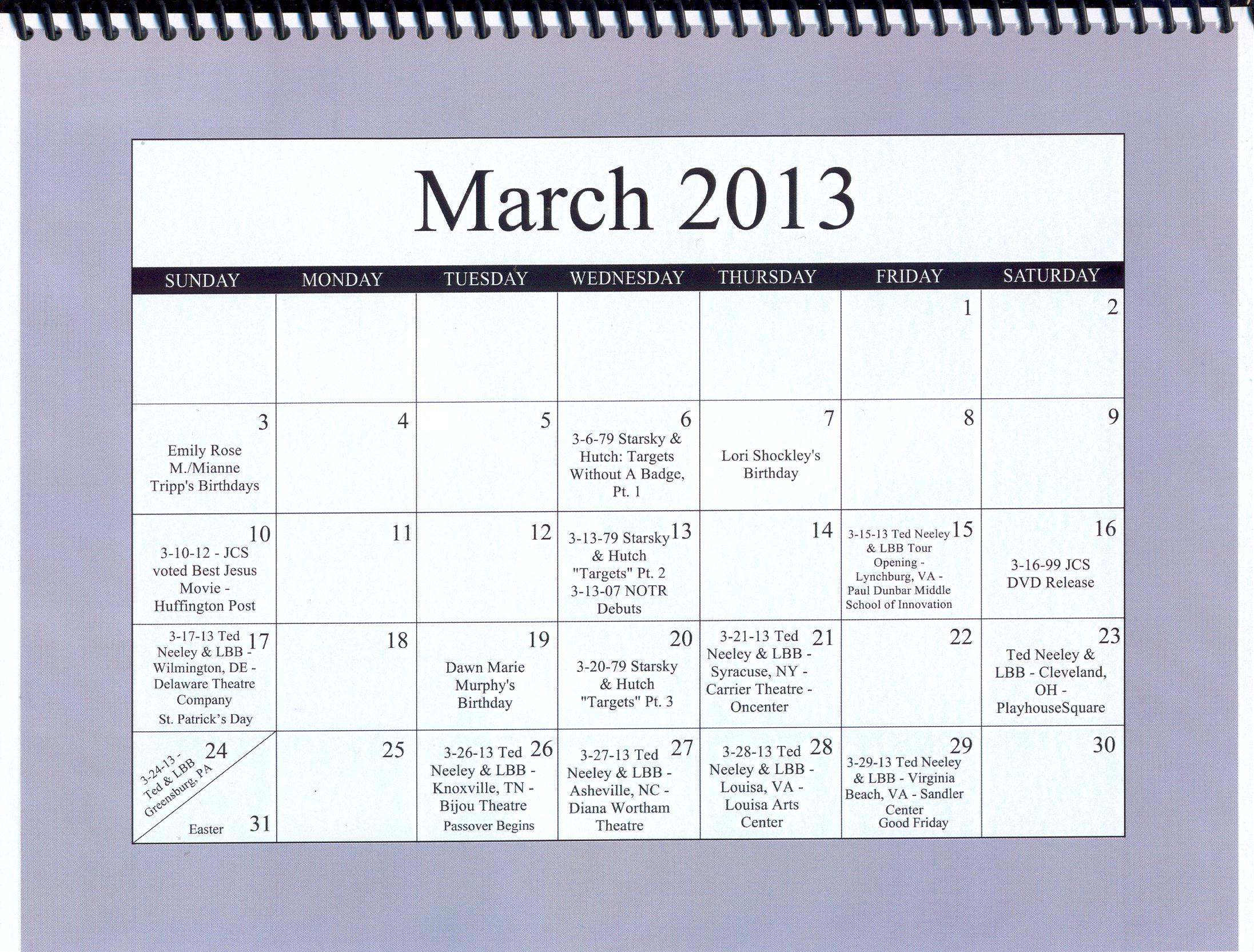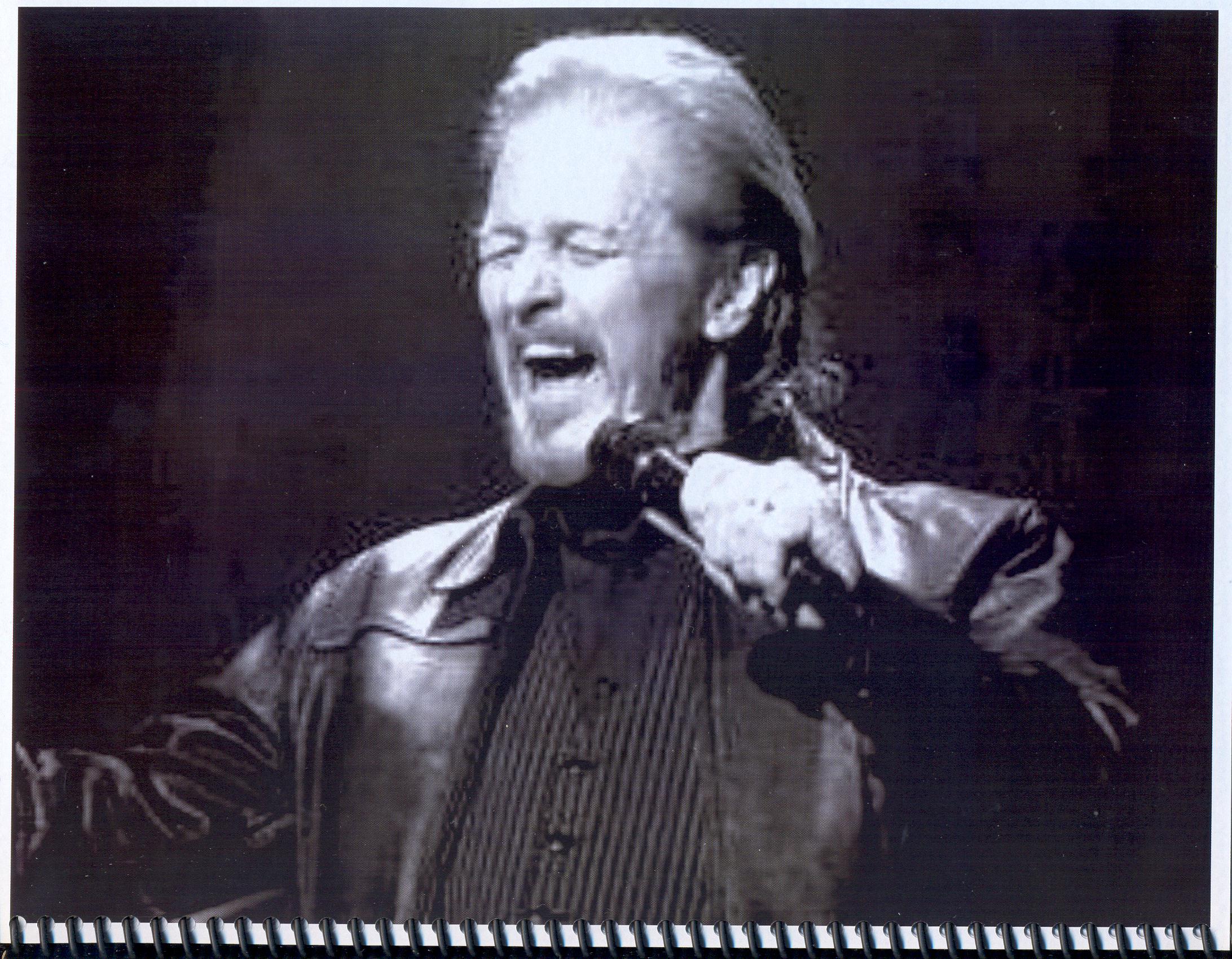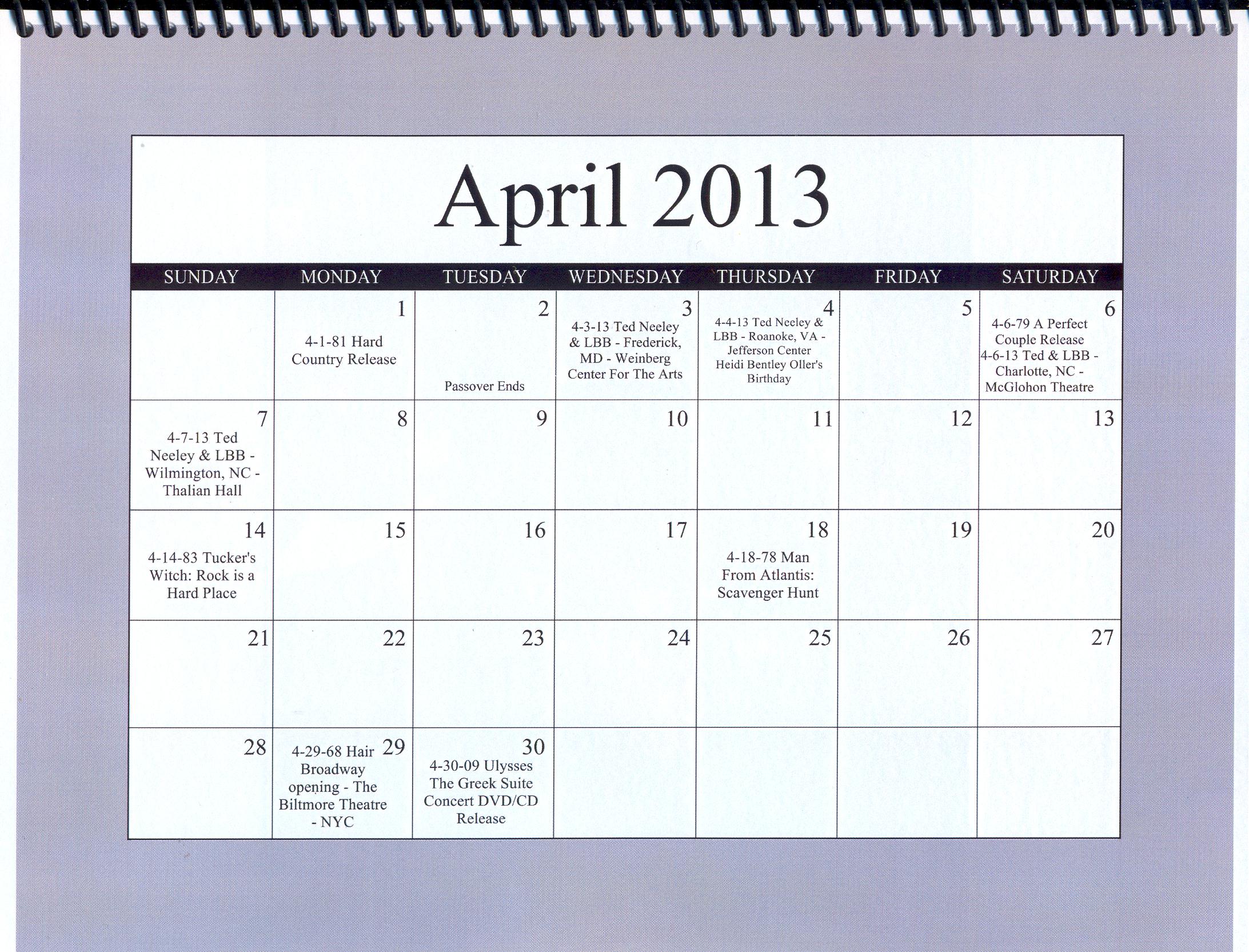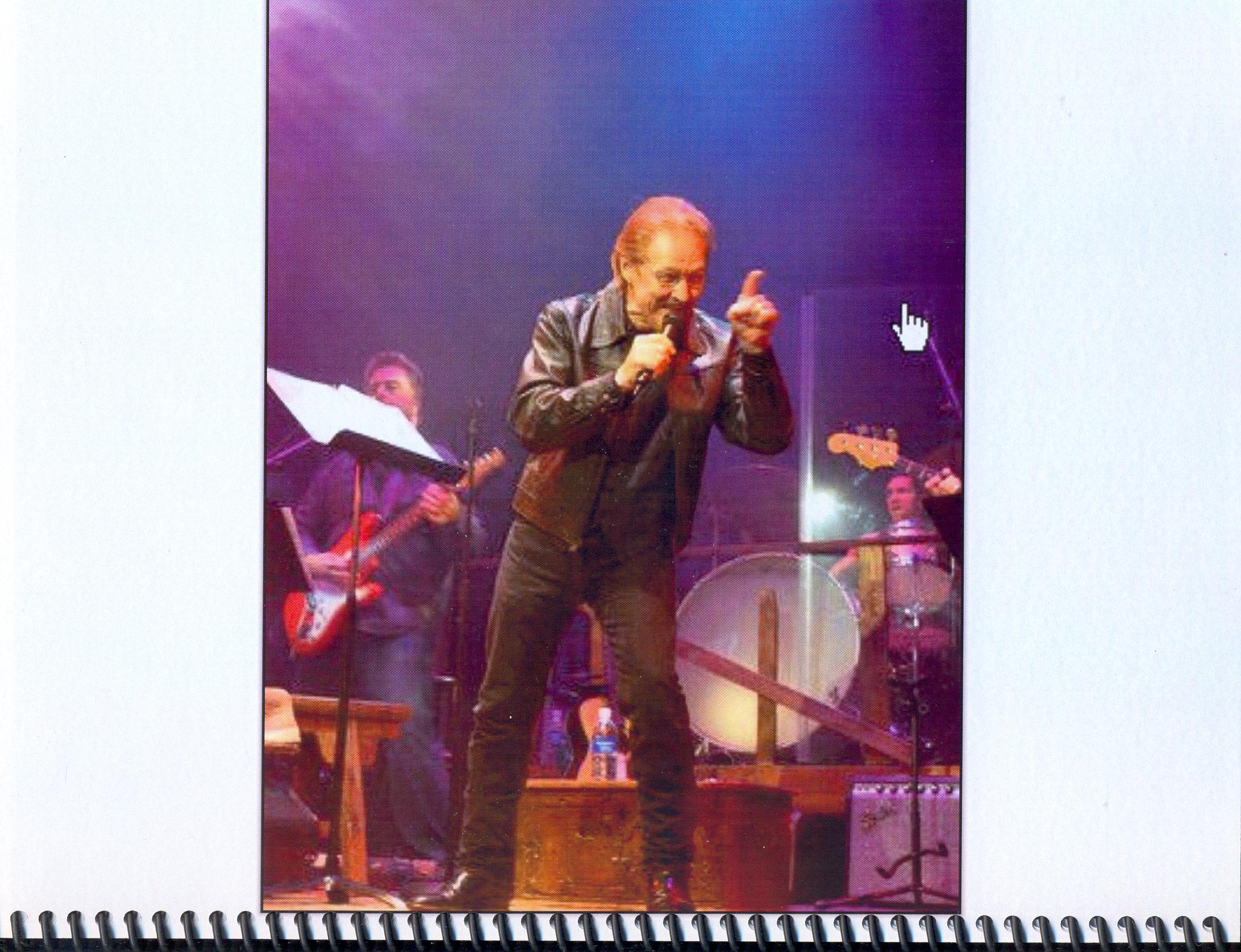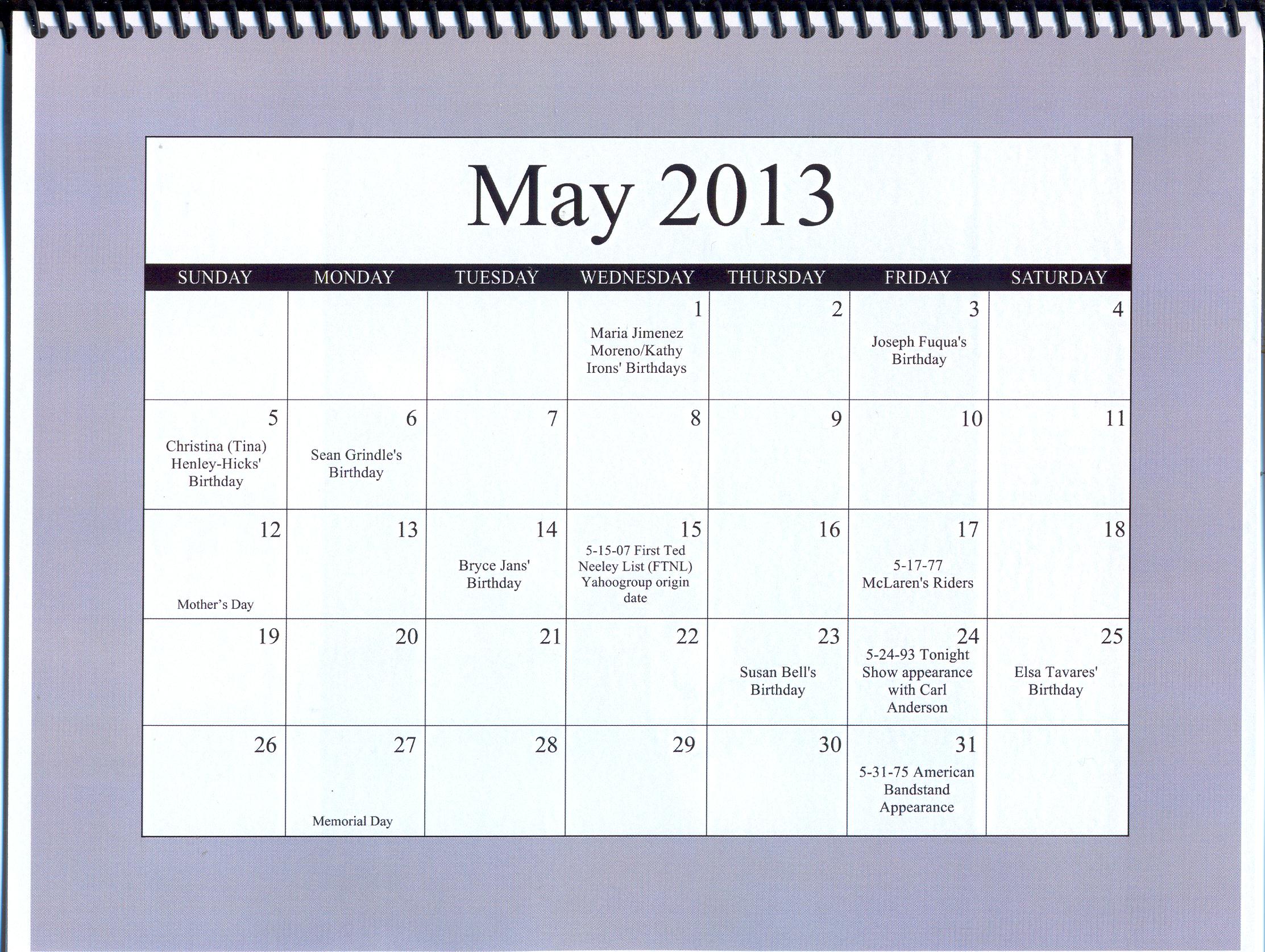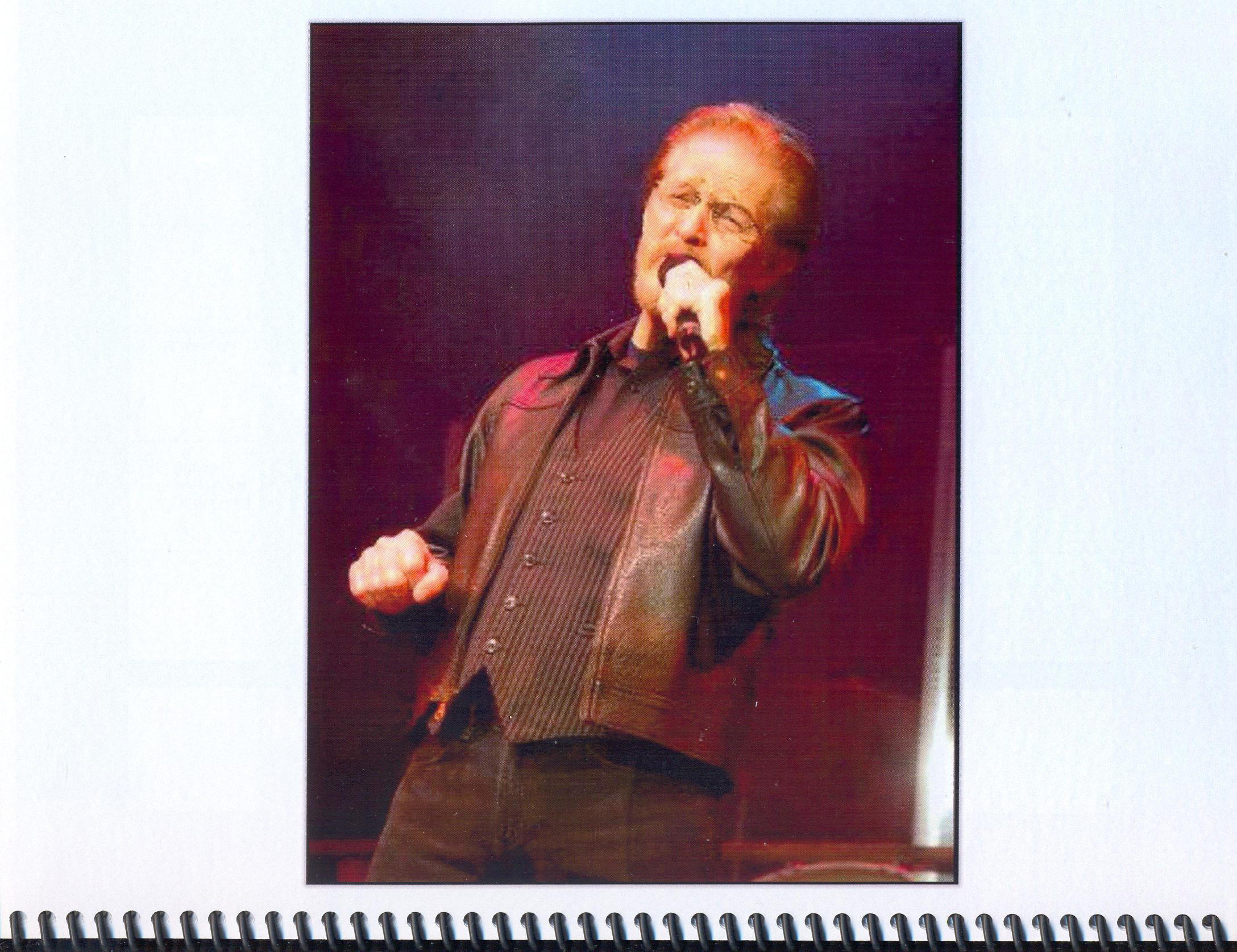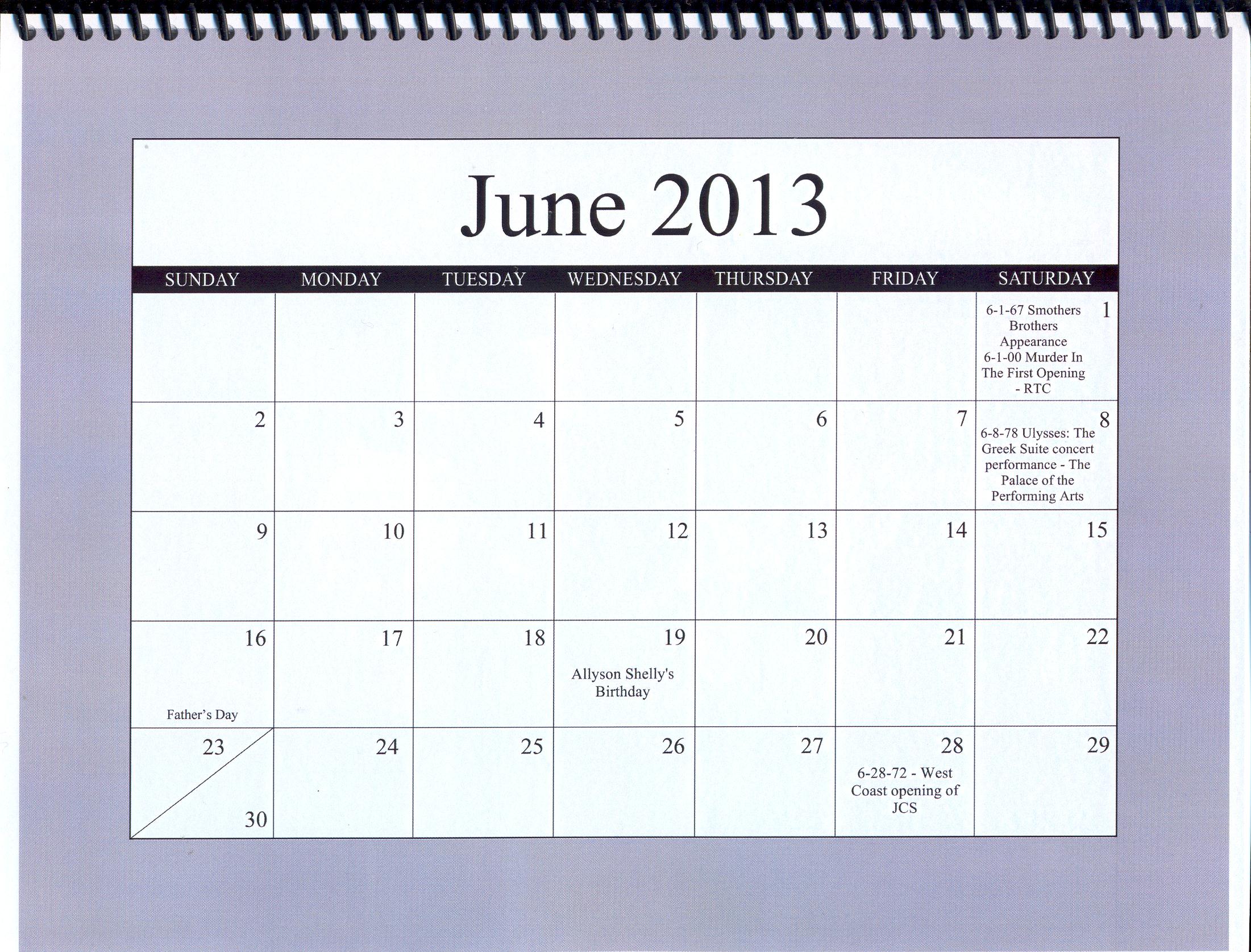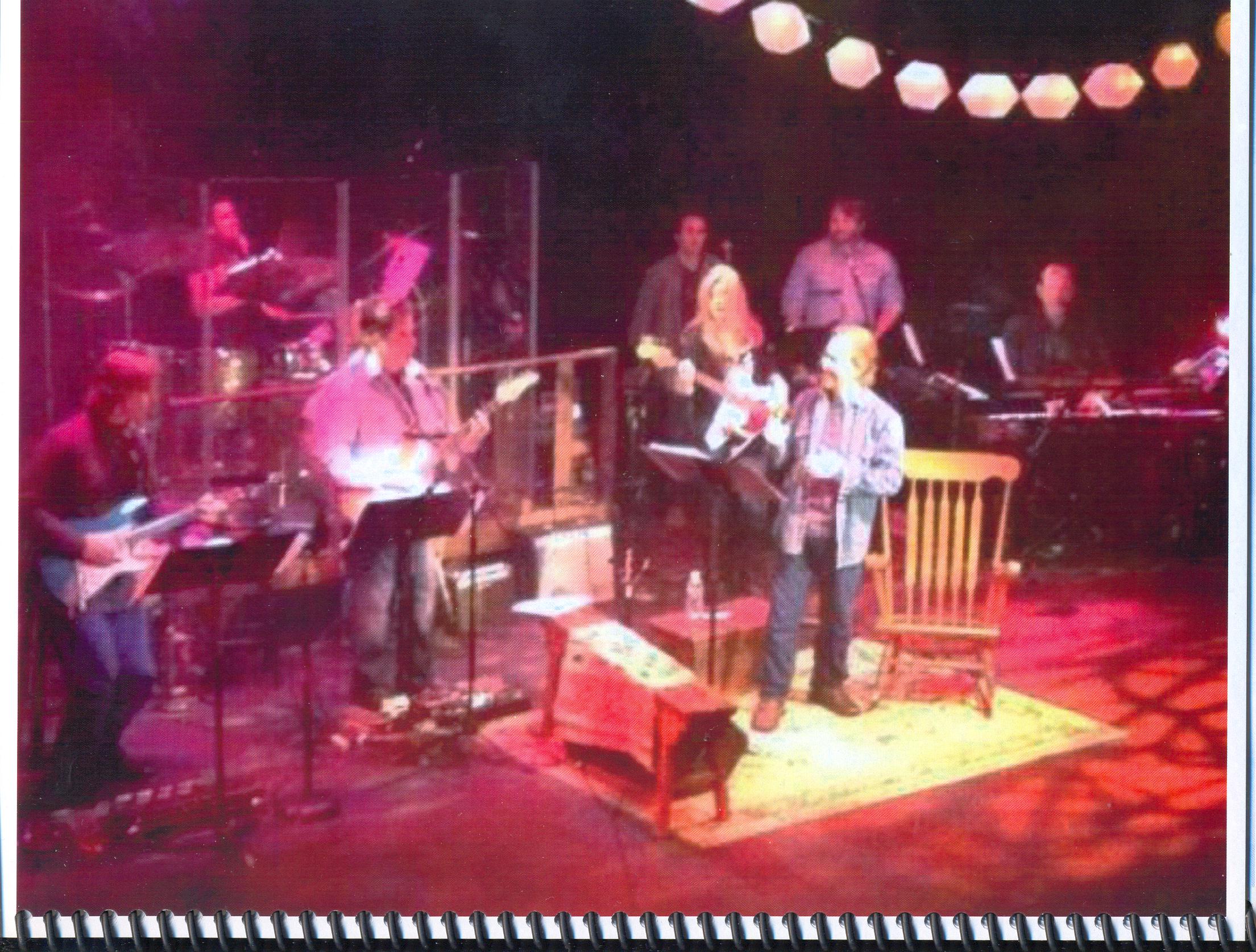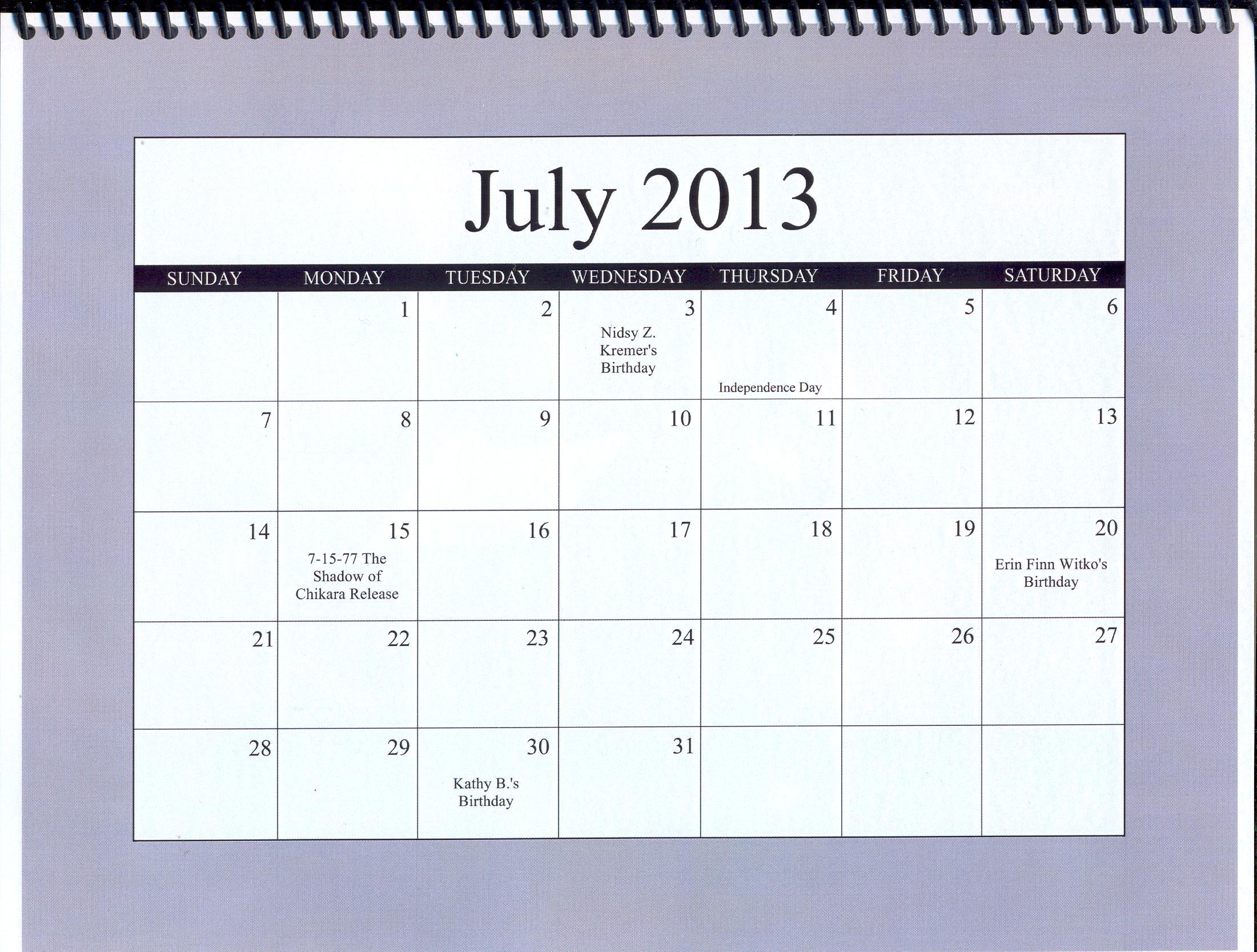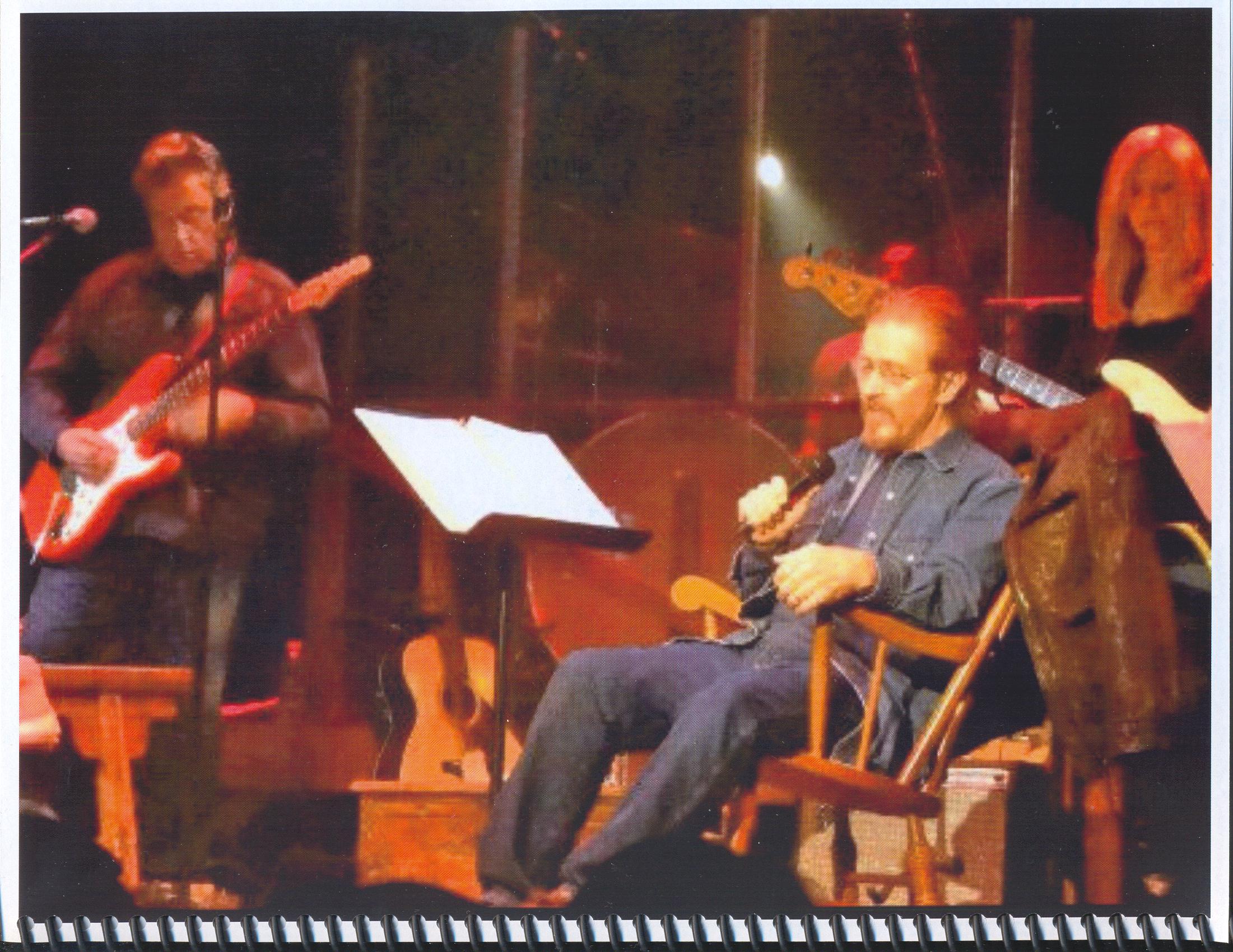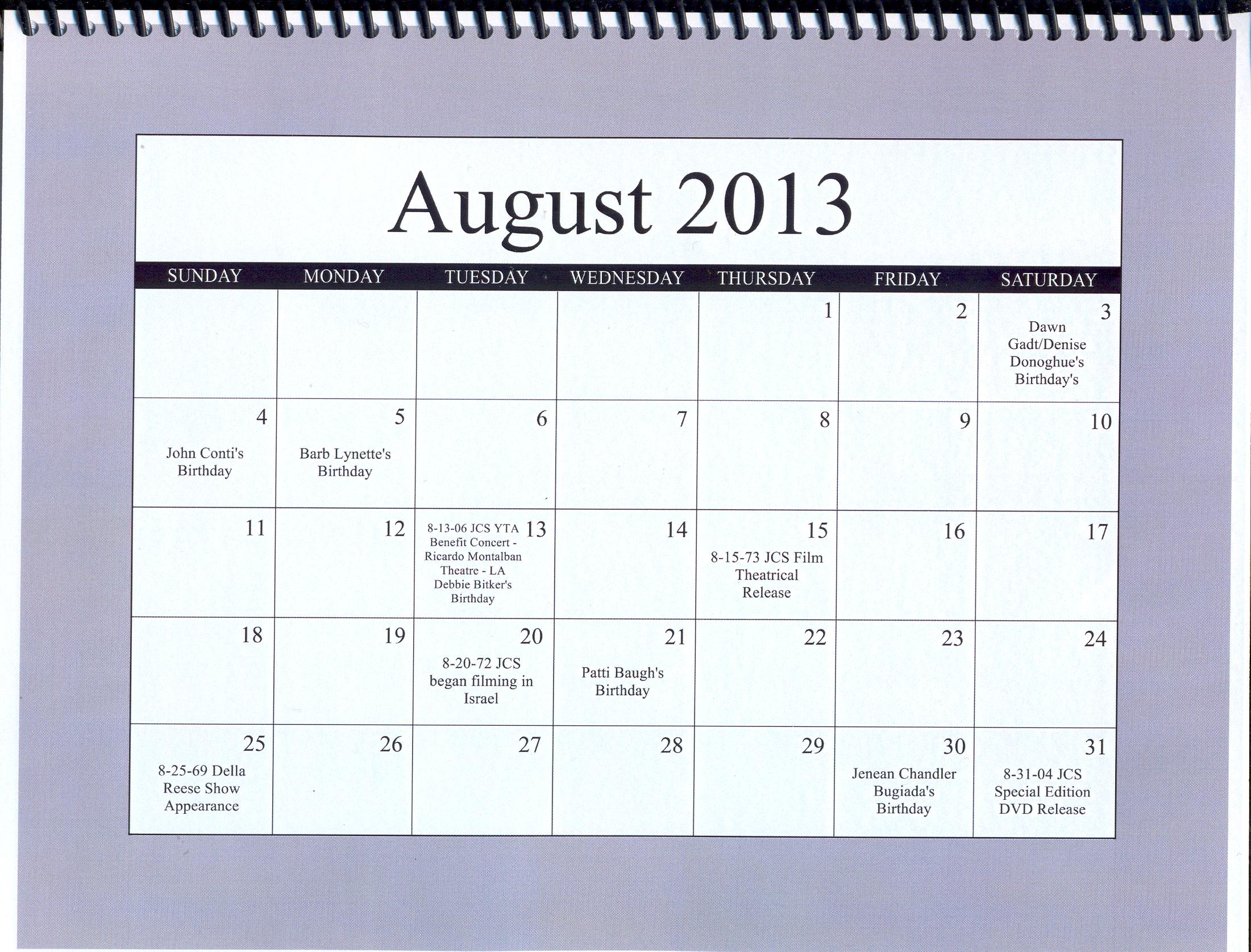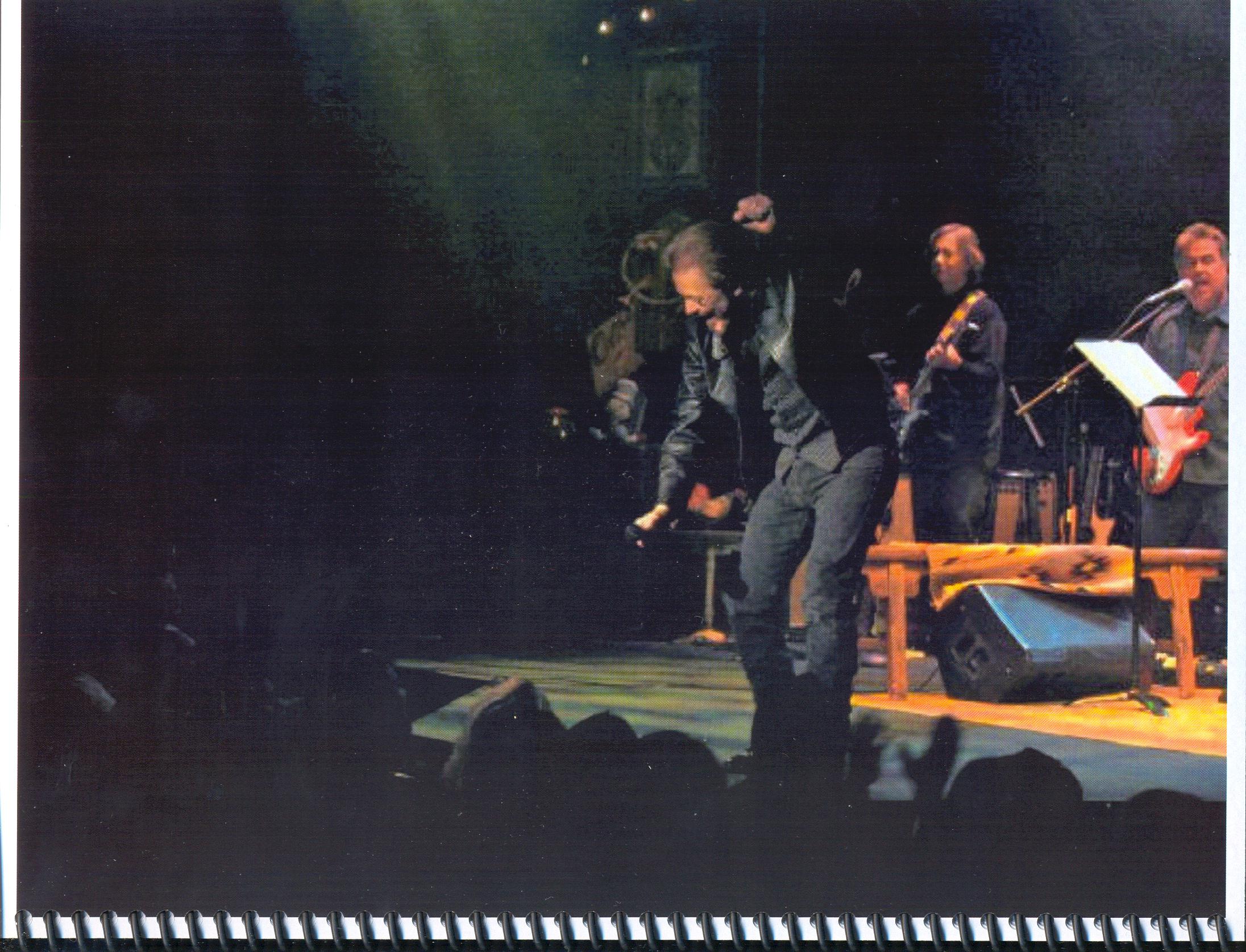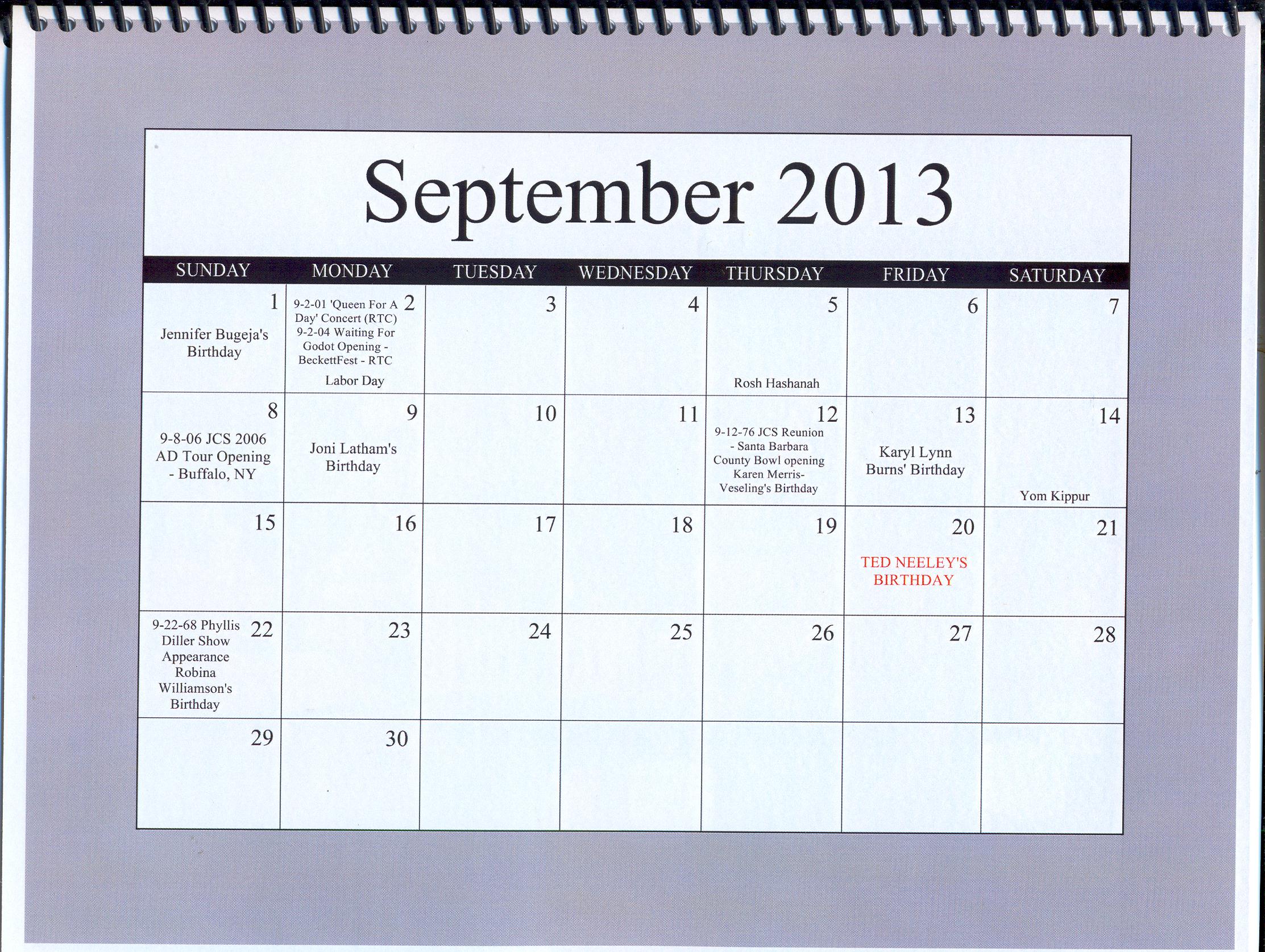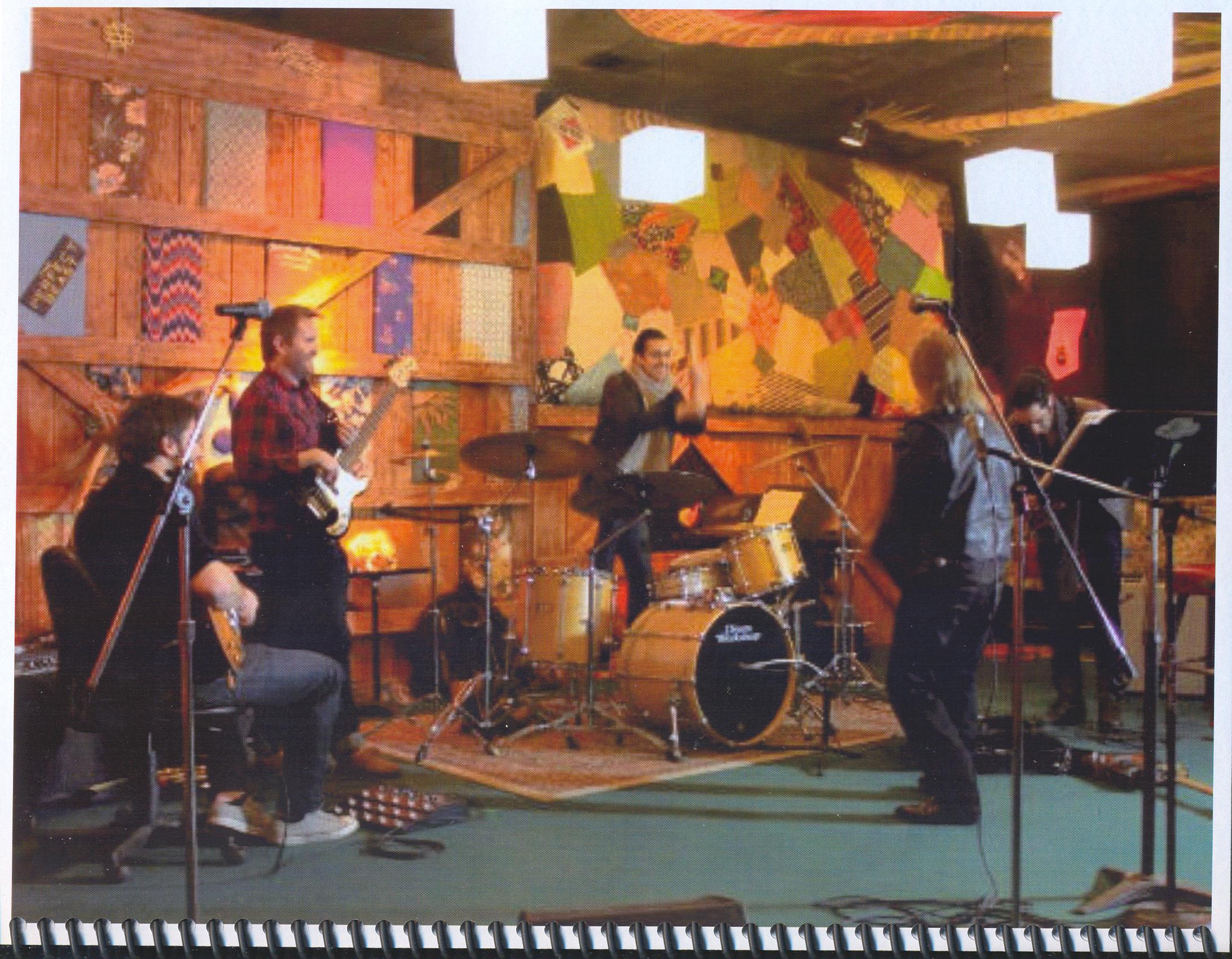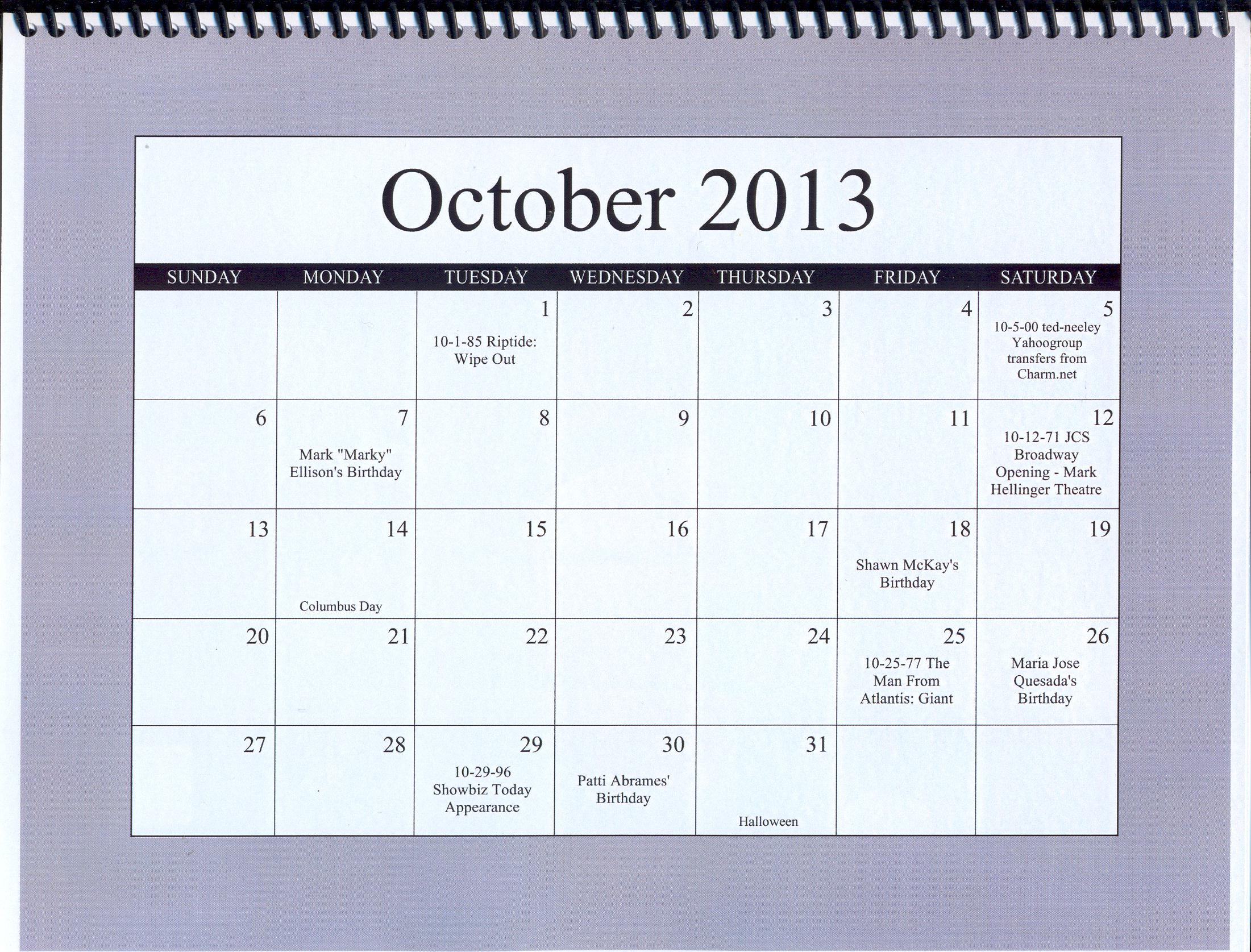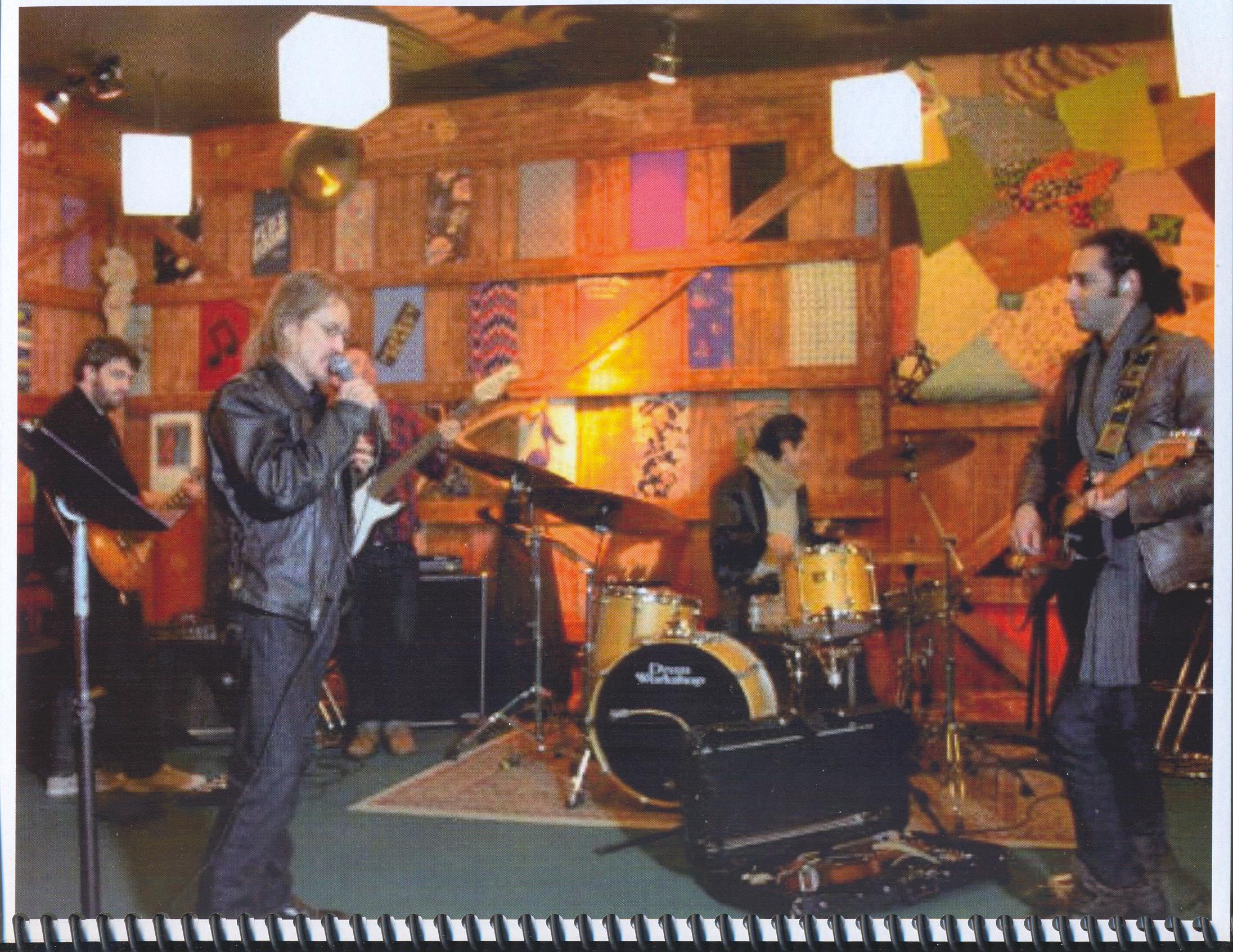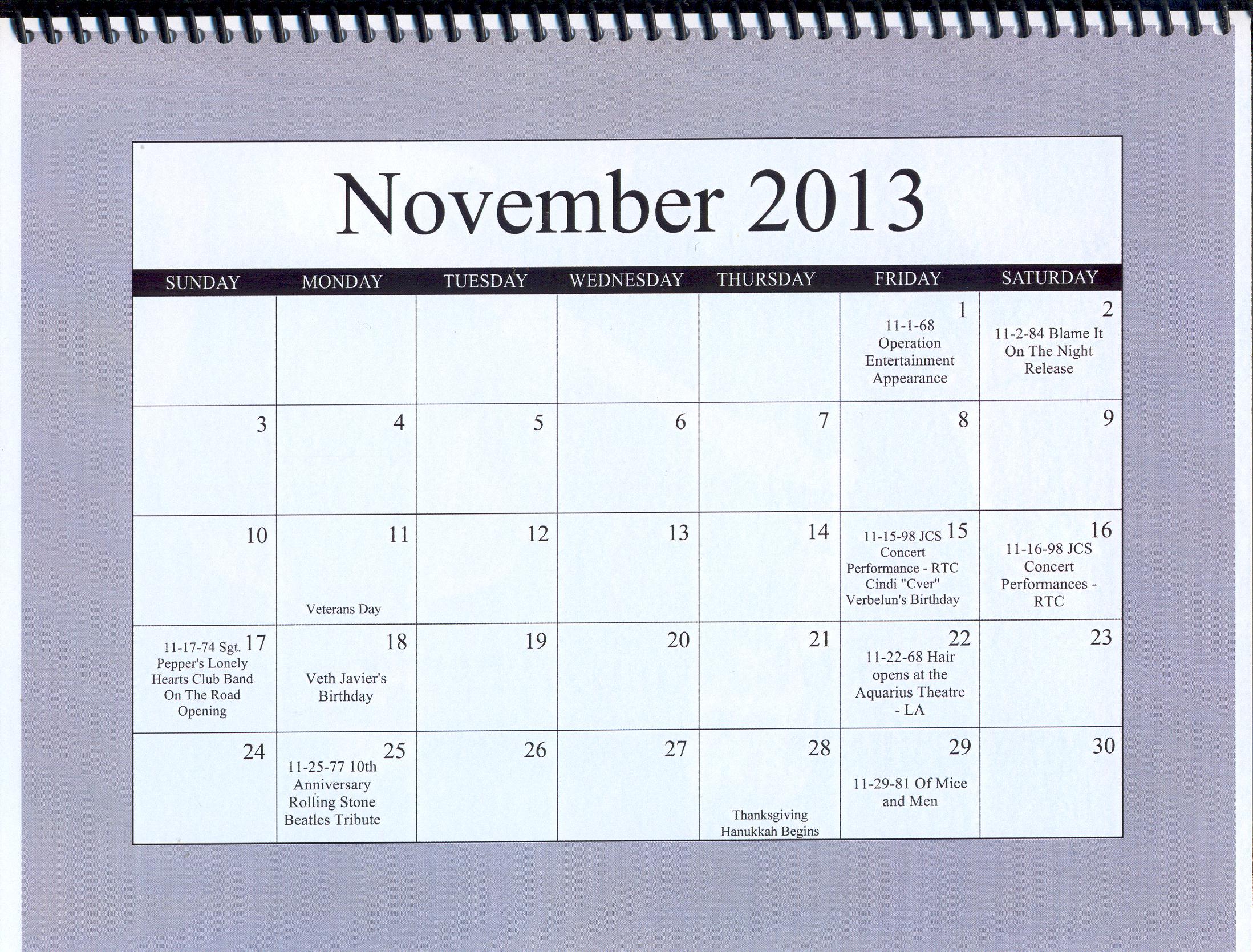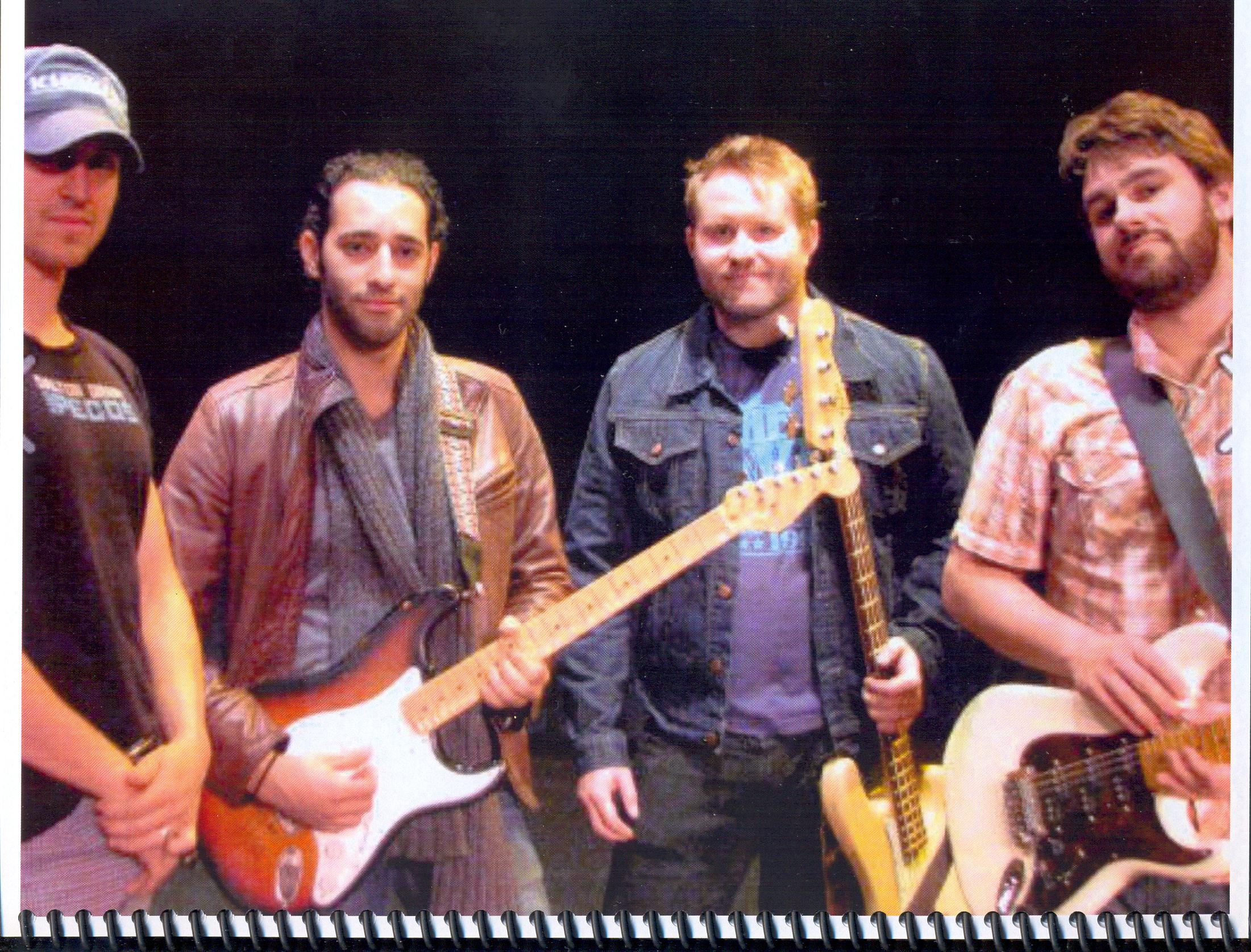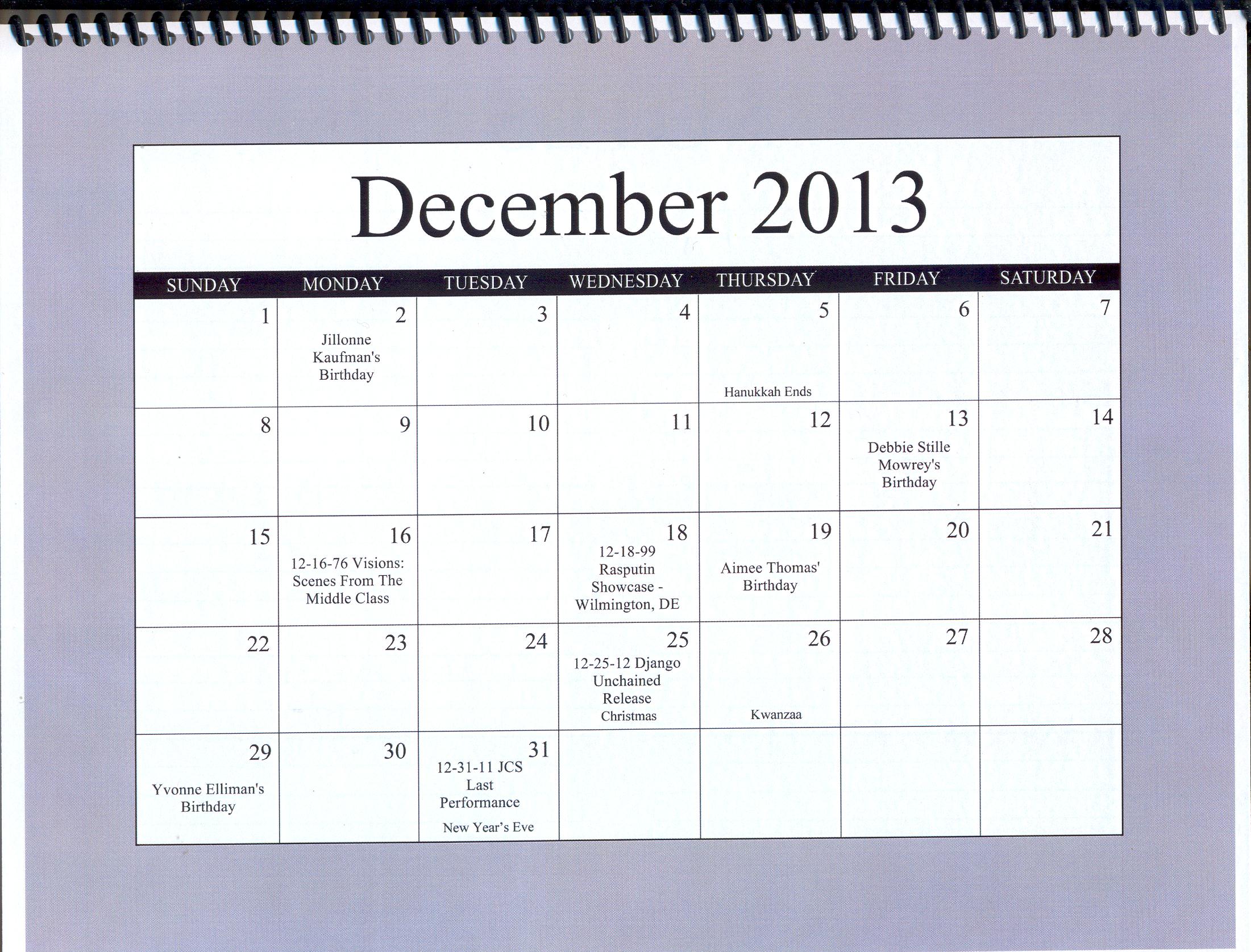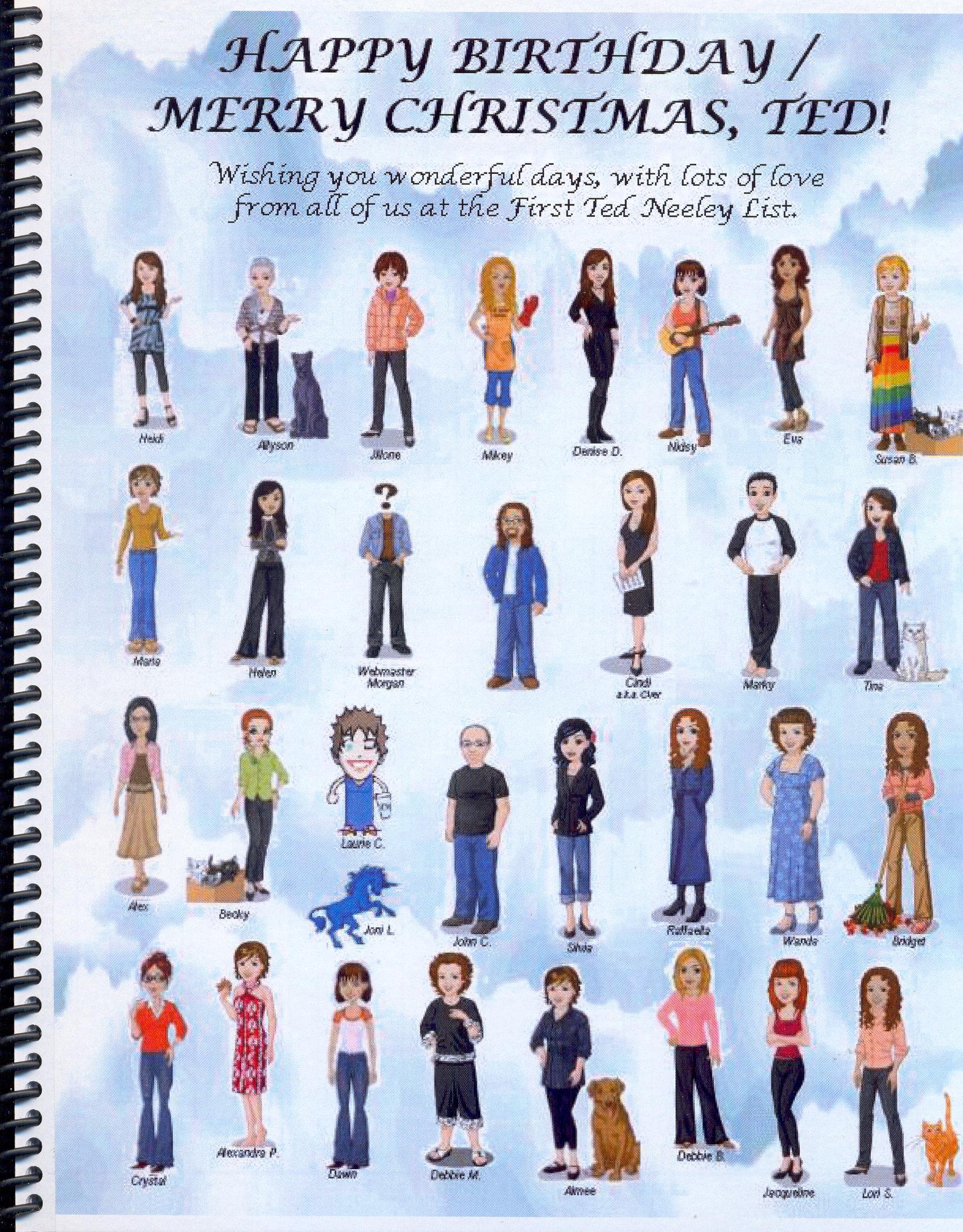 TED'S BIRTHDAY 2010
The 2010 choice for the "FTNL Ted's Birthday / Christmas Donation" is, again: Rubicon Theatre Company. Here is their website donation link:
https://rubicontheatre.org/SSLPage.aspx?pid=246
TED'S BIRTHDAY 2009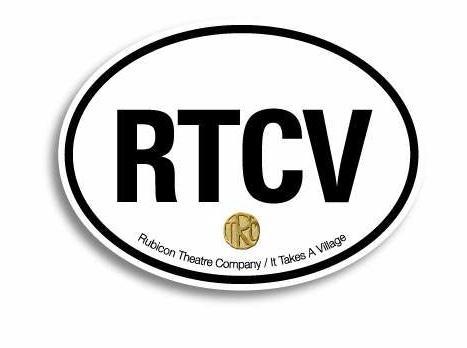 FTNL voted to donate to "Rubicon Theatre Company's "It Takes A Village" Campaign" for Ted's Birthday and for Christmas this year. A plaque, containing our final tally of $1010.00 and the list of donor names, was presented by me to Jim O'Neil at RTC on 2/12/10 (poor Karyl Lynn Burns could not be at RTC, as she had been recovering from a major bout of Stomach Flu that she caught from Jim, but e-mailed me to tell me how touched she was by our generosity), and I presented a second plaque to Ted in Cleveland on 3/6/10 (photo below) during his Fourth Leg of the current JCS AD Tour. A "close-up copy" of the completed plaque is also below: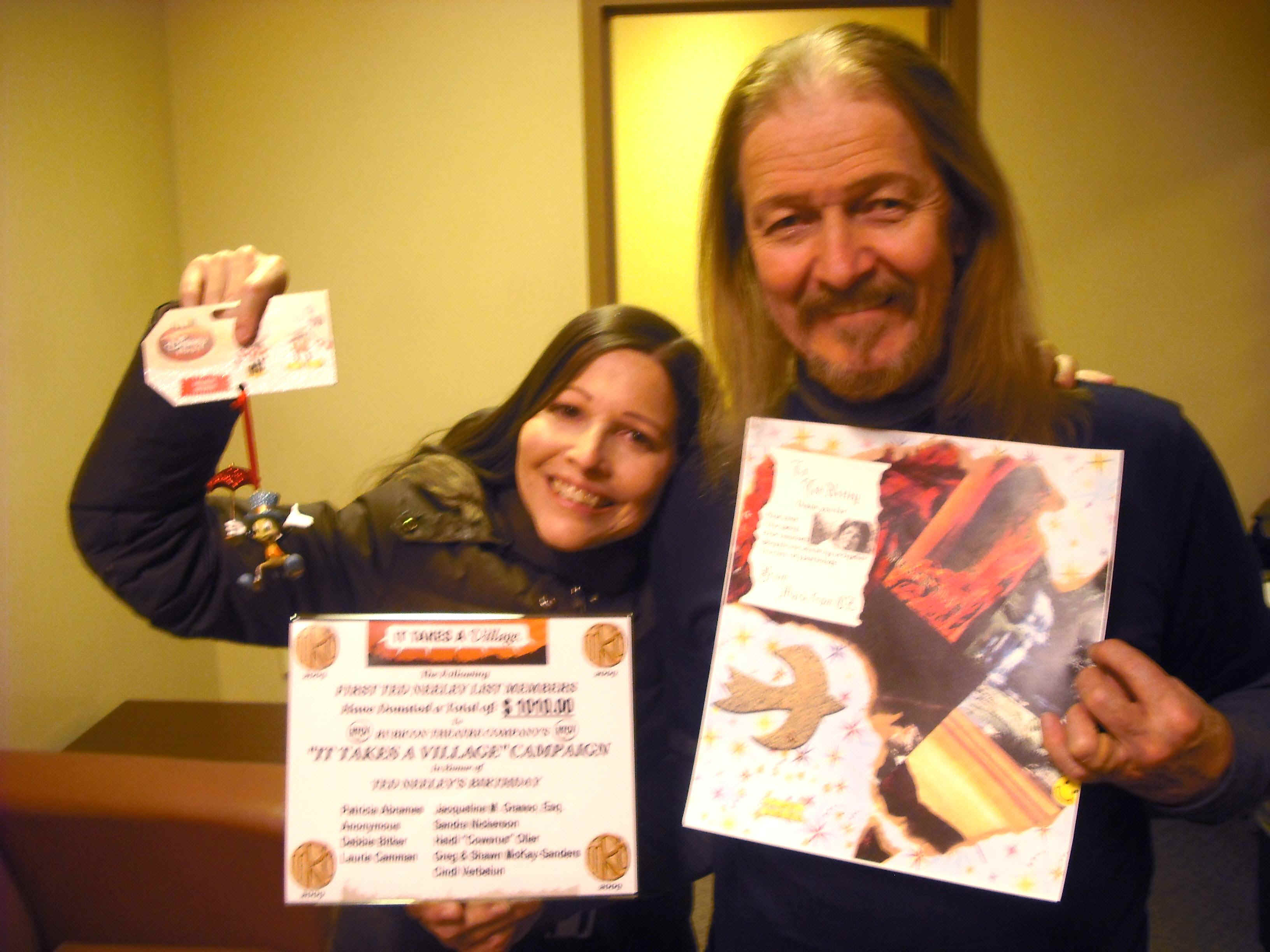 Our House Manager, Mary, kindly delivered the plaque to Ted after the show ended, and then Ray and
Ted kindly brought me back for a brief, but lovely meeting backstage after the show on 3-6-10. Ted is holding
a copy of Marky's FTNL scrapbook page (finally!) and I have the FTNL plaque (close-up below) and the
hard-to-find Disney Jiminy Xmas ornament (this one was sent from a store in Michigan!). Ted wanted to tell
all the FTNL list members that he was SO touched by our VERY GENEROUS donation in honor of his birthday!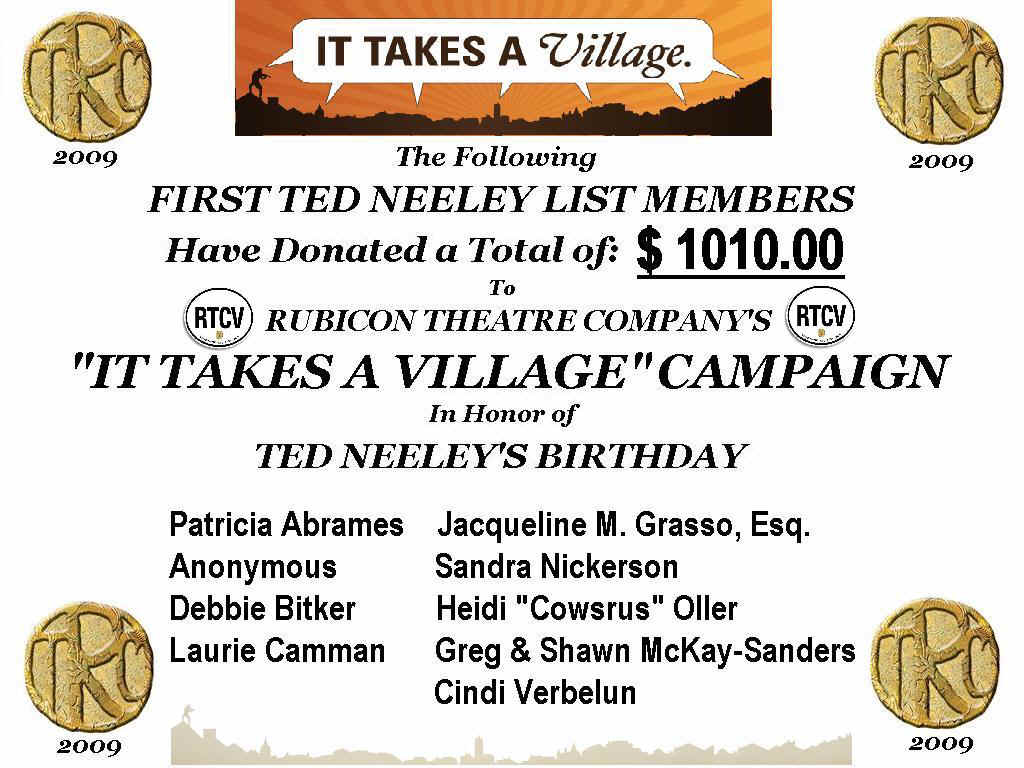 Though the plaque is complete, donations are ongoing for RTC's "It Takes A Village," and names of those donating in honor of Ted will continue to be added to the donation sections of RTC's season programs for their entire 2009-2010 season. Below is the PSA that Ted recorded for this campaign. You can see just how close it is to his heart, (as it is to ours as well). Please help save this TREASURE of a Theatre from this lack of an economy we have in the USA.
---
TED'S BIRTHDAY 2008
FTNL voted to donate to "Angels On Stage" for Ted's Birthday and for Christmas this year. Below is a shot taken during the presentation of the plaque to Ted (see below for the final version) on 2/27/09 by me and Heidi Oller (who suggested this organization when we were brainstorming donation possibilities), when the Third Leg of the JCS road tour played PlayhouseSquare here in Cleveland. A list of names and a tally was e-mailed to DeAnna Pursai (Angels' Founder), and FTNL has a banner on the Angels Website donation page (see link above). Though the plaque is complete, donations are ongoing for Angels, and names of those donating in honor of Ted will continue to be added to the Angels FTNL banner on their website.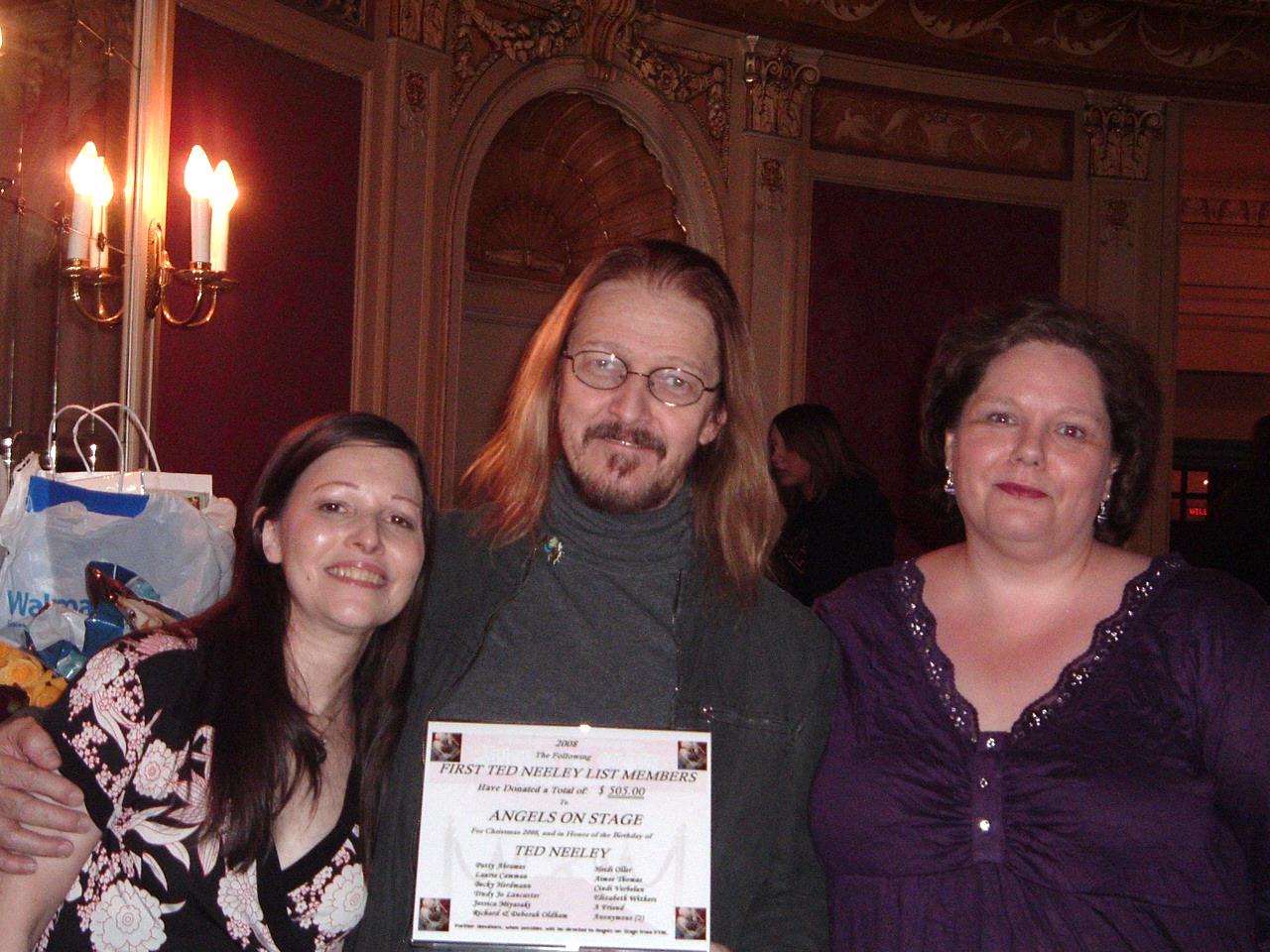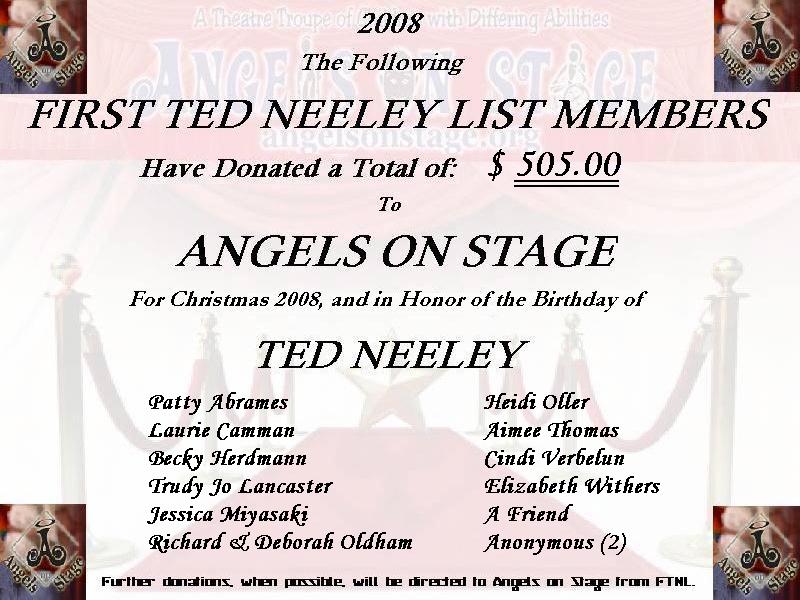 Below are some pictures of Angels On Stage founder DeAnna Pursai's meeting with Ted at the JCS M&G in Cupertino, CA during the 2007-2009 Second Leg of the tour. FTNL list member Jessica Miyasaki (in second shot with Ted and DeAnna) is lucky enough to live close to AOS, and has attended several of their events/fundraisers.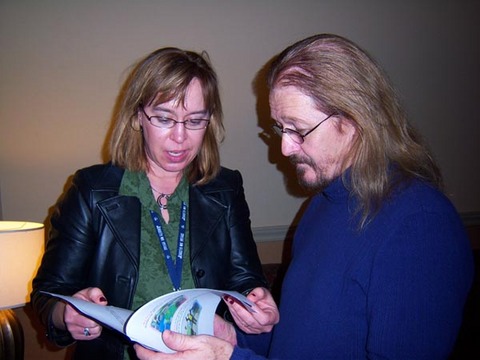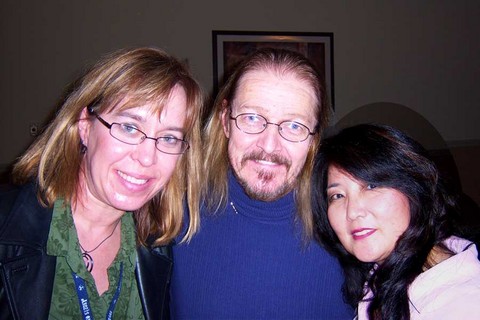 ---
TED'S BIRTHDAY 2007
With the kick-off of the JCS AD Tour, the 2006 list project for Ted's Birthday got waylaid, and members just "did their own things" for that year. For 2007, we more than made up for it! Ann Stickford came up with the great idea of International Tedhug Day, which had everyone giving hugs to anyone they chose on 9/20 (Ted's birthday):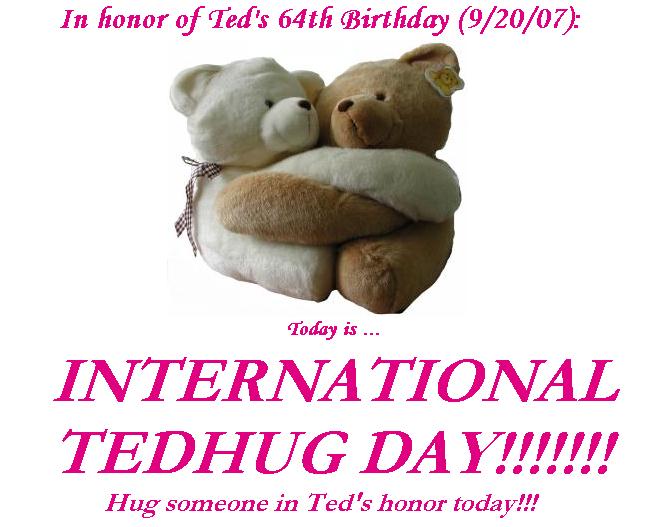 ... and for his combination Birthday/Christmas presents (the ideas came from Deborah Adams and Connie Peterson, and the presents were completed by Roslyn Brown and by Me) FTNL's Roslyn completed a beautiful scrapbook (presentation picture below) which included this great FTNL Avatar group picture designed by Helen: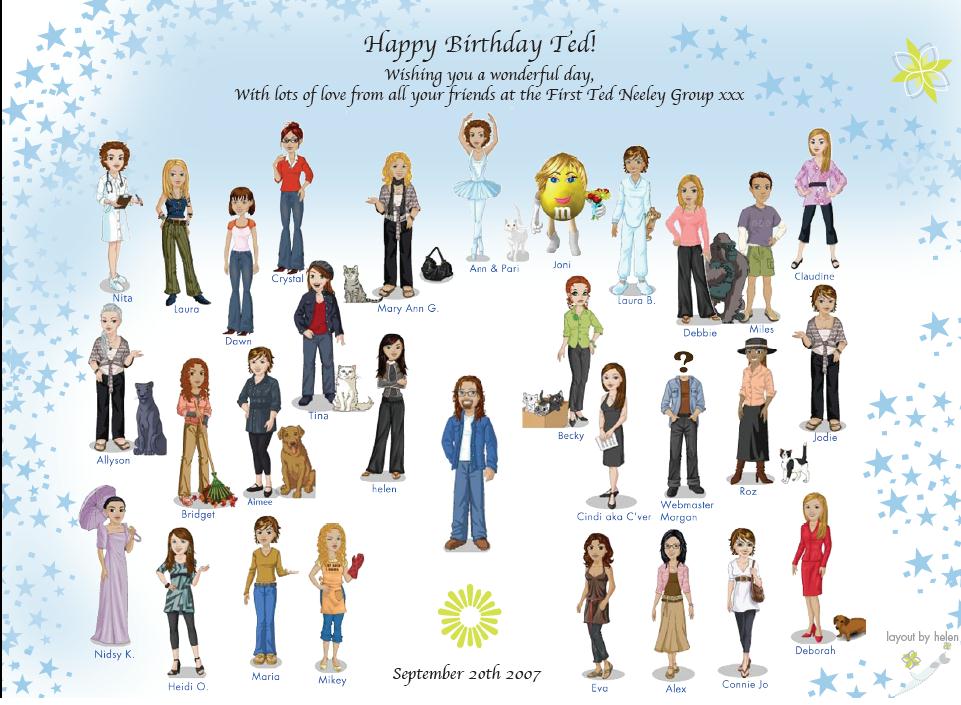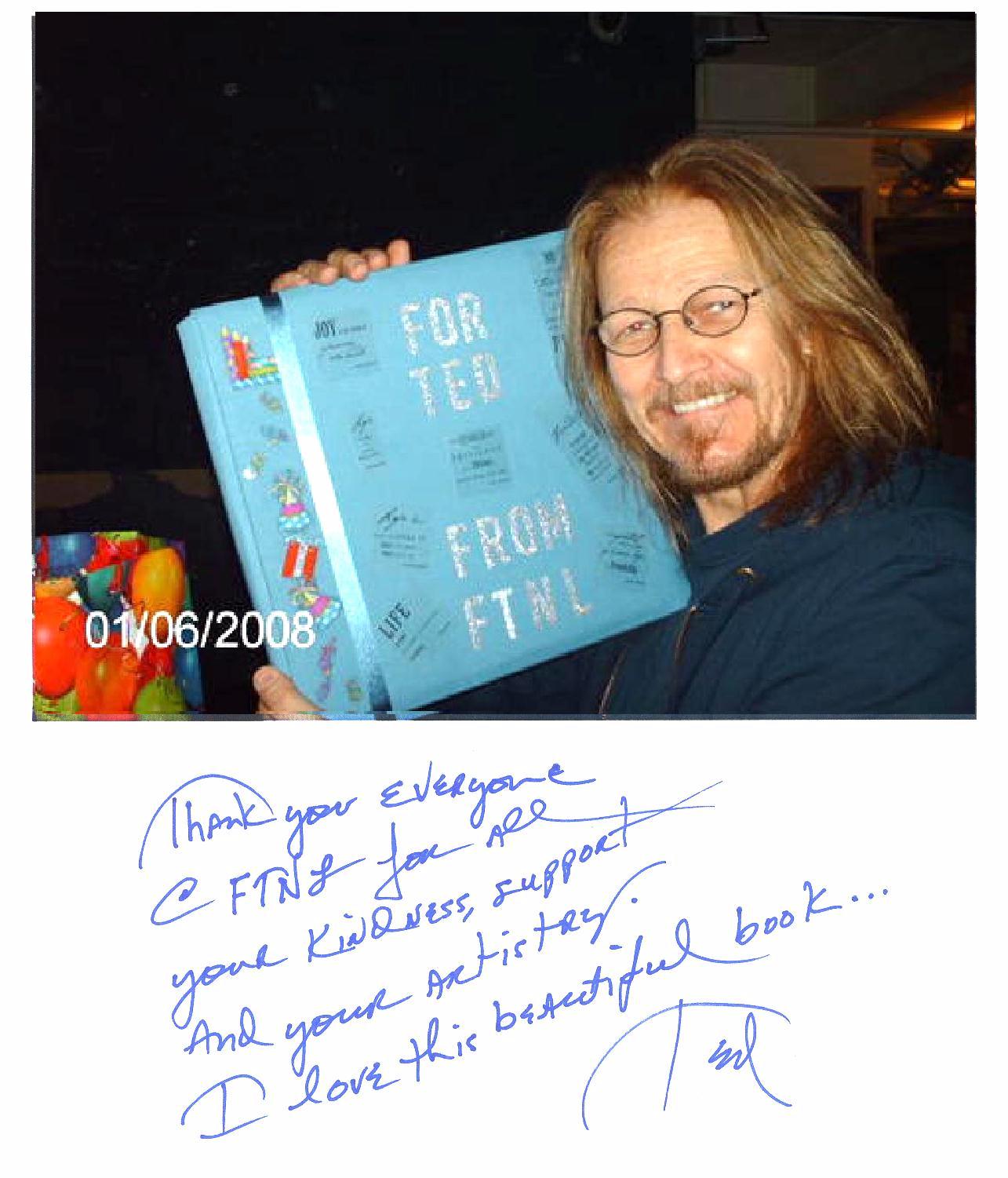 FTNL Scrapbook presented to Ted by Debbie Bitker on 1/6/08, and his response, in autograph form.
... and I completed this plaque for our Christmas FTNL group donation to Rubicon Theatre Company: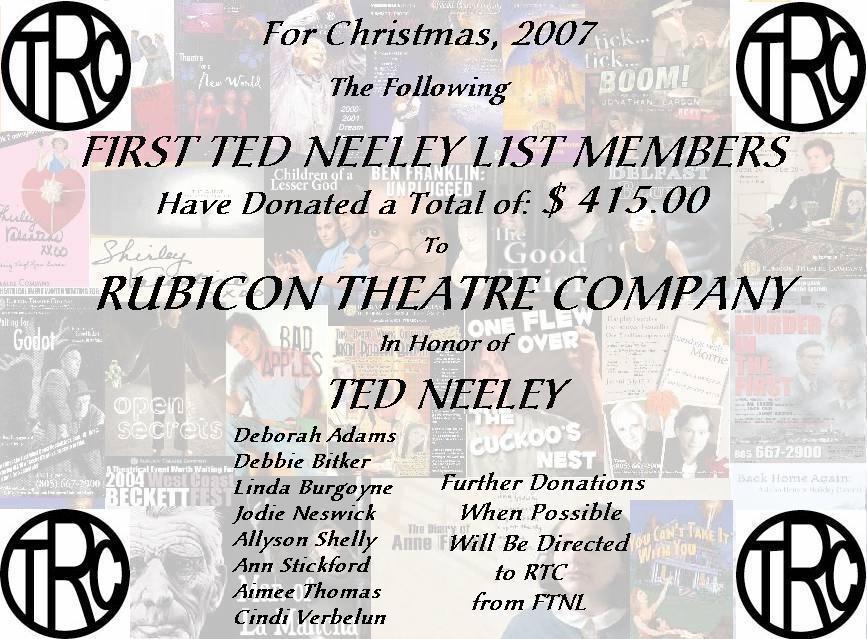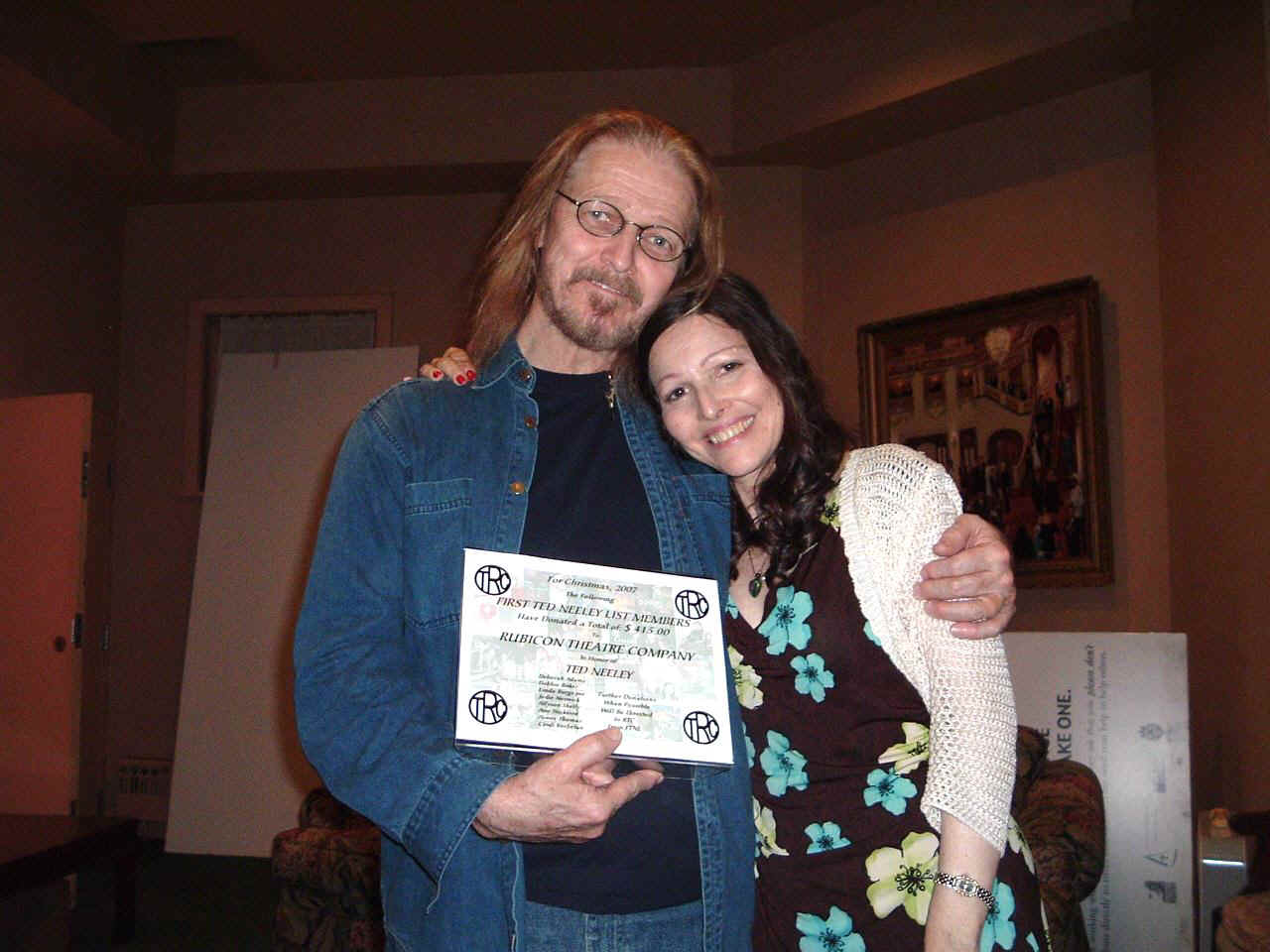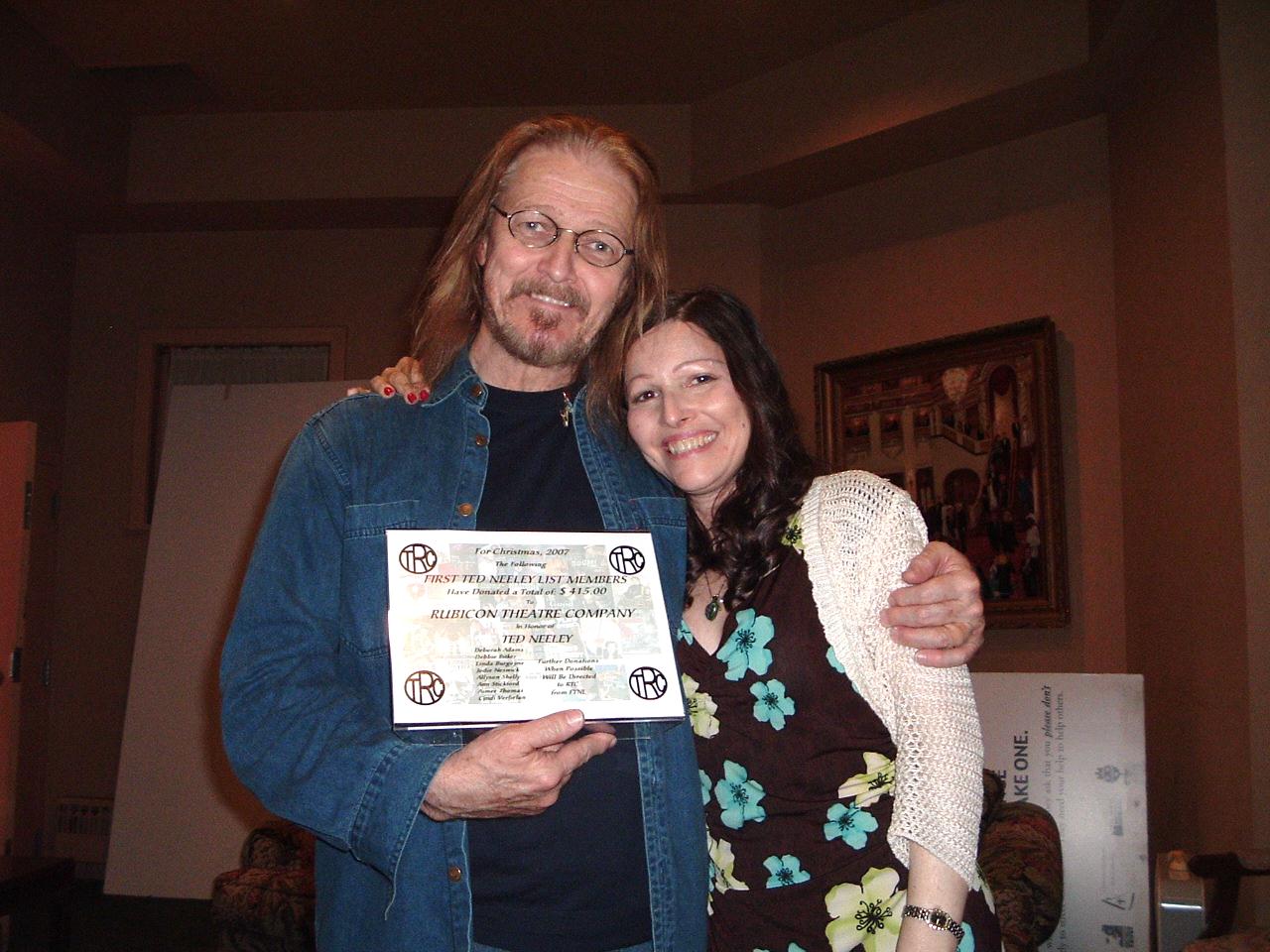 FTNL Group Donation Plaque for Rubicon Theatre Company. A pre-completed plaque copy was presented by me to Karyl Lynn Burns at RTC Christmas week of 2007 (the completed plaque was mailed to Karyl Lynn and James O'Neil in April, 2008), and the other completed plaque was presented to Ted by me in April, 2008, when the JCS road tour played Pittsburgh, PA (photos above)/
.
---
TED'S BIRTHDAY 2005
Lynne Freels (admin@medmatrx.com) - a.k.a. Homesickmoose - VERY generously again offered to make a plaque for Ted (in card form), showing the total donations that our Tedhead Family made to The Katrina Hurricane Relief Fund, and/or any other fund of their choosing. Below is the information to donate:
Hello,
I just wanted to reiterate the following, for anyone who may have missed this post ...
Please feel free to donate money, volunteer time, and blood (especially O negative) to the disaster relief fund of your choosing.
**Let me know what you donated**, so that I may total what was given in each category on the preliminary
Powerpoint slide that is now available for download from the 'Files' folder. The title of the slide is "62.ppt".
Feel free to forward any suggestions on rephrasing, as well as worthy charitable organizations.
Thanks to you all for considering this suggestion.
... Moose (admin<at>medmatrx.com)
Below is the "plaque/card" I forwarded to Ted on Tuesday, his birthday. Thanks, Lynne, for another great idea, and another SUPER job!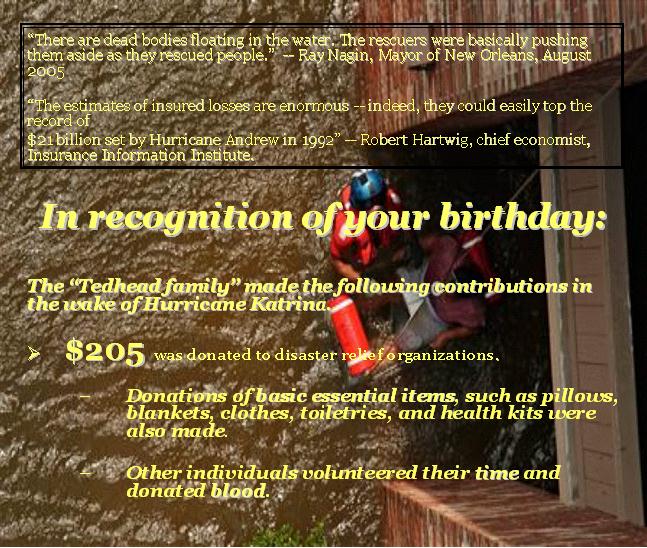 ---
TED'S BIRTHDAY 2004
Lynne Freels (admin@medmatrx.com) VERY generously offered to make a plaque for Ted (in card form), showing the total donations that our Tedhead Family made to The Carl Anderson Memorial Fund, and The Leukemia and Lymphoma Society. I presented the card/plaque to Ted in Ventura on his birthday during BeckettFest. Thanks, Lynne. Below is the final copy:
---

TED'S BIRTHDAY 2001
On 9/29/01, per Kathy's suggestion, I e-mailed a copy of the partial donation list to Ted in order to let him know that we remembered him this year for his birthday. Below is the copy of the final list, which I framed and snail-mailed to Ted this afternoon (11/7/01). REMEMBER: Donations don't have to stop because Ted's list is officially closed, 9-11 funds still desperately need our help. I can forward any further donations to Ted via e-mail if requested by any of you.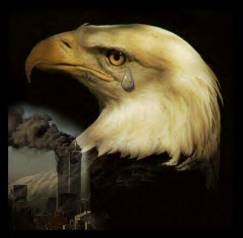 Hi Ted,
This year, for your birthday, we've decided that the best thing we can do in your name is to do our part to help those in need because of the World Trade Center/Pentagon attacks. Below is the completed list of "Tedheads" who are donating to various funds this year in your name. We thought it was the least we could do to help others, and to honor a man who does so much for all of us.
With much love,
Cindi J
DONATION LIST FOR TED'S BIRTHDAY
(Donation amounts listed with permission of donors)
1. Kathy Herder
Red Cross & City of New York Fund - Undisclosed

2. Michael Rapp
Red Cross & City of New York Fund - Undisclosed

3. Cindi Verbelun
$10.00 Save the Children
$10.00 Orphaned NYC Animals
$ 5.00 - 911 Fund/Doctors Without Borders/Americans
for Peace Now (which seeks an equitable
solution to the Middle East

conflict)/Pax
(which promotes solutions to gun violence) -




all through the Mandy Patinkin Critical Issues
Fund at

Mandy Patinkin's concert collections


$25.00 Twin Towers Fund
$50.00 RTC (mailed 1 wk. before WTC attacks)
4. Linda Fenton
$20.00 Save the Children or Red Cross (via UK)

5. Lisa Sigona
$50.00 to the American Red Cross, NY Fund on 9/12/01


6. Jan Stetler

$58.00 RTC (mailed day before disaster - more pending)


7. Brigitte Brummans
$12.00 (one-year "Neeley On The Road" membership) New York City Fund
8. Raffaella Ansi
$20.00 Firefighters Families Fund




9. Silvia Toselli
$20.00 Firefighters Families Fund

10. Laura Da Costa
$20.00 via the Canadian Red Cross "U.S.A. Appeal" fund

11. Michelle Vadeboncoeur
Tried to donate blood to her city's local blood local blood drive - wk. of 9/23/01

, but the drives were already booked and only wanted to sign her up for their upcoming February drives (other plans pending)

12. Mari Michetti
$25.00 Firefighters
$25.00 Heroes Telethon video
$10.00 Orphaned NYC Animals
13. Chris Wolf (Christian Peretto)
Save the children - Red Cross - undisclosed

14. Rosemary Cristiano (Roe)
NEW YORK STATE WORLD TRADE CENTER RELIEF FUND – Undisclosed
15. Lisa Stormy Porter-Reiley
$20.00 American Red Cross
16. Diane Barnes
$100.00 Presbyterian Disaster Relief Fund
17. Judie Brock
$50.00 Red Cross
---
TED'S BIRTHDAY 2000
THE BIRTHDAY BOOK
Many of you have asked me if it was possible to make copies of Ted's Birthday book. While that task was impossible to comply with, I think I have found a way for you to see some of what was sent to me. Below are jpegs of some of the contributions made to this book. Be warned the photos are not very clear, but they will give you some idea of what the book looked like. I have also included reproductions of the cover page (just below this paragraph), and the first page. I hope you will enjoy them!

____________________________________________________________________
THE COVER PAGE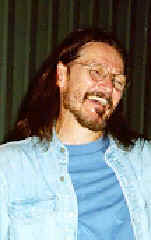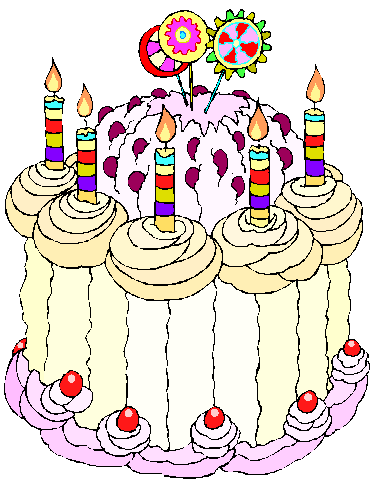 _________________________________________________________________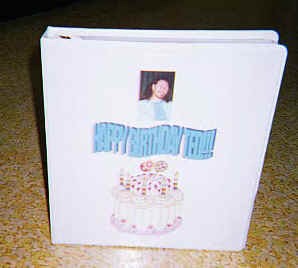 The Finished Product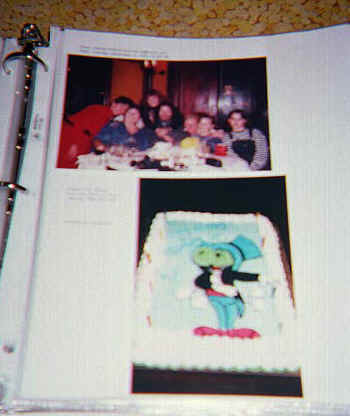 Leslie Virgilio's Birthday Party and Cake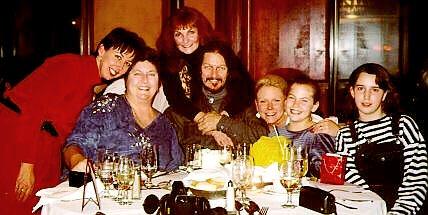 Courtesy of Denise Oldford: (dofdagirls@hotmail.com), we have a clearer copy of the picture above for all to enjoy (posted 5/10/03). Here's Denise's caption, so we all know who everyone in the picture is:
I decided to share this pic of a party that's been mentioned. It was to celebrate our dear friend Leslie's birthday...what fun we had... From left to right...Me, Leslie, Marilyn, Ted (in case you didn't recognize him..hahaha), Kim (a dear friend to Ted as well as many of us who recently passed away), Lesley's daughter Lindsay, and my daughter Ally. This party was possible because we all happened to be in Boston for...JCS of course! And Ted wasn't quite as busy then... Anyway, hope you all like the photo...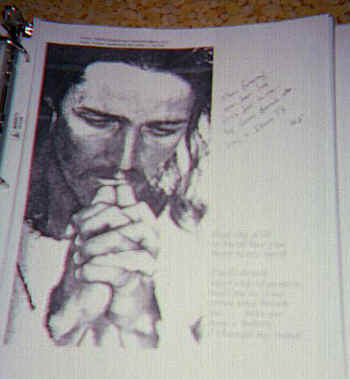 From Debbie Spykerman - via Diane Barnes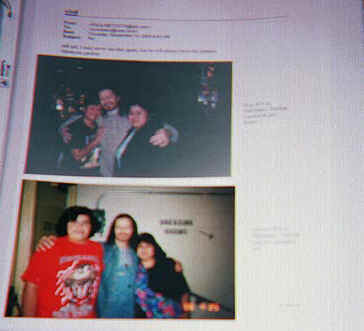 Pauline Carrera, Family and "Friend"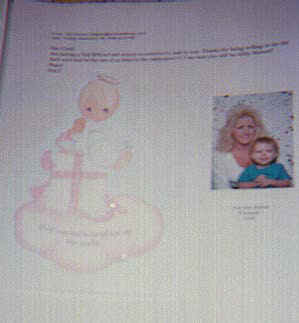 Kat and Joshua Finnson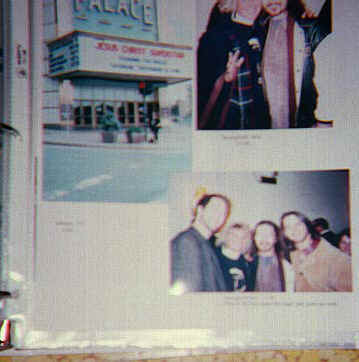 Judie Brock's family outing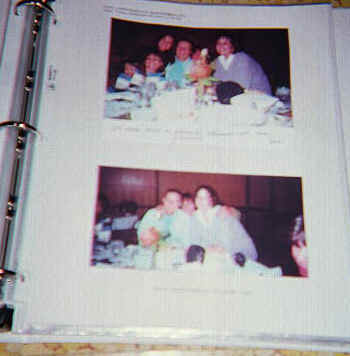 Debbie Spykerman's pics from dinner at the Pierpont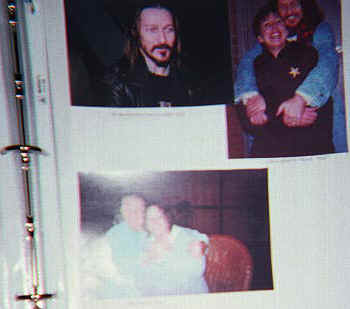 More from Debbie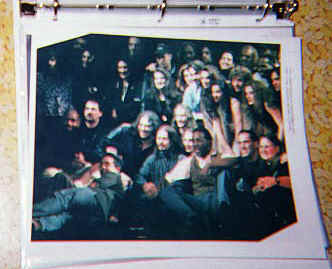 More from Debbie (for a better view, see this pic on my JCS page)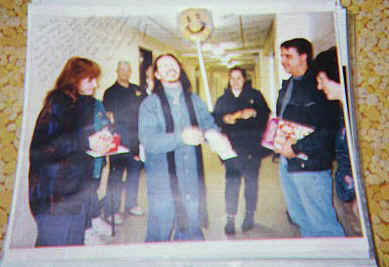 Denise Oldford's masterpiece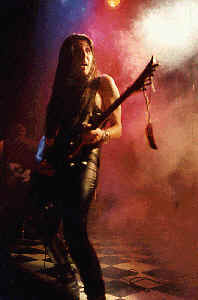 Sissy Massoud's contribution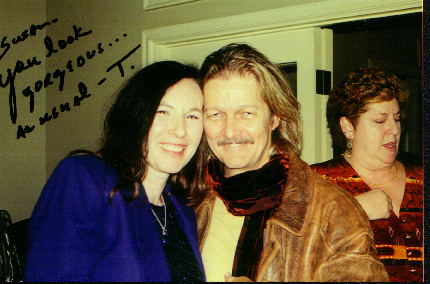 Susan, Ted and Leslie
______________________________________________________________________
THE INSIDE PAGE
HAPPY BIRTHDAY TED!
You told me this Summer that you don't know what you did to deserve all of this. Well, I think it's because you make yourself so generously available to all of us whenever you can, and we all know that you truly care about each of us, which is what makes you such a special person in this world. So we decided to give a little of that love back to you today.
It has been my pleasure to compile this book, filled with our wishes for your best birthday ever.**
HOPE YOU LIKE OUR SURPRISE!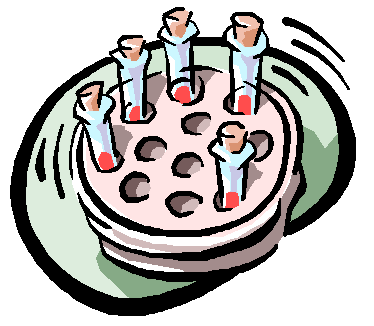 ** I also wanted to make sure you got this on your special day, so I sent it to this address. I hope you don't mind.
Cindi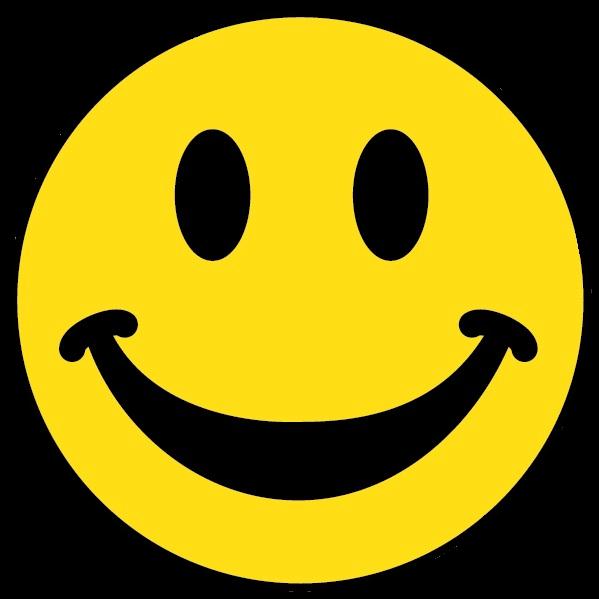 ___________________________________________________________________