Thu 9/30/2004 4:37 AM
BECKETTFEST - DAY 12 - DRIVING THE "BOSS LADY'S" CAR / THE CASE OF THE CLUCHEY BOUQUET

Today started out with me returning my rental car and getting Karyl Lynn's car to drive. No more shenanigans - I'm driving the BOSS LADY'S car now, LOL!
We had another Brown Bag this morning - Directing Beckett on Stage - with David Payne, Walter Asmus, John Slade and Jenny Sullivan.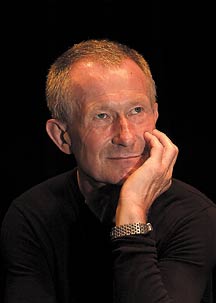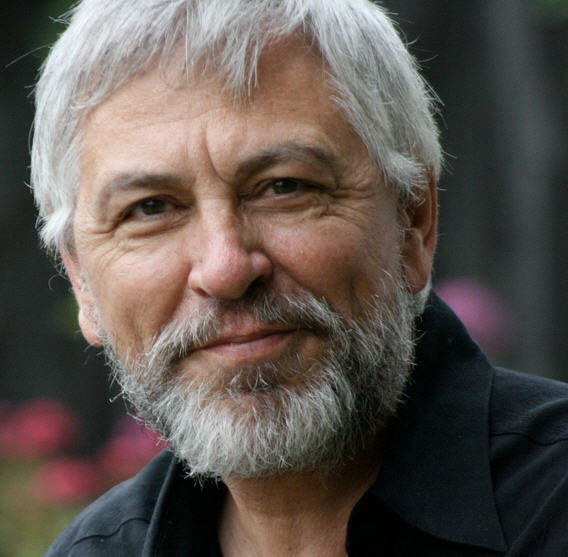 Left to right: David Payne, Walter Asmus, John Slade & Jenny Sullivan.
It was very informative, and John brought one of the high school boys from his Waiting For Godot show. It's amazing how the kids got Beckett so much faster than we all did. Thank God SOMEONE is teaching them this stuff.
There were some lunches from Regina Catering leftover and Karyl Lynn told us to grab them - free of charge. Offer me free food? YOU BET! I was STARVED! These lunches are usually $25 - and I CAN SEE WHY! They include a HUGE turkey sandwich on a croissant, pasta salad, fruit salad, a big chocolate chip cookie and bottled water. When I finished mine, I knew I wasn't eating dinner until late! LOL! The downside, though, was that the turkey kicked in halfway though "Krapp's Last Tape" and I kept passing out. Turkey before theatre is not a good idea - the what is it - amitriptiline? (NOTE: L-tryptophan) - will kill you every time! Makes you very sleepy!
I did some more cutting and pasting for Chris and Karyl Lynn, and then it was time for the 5PM performance: "Krapp's Last Tape" with Rick Cluchey. About 3:30PM I realized that we didn't have a presentation bouquet for Rick and asked Heather, who phoned upstairs to Chris who ordered one. Donna went to get it and I had it in my hands when I told Rick's Stage Manager that I was presenting it to Rick at his curtain call. GOOD THING I MENTIONED IT TO HER. She told me he wouldn't take a bouquet. I asked why and she said that Beckett wouldn't, so he won't. So we gave it to him in his dressing room, and Chris explained that it's an RTC tradition. Good thing we did that, because Rick also does not take a curtain call with this show - another request from Beckett. So - I would have been standing there with a bouquet - and he wouldn't have come out for the curtain call! That would have been VERY EMBARRASSING. Always ask - it keeps you from ending up with egg on your face!
The show, BTW, was excellent - and Rick will do another one tomorrow at 2PM, followed by a talkback.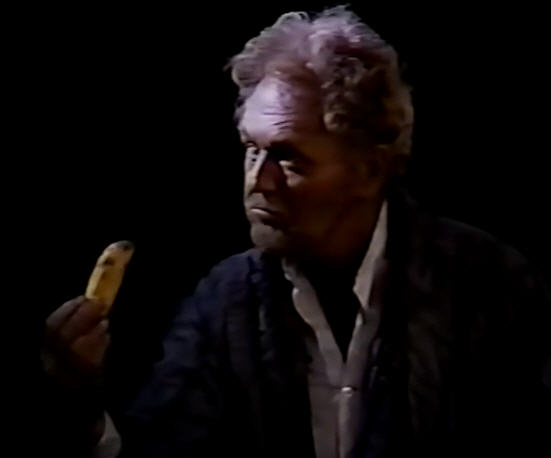 That ought to be very interesting. "Godot" was at 7PM tonight, followed by a talkback, which was fun. It's the only time Ted gets out fast! (LOL!) Wanda and I saw the brace Ted wears to do Lucky. One of those rubber things with steel on the sides. I said I bet he got hot in it - he said definitely. I said: "I'd say it would burn off those love handles, but you don't even have any!" Ted said: "Oh if you get close enough, there's something to grab onto!" I said: "Not love handles!" and we laughed. Ted said he didn't come out with us for Conor's send-off last night, or go to today's Brown Bag because he was handling LA business again. He's making another overnight trip to LA tomorrow after the show and will come back Friday - as "Godot" is on everyday until close on Sunday. I told him to be careful he didn't tire himself out driving back and forth and he said something like: "Not a workhorse like me!".
Wanda and I got hugs, and then we all left, because we have an early day tomorrow. Wanda and I took a quick trip to Carrows to grab something light and then I came back here to post quickly and turn in. Tomorrow I am House Managing a SOLD OUT "GODOT" - and it is a 10AM SCHOOL MATINEE!!! OY! Ted says he's never done one of these before. I've seen them, but none of us knows how old the kids are. To boot - we aren't selling bottled water, we're pouring it in paper cups. Clean-up ought to be HELL! I'm picking up valium on the way down (LOL!). Challenges, challenges. We also have another Brown Bag: "A Solitary Life" with Porter Abbott, Walter Asmus and Patricia Troxell, the aforementioned 2PM "Krapp's Last Tape", a 5:30 film - "Endgame", an 8PM "Godot" and a 10PM film(s): "Play" and "Krapp's Last Tape". WHEW!!! Well it's all in a day's work at RTC! LOL! More tomorrow.
Love,
Cindi :)

Back to Waiting For Godot - BeckettFest