THE LATEST ON THE RASPUTIN PRODUCTION PROGRESS!!!!!


8/11/05

FINALLY - something visual!!!

The latest word from Kathy Herder:

8/9/05

Dear Fans,

We would like to announce the release of the fifteen minute Rasputin video on the website. It is not recommended for dial up users. DSL connections or higher will be able to view this video by going directly to this link:

www.rasputinthemusical.com/RazMovie.htm

You may add this link on your website. Feel free to pass this e-mail along to fans, friends or others who may be interested in Rasputin.

Nasdrovia, LLC


1035 E. Woodland Ave., Suite 2


Springfield , PA 19064


USA



Phone: 1-866-RASPUTIN

7/5/05

With Kathy Herder's and Michael Rapp's knowledge and permission:

6/20/05

Cindi,

Michael said you can post post Anthony's and Sue's note as it is the truth - and you can post your comments about signing up at the Forrest Theatre.

I have no other comments I'd like to share at this time.

Kathy

I previously posted the information Matushka/Spanish Sue (suxana34@hotmail.com) received about the current status of Rasputin here, in an e-mail she had received from Anthony DiBenedetto on June 16, 2005, but at her request, I've removed it. The e-mail, to summarize, basically stated that while they are still looking to raise some more money, the play is not dead, but right now it is asleep, and, hopefully, it will "awaken soon". So, keep in mind that this show is still being very actively worked on, regardless of it's current status, and we may see it yet! I have left her e-mail with the comments from the Forrest Theatre, so you can read what they've said on the project. Thanks, Sue, for your efforts.

- - - - - - - - -

6/15/05

hello all :**

Few days ago, I wrote to the Forrest Theater asking for Rasputin. Here´s my message and their answer (I have just to receive it)

----------------------------- Original Message ----------------------------------

From: sgoni@soluziona.com

Date: Mon, 13 Jun 2005 18:43:00 +0200

Hello

I would like to know if you have any date for Rasputin The Musical´s performance, by Michael Rapp.

Thank you very much in advance

susana


FORREST THEATRE'S RESPONSE:


Susana,

Thanks for your inquiry. Unfortunately there are no immediate plans to present Rasputin. Apparently the producers are still trying to raise the money.

Forrest Theatre Customer Service

- - - - - - -

Now, we all know that there are certain plans, etal. being worked on and/or already in motion to get Raz to become a reality sooner, rather than later, and I didn't post the above to quash anyone's efforts, only to keep those who weren't aware already of the current status. Hopefully, things will move forward again very soon!


2/27/04

At last, there is a light at the end of a LONG, long tunnel!!!

Here is Kathy Herder's 2/27/05 e-mail on the latest Rasputin developments:

Sent: Sun 2/27/05 - 3:12PM
From: Kathy Herder: (klherder@sbcglobal.net)
To: ted-neeley@yahoogroups.com
Subject: [ted-neeley] Rasputin is coming

Dear Ladies and Gentlemen,

So glad to hear that some of you have enjoyed the Philadelphia Inquirer newspaper article in the Arts & Entertainment section released today. Yes, we have had meetings with Moscow's Bolshoi Ballet and hope to bring them on board. The show is set to open late fall in Philadelphia and no show dates have been released as of date. We are very excited about the progress Rasputin and we know that some of you have waited a long time for this show. Rasputin is almost here!

I know a lot of you have websites for Ted Neeley which mention Rasputin. Officially I must place a note here in this Ted Neeley venue on behalf of Rasputin. The article which you have read, cannot be reproduced or photos from the newspaper article scanned and used on any website due to copyright legality issues. I must instruct you to provide only the following:

Philadelphia Inquirer

Can't Keep Good Mystic Down

Released February 27, 2005

http://www.philly.com/mld/inquirer/entertainment/10989998.htm?1c

I look forward to staying in touch as Rasputin progresses. We will be adding some new things to the website soon. So mark your favorites and come see us soon at: www.rasputinthemusical.com

In the meantime I want to thank everyone for their continued support and patience. Rasputin is coming...

Kind regards,

Kathy Herder

for Rasputin the Musical

You can also see the entire article - with pictures - on the Rasputin website here:

http://www.rasputinthemusical.com/News2.htm




1/20/04
Michael Rapp has put together a WONDERFUL Rasputin montage for all to listen to and enjoy! Click on the Rasputin icon below to be directed to the download page on the Rasputin Website. Enjoy, everyone:
----------------------------------------------------
11/16-17/03
Kathy sent us some great news with the Rasputin Thanksgiving Newsletter, and a further update on MP3:


11/17/03
MP3.com is closing its service on December 2nd and being taken over by C-Net. It's sad that we are loosing this venue - but at least we can say that Rasputin is going out on TOP!!
Kathy


-------------------------
11/16/03
Greetings,
On October 28th at MP3.com Easy Listening\Broadway the top 100 list was released. We are very honored to announce that there were 8 songs appearing in the Top 10.
No. 1 - Kill The Devil

No. 2 - Never Say Die

No. 3 - Peasant Dance

No. 4 - Grand Waltz

No. 5 - The Meeting From Rasputin

No. 6 - Rasputin

No. 7 - Grand Waltz - Heaven Help Us

No. 9 - Prelude to Peasant Dance
We were also No. 1 in Opera and had 2 in the top 5 for the Symphonic MP3.com list as well! We thank each of you for listening and making this possible. Your continued dedication and support is always appreciated.
I'd also like to take this opportunity to mention our special limited time offer. If you met a new friend this year, have a loved one who has not heard our musical, or you simply wore out your copy of the Rasputin 3 Box Set; this is your opportunity to pick it up for Christmas at $35 each with FREE shipping in the USA. To order at this special price, please visit our website:
http://www.rasputinthemusical.com/

If you know of someone who would be interested in our musical, feel free to pass this e-mail on. Significant news regarding the progress of Rasputin is forthcoming and I look forward to sharing it with you. Until then, Happy Holidays to you and your family.
Kind regards & Nasdrovia,
Kathy
Kathy Herder
For Rasputin the Musical
----------------------------------------------------

11/12/03
Received an e-mail from Kathy today with some great Rasputin news today!

Cindi,
I can tell you one thing. Michael and Ted were in heaven two weeks ago today.
8 songs from Rasputin were in the top 10 at MP3.com Easy Listening\Broadway.
I never saw anything like that, so I snagged the page and made a poster of it and framed it. It now hangs in the studio for all to see. Very happy guys right now.
No other news but that!
Kathy

----------------------------------------------------
10/3/03
Ted sent this message to me today in response to Diane's post on the Ozzy Osbourne Rasputin Project she found listed in a Texas newspaper:
October 3, 3003
Hello Cver,

The Ozzie project is the "Ozzie" project and I wish him all good things on his journey. His is not the only piece being developed, written or produced about this material. A new opera, Nicholas and Alexandra, starring Placido Domingo as Rasputin, just had it's world premier in Los Angeles. In a perfect world, having the sole production on a public domain material source might be possible. However, the real world, and certainly that little corner called the entertainment business, thrives on competition.

So, we must be forever grateful as the songs of life fall generously into the souls of the singers and hope we ultimately achieve harmony among all who sing.

Please give my thanks to Diane for her concern and tell her that I grew up reading the Fort Worth Star Telegram.

I hope all is well with you, Cver, and I am glad you are still interested.

Take care,
TN.
----------------------------------------------------
3/2/03 (for 2/28 & 3/1/03)

I've received 2 e-mails from Ted this weekend, in which he mentions the progress on "Rasputin". Those mentions appear below. Enjoy, everyone:
3/1/03:
(part of an e-mail where Ted mentions Rasputin)

March 1, 2003

Good Morning, Cver
,
Rasputin is moving along beautifully. While developing a project of this magnitude, you begin by working on it until you feel you can work with it. Then, you grow into working through it for the best it can be.

And every creative moment of each individual phase is so fulfilling because you see and feel and hear the results each day. I could talk on about it for at least twenty pages, easily, but I would rather, simply continue the developmental process in silence, until the production is ready. And then, let the Rasputin project speak for itself through the passion, the power, the pathos, the visual imagery and the visceral dynamics of the story in the music.

Let me just say this. Michael does a magnificent job creating the music. All of the artists deliver their powerful and moving interpretations of the melodies and the words. The dramatic content grows more and more passionate with each turning of the artistic page. Underneath it all, an amazing story actually happened at the turn of the last century, in truth, within the family, as the three hundred year rule of the Romanoff Dynasty fell into destruction, then extinction. The Royal Family, Nicholas and Alexandra, their four amazing daughters, Olga, Tatiana, Marie, and Anastasia and their only son, Alexei, who would have followed in his father's footsteps as Tzar of all Russia, all placed their faith in a very dark, spiritually mysterious confidant, a common peasant priest from Siberia named, Gregori Rasputin, the saint who sinned. In this man, and through his hands on healing through prayer showing a miraculous release of the previously unbearable pain suffered by young Alexei, for the very first time since Alexei was born, the Romanoff Family found hope.

Rasputin gave the Romanoffs a new resolve that none of the great medical minds of the period could reach. Rasputin gave Alexei the will to live on, even though his frail, tortured body was devastated by hemophilia, the incurable disease, carried down by the Mother, Alexandra and passed on to the male child, Alexei.

In the end, I believe anyone who sees the production will walk away, having felt a powerful and emotional connection with at least one element of Rasputin.

Until we speak again,
I wish you well.
TN.


2/28/03

Hello Cver,
Rasputin is moving along beautifully. Each new day
brings us one step closer to finalizing the powerful
developmental period, and moving into our pre-production
rehearsal phase. I look forward to every new moment
of artistic growth as we carefully continue on this
wonderful creative journey of discovery!
What an amazing experience! How fortunate
I am to be a part of such a fulfilling process!
Thank you again, for all you do.
Warm regards, TN.
----------------------------------------------------
7/12/02
MY CD ARRIVED TODAY!!!
Everyone, I HIGHLY recommend this GLORIOUS CD!!! I cannot say enough about how INCREDIBLY FAR "Rasputin" has come since the showcase in Wilmington! Here is the principal cast, as listed in the libretto that comes with the CD:
Rasputin............................................................ Ted Neeley
Narrator............................................................ John Hurt
Alexandra......................................................... Amanda McBroom
Nicholas............................................................ James O'Neil
Alexei............................................................... Ross Ramone
Olga.................................................................. Sarah Gliko
Tatiana............................................................. Katie Walsh
Marie............................................................... Tracy Stephens
Anastasia......................................................... Krissy Doyle
Prince Yusupov................................................ Bradley Dean
Dr. Botkin........................................................ Christopher Carey
Rebel................................................................ Anthony DiBenedetto
Mysterious lady / Peasant Girl....................... Christine Rea
Derevenko....................................................... Larry Friedman
As we were told, the recording is a triple CD. The libretto divides the pieces and CD's by color. The first CD is Gold, the second Green and the third Purple. Here is the list of pieces, per the libretto, which, by the way, is beautifully done:
| | | |
| --- | --- | --- |
| GOLD CD | GREEN CD | PURPLE CD |
| 1 - The Assassination | 1 - Eternity / Prelude | 1 - Prelude |
| 2 - Grand Waltz / Heaven Help Us | 2 - Never Say Die | 2 - Because of You |
| 3 - The Meeting | 3 - The Bishop & the Empress | 3 - Prelude |
| 4 - Don't Dress Me In Gray | 4 - God Is Good | 4 - With Every Drop |
| 5 - God Save the Tsar | 5 - Let's All Move to Siberia | 5 - Kill The Devil With a Kiss |
| 6 - We'd Rather Die | 6 - Prelude | 6 - Blood On your Hands |
| 7 - Tell Me If You Think I'm Russian | 7 - Peasant Dance | 7 - Kill the Devil Too |
| 8 - Never Give Up On You | 8 - How You Gonna Know? | 8 - Rasputin's Death The Letter & Montage |
| 9 - Prelude | 9 - I Owe You | 9 - God Where Are You Now? |
| 10 - Father Gregory | 10 - They Must Never Know | 10 - Epilogue |
| 11 - Prelude | 11 - Prelude | 11 - The Other Side |
| 12 - Sweeter When Love Is Secret | 12 - Nasdrovia! | Bonus - Eternity Too |
Even for those of us who were fortunate enough to see the Wilmington Showcase, this CD is much further developed, and makes for quite an "educating" and "entertaining" listening experience. IF YOU HAVE NOT YET ORDERED THIS MASTERPIECE, ORDER IT ASAP! YOU WILL BE MORE THAN GLAD YOU DID!
----------------------------------------------------
6/18/02 & 6/28/02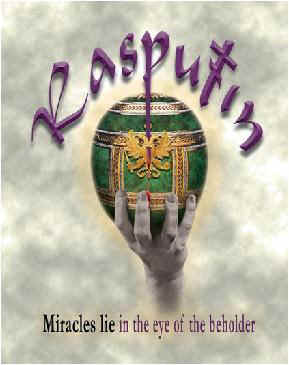 used with permission by Michael Rapp
www.rasputinthemusical.com

Received the following e-mail announcements from RazMaTaz!
6/28/02
Dear Fans of Jesus Christ Superstar,
We have taken the liberty of sending you this email to make you aware of an extraordinary new work starring Ted Neeley from Jesus Christ Superstar, international film star John Hurt (Elephant Man, Alien, Harry Potter) and Amanda McBroom (The Rose), entitled RASPUTIN. We are announcing the release of the Triple CD Box Set with full Libretto.
For those of you familiar with the reunion tour the CD also features:
James O'Neil - (Pilot)
Christine Rae - (Mary)
Chris Carey - (Caiphas)
Anthony DiBenedetto - (Simon) and
Larry Friedman - (Annas)
Click below for more information and to order your personal copy.
Thank you for your interest and enjoy the music!
Kind regards,
The Rasputin Company
6/18/02

Greetings Dear friends,

It is a pleasure to send you some very exciting news. After a great amount of hard work, time, effort, energy, patience and the talents of many,
the RASPUTIN CD is complete!
We are also proud to announce that we have international film star,
John Hurt as our narrator.
http://www.rasputinthemusical.com/CDOrder.html
Kind regards,
The Rasputin Company
----------------------------------------------------
6/5/02
AT LAST - IT'S HERE!!! Many of you have already received Kathy's e-mail, and/or the special snail mail "Rasputin" postcard (it arrived on 6/6). In case you haven't, here is the e-mail I received from Kathy on 6/5/02:

Greetings friends,

The time has arrived! The triple CD Rasputin starring Ted Neeley is complete and available now. You'll be getting a e-mail from our new store front RazMaTaz@rasputinthemusical.com that will allow secure encrypted ordering. We have also set up a toll free number and mail orders will be accepted as well.

At this time -- if you are living outside the United States please use the alternative ordering methods as noted inside the store.

Look for the newsletter arriving in your mailbox from RazMaTaz!
Rasputin has arrived....

Kind regards,
Kathy Herder
----------------------------------------------------
2/2/02
In a related note to the 11/21/01 post below, Kathy has been receiving numerous questions concerning Michael Rapp's new CD release of "Uncle G" and it's connection with "Rasputin". Here is the official statement on this project from Kathy:
"In regard to Michael Rapp's release of Uncle G, it is imperative that it be understood that this comedy was written in 1994 and the project was already finished prior to Rasputin. It is not a "musical project" and Michael spent NO TIME on it other than put this comedy on CD format. Although Ted is a fan of it, it was nothing he would be involved in. Artists have projects that they are involved in separately and jointly. Uncle G is such a project that was written and performed solely by Michael Rapp.

Concerning Rasputin news, we are hoping to have it released in February or March."
----------------------------------------------------

11/21/01
Received this message from Kathy today:
In a message dated 11/20/2001 5:22:37 PM Pacific Standard Time, Michael Rapp writes:



Raz will be different from anything in its genre and will probably be a triple CD. A long process worth waiting for.
At your earliest convenience, if you haven't done so recently, we're asking that you please respond back to RpCtyMusic@aol.com in providing us with your name and address to prepare for the release of Rasputin. This is needed to update our address book to prepare our system for mailing labels. Also in case you change your e-mail address we would still like to stay in touch with you.
Ted and Michael will take a break to spend Thanksgiving with their families. We hope that you will do the same. Be well, travel safe, enjoy your holiday, pray for world peace, hope in all good things and Rasputin is coming.....
Kind regards & Happy Thanksgiving!
Kathy Herder
----------------------------------------------------

7/22/01
I have had some further messages on Rasputin from Ted. Basically, he states that the project is "growing beautifully", and that he will let me know when the Project/CD is nearing completion. Until then, however, there are no official plans/dates/anything that have been set. Kathy sent out a Rasputin newsletter on Friday (7/20) basically saying the same thing. As soon as one of us hears, so will all of you - PROMISE!

----------------------------------------------------

5/3/01
I received a short message from Kathy today, in response to my inquiry about Rasputin's recording progress. Kathy basically said: "No news yet. I know that Michael and Ted are still in the studio recording and mixing is to start soon. I know everyone is anxious for the CD to come out, but I know how Michael is and Ted as well that they won't put anything out until it's ready. News will be released soon." Also, some of you have asked me where Rasputin is being recorded. Kathy informed me that it is being recorded in Philadelphia, PA.


So guys - once the CD is finished, and if this concert tour does come to pass as planned, we may all see each other - and Ted - sooner than we think! Again, Michael and Ted, and/or Kathy will let us know any news as soon as it becomes available, but until then, let's keep our fingers crossed!!!!!
----------------------------------------------------

3/4/01
I received this short message from Ted today, with a quick Rasputin mention:
Hi, C

Thank you for forwarding the information about my friend Bill Auvenshine from Diane Barnes in the Hillsboro, Texas area. If you get the chance, please thank her for me. (NOTE: PER DIANE'S LIST E-MAIL, DR. AUVENSHINE WAS TED'S high school band director. He's now the president of Hill College in Hillsboro. THANKS DIANE).

Rasputin and I have become the best of friends. After all, that is where I have spent the lions share of my time since we last talked, face to face.

I hope all is well with you.
Take care.
TN.


And this message from Kathy:
Good evening friends,

It's been awhile since I've written and wanted you to know that you haven't been forgotten. Just to let you know, Michael Rapp is still in the studio recording the double CD Rasputin starring Ted Neeley. Some key players have completed recording with several parts still in the works. Recording a musical of this magnitude is a very complex task and your continued support is greatly appreciated. The release of Rasputin is still forthcoming and as soon as a date is available, you will be promptly notified.

I would like at this time to encourage you to listen to the music at MP3.com. If we each make an effort whenever we can to listen, the money earned at MP3.com goes towards Rasputin. Our efforts together mean, Rasputin will be more sensational and the results will come back to us by what we hear, what we will see, and how we listen to the music that will soon bestow us all.

Here is a link for you to bookmark.

MP3.com - " TED NEELEY AND MICHAEL RAPP
www.MP3.com/neeleyrapp

Many have asked about show\tour dates. No dates have been scheduled and those will be announced following the Rasputin CD release. I will keep in touch with you regarding any pertinent news as it becomes available. Thanks again for your continued support.

Kind regards,
Kathy Herder
----------------------------------------------------
2/21/01
Received this message from Kathy Herder today, when I asked if there was any news on Rasputin to report:
Cindi,

I haven't heard any current news regarding Rasputin which can be posted. At this time Cindi, Michael is not ready to release any new information. As such, all I can say in response to your e-mail is that recording a double CD of this magnitude is a tedious process and there is still much to be done. On behalf of Michael and Ted, I will respond by noting that Rasputin is still in the process of being recorded and the double CD is forthcoming. Thank you for staying in contact and also for your ongoing effort to keep in touch with the fans. With utmost respect, please let the fans know that their ongoing patience and support is very appreciated. As soon as Michael feels comfortable about releasing any current news, he will most certainly let me know. I will pass any news along promptly so that you may forward it to those you are in contact with and post it to your website. Thank you so much Cindi, hope this helps.

Kathy
----------------------------------------------------

2/2/01
Received this message from Kathy Herder today:
Hi,

I hope you didn't think I've forgotten about you. Besides working, I've been busy redesigning my website to reflect more of my artistic endeavors. I would like share with you my HerdMusic website. I think you'll enjoy the new changes. HerdMusic is dedicated to my friend, composer\lyricist Michael Rapp and his music, and also features Ted Neeley and Michael Rapp's current project, Rasputin. For those of you who have my link on web pages, you'll need to update my address if you would please. Also, I would like to extend an invitation that if anyone would like me to link their page -- please send me an e-mail with your URL. Without further adieu, I present:

www.HerdMusic.com

Rasputin is still in the works and soon to be a reality. Currently, Michael Rapp is in the studio recording with an awesome cast of artists. While we're waiting for the release of the double Rasputin CD, you can still listen,
download and order sampler CD's from MP3.com. I ordered a couple of sampler CD's that I'm sending to friends for Valentine's Day who don't own computers. They haven't heard the music yet, so they will be in for a big surprise! For those of you who haven't heard one of your favorite Rasputin songs in a while, stop in and listen -- as I'm sure it would be very appreciated by Ted and Michael.

www.MP3.com/neeleyrapp

I must tell you that I have enjoyed all your letters, keeping in touch with you regarding Ted Neeley and Michael Rapp's progress on Rasputin. I look forward to keeping you informed regarding any new developments as they become available. Right now, not much to report, but I suspect in the months to come that will all change.

Wishing you well, much happiness and my kind regards.

Kathy Herder
----------------------------------------------------

1/30/01
I began corresponding with Debbie Friedman on 1/23/01. Here's some of what she reports is happening: (NOTE: All her flattery is very sweet, but don't worry, I haven't let it go to my head (LOL!) - after all, without Ted, where would ANY of us be?)
1/23/01
Dear Cindi,
This is Debbie Friedman (Larry's wife). (NOTE: For those who don't know, Larry played Annas in the JCS tour) I just discovered your web site and wanted to let you know that it is wonderful! I have already told Michael Rapp about it and I will be letting Teddy know as well. It is so thorough and written with such heart! I hope that you do not take offense to this, but I noticed an error that was actually not yours, just quoted by you. (This was the Amanda McBroom quote I mentioned above) Teddy is starring in, and serving in Producer capacity for the moment for Rasputin. He did not however, write the show. Michael Rapp wrote the book, all of the music and lyrics. If you wouldn't mind making the correction Michael and Ted would appreciate it. I am the one contacting you because I am the Production Assistant for the show. Thank you again for all your hard work and continued support. If you have any other questions please do not hesitate to write.
Sincerely:
Debbie Friedman

1/25/01
Hi Cindi,
Your attitude and enthusiasm are wonderful. I understand where the error derived from and we appreciate the fact that you corrected it so quickly.
We have been in the studio working on the double CD for the last couple of months. The concert tour is still in the works, no definite dates as of yet.
However, yesterday we had 12 songs in the top 32 on MP3 which is absolutely unheard of!!!!!!!!!!
In addition, due to the status of "Blood On Your Hands", currently #19, it crossed over to the Easy Listening Charts!!

(NOTE: Per Debbie on 1/30/01):
"All the stats have changed. They change on a daily basis.
So the information I sent is now "out of date". However, the more people that download the songs and purchase them, the more attention we bring to ourselves and the higher we stay in the ratings.".)
We are asking as many people as possible to purchase the $5.95 CD's from as many sources (computers) as possible. This will help us mount the concert tour! It is better to buy "Blood" on Easy Listening.
Thank you again for all your help!
Debbie Friedman

----------------------------------------------------

1/4/01
Anyone on Ted's e-mail list saw Kat Campbell's message today. It seems that Amanda McBroom posted this little item on her website "Gossip and Goodies Page": http://www.amcbroom.com/gossip.html:
"...My latest excitement has been to become involved in a new musical project written and performed by my friend Teddy Neeley. (NOTE: Debbie Friedman (Larry's (JCS' Annas) wife and the Production Assistant for "Rasputin") very kindly sent me an e-mail today (1/23/01) pointing out this error (see additional info posted below). Ted is starring in, and serving in Producer capacity for the moment for, Rasputin. He did not however, write the show. Michael Rapp wrote the book, all of the music and lyrics.) You know... THE Jesus in "Superstar" and an idol of mine forever. Every woman I know loves what happens to his neck when he sings that high stuff.
Well, he has written a new musical with his friend Michael Rapp about Rasputin (again, Michael wrote the music and lyrics, Ted is, of course, in the title role), and they have recorded a CD and asked me to sing Empress Alexandra! Which I did. Which was great. And they are planning a concert version to perform around the country next year. Yahoo... on the road again with some truly exciting music. Russian! Yummm!" (NOTE: Per Kathy Herder also today (1/23/01) this statement by Amanda was not cleared with Ted or Michael Rapp, and is not meant to be an official information release on Rasputin plans. Kathy has said that Michael has heard that there are rumo<![if !vml]>
<![endif]>rs going around about show dates, and wants it made know to all that ABSOLUTELY NO DATES HAVE BEEN SET FOR A CONCERT TOUR OF RASPUTIN AT THIS TIME. Michael and Ted will tell us any news as soon as it becomes available.)
Says Kat: "Amanda is a wonderful artist and a great friend of Ted's. We met this past summer after her show in Hollywood and she was absolutely charming. I recommend her music to all."

For those of you who may not recognize Amanda's name, you will probably recognize one of her many compositions. Amanda wrote "The Rose", recorded by Bette Midler and used as the opening and closing theme song in her movie of the same name.


----------------------------------------------------

12/18/00 (12:36AM EST):
This message came from Kathy Herder today, and reminded me that at this very moment last year, I was sitting in the lobby of The Grand Opera House in Wilmington waiting patiently to say hi to our Teddie Joe and get my Tedhug. What a wonderful night that was! Anyway, here's Kathy's message:
Hi Everybody,

Hard to believe its been a year ago today since Michael Rapp and Ted Neeley presented a special showcase of Rasputin in Wilmington, Delaware. For some of you it was deciding the perfect outfit to wear and not knowing what to expect. For those of you in the show it was preparing with a dress rehearsal\sound check or related task. Most of you proclaimed it was "the
opportunity of a lifetime." Even though I couldn't be there last December, I had no idea how much my life was going to change that night.

To my surprise I started getting e-mail from wonderful people who had attended or participated in the show. I loved the stories that followed, even several weeks after the show and the notes from one most loyal soldier with pictures too, Michael's new nickname, "Slippery," because he never stayed in one place long enough to get an autograph. There was the incident about a missing poster which turned up later that evening and was graciously autographed for a fan. I have saved every e-mail and have enjoyed reading them again.

When Michael sent me pictures of the show for the Rasputin The Musical website a few months ago, I spent days just gazing at them. The one photo that stands out in my mind today, is of the standing ovation from the back of the auditorium. Michael and Ted had a hit on their hands and it is plainly evident in that picture. Each of you played a tremendous part in how happy
Michael and Ted felt that night. New friendships began as a result of Rasputin and writing to you to let you know how the Rasputin project is progressing has been a tremendous joy. On the anniversary of the special presentation of Rasputin, it's only fitting that I take this moment to say "Thank You!

In this blessed season, we are grateful to those who have supported Rasputin, thankful to have a terrific cast in the show last December and currently in the studio as well. Many of us have patiently waited for numerous months, now Rasputin is getting closer to becoming a reality. I can tell you Michael and Ted have appreciated your continued support and thank you as well. There is no doubt in my mind that Michael and Ted will go to their destiny with Rasputin!

If you think the same way and want to do something special to remind Ted and Michael you're still behind them, visit the website, listen to excerpts of Rasputin at MP3.com, or write a Christmas e-mail and remind Ted and Michael of your most treasured Rasputin moment. That would be the most precious gift you could give them this holiday season.

Rasputin The Musical: www.rasputinthemusical.com

MP3.com - " TED NEELEY AND MICHAEL RAPP "
http://www.MP3.com/neeleyrapp

E-mail address for Michael and Ted: RpCtyMusic@aol.com
To each of you, I thank you for a wonderful year and I will continue to keep in touch with you regarding the progress of Rasputin. I hope you have a very Merry Christmas and a Rasputin New Year!

Seasons Greetings,
Kathy Herder
----------------------------------------------------


11/22/00
For those of you not on the Rasputin list (few that may still be left can get on by e-mailing Kathy and Michael at RpCtyMusic@aol.com), this message came from Kathy Herder today:

Dear Friends,

To answer the questions so many of you are asking, the latest scoop on the Rasputin project is that Michael and Ted are working in the studio. The release of this long awaited double CD is still projected for early next year. As of this date, no disclosures have been made about show dates and I suspect I will have no information about which cities the show might be
presented to until after the CD is released.

In regard to newsletters, I realize that some of you have come to enjoy hearing news every month, but it seems I find myself repeating myself. We'd still like you to enjoy MP3 and visit the Rasputin web site when you so desire. Therefore, future newsletters will only be released when there is pertinent information to share. I hope you understand and do know that you
will not be forgotten.

On this occasion I would like to wish you a very Happy Thanksgiving! On behalf of Michael Rapp and Ted Neeley we are very grateful for your well wishes and ongoing support. Travel safe, eat well and best wishes to you and your family this Thanksgiving.

Kind regards,
Kathy Herder
----------------------------------------------------
10/21/00
This message from Michael Rapp and Kathy Herder today:

Dear Friends and Fans,

I am pleased to send you the link to Michael and Ted's newsletter regarding Rasputin.
International: http://www.rasputinthemusical.com/Newsletter.htm

Spasibo (Thanks),

Kathy Herder
AND THIS MESSAGE FROM MICHAEL AND TED - VIA KATHY:

Hi Friends,

It occurred to me that some of you may have deleted the announcement regarding "Rasputin" which was sent under RpCtyMusic@aol.com on October 21st - because it was from an unknown screen name. I would like you to know that
RpCtyMusic@aol.com will be the site from which Rasputin info is generated. For those of you who have already seen Rasputin The Musical web site we apologize for the redundancy. Many of us have developed the prudent habit of not opening mail from a source we don't recognize. For those of you who missed the newsletter, I enclose it here:

__________________________________
To My Friends and Fans,

First and foremost, we would like to thank you all for being so supportive through the years, and especially for being patient over the last months as we have worked towards making "Rasputin" a reality. We are pleased to announce we have begun pre-production on the double CD recording and anticipate it will be available sometime after the first of the year.

We would also like to thank Kathy Herder for her wonderful work and devotion to our new website

www.rasputinthemusical.com

We have set up a Contact Address area which can be found on the Links Page at the end of the site. In order that we may keep you informed of new events, please give us YOUR E-MAIL ADDRESS. We encourage you to mail us with your comments. Those who wish to be placed on our reservation list for new double CDs and other related "Rasputin" items, please send us your current MAILING ADDRESS and/or E-mail address. In addition, you can go directly to the music site MP3 to hear musical excerpts from "Rasputin" free, as well as other music created by our team. Again, thank you so very much for your continued support. We are truly grateful and look forward to announcing dates for live performances of "Rasputin".

Sincerely,

Michael Rapp & Ted Neeley

_________________________________________
Thank you for your patience and understanding. Hoping you are doing well and in good spirits.

Spasibo (Thanks),

Kathy Herder


----------------------------------------------------

8/31/00 "Blood On Your Hands" reaches #1 on the MP3 listening chart.

----------------------------------------------------
8/20/00 Excerpts from "Ulysses The Greek Suite" are added to the MP3 site.
http://click.mp3.com/c/o_990/u_artists.mp3s.com/artists/138/_ted_neeley_and_michael_ra.html

International Friends, use: www.MP3.com/neeleyrapp


(NOTE TO ALL: THE NEW MP3'S ADDED TO THIS PAGE ARE AS FOLLOWS:)
ULYSSES: QUASIMODO
1. Greetings From Mount Olympus 1. The Gathering
2. Free Them 2. Like A Miracle
3. Polyphemus 3. Justice
4. Find Yourself 4. The Festival
5. Ithaca
6. Finale
ENJOY EVERYONE, THEY'RE GREAT!
----------------------------------------------------

8/8/00 "Blood On Your Hands" climbs to #4 on the MP3 listening chart.
http://regions.mp3.com/regions/songs/north_america/usa/pennsylvania/philadelphia/brookhaven/

MP3.com > North America > USA > Pennsylvania > Philadelphia > Brookhaven

----------------------------------------------------

8/5/00
A very special DAM CD was made available for purchase at the MP3 site - featuring the following music from Rasputin and a second work by Michael Rapp: Quasimodo, Prince of Fools:
1 RASPUTIN - BLOOD ON YOUR HANDS

2 RASPUTIN - GRAND WALTZ

3 RASPUTIN - NASDROVIA

4 QUASIMODO - THE GATHERING

5 QUASIMODO - THE FESTIVAL

6 QUASIMODO - JUSTICE

7 QUASIMODO - LIKE A MIRACLE
8 RASPUTIN - WITH EVERY DROP
The CD is still available for order at: www.MP3.com/neeleyrapp.
International Fans please use this address:


(NOTE TO ALL: THE CD IS GREAT. IT INCLUDES A PICTURE OF THE REAL
RASPUTIN, A SONG LIST WITH HISTORY, AND FULL CREDITS, ALL OF WHICH
APPEAR ON YOUR COMPUTER SCREEN - IF YOU'RE PLAYING IT ON YOUR
DISK DRIVE.. ALSO NEW ON THE MP3.COM RASPUTIN PAGE IS A PICTURE
OF TED AS RASPUTIN, WHICH APPEARS BELOW. I HIGHLY RECOMMEND
THIS CD, IT'S REALLY GOOD LISTENING.)

----------------------------------------------------
7/27/00 The new MP3 Rasputin site is officially launched: www.MP3.com/neeleyrapp***
*** NOTE: When MP3.com shut down at the end of 2003, this Rasputin page was discontinued, but the accolades are still impressive.
----------------------------------------------------
3/2/00
On 3/2/00, Kathy posted the following to The List:
"Dear Friends,
Still no word on a release date for the Rasputin CD. Michael Rapp and Ted Neeley are working diligently trying to complete this project. Both are aware how anxious we all are to hear the new music...and they appreciate our patience. Everyone who wrote to Ted and Michael, your letters and kind sentiments were appreciated and have been forwarded as promised. Keep those notes coming and let's cheer these guys on! Thanks again for all your e-mail and your warm words of encouragement to Ted and Michael. Best wishes to all and let's all raise our glasses to the sky and sing... Nasdrovia!"