A review from Betsy's View - 12/18/11
http://www.betsysview.com/2011/12/whats-the-buzz-ted-neeley-and-jesus-christ-superstar-have-heaven-on-their-minds-in-park-city/


What's the Buzz? Ted Neeley and Jesus Christ Superstar Have Heaven on Their Minds in Park City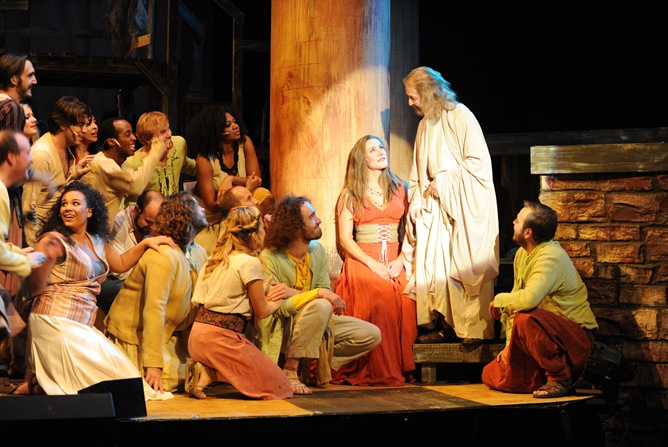 I don't remember a time in my life when I didn't know the words to Jesus Christ Superstar (JCS). As a child, it was one of my mom's favorite albums, and was played frequently in my house. I knew all the words and I loved singing Mary Magdalene's I Don't Know How To Love Him. It also cursed me, because if I ever got that tune in my head, it would literally stay there for days, no matter how hard I tried to get rid of it. As I grew older, I didn't sing or think of JCS much because of this curse. Better to not think of it than to hum that one song for days on end. Luckily, I grew out of that in my 30s and came back to loving, humming, and singing the songs without being haunted by them.
If you love the soundtrack to Andrew Lloyd Webber's Jesus Christ Superstar, then you probably won't find it strange to hear that the music is so engaging that I usually press play on my MP3 player as I step onto the elliptical trainer at the gym. It starts out slow and steady with the Overture for my warm up, then quickly moves me into a heart pounding Heaven on Their Minds. My favorite JCS album is the 20th Anniversary Cast Recording, and I usually play the whole album through its ups and downs right until the very end before I move onto another machine. Because I've seen the movie a dozen times, I see the events unfold from song to song, and it's almost as if I'm watching the movie again.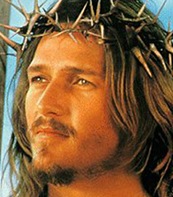 As much as I've connected with the soundtrack, it's the movie that has been so memorable to me these past 35 years.
I was just four when it was released, but I saw it plenty of times growing up. There are so many memorable moments
in the film, but the one constant, as it should be, is Ted Neeley as Jesus Christ.
For more than three decades, he has been the face of Christ for me. Of course I know that Ted Neeley is an actor. But his image in the movie is similar to most images and paintings that we see of Jesus, so when I think of Jesus, I tend to think immediately of the way Ted Neeley portrayed him in the film. To me, that's not a bad thing at all.
About five years ago, I was in Boston and I ran across an ad that said that Jesus Christ Superstar was touring with
Ted Neeley as Jesus. I nearly flipped out. How could it be? Thirty years later, he's still playing the role? Wow.
Unfortunately, that tour was ending and was apparently a farewell tour and I had lost my chance to see it. Funny
thing about farewell tours; they're only farewell tours until someone decides it's time for a revival. Lucky for me,
revival time is right now, in Park City, Utah.
I was pretty excited to be seeing Ted Neeley in Jesus Christ Superstar, and I was fortunate to have a friend with me who might have been even more excited than I was. Looking through the cast list, I was surprised to find Kate Smith in the role of Mary Magdalene. Last year, I saw Kate in Dialogues of the Carmelites and really loved her. I was thrilled that she was cast in this amazing role next to Ted Neeley!
As the lights dimmed and the cast ran up to the stage and danced around, there was a ton of energy in the room! The actors and dancers were young and excited, but they seemed to lack a little refinement. There were some microphone issues where we couldn't hear all of the singing, and there was a clear imbalance as the band overpowered the singers. Then Jesus appeared and all was forgiven.
The moment Ted Neeley walked on stage, you could feel everyone's excitement. And when the 68-year old sang his first lines? Amazing! Any concerns I had about his aging voice were immediately dispelled. He commanded the stage with both his presence and voice, and I felt lucky to be able to see him. I eagerly anticipated every time he opened his mouth to sing.
While there were disappointments with some vocals and solo instrumentals from the band, there were moments in the show that couldn't have been better. Every vocal from Ted was stellar. Every note and every gesture were pretty perfect. As Act 2 began, it was almost as if it were a different show. Last Supper was well acted and well sung, followed by an intense Argument between Jesus and Carleton Bluford's Judas Iscariot.But the most anticipated song was yet to come.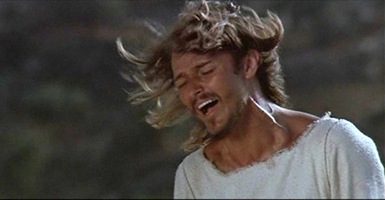 Gethsemane has been my favorite song from JCS since I can remember. The lyrics are evocative and emotional and to hear Ted Neeley sing this live was a dream come true. No one can feel its power or embody Jesus' pain, doubt, or resolve more than Ted who has performed this some 3,000 times throughout his career. It was a moment, and if you need but one reason to see Jesus Christ Superstar in Park City, this is it. And it's the reason that I'll be going back to see it once more before it ends.
Stand out performances included every scene with Randy Barton as Pontius Pilate, and Jonathan Scott McBride's shocking performance as Herod in Herod's Song. Trial & 39 Lashes wasn't pretty, and it was powerfully acted by Ted Neeley. You could have heard a pin drop during Crucifixion as Jesus, clothed only in a loin cloth and bathed in light on the cross, exhaled his last breath.
There were a few odd moments during the show, including the overzealous fog machine during the scene with lepers, where audience members were fanning away the fog and covering their mouths and eyes, and the Superstar scene was just bizarre with angles hanging on huge hoops that were far too large for the stage. That was a bit of a mess. My hope is that these things, as well as the microphone and balance issues will be resolved quickly and by the time I return for my second performance.
After the show, Ted Neeley appeared in the lobby for a meet and greet to talk with people, sign autographs and pose for pictures. I didn't plan to have a photo, but I got more and more excited to meet Ted in person, so I was happy to have that moment captured for my memory. Ted talked with each person softly and attentively, and you could tell that he respected and appreciated each person who had come to speak with him.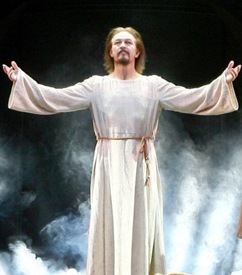 When I approached Ted, I told him how meaningful Jesus Christ Superstar had been to me over the years and how lucky I felt to be able to see him and meet him. He was so gentle and kind. As I started to walk away, I turned back to him and asked him if I could please ask him one thing that had long bothered me. I said, "I don't understand why Jesus doesn't get on the bus at the end". Of course I could speculate, but I've always wondered the real reason. Ted put his hands on my shoulders and quietly said, "I'm so glad you asked me this question."
Ted said that when he took on the role of Jesus, it was essential to both him and Director Norman Jewison that as soon as he stepped off the bus, he became Jesus, and that because he was assuming this role, becoming this person, he would never be getting back on the bus. And then he asked me if I had noticed the 'end' of the movie, and I could tell he was referring to something I missed.
Ted said that one thing that has always been difficult for him is that the movie did not include the resurrection of Christ, and it was something that pained him this same night as the theatre's stage did not allow for his ascension. And he said, 'next time you watch the movie, right at the end, as the bus jerks away and Judas looks off into the sunset, the camera pans to the sunset and the crosses. You will notice movement across the bottom of the screen. Look closely, and you will see it is a shepherd walking across the desert. It was not planned and we only knew about it once we saw the reel." He then said, "I have goose bumps right now, thinking about it, and sharing this with you. It was truly unplanned".
I had asked one question that had bothered me since the day I first saw the film, and finally, I had the answer, straight from Ted Neeley himself. What a gift! I feel incredibly blessed to have had this opportunity to see Jesus Christ Superstar. I could see any performance of JCS, but to see it with Ted Neeley as Jesus is a unique experience that I likely won't have again. I will be going back to the Egyptian Theatre to see it once more, and surely Gethsemane will be my favorite moment again. If you have the same passion that I have for the movie and Ted Neeley's performance, you'll want to go see it too.
Jesus Christ Superstar runs through December 31st. For tickets, contact the Egyptian Theatre.
Cast photos courtesy Egyptian Theatre.