Thu 9/23/2004 3:27 AM
BECKETTFEST DAY 5 - AND THE RTC TEDDY/ROBIN BIRTHDAY PARTY

Today was a relatively quiet day - most of the day. I think my body finally figured out what time zone it's in. I woke up this morning and IMMEDIATELY wanted to go back to sleep! That means it knows when it's morning. Well - fortunately not much starts here before 10AM - THANK GOD.
Okay, today started with a bang for me. I was dropped off at RTC at 9:30 - though I didn't need to be there until 2PM, but I had no other way in. Tomorrow I will be getting a car from RTC, so this will solve that issue and free me up for later evenings and maybe more fun with our Goodwill Ambassador - God-willing. So, what does one do with too much time on her hands? She starts reorganizing the usher cabinet in the back of the theatre! My good deed for the day. This was followed by a discussion with Brian on stuffers for Cliff DeYoung's show: "In The Works of Samuel Beckett" - and calling Cliff at the Pierpont to get the list of monologues he was doing in his show.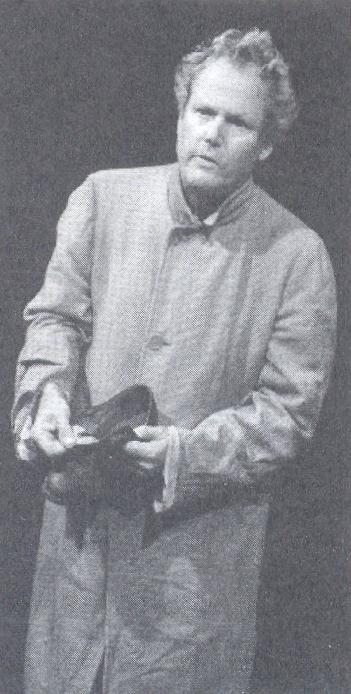 Cliff De Young - In The Works of Samuel Beckett
Then it was upstairs to the paper-cutter to chop the stuffers for the program (glamorous, ain't it? LOL!), and then Karyl Lynn and I drove over to City Hall for the day's Beckett Brown Bag: Directing Beckett on Film - featuring Michael Colgan and Walter Asmus. Joseph was there as well, and I mentioned to him that sometime before I go home I wanted to take a picture with him to put on the website, and he said that he thought it was a lovely idea. Yes, Ted was there too, bright and early, and gave me another Tedhug (great way to start a day!). I sat with him. It was a LONG discussion - and most of the questions got fielded by Michael Colgan - even when they were asked of Walter. The discussion ran so long, Karyl Lynn came over and handed me the car key to drive to the theatre to set up for Cliff's show. Genius that I am, I didn't notice what car we'd driven to City Hall in, and had to go back in to ask her what car I was looking for! She came back out with me, and SHE couldn't remember either initially - because it wasn't her car! LOL! (Made me feel a little less brainless.)
Anyway, I managed to find the theatre, walked in, and Heather in the box office told me that there was no pre-sale for Cliff's show at ALL. A very scary thought. When Karyl Lynn called, I told them to tell her to bring everyone over from City Hall for the show. Then I went upstairs to finish stuffing programs. I ran into Joseph again while I was doing this, and mentioned that I had talked to Jim yesterday about the possibility of sitting in on a rehearsal for Night of the Iguana - since I'll be gone before it opens. He told me when their first run-through was (and, I do have 2 shows that day - but, hopefully there will be a slot to take a peak). For those of you within driving distance, "Iguana" is the first shared production between RTC and the Manitoba Theatre in Canada. It's looking to be a SPECTACULAR show. Along with Joseph, the show features both Stephanie Zimbalist and Efrem Zimbalist, Jr. - in their first time onstage together. I wish I could see the finished product. If you're close by - DON'T MISS IT!
Once the programs were done, I went downstairs to eat a FAST lunch - which amounted to a can of Campbells Soup At Hand. It barely got eaten, because the microwave at RTC is behind a stack of bottled water, and is hard to reach. I reached for the soup, the cup slipped, the cap popped off and - boom - all over the microwave! I got the tray out and managed to pour about 2/3's of the soup off the tray and back into the can - but imagine me crawling over the stack of water bottles with paper towels trying to clean out a microwave I could barely reach (LOL!). Anyway, I got down what I could and grabbed a bag of potato chips, heading out of the room - and who should be right outside the door going in? Teddie Joe! He said: "Oh, you're trying to eat on the run too? I can get you something, if you like. I keep these here - so feel free to take one anytime you like." The "these" in question were canned Target shakes that are similar to SlimFast. I said: "Are you sure?" and he said, "Of course. I can't eat before a show, and this gives you all the vitamins you need." I said thank you, and he handed me a can. So we both popped the tops off the cans and we toasted and he said: "Here's looking at you!" and I said "Here's looking at you right back!" They're pretty good, BTW. I asked him how the rest of the brown bag went and he said - same as what you saw. (Long and Michael did a LOT of talking.) Then I got called upstairs to open the house.
By the grace of God, 22 people showed up and Cliff had an audience. It was an excellent show, BTW, and I recommend it to anyone in driving distance of RTC.
After the show, Karyl Lynn announced that there was a showing of "Check The Gate" - a documentary on the filming of Beckett's works at the Century movie theatre, and I walked down there. Bill Irwin and Barry McGovern were there - which was great, because this way we got the actor's view on filming Beckett (Barry is in the film "Waiting For Godot"). And both said they were coming to the Godot this evening.
On the way back with Chris (Karyl Lynn's Assistant), we stopped at a drive-thru to pick up a fast dinner, and then Chris told me that the RTC cast/crew and staff were celebrating Ted's and Robin Gammell's birthdays this evening after the show (Robin's 63rd birthday is today). They bought a carrot cake for the occasion (anyone who sees the show knows that there is a whole exchange where Robin ends up eating a carrot - it was a perfect idea - and both Ted and Robin loved it). The party was either going to be in the dressing rooms or in the rehearsal hall - and was a surprise. Chris also told me that Bill Irwin will be playing George in Who's Afraid of Virginia Woolf this fall on Broadway with Kathleen Turner as Martha. It's his first turn as a dramatic actor. We all have our fingers crossed that it makes its first tryout in Boston and gets to NYC. (I told Karyl Lynn at the party that if it didn't, God forbid, she needed to grab it and bring it to RTC!) We had all initially thought that Bill would be playing Nick. He has this baby face and looks young. But he says that George is actually younger than Martha - late 40's early 50's - and Bill can do that onstage as well. (NOTE: Actually, "Woolf" was not Bill's first dramatic turn on B'Way - he had also performed as Martin in "The Goat - or Who Is Sylvia", another Albee play the year before. For those of you who don't know, "Woolf" BTW, was a major success. Bill won the Tony Award for playing George, and the show played 177 performances before closing yesterday (9/4/05). There has been talk of doing the show elsewhere again. I hope they do. I saw the show July 3rd, and talked to Bill afterward. The show was WONDERFUL and Bill was as sweet as ever!) (FURTHER NOTE: "Woolf" did tour some states after it closed on B'Way, and has found an extended life in London! It opened its' engagement there at the Apollo Theatre on January 31, 2006, with the entire original Broadway Cast - including Bill and Kathleen Turner! See photo coverage of the opening here: http://www.broadwayworld.com/viewcolumn.cfm?colid=7415! Okay those of you Tedheads across the channel (yo - Linda?), go see Bill, he's WONDERFUL - and tell him Cindi from RTC's BeckettFest says hello!)
We got back to the theatre to find that Godot was close to sold out (amazing for Beckett in a small town, but then, the reviews have been phenomenal). The audience filed in about half an hour later, and the show went off VERY well. Bill was headed back to the hotel immediately after the show, as he's due to fly out to NYC tomorrow morning. I hated to see him go (and most of RTC hated to see him go as well), and wished him a safe trip, and we said goodbye. All celebrities should be as nice as Bill and/or as sweet as Ted, you know? We just have the best of all worlds at BeckettFest.
The show was followed by a talk-back with Joe, Robin, Cliff, Ted and Walter Asmus (the Director). The audience had some good questions for them, and Robin talked about a blooper that happened tonight when he forgot to kick a stool coming onstage and instead kicked it later. He said it still made perfect sense to him that way - but Walter said he'd been walking outside holding his head at intermission after it happened. Walter is a really nice man. RTC is SO BLESSED to have him here here as part of BeckettFest. He was a colleague of Beckett's and worked VERY CLOSELY with him, so we're all getting the benefit of Beckett's ideas from a direct source and that is a REAL TREAT.
At the end of the talk-back, Karyl Lynn announced that we were celebrating Ted and Robin's birthdays down in the rehearsal hall, and the audience was welcome to join us. They brought the cake into the theatre and we all sang happy birthday. A few audience members came down, but most went home - it was a long night with the talk. Godot is 2-1/2 hours, and the talkback was at least another half hour long.
Ted and Robin were both VERY surprised. We had carrot cake and champagne, and someone brought out a bottle of Guinness so Robin was mixing Black and Tans (Champagne mixed with Guinness). He gave me a sip - and my sinuses were cleared for the night (LOL!). Ted was his usual gracious self, talking to a couple of audience members. When I came over after Robin left, Ted put his arm around me and squeezed while he was talking to the 2 women from the audience, and just kept squeezing for probably 5 minutes. Boy, I could get used to this - seeing this lovely soul everyday. I'm going to HATE to go home when this is over! The party went for awhile, then my lift to go home announced she was ready to leave. Ted had gone down the hall, and on my way out he saw me and said: "Are you heading out?" I said my wheels were leaving, and he gave me another hug goodbye and I said I'd see him tomorrow.
So, here I am, posting everything before the champagne kills whatever consciousness I have left. Wanda, BTW, was at the show tonight, and asked me what day we could try to corral Ted for dinner this week. I told her that either Sunday or Monday looked like possibilities and that I would ask Ted about his schedule when I got the chance. Hopefully, there will be another nice evening to report - I'll let you all know what he says.
Oh, BTW - I got the answer to the kiss question Von raised from Ted. Remember when Von posted that Ted kisses Yvonne at the end of the JCS overture before the crowd closes in on the DVD? I asked Ted if it was scripted - or a foreshadowing of the Jesus/Mary relationship - or the idea of the actors as boyfriend and girlfriend - or a directorial choice.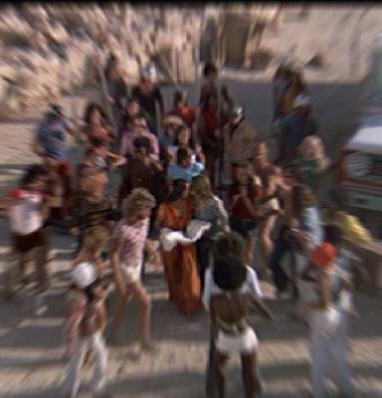 The kiss at the end of the JCS Overture in the 1973 film.
Guess what? We were all wrong. He smiled when I asked him about it, and said that it was simply his own way of showing Yvonne that he cared about his friend. So it was all Ted's doing on his own. Not scripted, foreshadowed, or a director's choice. Is this a surprise? Not for me. Back tomorrow.
Love,
Cindi :)

Back to Waiting For Godot - BeckettFest