Sun 10/3/2004 6:53 AM
BECKETTFEST - DAY 15 - TED GETS WANDA AND ME BACK!

Today was a BUSY day. There were movies at 10AM - but as I had been posting until 5:45AM PST, I could not get moving to see them. I did, however, manage to get to the Brown Bag, which was: "Before and After Beckett: Samuel Beckett's Influence on Pinter, Stoppard, Albee, Mamet and Other Modern Dramatists". Featured panelists were David Payne, Porter Abbott and Moderator Jessica Kubzansky.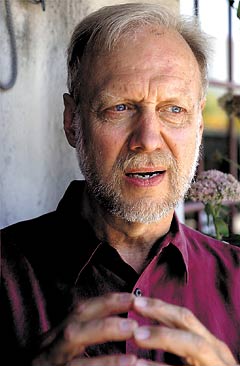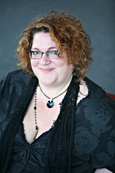 Left to right: David Payne, Porter Abbott & Jessica Kubzansky
The rehearsal space was PACKED (this was one of three brown bags at the theatre rather than at City Hall), and the discussion ended at 1:10. "Godot" was the 2PM matinee - and it went VERY WELL - and had a sold-out house. Janet came down to the show, but couldn't get in - so she waited until after to say hi to Ted. Ted also talked to a couple of women, one of whom (Jenean Bugiada) had a libretto and vinyl record from the 1976 Santa Barbara JCS production.
NOTE: THIS IS THE PRODUCTION ONSTAGE WITH TED, CARL & YVONNE - THE ONE I WAS ASKED ABOUT TO SETTLE THE BET AS TO WHETHER THERE WAS ANOTHER STAGE PRODUCTION AFTER THE FILM WITH ALL 3 OF THEM TOGETHER PRIOR TO THE 25TH ANNIVERSARY TOUR.
Ted looked at me and said: "You've gotta see this!" I came over and saw some of the best shots of Ted in JCS that I've ever seen! Wish I could get copies of it! (NOTE: Thanks to Jenean, I did! The best shots are posted on the JCS page in the "Stage" section) I asked Ted if he was partaking of the Lasagna downstairs and he said maybe, but then I had to run to set up "Happy Days" - so I told him I'd see him later.
NOTE 2: WANDA TOLD ME LATER THAT TWO LIST MEMBERS FROM KANSAS CITY READ MY BECKETTFEST POSTS AND ENDED UP COMING DOWN TO VENTURA FOR TODAY'S MATINEE. SHE SAID HE WAS BLOWN AWAY THAT THEY WOULD DO THAT, BUT DIDN'T SAY WHAT THEIR NAMES WERE, SO, LADIES, I WOULD LOVE TO SAY HELLO IF YOU'RE STILL DOWN HERE - BUT IF NOT, PLEASE E-MAIL ME, OKAY? I'M SO GLAD YOU CAME DOWN! WISH EVERYONE COULD HAVE!
"Godot" came down at 4:30 - and we had "Happy Days" playing at 5:30 - so even though there was a cast dinner today (Lasagna, Salad and Garlic Bread), there was virtually NO TIME to eat it. Hopefully the cast was able to eat - though I know that Ted never eats before a show.
"Happy Days" also went VERY WELL, aside of the umbrella smoking early (the script actually called for the umbrella Winnie uses to catch on fire, but the PD said not a good idea). The umbrella hasn't smoked since opening night. Today tech was determined it was going to work, and really loaded it with what was needed, and it smoked alright, but it started smoking before Robin could open it! But she continued saying her line about adapting to changing conditions while holding a smoking umbrella (NOTE: THE LINE IS: "THE WAY MAN ADAPTS HIMSELF. TO CHANGING CONDITIONS. OH YES, GREAT MERCIES. I SPEAK OF THE TIME WHEN I WAS NOT YET CAUGHT - IN THIS WAY - ") - and we were all falling down laughing.)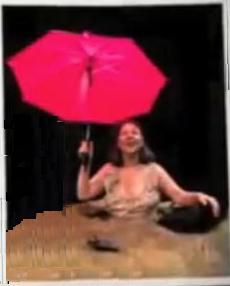 Robin and the infamous umbrella!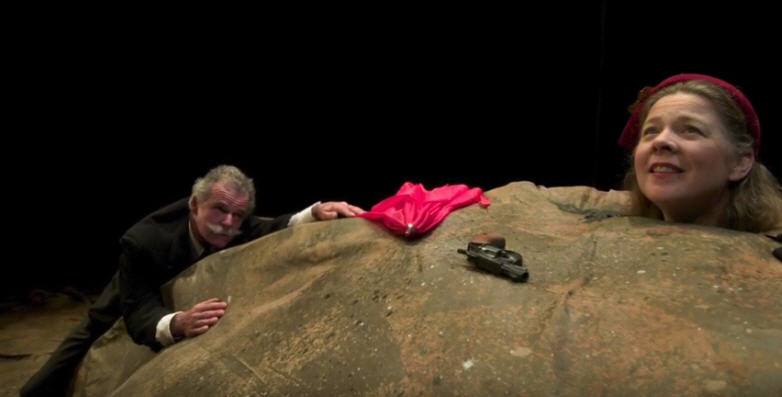 Robin and Rudy performing Happy Days.
There was a talkback after the show, the first one Robin attended. Robin played Winnie in the show, which is about 1-3/4 hours long with 2 acts. Winnie speaks ALL THE TIME! It's like a HUGE monologue. Robin was amazing! Today was her birthday as well, so there was a cake and presents when she came down for the talkback. It was great!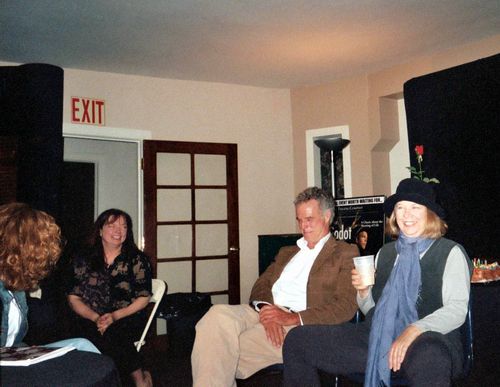 "The Mother of All Talkbacks" - from left: Jenny Sullivan (back to camera),
Karyl Lynn Burns, Rudy Willrich & Robin Pearson Rose
Then it was time for the 8PM "Godot" - also a sellout - but we had some no shows - so we had places. Janet didn't come back - but Wanda said she thought maybe Janet had corralled Ted for a little while, as her car was there through dinner, even though she wasn't.
The evening "Godot" was great - and had one blooper no one would know about unless you'd seen the show before. There is a choreographed hat exchange in Act II where Didi finds Lucky's hat and replaces his hat with it - passing his hat to Gogo, who takes that hat and replaces his hat - passing his hat to Didi - and so-on. It's kind of like a 2-person hat juggling. Eventually Didi ends up with Lucky's hat, and Gogo ends up with his own hat - and then Didi throws the extra hat offstage left. Tonight the hat hit the curtain and remained onstage - so Didi ran to the hat and kicked it the rest of the way offstage. Crowd LOVED it!
After the show, there were some show pics taken - as there were after the matinee as well. While these were going on, Ted came out and Wanda and I got Tedhugs - then Joe and Robin came out with wine and said to Ted: "This is your good wine, get these 2 girls (Wanda and me) some glasses." Ted came back with two plastic cups (no more glasses) and handed one to me - then he asked where his friend Marty (Marty Spear - Director) was. We didn't know, so he went outside to find him - and got sidetracked and didn't come back - but Marty did. When the guys asked where Ted was, I said he'd gone to find his friend Marty - and Marty (who unbeknownst to me was standing right next to me) said: "I'm Marty!" We told him Ted went out the side door - but since he wasn't there, Marty called him on his cell phone.
NOTE: THIS IS THE MARTY SPEAR TED SPOKE ABOUT ON THE JCS COMMENTARY WHEN HE MENTIONED HIS FRIEND MARTY PUTTING THE FAKE BEARD ON HIM WHEN HE WENT FOR HIS FIRST MEETING WITH NORMAN.
Wanda and I decided to get a late dinner, and we drove around trying to find some other place besides Carrows - where we'd eaten twice already - but nothing served dinner after 11PM except Dennys and Carrows so we went to Carrows. (NOTE: THIS PLACE IS STILL OPEN!)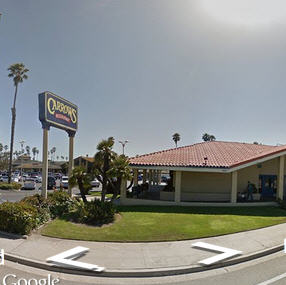 We walked in - and guess who was sitting in a booth looking at menus: Ted and Marty! We stopped long enough to say hi, and say small world, then Ted said that they had gone back to the Westside Cellar (where we'd had dinner last Monday), and they wouldn't serve them any food, so he told them what they could do and they decided to go to Carrows - and we laughed. Then I posed the suggestion that Ted have coffee with Wanda and me before wrap, which he said would work out fine for him. Then we went to our table - around the corner from theirs.
Wanda could see Ted and Marty from where she sat, and I could see them in the window when I looked, so we had a little fun with that for awhile, then settled down to eat (guess everyone has to be a teenager for a minute once in awhile - LOL!).
After dinner was over, Wanda saw Ted and Marty get up to leave, and then Ted came over to our table and said: "As Vladimir says to the child at the end of the show - when he said 'You don't know if you're unhappy or not?', and the boy says he doesn't know: "You're as bad as us (myself).!"" - Then he explained what he meant was that we were out as late as they were - so we were as bad as they were about staying out! I said: "Well, actually, we think our waitress disappeared." We reconfirmed coffee before wrap tomorrow, and then Ted and Marty said goodnight and left. About a minute after they left, our waitress reappeared and said:
"I didn't know if I should tell you while they were still here, but the two gentlemen who just left - took care of your bill."
Wanda and I looked at each other - and she said: "We've gotta go kick his a**!" He got us back for Monday night's dinner! We went out to the parking lot, and Ted was parked right next to Wanda. He and Marty were saying goodnight, and we went over. I said to Ted: "Our waitress told us you paid our bill - you REALLY didn't have to do that!" He said: "I didn't, Marty did." So I thanked Marty - and Marty said: "Well somebody did..." And so I said - well whoever did - you really didn't have to do that - but thank you." They laughed, and Ted hugged us both goodnight and we said goodnight to Marty - who was driving up to LA tonight, and then Wanda took me back to my car, and here I am.
Tomorrow we have a 2PM "Godot", a 5:30 "Rockaby" and "Footfalls" - which Wanda will be at - but probably not Ted - and then a 7:30 Wrap Party - and that will be it for BeckettFest. Hard to believe it will end so fast, I can't let myself think about it now, though, or I won't make it through tomorrow in one piece. So - I'm going to crash - and enjoy tomorrow for ALL IT'S WORTH! More tomorrow.
Love,
Cindi :)

Back to Waiting For Godot - BeckettFest