Jack Oakie Movie Festival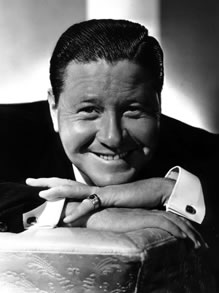 In honor of Jack Oakie and the support of The Jack Oakie & Victoria Horne Oakie Charitable Foundation, Rubicon Theatre Company will be showing two of Jack Oakie's films.

Tuesday, August 14th at 7pm: "Young People," starring Shirley Temple, Jack Oakie and Charlotte Greenwood, about a family who decide to retire from show biz in order to have a normal life.

Wednesday, August 15th at 7pm: "Million Dollar Legs," starring Jack Oakie and W.C. Fields, about a small country on the verge of bankruptcy persuaded to enter the 1932 Los Angeles Olympics as a means of raising money. It is said to quite possible be the funniest movie ever made.

The Showings will be open to the public with a suggested $5 donation
About Jack Oakie
Jack Oakie was one of the most likeable players of the 1930s and '40s. Indeed, he was rarely out of work. Oakie made a total of 87 films from big-budgeted comedies and musicals to B Westerns and football flicks.
Born Lewis Delaney Offield in Sedalia, Missouri, on November 12, 1903, Jack was a natural mimic and wisecracker who began appearing in amateur charity shows, making his professional debut on Broadway in 1923 as a chorus boy in George M. Cohan's Little Nelly Kelly. He learned his trade in a handful of musical comedies including Sharlee (1923), Innocent Eyes (1924), Artists and Models (1925) and Peggy-Ann (1927).

But it was in vaudeville that Jack really came into his own. He toured the country with Lulu McConnell doing up to six shows a day, finally playing the Palace. By 1927, he felt he had gone as far as he could onstage and determined to crash the movies.

Unlike many stage players, Jack hit Hollywood in mid-1927, before the talkie craze hit. He signed with Paramount in 1928 (staying there through 1934), debuting with "The Dummy" that same year. He made an amazing ten films in 1929 alone, surely some kind of record. They included "The Wild Party," the musical "Close Harmony," "Sweetie" and "Let's Go Native."

From the start, Jack was a scene-stealer. While the stars would carry the plotline, Jack would be doing his trademark double (and triple) takes, bellowing out his lines in typical vaudeville style. Like fellow vaudevillians Jimmy Durante, Helen Kane and Joe E. Brown, Jack was not a classical actor; he didn't create characters, he simply uttered his lines as Jack Oakie. That was what directors and audiences wanted—the same reliably funny Jack Oakie from film to film.

Other film credits include "Million Dollar Legs," "Dancers in the Dark", "Alice in Wonderland" (1933) and Clark Gable's gold-mining pal in "Call of the Wild" (1935). The 1940s began auspiciously for Jack, with Charlie Chaplin's "The Great Dictator." His role as Napolini Il, Duce of Bacteria, was a brilliant and very thinly disguised slam at Mussolini, and earned Jack his only Oscar nomination, for Best Supporting Actor.

Jack continued working steadily through the 1940s finishing out the decade in a handful of westerns including "Northwest Stampede," and "Tomahawk." Jack's last high-profile films were the Betty Grable/Dan Dailey musical "When My Baby Smiles at Me" and the fast-moving gangster film "Thieves Highway" (both 1948).

Jack had begun appearing on TV as early as 1950, and turned up on such shows as "Kraft Theater" and "Studio One" (both 1958), "The Real McCoys" (1962) and "Bonanza" (1966). His last professional appearance was on a 1972 Johnny Carson special, with fellow "old-timers" Bette Davis, Ethel Waters, Jerry Colonna and Eddie Foy, Jr. Trimmer than he'd been in years, he boasted his same bright smile and a thick shock of white hair.

Jack's sudden death from an aortic aneurysm on January 23, 1978 came as a great shock to his family and friends. He'd been in great spirits and apparently great health right to the end, socializing and giving interviews. More than 300 people attended his funeral, the eulogy given by Charles "Buddy" Rogers.

Rubicon Theatre Company is so grateful to have the support of the Jack Oakie Foundation and honored to carry on his name. "Thank you, Jack, for reminding us that 'It's all in fun!'"