PRODUCTION/PHOTOS/LINKS

Ted Neeley as Willie Moore
Courtesy of The Rubicon Theatre Company


Left to right: Joseph Fuqua as Henry Davidson, Larry Hagman as Judge Clawson, Ted Neeley as Willie Moore
Courtesy of The Rubicon Theatre Company


Joseph Fuqua as Henry Davidson
Courtesy of The Rubicon Theatre Company


Left to right: Joseph Fuqua as Henry Davidson, Johanna McKay as Mary McCasslin, Larry Hagman as Judge Clawson
Courtesy of The Rubicon Theatre Company
Left to Right: Johanna McKay as Mary McCasslin, Joseph Fuqua as Henry Davidson
Courtesy of The Rubicon Theatre Company

Left to Right: Johanna McKay as Mary McCasslin, Joseph Fuqua as Henry Davidson
Courtesy of Ed Krieger and The Rubicon Theatre Company



Linda Livingston as Blanche and Ted Neeley as Willie Moore
Courtesy of The Rubicon Theatre Company




1006 E. Main Street, Ste. 300, Ventura, CA 93001

Phone (805) 667-2900 ● Fax (805) 677-2903

E-Mail: rubicontheatre@earthlink.net

Webpage address: http://www.rubicontheatre.org/

The Rubicon Theatre Company put on one amazing piece of theatre last summer (2000) from June 1st – July 2nd. Murder in the First was only planned to run through June 25th, but was such a hit that its' run was extended for an additional week. Rather than my trying to explain the plot of the show, and maybe give away too much detail, I am including links about the show. They include reviews and side articles about the individuals who wrote the wonderful music that was used in the background during the performance:

(NOTE: If these, or any other links on my site are not working, please let me know, and I can post the information/articles they contain.).

Here is Playbill On Line's article, dated June 3, 2000, entitled: "Neeley Faces Murder in the First w/Hagman, June 3-25 in L.A."

http://www.playbill.com/news/article/53223.html

Neeley Faces Murder in the First w/Hagman, June 3-25 in L.A.


03 Jun 2000

Jesus Christ Superstar's Ted Neeley stars as an embattled prisoner accused of a capital crime in Murder in the First, Dan Gordon's stage adaptation of his own screenplay, opening June 3 at Ventura's Rubicon Theatre Company. "Dallas"' Larry Hagman makes a guest appearance as Judge Clawson. Linda Gray directs.


Neeley played Jesus in the movie version of "Jesus Christ Superstar," a role he reprised on tour in the mid-90's. Hagman is best known for playing J.R. Ewing on "Dallas," although his many appearances include five years of "I Dream of Jeannie" and the TV version of "Applause" with Lauren Bacall.


Murder in the First chronicles the life of an Alcatraz prisoner on trial for his life and the young public defender (South Coast Repertory's Joseph Fuqua) who befriends him. Together they bring down the federal maximum security prison system and start off the prison reform movement in America. Kevin Bacon won a Screen Actor's Guild Award for his turn as the prisoner who was tortured into almost losing his mind by his warden and the American prison system, in 1995's film version.


Gordon's writing credits include the screenplays to "Wyatt Earp" and the Oscar nominated film, "The Hurricane."


Tickets are $32.50-$27.50. Performances run through June 25. The Laurel Theatre is located at 1006 East Main Street. For reservations, call (805) 667-2900.


-- By Christine Ehren

Below is a copy of a review written by one of our own list members, Kat Campbell. She has allowed me to post this for you, and I am very happy to do so. Kat hits the nail on the head about this show beautifully:

"Every once in a while, a rare piece of theatre comes along that is so exceptional that it takes your breath away. That is the case with the Rubicon Theatre's current effort, "Murder In The First". This first run drama, based on the screenplay by the same name, features a stellar cast, led by Ted Neeley, who may be best known for his portrayal of the title role in the musical "Jesus Christ Superstar".

The story, based on true events, focuses on the inhumane treatment of the men incarcerated at Alcatraz Prison by its prison officials. The play begins as a young lawyer, Henry Davidson, is assigned the case – his very first murder trial. It soon becomes clear to Henry that the reason he was given this case was because it was deemed as hopeless. The prisoner, Willie Moore, had, without a doubt, committed this murder in front of dozens of witnesses. But as Henry reviews the case, he comes to know Willie and becomes convinced that were it not for the savage treatment Willie had received in his years at Alcatraz, he would never have resorted to such an act of violence. It is at this point that Henry makes the decision to enter a plea of innocence for Willie and to take Alcatraz and the US prison system to trial.

Of course, this decision does not sit well with Henry's boss, his fiancée, his brother or the US government. Despite the fact that it seems no one is going to be on his side, Henry proceeds diligently. Throughout his meetings with Willie, Henry comes to see his humanity and even befriend him along the way. More than anything, this is exactly what Willie has wanted all his life -- just to have someone be his friend and for once in his life to do something he could be proud of.

"Murder In The First" is a compelling piece that is moving beyond description. The play's final scenes must be experienced for their effect to be fully realized. But I can tell you that by the time it was over, I had gone through more than a few Kleenex…

Kudos to an amazingly talented cast which included Joseph Fuqua as Henry, Johanna McKay as Mary, Henry's fiancée, Darrell Sandeen as Humson, the warden, and Larry Hagman as the judge, in addition to a number of equally talented supporting players. A more brilliant cast of actors I have yet to see. Of course, the real shining star of the show is Ted Neeley, who brings a quietly beautiful humanity to the character of Willie Moore, and whose performance touched me more deeply than I could ever have imagined possible. "Murder In The First" is a must-see for any theatre aficionado and real coup for the Rubicon.

Kat Campbell


Pending cast and venue availability, tentative plans are in the works to hopefully take this show on the road. (See this link: http://www.cnn.com/TRANSCRIPTS/0006/20/lkl.00.html, from the June 20th, 2000 appearance of Linda Gray and Larry Hagman on the Larry King Show.).

Here is the brief description of the show, as it appeared on Rubicon's site: (http://www.rubicontheatrecompany.org/shows.htm):

"This trenchant and touching tale tells of the friendship between a prisoner condemned to die and the lawyer who defends him. It is based on the inspirational true story of the landmark 1940's trial which marked the beginning of prison reform in America and the end of Alcatraz. Broadway and film actor Ted Neeley, who appeared as Jesus in Rubicon's Jesus Christ Superstar stars. Also featuring Joseph Fuqua."

According to Playwright Dan Gordon's notes in Rubicon's play program, the play is a work of fiction, but it is based on an actual event in 1941 that came to be referred to as "The Trial of Alcatraz. Because of the way this event is relayed in writing, and performed by one of the best ensembles I have ever seen, this show is three hours of the most engrossing theatre you will ever see on a stage.


Here is the list of performers who were in The Rubicon Theatre Company's production of "Murder In The First", as they appear in the theatre program:

Left to right: Joseph Fuqua as Henry Davidson,
Larry Hagman as Judge Clawson, Ted Neeley as Willie Moore
Courtesy of The Rubicon Theatre Company

In order of appearance:

Judge Clawson ............Larry Hagman*
Baliff ........... David Curtis
Mary McCasslin ........... Johanna McKay
Henry Davidson ........... Joseph Fuqua
Henkin ........... Vern Urich
Jailer ........... Tom Bottelsen
Willie Moore ........... Ted Neeley
Bill McNeil ........... Gary Best
Hoolihan ........... Rudolph Willrich
Byron Davidson ........... John Fink
Swenson ............... Tom Zeiher
Harve Bennet ........... George Eskin
Blanche ........... Linda Livingston
Derek Simpson ........... Tom Bottelsen
Milton Glenn ........... Vern Urich
Harold Humson ........... Darrel Sandeen
Jury Foreman ........... Tom Bottelsen

*(on certain nights Judge Clawson was played by the
playwright, Dan Gordon and George Eskin)

This is truly one of the strongest acting ensembles I have ever seen. At the curtain call for the closing performance, director Linda Gray stated: "I was given a piece of sheet music and you all made it a symphony." She could not have said it better. This show held our attention from the minute the lights went down at The Laurel Theatre right through to the curtain call, which was unfailingly a standing ovation at the end of every performance.
One of the best things about the show for me was the chemistry between Ted and Joseph Fuqua. Both of these men are such high-spirited actors, it's like watching fireworks when they are together onstage.
Joseph is onstage for almost the entire show, including all of Ted's scenes, which is a monumental task, and he carries it off brilliantly. All of Henry Davidson's nuances and subtleties are there, not one detail has been left out to show us what an amazing and multi-layered individual Henry was. It is truly a bravura performance. To quote Jim Spencer & Shirley Lorraine of The VCReporter: (June 8, 2000 issue – link not available online)"…On stage for nearly the entire play, Fuqua's innate intelligence and personal charm as a performer convincingly create a credible character whose actions and decisions are wholly believable and not just dramatic bravado. Fuqua is the type of actor about whom, someday in the future, many will proudly say: I saw him when…"
Ted, of course, as we all know, is one phenomenal talent who is always at the top of his game. In this show, Ted shows us a totally new side of his talent. It was the reason he wanted to do this production. Until now, unless we caught some early television appearances in the '70's, or early '80's films, few of us have had the opportunity to see Ted in a straight, dramatic, non-singing role. It is a real treat. As Willie Moore, Ted portrays a man who was made a victim of the system, and who finds the courage to stop being the victim the system made him out to be. The emotions Ted displays as Willie are incredible to watch. To again quote Jim Spencer & Shirley Lorraine of The VCReporter: "In the part of the ill-fated Willie Moore, Ted (Jesus Christ Superstar) Neeley's performance is riveting and mesmerizing. His character's emotions run the gamut from benign to maniacal, while the subtleties of his physical movements and reactions are a study in non-verbal communication." Ted gives a truly astounding performance.
These two actors together onstage are like dynamite ready to blow. It is a wonderful thing to watch them in action together. The rest of the cast is just as strong a unit, making for some of the most entertaining and engrossing theatre you are likely to see for quite some time. Let's hope that plans work out for this production to come to a theatre in your city. You can help this to happen. As I posted to Ted's e-mail list previously, if you would like to see this truly amazing show, you can help by responding to my post below (my thanks to those who have responded, I have already forwarded your suggestions to Ted):

"There is ONE QUICK favor that Ted would like to ask of you, particularly those in the USA. As I mentioned before, Ted is in discussions with his management to tour a future project - hopefully soon. This project MAY be "Murder In The First". Those of you who have seen this show know that it works best in an intimate theatre setting because of its' staging, HOWEVER, the theatre can be larger, of course. Anyway, here is the favor:
Ted would like names and locations of any theatres that are good venue possibilities for "Murder In The First" and/or his next project to be performed in. He needs theatre names/addresses/phone numbers and contacts to try to book his project, so that he can come see as many of his "friends" (i.e. - US, right?) in as many cities as is humanly – or inhumanly - possible.
If you have any suggestions, please e-mail them to me either at this address: (cverbelun@core.com), or at my other e-mail address: (CVerbelun@yahoo.com) (please use the Yahoo address only for theatre venue information), and I will gladly forward them to Ted as soon as I receive them.
Remember guys, the sooner we get Ted the venues, the sooner he can book dates to come see us once his project is ready to roll, so send me your lists ASAP!
Thanks for your help."
---
UPDATE AS OF 8/28/00:
| | |
| --- | --- |
| | HERE'S THE LATEST NEWS: |

Today, when I got home from work, I had a very special message on my answering machine. Ted called me to say that he and the Rubicon Theatre folks have finally selected a picture for me to post on this site to give everyone a really good idea of what Ted looked like in "Murder in the First". Ted sounded wonderful, but, unfortunately, as I wasn't here, I did not get to speak with him directly. Ted left me this message:
"Hi Cindi, this is Ted calling. I just wanted to let you know that we finally selected a picture from "Murder in the First". Actually, it's the outside cover of the new brochure, and you should be getting that very soon. Hope all is well with you and the gang, say hello when you can, and I hope to talk to you soon. Take care."
Sooo... as soon as the picture arrives, it will be posted on this page for everyone to see. Keep a look out!
UPDATE AS OF 11/1/00:
Well, it took awhile, but finally, here is the picture Ted selected for the outside cover of Rubicon's new season brochure. Enjoy!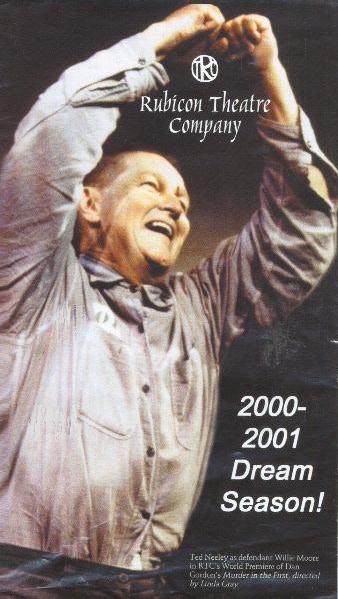 Courtesy of Ted Neeley and The Rubicon Theatre Company