LAUREL THEATRE
VENTURA, CALIFORNIA
JUNE 1 – JULY 2, 2000
BELOW IS AN UPDATED/REVISED COPY OF THE E-MAIL I INITIALLY POSTED TO TED'S E-MAIL LIST







Well, it took a little time to post this, but, finally, I found a few minutes to tell everyone what a wonderful two
two days Denise (dmccoy113@tampabay.rr.com), Susan (horlicksue@juno.com), Jan (janetst@talweb.com), 
Jenn, her Mom Judy (jbomb43@yahoo.com), and I (

cverbelun@core.com

) spent with Ted and his family 
at Murder In The First on Saturday and Sunday.

 

Debbie (spyk002@aol.com) also joined us for dinner,
but unfortunately was not feeling well, so did not come to the show). If I miss anything or get anything
incorrect, I'm sure that they will fill in the blanks. This will also be, I'm SURE, QUITE LENGTHY, 
so skip to whatever you'd like to find out first, if you like. Anyway, here goes:





On the drive from LAX to Ventura, I was forewarned that Ted looks VERY DIFFERENT in this show 
then most of us would have expected.

  

Are you ready for this? He has a BUZZCUT! Yes folks, all of 
those glorious "Jesus curls" are all gone. Also, he uses make-up that makes him look quite pale, sickly 
and scarred-up. Ted told us later that he had not been allowing any pictures posted or published in the 
paper once he got his new haircut (2 days before the opening), because he knew that the 4 of us were 
coming in for the show, and he wanted to surprise us.  Ted was hoping that we wouldn't see him until he 
was in costume and make-up onstage, and he hoped to hear the gasps of surprise from us in the front row, 
(I told him later that it would DEFINITELY have been that kind of reaction, as our first glimpse of Ted is 
head-on with the scars, buzzcut, and an expression very much like Anthony Hopkins in "Silence Of The 
Lambs" which will send chills down ANYONE'S spine) but the plan didn't happen because...






 





Dinner at the Pierpont.  Left to right, back row:  Jenn, Judy, Denise; front row: Jan, Susan, Ted, Me, Debbie, 
Colleen (Ventura County Star reporter)
....we had dinner with Ted between shows before the evening performance. Ted knew that we were all 
flying/driving in for this, and had arranged to meet us for dinner at the Pierpont Inn.

  

In actuality, it turned
out to be dinner with us AND the cast AND the Rubicon Board, because Ted, in his usual polite fashion, 
proceeded to invite people as he saw them! One of the folks at dinner, by the way, was a great lady named 
Wanda Woessner who has seen JCS something like 68 times, and is seeing every performance of Murder - 
and almost always in the same seat! Say hi if you see her. She's really sweet.




Left to right:  Jan, Me, Ted, Denise, Debbie
Photo courtesy of Debbie Spykerman.
We checked into our hotel, The Country Inn. For the value, it's a REALLY GOOD place to stay. For $108.75 
we got a room with 2 queen-sized beds and a balcony, happy hour and a full buffet breakfast. AND it's only 
about 2-3 blocks from the theatre.





Dinner was planned to be at 4:45PM, but Ted was held up, as Larry Hagman, who played the Judge, had 
completed his last performance at that day's matinee and a new Judge needed to be put into the show. 
The replacement, who is Dana Elcar, who you may remember as MacGiver's boss, was not ready, so the 
playwright, Dan Gordon, stepped into the role (incidentally, he does a marvelous job in it). Anyway, we 
were sitting at the table, waiting for Ted, and Jim O'Neil (remember him as Pilate in Jesus Christ Superstar, 
& Tzar Nicholas in Rasputin?), who is the Artistic Director/Co-Founder of Rubicon, came to our table and 
told us that Ted was rehearsing, and would be coming to meet us in about a half hour. Then Karyl Lynn 
Burns (Jim's wife) came a little later, saying, "Ted's 10 minutes behind me!" While we were waiting, 
Karyl Lynn asked us if we would agree to be interviewed by a reporter, Colleen Cason, from one of 
the local newspapers, The Ventura County Star. Colleen wanted to do an article about why people flock 
to Ted and what attracts them to him.

  

I believe that Jan made the best initial statement. She said: 
"Just talk to Ted and get a hug from him, and you will understand." Of course we agreed, and Colleen 
sat down with us. We were all at one table, and saved a chair for Ted, which she was using. We began 
telling her things like how compassionate Ted is, how kind, how gracious, how well he treats everyone, 
how talented, etc... In the midst of this, Ted arrived - by himself - which was a miracle, as we all know 
that he can never go anywhere without being accosted by SOMEONE, right? (LOL!) Jan spotted him 
first, jumped out of her chair and ran across the restaurant to give him a hug. Denise followed (this was 
SO FUNNY, as those two kept going outside on a smoking ruse in order to nab Ted in the doorway 
before he was waylaid!) While this was happening, I turned to Colleen and said to her: "Well, you are 
about to experience all of this for yourself now." Ted proceeded to hug all of us separately, and then 
say hello to the cast, board and everyone in our corner of the room. His salad and dinner came out with a 
lid on it and waited for him! Eventually, he did sit down. While he ate, Colleen continued to talk to him 
and us. We all kind of crowded around Ted (we'd eaten by the time he arrived), and I remember saying 
to him: "It's a good thing you're not claustrophobic!", which he thought was very funny. Jan gave him 
audio tapes of JCS in Ventura last year, and I gave him a tape of an interview he did with David Spero 
back in 1973, when he came to Cleveland to do Tommy. He was knocked out by it.  He said he couldn't 
wait to show it to David when he saw him (David manages Ted), and that he would love to hear it again 
too. Colleen asked us whether it was because of JCS that  people came, or if it didn't matter what he 
did. We, of course, said the latter, and proceeded to tell her that we would see anything he did. I 
remember saying: "He could read the phone book and we'd be there!" She liked that. While this was going 
on, it occurred to me that dinner was taking so long, it would affect our chances of getting a good seat 
("Murder's" seating is general admission only and the house opens ˝ hour before performance time, 
so GET THERE EARLY!), and Karyl Lynn was right there, so I very sweetly asked her if she wouldn't 
mind saving the front row for us. She asked how many we were, I said 7, so she said okay, and we should 
get to the theatre as close to 7:30 as we could and come in through the "Laurel" (or side) door. Denise 
asked Ted what the odds were of him doing Superstar again, since we'd heard that the new B'way version 
is closing in September, and he said: "Very good." So - kids - LOOK OUT FOLKS – Ted and Carl may 
be coming our way sooner than we think! Eventually dinner was over, & Ted posed for this group shot 
with us (above) at the restaurant and we all left for the theatre. 





The Rubicon Theatre's Laurel Theatre is housed in a newly renovated Pentecost church on Main Street. 
From the outside it looks pretty decrepit - like it could fall down any minute, but inside it is a really 
charming, intimate performance space that is perfect for this show. Karyl Lynn told me that there are 
plans to further renovate Rubicon within the next year. It was SUCH FUN to come in through the side 
door and just march up to the front row, like royalty. When we got to our seats, we saw sheets of copy 
paper placed on them that were run on the computer.

  

They said: "RESERVED - ARTIST FAMILY" 
(well, you can BET we kept those!). Incidentally, as was posted on this list before I believe, all of Ted's 
scenes (save his final exit) are to the left of center (or toward stage right), so if you sit just to the left of 
house center, you'll have a birdseye view.





In a nutshell, the show is a fictionalized account based on a true story of a convict named Willie Moore 
(in real life Henry Young) (Ted's role, as we all know), who stole $5.00 from a store cash register to 
support his sister Rosetta, as they were both orphans. He was caught, and, unfortunately for Willie, 
the store had a post office, which made his act of stealing a federal offense rather than petty theft, so 
they sent him to Leavenworth Prison, where he tried to escape. He was caught and sent to Alcatraz 
(does this sound like Les Miz to some of you theatre purists?), where he spent 3 years in what was 
known as the dungeons, or solitary, then was released into the jail population, where he killed the 
convict who snitched on the escape and caused his stay in the dungeons by ripping out his throat with 
a spoon handle, hence his trial for "murder in the first". The other major character in the show is his 
attorney, Henry Davidson (played MASTERFULLY by Joseph Fuqua – see my page on Joseph for 
more on this up-and-coming performer), who devises a defense for Willie that Alcatraz drove him 
insane and turned him into the killer that performed the lethal act. The show deals with his trial, and 
how it affects him and everyone involved with the trial. I will not divulge the ending, as it is a real 
shocker, but I will tell you that the cast in this show is FIRST RATE, and a really nice bunch of folks. 
I HIGHLY RECOMMEND going to see this show, which runs through June 25th at the moment, but 
they are trying to extend its' run by 1 week, so check with the theatre to make certain of the dates. 
(Note:

  

"Murder" was extended through 7/2/00.

)

 The show IMHO is almost three of the MOST 
ENGROSSING hours you will spend in a theatre.

  

(See a more detailed account of this production on 
my second Murder page).





After the show ended, we waited patiently to see Ted. It took a little longer than it would have, as one 
of the make-up artists had fallen near the end of the show and they were taking him to the hospital for 
what turned out to be a sprained ankle. Once he was safely away, we made our way to Ted's dressing 
room.





Ted shares a dressing room with 5 other actors (as he did in Rasputin - so never let it be said that he has 
a "star actor's ego", right?). When we came in, he hugged all of us again, and we proceeded to give him 
everything we'd brought with us. I gave him a Jiminy Cricket picture frame shaped like a watch, a 
picture he took with me after Rasputin (the one on my Home page), Chris Loh's e-mails by request and 
showed him some glossies from JCS I got from Ohlingers; Jan gave him a framed ticket from the Teddy 
Neeley Five concert at Ranger High School in Ranger, Texas from 1968; Susan gave him 2 containers 
of sweetened pecans she'd made, which Ted proceeded to pass around (if you ever get the chance to 
sample these, they're GREAT; Denise gave him her "presence", she can tell you about that. We all sat 
and talked for what seemed like hours.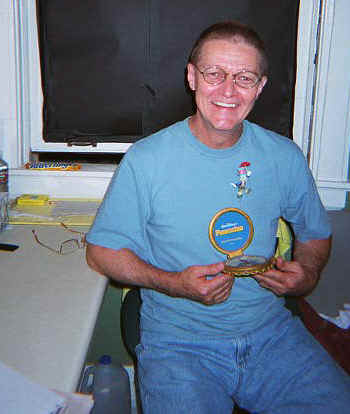 Ted with his Jiminy frame/watch present
Ted told us the cutest story about his daughter Tessa, and the surprise he had for her party when he got 
Matthew Perry from "Friends" to come. Tessa has a big crush on Matthew. We talked about the show 
and his character and what he did to get to the anger he displayed, whether the show would tour (Ted has 
been in discussion with his production company to tour the next project - which MAY be this show), and 
many other things. Ted also introduced us to Jennifer Eaton, the Assistant Stage Manager, who played
Mary Magdalene in the concert version of JCS at Rubicon last year. He told us about the running joke
that he and Jennifer had. It seems that Jennifer was originally slated to do the role of Blanche in
"Murder" before Linda Livingston was cast. Jennifer was actually relieved, because she was beginning
to get a reputation of always playing the whore in Ted's shows (Blanche is a hooker), which was the running 
joke. Jennifer was very sweet. Ted also showed us some mocked-up postcards she had given each of the 
cast members in the show. The postcards had been changed by putting the heads of the actors in the show 
on the figures in the pictures, and were hilarious. Ted said his postcard was at the house he and his family 
were staying in. We asked what it looked like, and he told us that Jennifer had given him a postcard of 
Tarzan and had placed Ted's head on the figure. It sounded priceless.
We talked until about 1:30 in the morning and then Ted got tired (yes, folks, Ted got tired FIRST!) and 
we all started to pack up. Earlier, we had all come up with the idea of asking Ted to join us for breakfast, 
and Denise mentioned to me that maybe I could get him there if I mentioned that it was a surprise 
birthday breakfast for her (her birthday was Monday of last week). As we all stood up, I told Ted that I 
had been elected to ask him to join us for breakfast tomorrow (Sunday) morning. He said: "What time 
and where?" I said: "Well, we thought we'd leave that to you, since you know much more about this 
city than we do." We agreed to meet at our hotel at 11 and decide where to go. Ted actually ended up 
coming back to the hotel with us, as Jenn and Judy had made pies for him and his family and he wanted 
to take them home that night, as he didn't trust the cast not to dig into them if he left them in the theatre 
fridge. He was SO CUTE - he said: "I'm going to be very selfish with these, if you don't mind."

  

In the 
hotel lobby, the desk clerk recommended a restaurant called "Barefoot Buffet" for breakfast, so we 
agreed to meet in the lobby and then go there, and if we didn't like it go somewhere else. Then we all 
went to Jenn's room and she wrapped up the pies, then she and Ted took them to his car. When they 
came out the door, we were in our room looking out over the balcony, waving at them. It took awhile to 
settle down and sleep, - 4AM I think, and we put in an 8AM wake-up call (sleep? what's that, right?).





Believe it or not, we were up before the wake-up call! Lying there in bed we decided to go see the matinee. 
Jan said: "Wouldn't it be great if Ted looked out and saw us in the front row again?" I called the box 
office and there were 24 seats left. We called Jenn & Judy to ask if they wanted to go, but they declined, 
as they had already seen the show twice, so Brian at Rubicon reserved 4 tickets, and I asked him if he 
would ask Karyl Lynn to reserve the front row for us again.





We all got dressed, and Denise, Susan and I went down to eat a LITTLE at the breakfast buffet so we 
wouldn't be totally ravenous when we had breakfast with Ted, then we waited for Ted in the lobby. We 
were meeting at 11, but Ted didn't make it until 20 after, and when he did, he had Tessa and Zakariah 
with him. They are SO SWEET. Tessa is going to be a flawless beauty when she grows up; Zack is the 
spitting image of Ted, and a real charmer. And they are SO POLITE!





We ended up eating at Nona's in Bella Majorie (where JCS had its' opening night gala last year), because 
Barefoot Buffet was closed). While we were there Leeyan joined us. She is so nice. Tessa got her driver's 
license (she's 16 and Zack is 14), and thinks she wants to go into theatre arts. She was into ballet but 
decided she'd like to do either theatre arts of both. She also told us that she loves having a Father who's 
a celebrity. Zack may become an artist (he showed us a picture he'd drawn after the matinee and it was 
really well-drawn). Leeyan told us that she hates Ted's buzzcut, but that it is appropriate for the part. She 
just hopes he doesn't end up keeping it for months if he tours with the show. Ted told us some of the events 
with the show. That he had actually commissioned the play from the writer (Dan Gordon) after he saw the 
movie with Kevin Bacon and Christian Slater. He told us that when he found out the writer didn't want to 
do any of the violence that they probably wouldn't have wanted to do the show if they had known this. The 
compromise was the comedy that he asked the writer to interject into the show, and it works really well.
He also told us about how the actress in the show, Johanna McKay, found out she'd been cast as Mary 
McCasslin in such a cute way. Ted had devised a plan where he led her to her seat for the show at Rubicon
the night of the audition, and on it was a paper that said: "RESERVED FOR MARY MCCASSLIN". 
She was so surprised and happy that she kept hugging Ted all through the first act. At the intermission 
the guy sitting behind them said to Ted: "What did you do, propose to her?" (LOL!) All too soon, 
breakfast was over, and Ted had to get to the show. He posed for pictures separately with each of us. 
When it was my turn, he put his arms around me and said: "You make me feel like a giant man!" (I'm 
4'10˝ " – he's 5'5"), which was so cute! Then he and Leeyan hugged us all goodbye (or so they thought) 
and we all left. 





When we got back to the theatre, getting to our seats without seeing any of Ted's family was tougher 
than we expected. Leeyan was by the Laurel door, so we couldn't go in through the side, and Zack was 
inside the front entrance – but went backstage by the time we'd gotten our tickets. And they had 
reserved the front row for us again (yes, there were those great papers saying "RESERVED – ARTIST 
FAMILY" again – we loved it – saved those too!). The gentleman behind me asked me which artist's
family we belong to. I explained about Ted and this list. Leeyan saw Jan and said: "Did you know about
this at breakfast?", she said yes, and told her it was a surprise for Ted. Leeyan said: "Oh, that's so 
sweet!" The show was great.  (Incidentally, be prepared if touring plans happen, Joseph Fuqua, who 
plays Ted's/Willie's defense lawyer Henry Davidson, uses the first few rows in the theatre as the jury,
and makes VERY POWERFUL eye contact with the audience. We were doing our best to stare right 
back. He told me after the show when I asked if he was surprised to see us again that it was kind of 
comforting to see us out there again, and that he wishes we were there for every show because so many 
audience members get uncomfortable and look away when he stares at them.) 





I did want to tell you that Tessa and Zakariah are selling the souvenirs for this show. They sell posters 
of the show, t-shirts for Rubicon and JCS from last year at Ventura, CD's for Carl's album, JCS, 
Forever Plaid, and Ulysses (NOTE:  Ulysses and Quasimodo CD's are no longer available through 
Lazeria Music, Michael Rapp is the only source for these recordings. If you are interested in obtaining 
Ulysses or Quasimodo, please e-mail Kathy Herder at: HerdMusic@aol.com and she will pass along 
your request to Michael.),

 

Murder In The First books, and glossies of Ted and Ted & Carl from JCS. 
And everything is signed either by Ted or the writer Dan Gordon. These are all really nice things to get, 
and they are priced very reasonably. The CD's are $15, the t-shirts are $10, and the posters and 
glossies are $5. (Note:

  

Prices were for this engagement and are subject to change if further plans 
happen for this show.) AND Tessa and Zack get 10% of the sale. They sold $200 on Sunday - most of 
which apparently came from us – so they made $20 and were really happy. SO - BUY BUY BUY!





After the show, Ted came out and grinned right at me (I was sitting at the top of the steps by the 
dressing room entrance), and I said: "Were you surprised?" He said yes.

  

I asked him when he 
figured out that we were at the show, and he said that he can't see anything until the second blackout, 
and that he'd figured it out then because that's when he'd noticed my Rasputin t-shirt (which is cream-
colored with brown printing (like the logo) and does show up in the dark somewhat). Then he knew we 
were there. (He was so touched he was almost crying at the curtain call - and he just kept pointing to us 
and grinning all during the bows. In fact, he almost didn't want to look away at all during the curtain call 
(they bow 3 different directions).). He signed our posters, books, everything, and hugged us all again. 
And we had fun watching Tessa and Zack playing on the set (Zack played with the follow spot, then got in 
the judge's bench with the gavel and played "Here Come The Judge!"; and Tessa was dancing.).





All good things must come to an end, so Ted hugged us all again, and when he got to me, he said: "I 
don't know what I did to deserve all of this, but I must have done something good in a past life." I said: 
"Do you want to know? I'll tell you. It's how you treat your people. What ran the point home for me was 
the day after the last time you were in Cleveland for Superstar, Jerry Lewis came in with Damn Yankees. 
Here, we had just finished watching you sign autographs for 4 solid hours, and we came in to usher the 
next night and they told us: 'Mr. Lewis will not see anyone, Mr. Lewis will not sign anything, but if you 
want to send presents back, he'll accept them.' and I thought, 'You'll take, but you won't give back. How 
nice.'" Ted couldn't believe that. He said: "How can anyone do that? Where would we be if it wasn't for 
people like all of you?" I said, "That is why you deserve all this. You would be surprised how many artists 
don't do what you do. And, by the way, you always were a giant man, anyway." He laughed and hugged 
me again. We all left the theatre, piled into the cars, and when we came around the corner, there was
Ted standing in the street using a cell phone (funny, 'cause he said at breakfast when Leeyan called 
that he hates the way they sound and won't use them), so we waved at him and he waved back, then we 
drove back to LA.





All in all, it was a WONDERFUL 2 days, and a time that none of us will ever forget. I hope all of you 
see the show, and Ted, you will have a time you won't forget either!